RECYCLING BUY-IN
Any major green initiative requires top leadership support, but to really gain momentum, you have to have the bottom-up groundswell and take a very grass-roots approach, according to Winell Herron, group vice president of public affairs, diversity and environmental affairs.
To generate passion at the store level for recycling initiatives, H-E-B is formalizing a program to identify a green champion for each store, not only to communicate and educate partners on internal strategies, but to elicit partner ideas, feed-back and spawn a surge of support at the local level.
Cross-disciplinary sustainability teams function very closely together on any project the chain undertakes to make it happen, explains Susan Ghertner, director of environmental affairs. "If it's composting, we have leaders from produce, from the stores, from procurement, from environmental affairs, and then also what's critical, getting store partners involved."
"With the economic volatility of the last few years, we have really put the pedal to the metal on recycling, minimizing waste and our impact on the environment because it's smart, not only because it's the right thing to do," says Herron. But from a business standpoint, it generates revenue for our company and gives a great return on investment.
H-E-B's early embrace of Returnable Plastic Containers (RPCs) depended on its broad, interdisciplinary cost/benefit analysis, as well as visionary thinking, according to Bill Reynolds, group vice president of facility alliance. "When RPCs first started moving forward in the industry, everybody looked at this as a cost. But we looked at packing product in an RPC versus a corrugated box, functioning better in the cooling system, generating less trash, spending less labor hours going back to the compactor, and now I'm able to keep more of our partners in the produce department.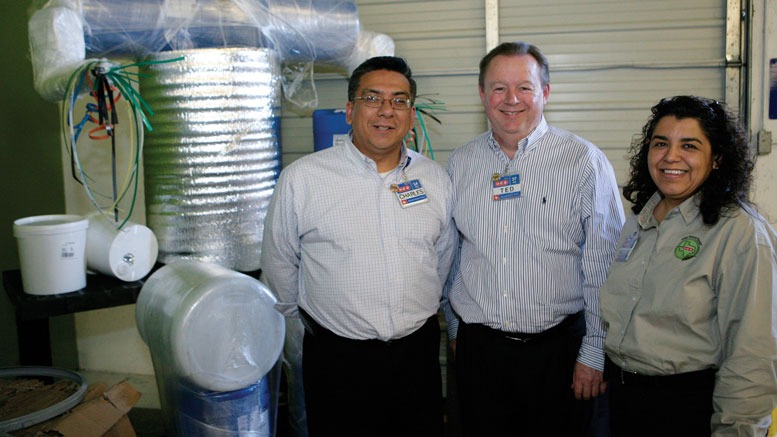 "Another eye-opener was our ability to reduce shrink. Getting buy-in from suppliers required showing them what could happen to their product after spending all this loving care to grow it," he explains.
RPCs get cleaned and reconditioned next door to H-E-B's bustling, centralized recycling facility, also known as the Reverse Logistics facility, where the motto, "We Do Everything Backwards," written on its front door, celebrates the task of taking products back to their beginnings.
Last year's recycling numbers tell the story: H-E-B recycled over 303 million pounds of materials in 2010, according to Ghertner. "Total recyclables have increased by 11.5 percent compared to 2009, and we continue to add more commodities each year," she says.
"Produce recycling is big," says Maggie Hernandez, environmental project leader. Every produce pallet has a corner on it, and composites are not good for recycling, she says. Her plea to the produce industry is to redesign pallets to eliminate composite materials that are not environmentally friendly.