Every week the trade press and credit reporting agencies list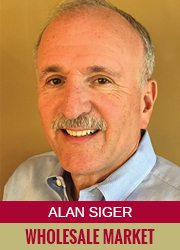 insolvencies or PACA actions against firms that have not paid for product purchased from others‭. ‬Over the years‭, ‬it seems there has been an increase in non-payment situations‭; ‬with the cost of product so high‭, ‬it doesn't take long for a company to owe hundreds of thousands‭ ‬‮—‬‭ ‬or even millions of dollars‭ ‬‮—‬‭ ‬when things go bad‭.‬
When I joined Consumers Produce Company as a salesman in 1973‭, ‬one of the first things I was taught was that a sale does not count until the product is paid for and the money is in the bank‭. ‬How does one navigate the minefield to make sure they are paid‭? ‬I've seen a lot of situations over the years and learned some expensive lessons‭; ‬let me share some with you‭.‬
---
Keeping a company's accounts receivable in check requires senior management oversight to make certain that all employees understand the vital importance of getting paid‭. ‬
---
1‭. Do a credit check‭.‬‭ ‬It sounds obvious‭, ‬but I've seen folks who paid cash for a while ask for a few days'‭ ‬credit‭. ‬A few days grows into a few weeks‭, ‬and all of a sudden‭, ‬you have a customer who has become a credit customer while bypassing a credit check‭. ‬Don't just rely on a stock credit form for information‭; ‬use an industry credit service like Blue Book Services‭, ‬Inc‭. ‬to get the‭ ‬
full story‭.‬
2‭. ‬Use your sales team as eyes and ears on the ground‭.‬‭ ‬They talk with customers regularly and may hear things about what's going on in the marketplace‭. ‬I've been saved a few times by an early warning from a sharp employee who picked up some scuttlebutt about a company having problems‭.
3‭. ‬Management should set and enforce credit terms‭.‬‭ ‬Don't put your sales team in a situation where the customer is angry with them‭. ‬If you are forced to shut off a customer's credit‭, ‬let your accounts receivable person be the‭ ‬"bad cop‭.‬"
4‭. Treat a change in ownership like a new customer‭, ‬or at least keep a close watch on their account‭.‬‭ ‬When a customer you partnered with for years sells to a new owner‭, ‬they often continue to operate under the old name‭. ‬Just because the name is the same‭, ‬it doesn't mean the new company's integrity or finances are the same‭.
5‭. ‬Beware of generational changes in a family business‭.‬‭ ‬When the boss retires and passes the ownership down to the next generation‭, ‬there's no guarantee that the new leadership can do the job‭. ‬In addition‭, ‬I've seen family businesses so burdened with large payouts to the retiring generation that they were unable to handle the debt load‭.‬
6‭. Don't fall into the‭ ‬"friend trap‭.‬"‭ ‬I can think of a few times over the years where I let a customer‭, ‬who I knew well personally‭, ‬get further beyond terms than I would have with someone I didn't know‭. ‬These were good people whose intentions were honorable‭, ‬and intended to pay for what they purchased‭. ‬Whether a friend or‭ ‬not‭, ‬when these folks went under‭, ‬we were the ones left holding the bag‭.‬
7‭. ‬If you do get into a situation where your company is not getting paid according to agreed terms‭, ‬act quickly‭, ‬as every day counts‭.‬‭ ‬Let your customer know that if they don't correct the situation‭, ‬you'll have no choice but to put them on a C.O.D basis‭. ‬Allow them a short period of time to get back within terms and hold them accountable to that deadline‭. ‬If you set up a payment plan on the old debt‭, ‬you should check with an attorney knowledgeable about the PACA Trust‭. ‬An attorney can best guide you on how to structure the agreement‭, ‬as you don't want to lose your rights under the Trust‭.‬
8‭. ‬The PACA Trust is wonderful for creditors in our industry‭.‬‭ ‬Since its inception in 1984‭, ‬the Trust has protected hundreds of millions of dollars from banks and other non-produce creditors‭ ‬by insuring proceeds from the sale of produce were used to pay for that produce‭. ‬However‭, ‬getting paid under the Trust most certainly requires getting an attorney involved‭, ‬resulting in an expensive and time-consuming process‭. ‬Most importantly‭, ‬the PACA trust only works if there are assets still remaining‭; ‬being first in line for nothing doesn't do one a lot of good‭.‬
In a business where the commodity sold is highly perishable‭, ‬it's sometimes difficult to pass up a sale to someone with questionable credit‭. ‬When it's late on a Friday and one has several pallets of ripe bananas that won't make it through the weekend‭, ‬and the only customer around is slow pay‭, ‬it's can be a tough call‭. ‬One may choose to take that chance‭, ‬but as stated above‭, ‬that decision should be made by management not the salesperson‭.‬
Keeping a company's accounts receivable in check requires senior management oversight to make certain that all employees understand the vital importance of getting paid‭. ‬This 43-year-old lesson is as true today as it was in 1973‭. ‬Stay focused on putting your receivables in‭ ‬the bank‭.‬
---
Alan Siger is chairman of Siger Group LLC, offering consulting services in business strategy, logistics, and operations to the produce industry. Prior to selling Consumers Produce in 2014, Siger spent more than four decades growing Consumers into a major regional distributor. Active in issues affecting the produce industry throughout his career, Siger is a former president of the United Fresh Produce Association.