MUSHROOMS – SUNSHINE FOR YOUR IMMUNE SYSTEM:
Eating 10 fresh white or baby bella (brown) mushrooms or 2 portabella mushrooms that have been exposed to ultraviolet light provides 100% of the recommended Daily Value of vitamin D. Vitamin D can boost immunity and bone health as well as reduce the inflammation that leads to chronic diseases. Plus, nearly 40 percent of Americans are deficient in vitamin D.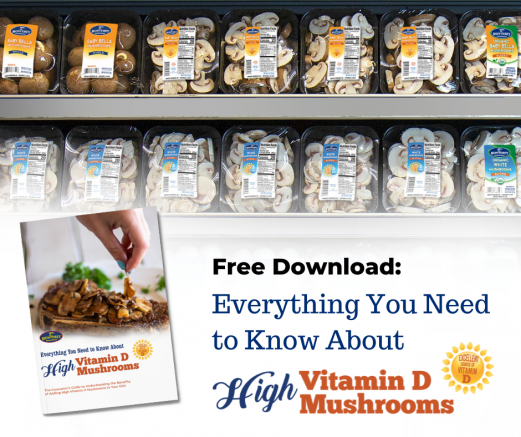 IT'S NATURAL
"People create vitamin D when the sun's rays touch their skin. Mushrooms, unlike other fruits and vegetables, respond to light similarly. We saw this as an opportunity to boost the nutritional value of our fungi. Therefore, we teamed up with the USDA to replicate vitamin D-promoting sunlight (ultraviolet UV) indoors," says Lindsey Occhipinti, marketing manager for Monterey Mushrooms. "With our specially developed lighting system, 5 caps, or 2/3 cup sliced, medium-sized 'High vitamin D' mushrooms provide 10 mcg (400 IU) of vitamin D – 50% of the recommended Daily Value. Look for our special vitamin D enhanced label, found on select packages of our white buttons, baby bellas and portabella caps, at retailers nationwide.
THE VITAMIN D + FAT CONNECTION
Vitamin D in UV-light exposed mushrooms is best absorbed when eaten with fat-containing foods. A study of adult men and women who took a vitamin D supplement with a meal where one-third of the calories came from fat absorbed 32 percent more vitamin D than those eating a fat-free meal. Toss mushrooms in olive oil before grilling, in salads with salad dressings, and in sautés with avocado slices and/or nuts. Or pair vitamin-D rich mushrooms with fat-containing foods, such as eggs and cheese.
Conversation Starters
DID YOU KNOW… Eating Vitamin D-enhanced Mushrooms may help Prevent Chest Colds?
Vitamin D is making headlines, especially in this COVID era, for its ability to help protect against respiratory infections. According to a May 2021 article published in the prestigious UK medical journal, The Lancet, which looked at 25 well-designed studies, those who received supplemental vitamin D had fewer respiratory infections. This was true whether the vitamin D was in the D3 form found in animal foods or in the D2 form found in mushrooms. The effect was greater when vitamin D was taken daily, from 400 (5 UV light-exposed mushrooms) to 1000 IU (12-13 UV light-exposed mushrooms), rather than one large dose weekly. So, it seems there's a new old saying: A serving of vitamin D-enhanced mushrooms a day may help keep chest cold symptoms away! That's good news for easier breathing!
That's Not All!
Beyond vitamin D, these world-favorite fungi are packed with a powerful combination of vitamins, minerals and antioxidants that are hard to find in other foods. For example, mushrooms have more selenium than other fruits and vegetables. Selenium is a powerful antioxidant that can boost the immune system. Five white mushrooms, UV exposed or not, have as much potassium as a medium-sized orange or half a banana. Potassium helps muscles, including the heart, function normally.
THREE TOP MUSHROOM STORAGE & SERVING TIPS
Store mushrooms in their original container until open. Then, paper bag them. A paper bag, rather than plastic, lets moisture release slowly, helping mushrooms to stay fresh longer.

Don't wash mushrooms before storing them. Instead, wipe mushrooms clean with a damp paper towel right before use.

There are several ways to cut mushrooms. Slice, cube, quarter, or dice. Use an egg slicer to cut white or baby bella mushrooms quickly, evenly and easily.
Cross-Merchandising Guide
Show Shoppers How Easy it is to Add Mushrooms to any Meal or Snack of the Day
Breakfast: Add sliced mushrooms to an omelet or frittata. Top avocado toast with sautéed mushrooms. Lunch: Toss sliced mushrooms into a salad, sandwich, lettuce wrap, taco, burrito, or rice bowl.

Dinner: Sauté 1 pound ground beef with 1 pound fresh diced mushrooms. Use to make meatloaf, meatballs, burgers, casseroles, taco fillings, pizza topping, sliders, chili, lasagna, stuffed peppers and more. Snack: Make mini portabella pizzas: remove stems from portabellas, brush caps with olive oil and sprinkle with Italian seasoning, top with pizza sauce, mozzarella cheese and other toppings. Bake 15 minutes at 400°F.
PICK THE RIGHT SUPPLIER
Monterey Mushrooms, Inc. was established in 1971 and is now an international, multi-facility company with mushroom growing farms strategically located throughout North America. Headquartered in Watsonville, California, Monterey is the country's largest and only national marketer of fresh mushrooms, supplying unique high-quality products to supermarkets, foodservice, and ingredient manufacture operations.
Monterey Mushrooms, Inc.
Website: MontereyMushrooms.com