Why and how produce suppliers and retail RDs can form profitable partnerships.
Originally printed in the January 2022 issue of Produce Business.
Low prices… displays stacked high. This is the ages-old way suppliers and supermarkets have sold fresh produce. Sure, it works, but it may not be enough to move the needle on consumption, the main factor driving greater and repeat sales. In fact, Americans are eating 10% fewer fruits and vegetables compared to 2004, according to the Brentwood, MO-headquartered Produce for Better Health (PBH) Foundation's 2020 State of the Plate report.
What if there is another way to boost produce department register rings? One that didn't sacrifice grower profits or retail margin and increased fruit and vegetable intake?
Enter business-to-business (B2B) partnerships between producers and retail registered dietitians (RDs).
Here's one example of the potential: Years ago when Michigan had a bumper apple crop, the Lansing, MI-based Michigan Apple Committee (MAC) reached out to Shari Steinbach, M.S. R.D., who, for over a decade, was the health and wellness nutrition manager for Meijer, a 228-store chain based in Grand Rapids, MI. Steinbach and her team of five RDs immediately created a multi-topic educational selling plan strategically based on that year's crop.
One subject, for example, touted the flavor nuances of newer or lesser-known varieties to encourage trial. Another taught customers how to store apples properly to prevent waste, especially if they purchased larger quantities due to the abundance available. Yet another included nutritious ways to enjoy apples, from snacking out-of-hand to use in sweet and savory dishes from salads and sides to entrees and desserts. In the end, apple sales increased without drastic price discounts. Steinbach found, anecdotally, many shoppers said they were buying more apples because they discovered a new recipe or way to eat apples.
Today, Steinbach, owner and president of consulting firm Shari Steinbach & Associates LLC, in Grand Rapids, MI, works on the supply side. In 2017, she was named the official dietitian of Michigan Apples. In this role, one of her jobs is to provide retail RDs with turnkey toolkit resources, such as content for blogs, cooking class outlines and ready-to-use social media all tailored to Michigan apples.
Here's why and how produce suppliers and retail RDs can form profitable partnerships.
WHY SUPPLIERS SHOULD WORK WITH RETAIL RDs
There are two key reasons:
First, RDs are expert influencers, especially in the realm of health and wellness. In fact, 'conversation with a registered dietitian nutritionist' ranked top among 'trusted sources to ask about which foods to eat/avoid,' according to the Washington, DC-headquartered International Food Information Council's 2018 Food and Health Survey. In this survey, RDs were embraced by 75% of older Americans (those age 65+) as well as the majority (65%) of younger adults 35 and under. It's no wonder, since earning the registered dietitian designation takes rigorous coursework in biochemistry, marketing, food science and more, plus supervised practice such as an internship, and then passing a national exam.
Several produce brands and commodity organizations already employ RDs as expert influencers. These include Dole, the Wonderful Company and NatureSweet Tomatoes, as well as the MAC, Avocados From Mexico (AFM), the Mushroom Council, National Mango Board, the California Strawberry Commission and U.S. Highbush Blueberry Council, to name a few. These and other brands also work closely with retail RDs.
"We are a firm believer in working with key third-party influencers to motivate consumers to purchase, prepare and consume more fresh fruits and vegetables — and retail dietitians are at the top of this expert list," says Bil Goldfield, director, corporate communications for the Dole Food Company, headquartered in Charlotte, NC.
"Since retail RDs communicate directly with shoppers in a retail environment, their experiences and insights are crucial to understanding consumer behavior and how brands like ours can best address consumer wants. We've found these relationships to be among the most important to the growth of produce consumption and healthy attitudes and lifestyles."
The credibility and championing by retail RDs truly make a difference, says Andy Eustic, vice president of sales and operations for CubicFarms, an ag tech company headquartered in Vancouver, BC, that cultivates fresh produce such as lettuces and microgreens via indoor growing technologies.
"This year, we have new pilot programs and plans to partner with more retail dietitians, which is an essential element in the retail success of launching a new produce brand," Eustic says.
Secondly, there is power in numbers. Today, there are more than 2,000 RD members of the Santa Monica, CA-based Retail Dietitians Business Alliance, who work for or consult with supermarket chains in the U.S. and Canada. And 81% of food retailers who responded to the Arlington, VA-headquartered Food Marketing Institute's Retailer Contributions to Health and Well-Being 2021 survey employed dietitians, with 65% at the corporate level, 31% in-store or virtually, and 12% regionally.
What's more, results from the 2020 PBH retail survey show that 61% of retail dietitians are promoting produce daily, with an additional 34% promoting fruits and vegetables weekly.
"Retail RDs can help provide a new perspective or an innovative approach that keeps things exciting," says Christina Ward, senior director of global marketing for Sunkist Growers, in Valencia, CA.
Lycopene is a great example, she adds. "We recently commissioned a study and learned that Cara Caras are one of the top sources of lycopene among the most frequently consumed fruits in the U.S. and Canada — and there are only a few fruits with this antioxidant. Retail RDs are best suited to speak to the lycopene, vitamin C, folate and the many more nutritional benefits of citrus."
HOW IT WORKS
Many retail RDs work directly with grower/shippers, marketing groups and manufacturers.
"I strongly suggest suppliers and marketing organizations work directly with the retail RD," says Meredith McGrath, RD, LDN, nutrition marketing and communications specialist at Redner's Markets Inc., a Reading, PA-based chain that operates 44 grocery stores and 21 Quick Shoppes in Pennsylvania, Maryland and Delaware. "As a Retail RD, our No. 1 job is to communicate and promote healthful eating, So, when it comes to produce, I jump at any chance to work directly with suppliers. This way, I'm sure nothing falls through the cracks and accurate information is received efficiently.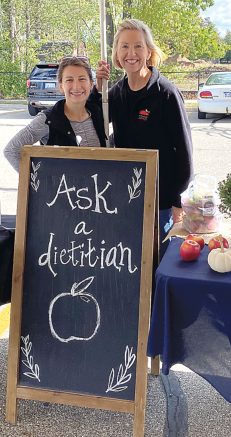 Plus, we, as dietitians, typically don't get bogged down with operational logistics that distracts from the actual marketing and promotion side of things."
Other retail RDs work with suppliers through retail produce staff. Or, in most cases, all three — the retail RD, retail produce staff and suppliers — work jointly.
"It's a combination and depends on how they've structured the produce partnership with the dietitian role," says Brianna Shales, marketing director for Stemilt Growers LLC, in Wenatchee, WA. "Many retail RDs will have their own programs that suppliers like us can join in to help promote our products. These activations must work hand-in-hand with the buying team to ensure promotion in-store, but seem to be an approach with great return on investment because of the visibility the RD has in-store and trust they have with shoppers."
It's the visibility and success of its Viva la Salud (Long Live Health) program that draws produce partners to Northgate Gonzalez Market, a 41-store chain headquartered in Anaheim, CA, says Evelyn Gonzalez, MS RDN, wellness supervisor. "We also have an internal dialogue with our retail produce staff to leverage their strong relationships to proactively work with even more suppliers and produce marketing organizations so that we may increase the amount of education and services we provide to our community."
A good example is Northgate's partnership with Avocados from Mexico (AFM), the Irving, TX-based subsidiary of the Mexican Hass Avocado Importers Association, through its Viva La Salud. For the past few years and with the assistance of AFM, the retailer provided interactive store tours to elementary school children for National Nutrition Month, according to Teresa Blanco, Northgate's director of community engagement and wellness.
Last year, the two entities created an educational video for children on the history and nutritional value of avocados. In addition to the video, the team worked with marketing to create a children's coloring book, again offering education on avocado's nutrients and preparation ideas. These curriculum pieces were distributed to teachers in local school districts. Last year, more than 100 teachers participated in the program, many sharing the children's artwork and talking about avocados on social media.
Similarly, suppliers, retail RDs and retail produce staff all work together at Hannaford Supermarkets, a 184-store chain headquartered in Scarborough, ME.
According to Laura Hunt, senior healthy living marketing specialist, the Hannaford team meets with category partners, including produce, to ensure ongoing awareness of the dietitian program, communicate any changes and emphasize the value it can bring partners who invest.
During category discussions with vendors, marketing programs are shared, and vendors will seek out opportunities that best fit their brand's needs. "Depending on a partner's goals, promotions will vary, but we offer both in-store and online nutrition education with recipes and handouts. Our dietitians offer store tours (currently limited in size due to COVID) and present at community events," Hunt says.
"When relevant (such as a heart-healthy presentation/class), products are featured during the presentation. In addition, we offer flyer inclusion, print and online publications among other support for our partners," she adds.
OMNICHANNEL CREATIVITY — THE SECRET SAUCE
Suppliers need RDs to reach the shoppers that they know so well in new ways, says Stemilt's Shales. "A clever recipe or tip with our fruit — it's this out-of-the-box thinking that helps keep our fruits interesting for shoppers. I think the ability retail RDs have to connect with shoppers on a personal level adds infinite value to the produce buyer and the supplier."
This creativity comes in handy, especially today when most consumers inherently know what's healthful and not-so-healthful foods, according to CarrieAnn Arias, vice president of marketing for Naturipe Farms, headquartered in Estero, FL.
"It's not about understanding the differences, but more about what to do with the food," Arias says. "This is where RDs at the store level come in. These individuals can bridge the final gap between knowing you need to eat healthily, and what it is you should be eating — the work to push that last step of putting produce in the basket."
Retail dietitians employ creativity and an omnichannel approach to get full shopper engagement.
According to Redner's McGrath, "When I build a strategy to help a new supplier get to market, this is typically a combination of a seasonal promotion, in-store signage and tastings, digital marketing through live videos, print marketing and sometimes even sweepstakes. The omnichannel approach in full effect is the way to reach as many guests as possible."
A good example, she says, is her multi-year relationship with the National Mango Board.
"We regularly meet to discuss an annual promotional calendar. With the help of marketing funds from the Mango Board, we can fund point-of-sale, in-store sampling, live culinary videos and print marketing," says McGrath, who has generated over $6 million in marketing funds and spearheaded programs such as Redner's HealthCents and TasteStation marketing programs, both designed to increase exposure and incremental sales for food brands and commodities.
As shoppers have embraced online grocery shopping during the pandemic, retail RDs have been actively involved with the integration of health and wellness programs into e-commerce, explains PBH's Reinhardt Kapsak.
"For instance, in the e-Shop environment at Harmons, a West Valley City, UT-headquartered retailer with 19 stores, Dietitian's Choice has been curated on specific topics, including plant-based eating, sports nutrition, and Heart Healthy Mediterranean. Produce items are prominently promoted in all these collections," says Wendy Reinhardt Kapsak, MS, RDN, president and chief executive officer of the Produce for Better Health (PBH) Foundation. "Plus, with shoppers of all ages cooking more at home, cook-alongs remain a popular way for retailers to engage their customers."
PBH survey data indicates 50% of retail RDs across North America offer cook-alongs for adults, children and families. These can be live or recorded. Recipes are provided in advance and are often shoppable, with ingredients added to online shopping carts with one click.
BANG FOR THE BUCK
The breadth and depth of a retail RD's omnichannel work is cost-effective, especially for companies that have shoestring marketing budgets compared to large CPG food brands.
If a brand is looking for an opportunity to get more personalized attention, look to the retail RD. They tend to work with a smaller number of products, are marketing ninjas when it comes to trends, plus have multiple marketing tools and will use these as part of a themed promotional package.
Barbara Ruhs, MS, RDN, owner of marketing and health communications company, MarketRD.com, serves up this hypothetical example: For $5,000, a supplier working with the retail RD on a promotion could get his or her product recommended in the retailer's ad, in the RD's in-store display area, on the RD's social media channels, in the chain's magazine with a recipe or coupon, and more.
"A la carte, any one of these could cost the same amount or even two to three times more, especially at large national chains. Therefore, working with a retail RD gives such a great ROI for suppliers," says Ruhs, who previously worked as the corporate dietitian for Bashas', a 118-store chain based in Chandler, AZ. Since 2014, Ruhs has been the nutrition expert for AFM.
Take bell peppers as an example, says Bridget Wojciak, RDN, LD, director of Nutrition for Kroger Health, the healthcare arm of The Kroger Co., which serves over 13 million customers annually through its pharmacies and clinics.
"We do category planning for a year at a time. For each series of heath lens focused activations, we have a subject and target market. For example, with allergies and gluten intolerance a concern, we may target the head of household as the primary shopper and healthy snacks for preschoolers as the topic. This topic might then get a title like '1-2-3 Cut' or 'Hungry to Learn.' Focus points might be how to cut bell peppers into bite-sized strips as dippers for preschooler snacks, the different types of bell peppers and how to select, store and use; quick easy dip recipes; and the nutrients in peppers that can help children grow and learn. This might be via educational material, and/or in-store demos with coupon or targeted digital coupon, signage on a display, call-outs in an ad, and social media with recipes."
It can be difficult to measure exact ROI on partnerships like these because there are so many measures, like shopper impressions and awareness, that go into these, says Stemilt's Shales. "When executed well, we will see a lift in sales because we've not only aligned with the RD on a great consumer-facing program, but also because we executed on the promotion with the buying and merchandising teams on all fronts — price, placement, product and promotion."
"In the future, it would be ideal if retailers were able to track sales more closely with their retail RD programs since direct sales correlations can be challenging to track for commodity organizations," says Kim Bedwell, nutrition communications leader for The Mushroom Council. "We already see the benefits of consumer awareness, engagement and consideration for a product, and this is valuable, but showing how to convert that into sales is the key piece of the marketing puzzle. Impressions are good, but sales are better."