Originally printed in the May 2020 issue of Produce Business.
The Netherlands-based co-op of nearly 270 stores is in tune with responsibility demands from Gen Z and Millennial consumers.
Competition in Dutch retail is extremely tough, so scooping a coveted sustainability award six years in a row would seem improbable, especially for one of the market's smaller players. Yet cooperative supermarket group PLUS Retail did just that.
Utrecht, Netherlands-based PLUS Retail is a trendsetter in Dutch food retail. A unique, close-knit cooperative of independent supermarket entrepreneurs, the group's corporate communications reflect a clear focus on good food. But there is much, much more to this no-nonsense retailer's modest style.
In 2020, it won the Most Sustainable Retailer award for the sixth time running – no mean feat in a highly condensed and competitive retail landscape like the Netherlands. With more than 6,400 stores across the country selling goods worth over €€40 billion to around 17 million people last year, the supermarket format now accounts for around 17% of all retail space in the country.
PLUS itself has 264 outlets, making it only a quarter the size of market leader Albert Heijn, and one-third the size of second-biggest retailer, Jumbo. Turnover was €2.6 billion in 2019, up 5.4% compared with the previous year's result and outpacing, albeit marginally, its retail rivals. This is no isolated incident: for six years running, PLUS has outperformed the market.
So how does this relatively small chain achieve such marked success when it comes to sustainability? And how does this contribute to some rather spectacular financial results?
To better understand the PLUS phenomenon, you need to immerse yourself in the world and psyche of the modern Dutch consumer. Sustainability guru Bart Bruggenwirth, author of Strong Brands, Better World, argues that companies or brands operating in a sustainable or socially responsible manner do not look at profit margins alone. "They also have an eye for the well-being of people and the environment; and they minimize any negative effects caused by their products or business operations, making a positive contribution to society. In doing so, they pay attention to the impact their business has in the present day, but also in future."
This is PLUS in a nutshell: Down-to-earth leadership, clear corporate objectives, honest and to-the-point communication, 'good/responsible' products, a passion for people, and a commitment to the environment. The fact that sustainability has been a boardroom focus at PLUS for years helps a lot. Likewise, its CSR policy is developed and implemented by a group known as the Green Team, involving board members and managers from different disciplines. Among other things, its efforts to date have led to all stores being climate-neutral and to PLUS becoming a supermarket frontrunner in the field of Fairtrade-certified products.
APPEALING TO NEW GENERATION OF CONSUMERS
PLUS has certainly benefited from a shift in Dutch attitudes toward sustainability during the past two or three years – especially with the emergence of new generations of consumers. Today, Generation Z and Millennials account for almost two-thirds of the world's population. There is hardly any disputing the idea that these generations, more than any that has gone before them, want to make a positive contribution to the world, both socially and environmentally. Millennials expect, demand even, that companies operate in a way that benefits society and the planet. They expect companies to adopt a holistic, integrated approach to sustainability. They do not tolerate CSR window-dressing.
With these younger generations leading the charge, Dutch retailers have been at pains to effect change for the better, making sustainability an increasingly commonplace term in the retail world. More prevalent supply of sustainable products in stores, combined with better visibility in the media, is transforming mere retail trends into hard-wired behavior. It is becoming more and more common for brands to underline their own contribution to society and the environment. Retail entrepreneurs, meanwhile, are eager to deepen their companies' meaning and purpose, and to use sustainability as an anchor.
As far back as 2007, PLUS cleverly pre-empted these developments by declaring its commitment to sustainability. In line with the UN's sustainable development goals, it concentrates its efforts in five areas:
• Responsible procurement
• Health and vitality
• A better environment
• Involvement in local communities
• Being a good employer
IN TUNE WITH MARKET DEMAND
The messages communicated by PLUS on sustainability are music to the ears of Dutch consumers. What's clear is that the company works extremely hard to secure its position and expand in the field of corporate responsibility. Its PLUS Gives More campaign, meanwhile, continues to underline that commitment, illustrated by a four-leaf clover to represent the excellent freshness, quality, service and price that shoppers should expect.
An annual survey of the country's supermarket chains commissioned by Netherland-based Vakmedianet's Food Magazine, and conducted by Nuremberg, Germany-based market research firm GfK, polls more than 5,000 shoppers on various aspects of sustainable food retailing, including trade, climate, ethics, waste and animal welfare. For the past six years, PLUS has scored among the top five in practically every single area. This year, it scored highest according to six of the ten criteria: consumers and society, local involvement, climate, sustainable trade, health, and employees.
GfK research director Joop Holla feels consumers are becoming more critical and now expect more from their supermarket. "This is reflected in aspects such as environmentally friendly measures, limiting food waste and being involved in animal welfare," he notes. "That being said, just telling stories is no longer enough; consumers really want to see that a retailer is actively involved in sustainability. In this regard, PLUS is an absolute worthy winner."
This is PLUS in a nutshell: Down-to-earth leadership, clear corporate objectives, honest and to-the-point communication, 'good/responsible' products, a passion for people, and a commitment to the environment.
It's a focus that goes beyond having an extensive range of good, responsible products. Working for a better environment is a priority for PLUS, for example, by deliberately buying green energy from wind power plants. Striving for less residual waste in stores is another key driver, which explains its stringent approach to packaging. At a local level, its independent retailers are also very active and engage continuously in a wide variety of initiatives, such as recipe competitions that highlight the need to reduce food waste. PLUS entrepreneurs also contribute to social projects within their own local communities.
TICKING ALL THE BOXES
Francesca van Berk, a Dutch food influencer, believes many of the claims made by retailers regarding sustainability are purely cosmetic and lack any real effect. But for PLUS, she says, it's far more than pure lip service. "They really dare to make sustainable choices," she comments. "For instance, they are the only Dutch supermarket that sells 100 per cent Fairtrade and climate-neutral bananas."
On a recent visit to the PLUS store in her own village, Van Berk saw how the supermarket is closely involved with its local community, sponsoring local sports clubs and associations, supporting a local food bank with products that are past the expiry date, and dedicating shelf space to products from local suppliers. "During my visit, I saw cucumbers from village growers, beautiful flowers (which are also sustainably grown) from the local florist, prepared meals from the local fishmonger and bread from the local baker."
In the fresh produce department, the products are mostly sold loose in order to minimise the amount of plastic, with only compostable bags used where needed. "The store has an organic option for almost every product, which is also attractively priced," she observes. "Consumer information is outstanding, with calorimeters and nutritional content available on all shelves. Last but not least, PLUS continues its awareness campaign to promote healthy eating habits amongst children."
So how has PLUS managed to tick so many of the boxes on issues that consumers care about? Well, from the beginning of its sustainability drive, the organization understood that a pioneering approach requires sticking out your neck. It's not just the consumers pushing for change. Retailers have also been under immense pressure from the Dutch government to help meet targets set by the Paris Agreement on climate, such as CO2 emissions. They face strict new requirements on packaging and food waste, for example, and there is also greater urgency at the national level to reduce obesity. Plus, the government is demanding that retailers pay more attention to social conditions in developing countries.
Elsbeth van Dam, head of innovation, quality and packaging at PLUS, says the group is not afraid to address these points. "Even if these are really complex issues, we have a responsibility to society to make an impact," she explains. "That means pioneering and daring to stick our neck out, even if it produces criticism. As a retailer, we learn and grow immensely from such an approach. Making our range healthier and more sustainable is an important spearhead for PLUS, and this also includes less and more sustainable packaging."
PACKAGING
"Packaging has important functions, such as extending the shelf-life of products, providing protection during storage and transportation and adding convenience to consumers' lives," Van Dam continues. "Packaging can also prevent food waste and increase the food safety of products. We take all these aspects into consideration and, as much as possible, choose the most sustainable product-packaging combination."
Created in 2018, PLUS's packaging policy forms a key part of its extensive CSR programme. Van Dam's enthusiasm for the topic is infectious: "A lot is being asked of us socially, and we are also very aware that we as a supermarket chain have lots of effects on the environment – from raw materials and the logistics network, to distribution centers and supermarkets, to the waste we produce. But we really strive to minimize the impact of our business operations on the environment."
The new packaging policy was drawn up in collaboration with The Dutch Knowledge Institute on Sustainable Packaging (KIDV). In that context, PLUS tested private-label products according to three principles: packaging has to be as minimal as possible, renewable and recyclable. "Initially, we almost got lost in the complexity and scale," Van Dam admits. "So we made the list shorter and started out by committing to just one: within a year and a half, we will ban black plastic, which is difficult to recycle properly, from our stores. It was easier said than done, but we made it happen."
The next step was to engage with key suppliers during expert sessions firstly on fruit and vegetables, followed by bakery, then meat and fish. The group's top 40 suppliers were asked to consider how they might reduce their packaging use and make it more sustainable. Some of the results have been immediate: Fairtrade bananas are now only wrapped with a compostable band; and Dutch apples and pears have biodegradable stickers.
"Retailers and suppliers are increasingly embracing sustainable packaging as collaborative projects," says Van Dam. "But the challenge remains great, and frankly we believe that the switch to sustainable packaging is still going too slowly. We want to make our packaging more sustainable with as few concessions as possible to visibility and shelf-life. We can only achieve this together with other parties in the chain, including the consumer. That takes time, also bearing in mind that for now we are also dealing with technical limitations, such as the lack of alternatives to laminates and the limited availability of recycled content. However, we like to think in terms of possibilities, so we will keep on pursuing our goals."
"Making our range healthier and more sustainable is an important spearhead for PLUS, and this also includes less and more sustainable packaging."

– Elsbeth van Dam Head of Innovation, Quality and Packaging
PLUS has tackled the packaging challenge with impressive determination and speed as part of its new PLUS Briljant 2.0 concept. For example, it has already swapped the black lids on all its fresh juices, smoothies and lemonades for transparent ones. "This is more environmentally friendly and the transparent caps are also easier to recycle," says Van Dam. "The bottles are also sustainable versions. Three quarters are made from r-PET, collected from soft drink bottles, with the other 25 per cent made from sugar cane. With the new bottles, we save 22,600 kilos of new plastic every year."
Measures are being taken all the time to package private-label products less, and more sustainably. The plastic used for salad packs, for example, is now 80% r-PET, a fraction thinner and 2.4 grams lighter, enabling PLUS to save 6,000 kilos of plastic per year. Ginger, garlic, chicory, apples, cucumbers and red peppers are now sold loose, while all soft fruit punnets have a resealable film instead of a loose plastic lid.
Half of the plastic in bulk packaging for its potatoes is made of sugar cane. For fresh produce, black plastic packing trays have been replaced with paper pulp versions. And the retailer is making a greater effort to reduce 'harmful' packaging by offering consumers detailed information on how to separate waste correctly.
Elsewhere, there are plenty of other examples of a real commitment to sustainability.
FRESH PRODUCE & FAIRTRADE
As far as its future strategy is concerned, fresh produce represents a key area for PLUS Retail. It already leads the way with Fairtrade and climate-neutral bananas. "Fresh has always been a cornerstone of our philosophy," comments Marijn Hilbrink, category buyer for fresh produce. "For many years, the range of fruit and vegetables at PLUS has met our consumers' highest quality requirements. Since 2018, we have been working with suppliers to ensure we can guarantee the sustainable origin of our fruit and vegetables. Granted, we have a strong focus on Dutch products – it is easier to talk to the growers and buying close to the point of sale requires fewer transport kilometres.
"Together, we have developed protocols to cultivate our fresh produce sustainably in terms of energy, water, waste and crop protection. The majority of our Dutch fresh produce was already certified PlanetProof [a certification body based in The Hague] in 2018, and as we move into the second half of 2020, we want our full range of Dutch fresh produce to meet the criteria."
At US$1.5m, the annual Fairtrade premium contributed by PLUS remains the highest of all Dutch retailers. Among other things, this helps to found agricultural training, the construction of schools, better housing and environmental protection projects. Fairtrade is a top priority for PLUS, which says it wants the sustainable choices it makes to stand as an example for other supermarkets. The fact that it has the most Fairtrade certified private label products of all Dutch supermarkets is really admirable, especially in view of its relatively small market share.
Encouraging people to eat more fruit and vegetables is also part of the plan. As well as developing attractive fresh produce departments where consumers can learn about the products' health benefits, PLUS wants its fresh produce to have a positive environmental profile, for example, by reducing airfreighted supplies, or by relaxing its requirements in terms of shape and size if a crop has been adversely affected by the weather.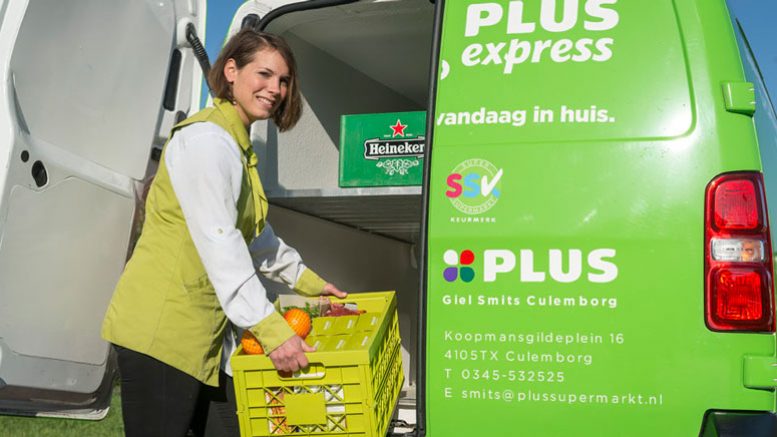 The retailer believes that 'good food' comes from a healthy and transparent chain. "To this end, we can draw on our vast experience in meat, a product that has a much more complicated supply chain," Hilbrink suggests. "Our 'Know the Chain' strategy developed for the meat sector now enables us to create solid principles for fresh produce."
PLUS is now also starting to apply the same principles to its growers in South America, Hilbrink reveals. "We are already leading the way in terms of bananas. All of our volume is Fairtrade certified, and our loose versions also climate-neutral. Our experience is helping us select growers and develop protocols for products, such as grapes from Peru and Chile, citrus from Argentina, melons and pineapples from Costa Rica, and ginger from Brazil. We believe that with these countries we can make massive advances in terms of creating a sustainable future for growers.
"By collaborating closely with South American growers and their Dutch import partners, I am convinced that PLUS Retail will also become a best practice example on how to develop a sustainable tree-to-table supply chain for overseas fruit," adds Hilbrink.
PEOPLE
Another area where PLUS stands out from the crowd is the high level of personal service consumers receive in store, something it achieves by investing heavily in its staff. As well as putting them on an Introduction to Retail course, it also offers a two-year Small Business & Retail Management training program, in which sustainability features prominently.
Participating staff members end up with a tertiary qualification from a recognized college, with a further option to obtain a bachelor degree.
In 2018, more than 26,000 online certificates were presented to PLUS employees, with all executives put on an ongoing leadership programme. Sustainability was given a prominent place in these courses. Many future senior store employees from all over the country attend the 'Sustainability at PLUS' training.
PLUS also promotes healthy eating habits among its employees. It offers free fruit in all its canteens, organizes free workshops to help people quit smoking, and maintains a broad commitment to exercising together at its head office, where it offers training and boot camp sessions free of charge.
There are many more examples of a commitment to people – 85% of PLUS supermarkets employ people who are handicapped in some way. Individual stores encourage staff to contribute suggestions in an idea box. And in many stores, employees are allowed to spend one working day a year on charity work.
DISTRIBUTION, LOGISTICS AND TRANSPORT
This year, PLUS will start building a new and largely automated distribution center that promises to be one of the most modern and sustainable in the Netherlands. According to logistics director Rowell Versleijen, the new facility will ensure a more efficient supply chain for all of the group's supermarkets. "Physically demanding processes are automated, daylight is provided in all rooms, and adjustments have been made in the acoustics to minimise noise as much as possible," he notes.
"The architecture ensures that the property fits in well with the environment. The building will be built according to the BREEAN (Building Research Establishment Environmental Assessment Method) methodology and conform to nine sustainability aspects, including the use of materials, heat recovery and water management."
PLUS also is constantly testing new and sustainable ways of delivering groceries. "The introduction of electric delivery vehicles with solar-powered cooling fits in well with PLUS's green initiatives," Versleijen continues. "With these vehicles, we contribute to a cleaner and better living environment. The vans run on electricity and the cooling works on solar energy. It is precisely this combination that ensures no CO2 emissions are generated during deliveries. We have also run pilots with Urban Arrow and Stint cargo bicycles, which are used for the regular e-commerce service and for PLUS Express, a service in which orders from customers are delivered the same day."
STORE FITTINGS & POINT OF SALE
PLUS chooses to adapt and modify refrigeration equipment wherever possible, instead of buying new systems. Installing new glass doors, day covers and/or energy-efficient LED lighting, as well as replacing old-style evaporator units with energy-efficient EC fans, enables PLUS to embrace circularity and sustainability.
To ensure its shelf signage is flexible and cost-effective, PLUS places full-colour, printed magnetic strips on a metal base layer. The strips are easily cut to size, so each supermarket can organise its own shelves as it sees fit. This sustainable solution is easy to change, reusable, cost-efficient and very flexible.
Last year, PLUS began a new, reusable system called Proteus Smart Display, drastically reducing its cardboard use by 85 per cent. "We have talked to all brand manufacturers about switching to this sustainable display system," says Rob Claassens, who is responsible for promotional displays at PLUS. "Brands like AB InBev, KraftHeinz, Mars, P&G and Unilever are co-creation partners in Proteus, and we expect all other brands to immediately believe in the added value of this new standard."
According to Claassens, more than a million tons of cardboard are wasted worldwide on one-off promotional displays. "This new system consists of a reusable frame that is foldable and telescopic, so that almost any product fits into the display. The brand and communication decoration is done with a very thin cardboard communication sleeve, making each promotion unique in appearance. The display also contains smart sensors to measure the promotion's effectiveness."
ANNUAL REPORT
Supply chain transparency features prominently in PLUS Retail's annual report. What is also clear is that the company is ready to shoulder the responsibility for identifying and managing risks – be they corporate, social or environmental. In 2018, the group's exemplary reporting was commended as a best practice example in retail – and in particular chain management – when it won the Kristalprijs, a coveted award for reporting clarity presented by the Ministry of Economic Affairs and the Royal Dutch Association of Accountants.
For many forward-thinking consumers, PLUS is very much the toast of the town.