From the latest spice and flavor combinations, wrapped in a convenient produce snack to packaging innovations that enhance sustainability, the Sixth Annual Produce Business Innovation Award winners brought their best to the table and store shelves.
With a focus on "Product, Packaging and Process" in the effort to help the industry increase overall consumption, Produce Business presents the 12 top-scoring entrants and leaves it up to the industry to decide which item merits the annual Joe Nucci Award for Product Innovation presented at the New York Produce Show and Conference on December 1st.
This year's entries highlight several trends, as the produce industry overall looks to inspire consumers to eat more produce, and to develop innovations that will increase produce sales. This year's crop of winners showcases that convenient snacking options are looking to stand out with different flavor profiles and a bit of crunchiness. Packaging that highlights recyclability, sustainable practices and environmentally friendly materials is also coming on strong in the marketplace.
The judging, which took place in the Boca Raton, FL, offices of Produce Business, was conducted by editors and staff who are well-versed in the fresh produce industry. Technological examinations were via research in published journals and in corroborating data sent to us.
The winners of the award competition will be presented with trophies at The New York Produce Show and Conference, Thought-Leaders Keynote Breakfast at the Jacob Javits Center on December 1st.
Produce Business readers will evaluate the top-scoring products selected from numerous entries. Please read the descriptions on the following pages and cast your vote at ProduceBusiness.com to choose this year's Joe Nucci Award.

APEEL-PROTECTED ENGLISH CUCUMBERS
TOPLINE FARMS & APEEL
LEAMINGTON, ONTARIO & GOLETA, CA
In order to retain moisture and extend shelf life after cucumbers are harvested, virtually all commercially grown English cucumbers have been packaged in single-use plastic for the past 30 years. While the wrap helps retain freshness and shelf life, it also represents a large-scale environmental problem. Apeel-protected English cucumbers don't need the single-use plastic. Instead, Apeel uses materials that exist in the peels, seeds and pulp of all fruits and vegetables to create an extra, protective plant-based peel that seals moisture in and keeps oxygen out — slowing rot and maintaining a cucumber's firmness and color.
Apeel-protected English cucumbers are the first English cucumber on the market that stays fresh while reducing the need for wasteful plastic packaging. If Apeel replaced plastic for all greenhouse-grown cucumbers produced in Canada last year, it would eliminate the use of over 800 metric tons of plastic — or the equivalent of almost 2 billion straws. Apeel-protected English cucumbers are available in a three-pack, bound by a paper band that is 100% recyclable.
Topline Farms and Apeel joined forces to launch Plastic-Free English cucumbers in June 2022 in Eastern Canada with a pilot program at select retailers.
APPLE NACHOS
FRESH INNOVATIONS CALIFORNIA, LLC
STOCKTON, CA
Fresh Innovations California is adding to the cate-gory of sweet snacking with its new Apple Nachos all-in-one fresh kits. Tart, green apples. Delectable toppings. Layers of fresh flavors and textures. While there are many fresh kitted products in savory flavors (i.e. salad kits), there are limited options for sweet, value-added fresh kits. Apple Nachos fill that void.
Instead of tortilla chips, each kit contains crisp apple slices which are then topped with delicious toppings from the included master pack. Instead of nacho cheese, the consumer can drizzle sauces like caramel or peanut butter, and replace jalapeño slices or black beans with a sprinkling of toffee bits, pretzel pieces, and chocolate chips.
This new snack is available in three varieties: Caramel with Pretzel Pieces and Toffee Bits; Peanut Butter with Chocolate Chips and Pretzel Pieces; and Dark Chocolate Peanut Butter and Caramel with Praline Pretzel Pieces and White Chocolate Chips.
PAPER TOP SEAL
RESEALABLE PACKAGE
MUCCI FARMS
KINGSVILLE, ONTARIO, CANADA
Mucci Farms has introduced its Paper Top Seal Reseal package. The design is an innovative amendment to an existing container that reduces plastic and maintains the integ-rity of the original package, including high impact graphics for merchandising appeal. This award-winning package replaces the plastic lidding film with a paper film, which allows the PET tray and lid to be 100% fully recyclable. The paper film is recyclable once separated from the tray or can dissolve in the waste stream for composting. The inner side of the paper is food safe per FDA Food Contact Legislation for paper and paperboard.
Most recently, the Paper Top Seal format has been enhanced to include a new, reseal feature. The ability for reseal allows for produce to maintain freshness, quality and flavor, and also helps to reduce food waste and improves shelf life.
ORGANIC EARTHBAG
PERI & SONS FARMS
YERINGTON, NV
Sustainable packaging has an economical and practical solution in Peri & Sons' Organic Earthbag, a paper and bamboo bag that is certified biodegradable and compostable, for both industrial and home. It meets the ultimate aerobic biodegradability in compost according to the requirements established in UNE-EN 13432:2001 and following the technical procedure detailed in UNE-EN ISO 14855-1:2013.
Not only is the bag environmentally friendly, but it is consumer and sales friendly as well. The large bamboo mesh window provides ample product visibility. The bag displays beautifully, and its functional, light-weight design enhances freshness, shelf life, and safety, all while reducing the impact on the planet.
Peri & Sons Farms uses this new paper/bamboo bag to pack all varieties of its USDA Certified Organic onions, and the product has been introduced to major retailers around the nation. Additionally, other packers have begun testing the solution for different commodities.
MICRO SPICY MIX
AEROFARMS
NEWARK, NJ

A bold and zesty blend of spicy mustard greens, peppery arugula and juicy bok choy, AeroFarms Micro Spicy Mix adds an instant pop of heat to any dish. Micro Spicy Mix falls in the orange portion of the FlavorSpectrum, the company's award-winning packaging concept and design, which represents a mustard-forward flavor profile with bold peppery notes.
Of the hundreds of microgreens tested, AeroFarms chose three varietals with unique and complementary flavor profiles: red bok choy provides a clean, mellow base for mustard-forward, deep purple Ruby Streaks and peppery arugula microgreens.
The Micro Spicy Mix is grown in a completely controlled, indoor vertical farm without the use of pesticides, herbicides, or fungicides. It is grown with minimal environmental impact, using up to 95% less water, 99% less land, at 390 times the productivity rate. Additionally, AeroFarms plant scientists use proprietary lighting algorithms to pull out the spicy flavors of these plants.
ORGANIC EZ BAND
STEMILT GROWERS
WENATCHEE, WA
The EZ Band by Stemilt is a two-piece, four-pack of apples made of 100% paperboard, designed for large-size fruit and convenient shopping. The EZ Band, first available this fall, is the first of its kind in the United States. It was created with the consumer in mind and fulfills shopping habits adopted throughout the COVID-19 pandemic. The fully recyclable package provides a grab-and-go option for bulk apples that limits touch by people and still provides visibility of the apples. The EZ band will raise the brand profiles of varieties like Rave and SweeTango so consumers can differentiate them amongst the crowd.
The package also is said to benefit the retailer because it travels through the supply chain easily and instantly displays at retail.
PERFECTLY PICKLED SWEET CHILI BEETS
OFFSHOOT BRANDS
CONSHOHOCKEN, PA
Love Beets' Perfectly Pickled Beets are now available in Sweet Chili. These beets are cooked, peeled, sliced and ready to eat. A fresh take on the familiar "pickled beet" flavor profile in a fresh and fun flavor, the simple and savory Sweet Chili Perfectly Pickled Beets are ready to eat and sliced for added convenience. A touch of sweet balances mild red chili heat, making the pickled beets ideal for enjoying as a snack or a side, or adding to salads and sandwiches. The Perfectly Pickled Sweet Chili Beets are non-GMO, Kosher, vegan, and gluten-free. The packaging features a transparent window with prominent usage suggestions, a flavor descriptor and fun illustrations that provide clear cues to the consumer with ways to enjoy the product.
PURPLE SWEET POTATO CHIPS
OFFSHOOT BRANDS
CONSHOHOCKEN, PA

Offshoot Brands' Genuine Coconut BBQ Purple Sweet Potato snacks are uniquely vacuum cooked as opposed to fried, making them a healthier choice when choosing a snack. Unlike other chips and snacks that are fried and high in fats, the BBQ purple sweet potato chips are vacuum cooked in rice bran oil, allowing them to maintain all their organoleptic properties, which are aroma, taste, flavor and crunch. The innovative vacuum cook process of veggies makes them healthier, less oily, and with a lower fat content.
RAMBOOS TROPICAL RAMBUTAN
GOLDENBERRY FARMS
MIAMI, FL
In an effort to make eating fruit more kid-friendly, as well as offer fun, family-based options for the produce section, Goldenberry Farms has developed its Ramboos (branded tropical Rambutan) line. Ramboos is based upon the Ramboo character and their accompanying storyline "The Legend of Ramboo." These cute and furry creatures are part of "The Legend of Ramboo," a magical place with delicious hidden fruit treasures. "Ramboos are so delicious they can instantly make you smile," says the legend.
Planned line extensions include "Legend of Ramboo" interactive treasure maps, digital features, and accessories.
SAFE-T-CHEF HOT FOOD PACKAGING
INLINE PLASTICS CORP.
SHELTON, CT
Inline Plastics Corp.'s Safe-T-Chef food packaging is the first and only tamper-evident and tamper-resistant polypropylene product line for hot food applications. The high clarity and smooth, modern designs create impressive displays. They keep contents safe and secure when using third party delivery services, a 'must have' for restaurants, convenience stores, food service, supermarkets and processors.
SOLARA MINI MELONS
PURE FLAVOR
LEAMINGTON, ONTARIO, CANADA
Solara Mini Melons are the first personal-sized, sustainable, greenhouse-grown melon to be commercially available in North America. A new item in the produce department, weighing just 500 grams, it sits in the palm of your hand as a single serving snack with minimal food waste — you simply slice in half, scoop out the small seed cavity, and eat. They are grown year-round in green-houses to ensure consistency, quality, availability and, most importantly, flavor. They were first shipped in 2022.
With an emerald-like color and a mellow, juicy sweetness, Solara Mini Melons are the result of eight years of research and development in partnership with Cornell University, to bring a field crop indoors to remove its seasonality and increase food safety. Today, Pure Flavor grows Solara Mini Melons sustainably, 365 days per year, with more greenhouse-grown melons about to be launched.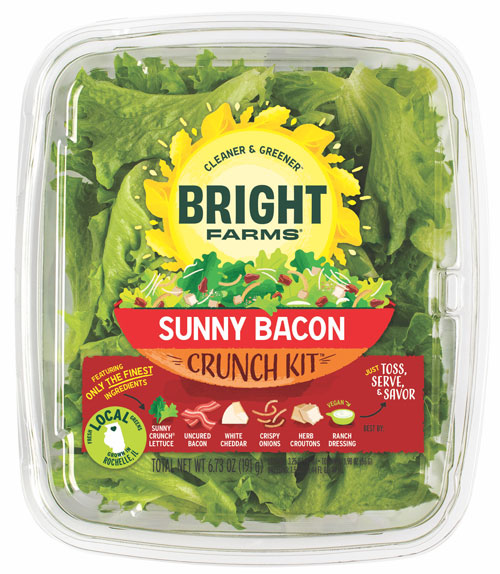 SUNNY BACON CRUNCH KITS
BRIGHTFARMS
IRVINGTON, NY
BrightFarms' fresh, locally grown lettuce is now avail-able as a convenient salad kit. BrightFarms Crunch Kits contain the company's best-selling Sunny Crunch lettuce combined with premium toppings and dressing. Bright-Farms is a high tech, indoor, hydroponic greens grower.
The savory 7-ounce Sunny Bacon Crunch Kit starts with fresh BrightFarms Sunny Crunch greens topped with uncured bacon bits, shredded white cheddar cheese, sunflower seeds, crispy onions, herb croutons, and paired with a vegan ranch dressing.
"Innovation Award" Voting Ballot 2023