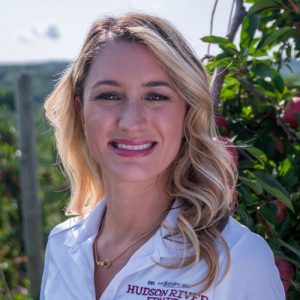 Age: 33
Vice President of Sales & Marketing, Owner/Operator
Hudson River Fruit Distributors
Milton, NY
Hometown: Milton NY
Hobbies: Spending time with family, Cooking, Yoga, Traveling
Personal/Community: Married, Two boys, Owns and operates two restaurants in the Hudson Valley: Heritage Food and Drink and Primo Waterfront
Motto in life: Work hard, play harder! I am a firm believer in putting in 110%, no matter what it is.
Albinder-Camac has proven to be a fierce leader in the industry, immersing herself in numerous industry boards and leadership programs. As a fourth generation owner and operator of Hudson River Fruit, she has taken the company to new levels, implementing operational improvements, new production equipment and creating a strategic vision for the 59-year-old company. Since she joined it, the company has seen tremendous growth, both in revenue and profits. With her operational expertise, the company has increased production capacity and implemented technology to streamline processes. She has spearheaded new packaging designs and marketing for Hudson River and has been instrumental in bringing new apple varieties, Snapdragon and RubyFrost, successfully to market.
Hudson River Fruit Distributors was founded by Albinder-Camac's great-grandfather and grandfather in 1963 and she greatly values its legacy. Knowing she wanted to remain in the family business, she sought to find a job after college in the produce industry. She began by working at Freshdirect for two years as a produce buyer. She returned to the family business in 2013 and joined the company as an operations manager. She was involved in all aspects of the business, but particularly in implementing technology, driving efficiencies, and creating innovate sales and marketing strategies. In 2021, she became vice president of sales and marketing. Her responsibility has shifted to ensuring customers have the best product available and with a focus on newer varieties and packaging, the company has been able to grow its business year over year. She served on the New York Apple Association board for six years and was instrumental in the development and rollout of its new logo. She served on the NYS Horticultural board and spent time lobbying on behalf of the apple industry in Albany, NY. Currently, she serves on the US Apple board. She is also a graduate of the United Fresh Leadership program class 23.
Q: How did you begin working in the produce industry?
I was drawn to the produce industry at a very young age. Family dinner conversations consisted of business problem solving and crop updates. I always knew I would come back and work at Hudson River Fruit, so in college I majored in entrepreneurship and family business management. What attracted me most about the produce industry is the depth of its diversity. It's a combination of art and science that you cannot find anywhere else.
Q: As a young professional, what aspect of the business most challenged you?
My biggest challenge when I first started working at Hudson River was trying to change too many things too quickly. I had a lot of ideas on how to improve our operations and workflow. But you can't move a mountain overnight! My first challenge was getting the management team onboard. To get them to trust my judgment and vision, I started my taking baby steps and breaking down the process to sizable and attainable goals. Once we started successfully transitioning small steps, the bigger jumps didn't seem so big.
Q: What accomplishment are you most proud of in your career?
In 2017, I was selected for the United Fresh Leadership Program, Class 23. This experience was one of the most inspiring, educational and empowering programs I have ever done, and I truly believe helped shape me to be the leader I am today.
Q: What advice would you give someone new to the produce industry?
There are five critical things I would suggest to someone new in the industry: 1) Get involved! Join as many boards, attend meetings, educational workshops as possible. The more experience you have, the better perspective you will have; 2) Leave an impression. Find your voice and share opinions, ask questions; 3) Make yourself important: Important people are hard to replace; 4) Take every opportunity to set yourself apart from the pack; 5) Push the limit — You will always get pushback, but don't let it stop you.