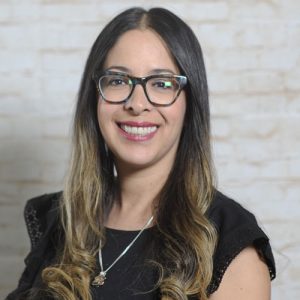 Age: 38
Merchant-Produce
Walmart Inc.
Bentonville, AR
Hometown: Guadalajara, Jalisco. MEXICO
Hobbies: Movie nights, Music, Traveling
Family/Community: Married, 2 children
Motto in life: Everything in life requires time, effort or money — sometimes all three of them, but at least one. Ask yourself what is the price you are paying for what you are doing and be OK with that, as it will be any, no matter what.
Oliva boasts 15 years of experience in retail, driving sales in more than 4,300 stores across the U.S. She joined Walmart in 2011 in Mexico and began working in 2018 with produce in the supply chain on Walmart's direct import program for vegetables from Mexico to U.S. stores. Pulling from her logistics and sourcing background, she moved to Walmart's Bentonville office in 2021 to work the merchant side of the business in produce. She was given the responsibility of limes and recognized a potential, not only to develop other countries of origin for surety of supply (creating a Five-Year Limes Surety of Supply Plan) and winter-season cost, but also to educate internal and external customers about the commodity.
She improved the category performance along the supply chain all the way to in-stocks. Her success in the program is reflected by double-digit growth over the last five years and 25% of unit market share.
Her interest in diversity and inclusion encouraged her to onboard two woman-owned suppliers and grant them year-round volume contracts in limes. Her work has led to a current volume breakdown of lime imports into the U.S. of 85% Mexico and 15% from other countries during winter season, whereas before Mexico occupied 98% of the supply. With her leadership, limes became the second largest commodity for Walmart within citrus on unit market share when it previously was fourth in relevance. The category has seen a sales growth of 120% since she joined the team. Her activities outside of work earned her the Volunteer of the Year Award from Walmart Foundation in both 2013 and 2014.
Q: How did you begin working in the produce industry?
After finishing my master's degree, I knew I wanted to join a company big enough to grow professionally and I found an assistant manager position in a Walmart Distribution Center for dry grocery in my hometown of Guadalajara, Jalisco. Getting to know the global sourcing Mexico team, I was impressed by the activities they performed and how Walmart sourced fruits and vegetables. I wanted to start making my way to the international side of the company and what better way than supporting the biggest retailer in the world on their import fresh business?
Q: What do you know now you wish you knew when you first started your career?
Ask as many questions as you have. Education, Experience and Exposure are the three things that will move you to wherever you want to. By asking, you are already working on two of them.
Q: What aspect of the business challenged you the most early on?
The fact that women are still not that common in the produce business. At the beginning, when visiting the fields with any male colleague, everybody from the grower side would direct the conversation to him instead of me. The same was true in any meetings. And, all the suppliers had more years of experience than me in the produce industry, so I understood that. It was very hard at the beginning to be taken seriously. That changed over time, by gaining more experience in the industry and delivering results. I never took it personally, but it made my job hard at first.
Q: What advice would you give someone new to the produce industry?
Be curious and ask questions, no matter how obvious they are. You will be amazed where that might lead you.