Cingari Family ShopRite: Restaurant-Quality, To-Go Meals Build The Supermarket
Originally printed in the July 2023 issue of Produce Business.
Cingari Family ShopRite, Norwalk, CT, is making prepared meals, entrees and side dishes a critical part of its ShopRite-affiliated store operations.
Executive Chef David Cingari trained at the Culinary Institute of America and had a long career as a chef in New York, then became founder of a restaurant and catering business in Stamford, CT, with the catering business ongoing for 35 years. Now, he heads up a growing prepared food program at the supermarket, offered under the Grade Above Cingari Family Brand label.
Cingari Family ShopRite dates back to the late 1920s, when founder Salvatore Cingari, David's grandfather, began delivering fresh fruits and vegetables, first from an old school bus, door-to-door in Stamford. Today, the company operates 12 Cingari Family ShopRite locations throughout Connecticut. Nearly 100 years later, the company's commitment to fresh, local products, strong customer service, and affordable prices is still fundamental.
David Cingari's shift to the executive chef role at the family business officially occurred in January 2021, but the job is an extension of his earlier career. Effectively, the role "is based on trying to bring restaurant-quality, to-go meals to our 12 supermarkets," he says.
WHAT'S FOR DINNER?
The meals are developed and put together at a commissary in Stamford, which delivers the meals daily to half the Cingari ShopRites, so each is serviced every other day.
"It all gets planned, tested and judged here before we decide to bring it to all 12 stores," Cingari says. "My role — from an executive chef standpoint, as there are chefs in all the stores, or the majority of them — is coming up with new recipes and ideas to bring to market."
He's also taken some of the 20- or 30-year-old recipes, such as the chicken salads and the Waldorf, and modernized them.
Convenience take-out meals items were once prepared in the stores, but now the commissary is the singular source, which ensures high-standard fare is always available.
"From the consistency standpoint, it makes a lot of sense," Cingari says. "The idea was to have an elevated product — newer, more modern — and have it consistent across all 12 stores, instead of just coming up with a recipe, teaching, training and hoping that it happens every day. The commissary just makes perfect sense."
The commissary begins business each day at about 4:30 in the morning, then 29 employees arrive between 5 and 7:30 to begin production that occurs in different rooms, including those for salads, meals and hot food, among others. Right now, the commissary operates in about 6,000 square feet, but Cingari is looking for 30,000 to 60,000 square feet where he can expand the prepared food operation.
"From a production standpoint, I have an executive chef of just the commissary who runs all the operations there, and I oversee him and that team. The majority of my time now is spent on developing new recipes."
In creating new dishes, Cingari and commissary executive chef Matt Alexander, "will talk and bounce things off each other." Research also includes visiting other grocery stores in the tri-state area to see what is generating demand, as well as checking out restaurants, and media to see what's happening in prepared food.
All the research goes into developing recipes that can be produced consistently in large batches. Then, the formulation has to be modified so it can stand up over a five- to seven-day period.
"That changes the recipes a lot," Cingari says. "We won't even bring something to market unless it's 100% going to work."
CONVENIENCE AND CHOICE
Cingari monitors food developments, but not everything that's trendy lends itself to his operation. Some trends, popular in specialty markets, might not translate into the supermarket setting, and some trendy items that have come out of the commissary haven't turned out to be big sellers.
In terms of acceptance, the familiar with a twist tends to generate the most interest. However, items consumers believe are healthy are the more attractive, Cingari says, whether that quality is fact or perception.
Cingari Family ShopRite now offers a range of products under its prepared food programs across meal occasions and positions in the store.
"We put granola out about six months ago, marketing it in the produce department," Cingari says. "It's flying."
Among the products that have proven attractive to shoppers include pesto pasta salad with artichoke hearts and roasted red peppers in a homemade mustard balsamic vinaigrette, and roasted bacon scallion potato salad, "which is ridiculously good, it flies off the shelf."
Twists on more common dishes have a good track record at Cingari Family ShopRite, and, as they get accepted by customers, the chef's food operation can get a little more exotic.
"We do a soy ginger lo mein noodle salad with snow peas and mushrooms," he says. "That's a little bit trendy."
They also offer a chipotle chicken and black bean quesadilla, as well as a chicken and cheese quesadilla, but the chipotle chicken and black bean sells more. "That one's kind of an offshoot I didn't think was going to be a bigger seller, but it is."
He said combination entrees, such as chicken and potatoes, are on the menu, but Cingari says the combinations don't sell as well as the individually chosen entrees and side dishes, which shoppers can use to put their own meals together. "They definitely want convenience, and they definitely want choice," he says.
The third component is freshness, and shoppers really examine everything for freshness. Cingari points to the honey roasted carrots he developed, which are simply carrots, orange juice and honey with lemon zest, salt and pepper.
"We get the trendy part in some of the dressings and marinate. We just do them with a little bit of a twist. The sides are really popular," Cingari says.
WHAT'S NEXT?
To sell the chef program to consumers, Cingari Family ShopRite is promoting Cingari's background as a family member, executive chef, Culinary Institute of America grad and well-known caterer.
At the same time, the company did a private brand for what's coming out of the commissary.
"It's beautiful," Cingari says. "The labeling is different, the signage, all the marketing in the store is different. It's just working. We can't keep up. Every single month, it's up and up and up."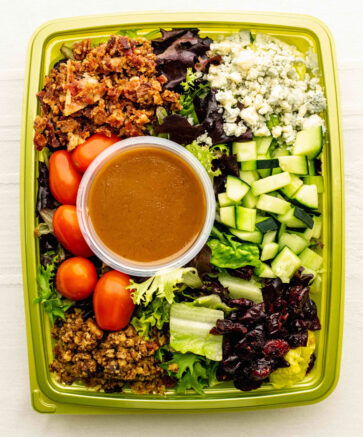 As he looks at the opportunity the chef's program affords, Cingari says, "From here on out, it's new and interesting," he says.
"I think that we've got 65 products to market. We covered the basics. Now, we're constantly putting things out. If it doesn't work after three months, we put something else in that slot. We're not afraid to do that because we've got our standards. Now, it's the fun time."