Geographically centered, Chicago is connected to key domestic growing areas, as well as to the wealth of fruits and vegetables imported annually from Mexico and around the world.
Originally printed in the June 2021 issue of Produce Business.
Started as a small trading post on the banks of Lake Michigan in the late 18th century, Chicago today is the unofficial capital of the Midwest. This city, ranked third after New York and Los Angeles in population, is a major hub in America's Heartland for people, as well as local and global products.
It's also home to the Chicago International Produce Market, a 26-acre building on the City's southwest side that is the largest of its kind in the Midwest. It's this strategic position and state-of-the-art infrastructure that makes Chicago, IL, such an important fresh produce market for wholesalers and their retail and restaurant customers.
MARKET SNAPSHOT
What makes Chicago unique is its location, says Mark Pappas, owner of Coosemans Chicago Inc., located in the Chicago International Produce Market (CIPM).
"We get local produce from Illinois and neighboring states like Indiana and Michigan in season," Pappas explains, and "we're close to all the hothouses in Leamington, Ontario."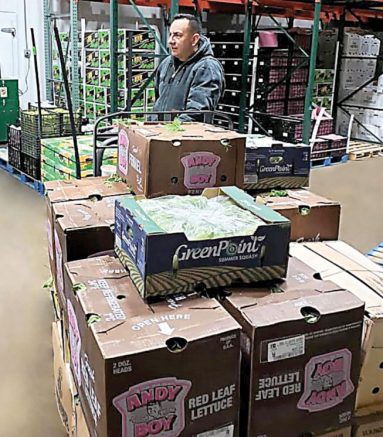 He says they can also fly specialty produce through Chicago's two airports, O'Hara or Midway. "For instance, we'll fly basil in from Hawaii sometimes twice a day to make sure we have the best and freshest for our customers, many of whom are chefs." Coosemans Chicago business is approximately 75 percent foodservice and 25 percent high-end retail.
Chicago has been at the center of the nation's railway network for over a century. Plus, major interstate highways connect the city to key domestic growing areas in Florida, California and Texas, as well as to the wealth of fruits and vegetables imported annually from Mexico and around the world.
Erica Vega, chief operating officer for La Galera Produce, also located in the CIPM, says the chief ports they use for importing from Mexico are Nogales and McAllen. "We can distribute efficiently and easier than other produce markets in the country," she adds. "We are centered perfectly, in my opinion."
When the company opened 17 years ago, La Galera's main niche was Mexican produce, but it no longer focuses solely on an ethnic market, says Vega. Within the past few years, it has expanded to a full line of American produce and, most recently, fruits. "We grew our departments based on what our customers' needs were," she explains.
Chicago ranks as the 10th most racially diverse city in the U.S., according to a January 2020-released report by U.S. News and World Report. This is notable, as Hispanic and Asian cuisines, for example, are produce-rich. Residents from these two ethnic groups make up over one-third (35.7 percent) of Chicago's population, according to 2019 statistics from City-Data.com.
"Chicago is culturally diverse and so is its cuisine," says Coosemans' Pappas. That's why the company is now bringing in ghost peppers from Holland and dragon fruit from Vietnam, he adds.
"We were among the first wholesalers to bring dragon fruit in," says Pappas. "It's a unique item, but people now ask for it and it's a solid item. It's expensive to get here, especially with the COVID-19 pandemic. Lost flights meant lost cargo space,"
Rob Strube III, president and the fourth generation of Strube Celery and Vegetable, also located in the Chicago International Produce Market, says tropicals, such as lychees, are more popular today. "There's more produce on the floor these days that I'm not as familiar with," he says. "We'll sell a box or two here and there to some of the Asian or Hispanic retailers that walk into the market. Small mom-and-pop retailers are walking the market now, too."
Chicago is relatively also affluent, ranked the seventh wealthiest city in the world, according to the 2020 report, A Decade of Wealth, by New York, NY-headquartered Wealth-X. Additionally, in 2017, it was named the Best Restaurant City in America by Bon Appetit magazine.
PANDEMIC CHALLENGES
Retail demand took off at a fast pace as the COVID-19 pandemic hit the Chicago market in the spring of 2020 and consumers started to cook more at home.
"We were lucky because we didn't lose any business. About 90 percent of our business is retail, and only 10 percent foodservice," says Strube.
However, he adds, the retail business was up and down.
"There wasn't a good rhythm in 2020. Two weeks would be heavy in sales, then quiet, then another heavy week," says Strube. "Sales were good in terms of packages out the door, but it was the percent up and down. Some weeks it would be 4 percent (profitability in overall sales), others it would be 14 to 16 percent, and others 10 percent. You wouldn't get four good weeks in a row and that was a challenge for buyers."
Strube adds that fruit sales were slower during the pandemic, but vegetable sales continued strong.
Similarly, for La Galera, the pandemic meant adapting quickly to the high demand in grocery stores, says Vega.
"We had to work smarter and find ways to get the product faster to our customers. We had to change our buying patterns to adjust to the spikes at retail," she recalls, adding that now, "Everything, for the most part, has gone back to normal."
Conversely, the pandemic weighed heavily on foodservice when the Illinois state governor ordered restaurants closed except for take-out or delivery last year due to the pandemic.
"There was greater demand for more specialty produce items at retail because people were cooking at home, but wanted restaurant-style meals. We sold way more shallots and fresh herbs to retail, for example. It helped pick up some from the loss of foodservice business, but nowhere near pre-pandemic quantities," says Coosemans' Pappas.
RETAIL ARENA DEMANDS QUALITY
The three supermarkets that collectively represent nearly half (47.2 percent) of retail market share in Chicago are Albertson's Jewel-Osco banner (21.6 percent); Walmart Supercenters (15.5 percent); and Costco (10.1 percent), according to Tampa, FL-based Chain Store Guide. Founded in 1899 in Itasca, IL, 27 miles north of downtown Chicago, Jewel-Osco was purchased by Albertsons in 1999 and currently has 176 stores in the Chicago area. Walmart entered this market in 2004 and now has 57 city stores, while Costco opened its first Chicago store in 1998, and now has 20 locations.
Rounding out the top 10 by market share are Mariano's Fresh Market/Pick 'n Save (7 percent); Super Target (5.9 percent); Sam's Club (5.3 percent); Meijer (5.1 percent); Whole Foods Market (4.4 percent); Aldi (4.2 percent); and Food 4 Less (3.4 percent).
"The demand for high-quality produce has always been the same here in Chicago and surrounding areas, which is why we have grown so fast. Customers want the best," says La Galera's Vega. "We built our business on importing the best produce possible. We constantly visit our suppliers to make sure we are doing everything we can to stay ahead of others, and we work with them to try to improve everything from packaging to even the design of the boxes that the product is in."
Onions, potatoes and carrots topped pandemic purchases, yet longtime as well as new customers continued to focus on quality, says Vince Mastromauro, director of produce operations for Sunset Foods, a five-store chain based in Highland Park, IL, a Chicago suburb.
"Driscoll, Chiquita, Fresh Express, Organic Girl, Gotham Greens — its top-notch brands that we count on for frequency and freshness," says Mastromauro, adding Sunset Foods tries to differentiate itself from the competition with quality.
"For example, we'll only carry large eight-row cherries in season," he explains. "We'll have 15 varieties of apples, and a full variety of tree-ripe yellow and white peaches and nectarines, plus pluots, all in the largest size. And regionally, we source Mirai sweet corn. It's amazing."
First developed in 1968 at a farm in Harvard, IL, Mirai is a very sweet and tender, naturally bred hybrid variety that harvests in July, August and into September in the Midwest.
There is also a higher demand for organics at retail, say Chicago wholesalers.
"We got into organics in 2019 and it really took off with the pandemic. I think more people were at home and thinking more about the food they were eating," says Strube Celery and Vegetable's Strube.
Mastromauro shares a similar experience. "Organic was a focus for us before COVID. Since then, we've done a reset, added colorful in-store signage and added more organic SKUs. In some cases, like greens such as spinach, kale and Swiss chard, we eliminated conventional SKUs and just carry the organic."
Packaged produce has seen an uptick in sales by Chicago's wholesalers and retailers alike in the wake of the COVID pandemic.
"We've been packaging in-house items like two-count zucchini, or three-count with a yellow squash in the middle, asparagus, bell peppers and other items and using our eight-foot salad bar to merchandise these products as a grilling destination," says Mastromauro.
RESTAURANTS RE-OPEN
June 11 marked the first full reopening of Chicago's restaurants and bars after closure to indoor dining in March 2020. The city's convention center, McCormick Place, is also open, with more than 100 events booked through December 2022, bringing visitors to the city's eateries.
"Everyone wants to eat out now. I have a feeling we may see a dip in retail since people are tired of cooking at home," says Strube.
Restaurants are open, but the business hasn't returned to pre-pandemic levels, says Coosemans Pappas. "We have the weekend traffic back from those who want to go out to dinner, but many of Chicago's large law and accounting firms still have employees working from home. This affects the chefs and catering firms that provide meals to these companies."
He says restaurants are also having trouble finding staff overall, or enough staff so they can now do indoor seating and take-out service as well.
In the fresh produce realm, Pappas adds, menus are different now, too.
"Chefs are watching their food costs; they are being conservative," he explains. "For example, we aren't seeing demand for zucchini flowers, morels, chanterelles, fiddleheads. Instead of having a salad with baby arugula, a chef may use spring mix because it's heartier, plus has multiple uses such as an accent, side salad or full salad.
"So, it's more about being conservative and surviving than what's new right now. The market is coming back, but isn't fully back yet."