Originally printed in the September 2019 issue of
Produce Business.
The goal of any produce initiative launched at the retail level — especially when it comes to erecting and perfecting large displays — is to generate consumer interest and ultimately, increase sales.
Every year, the Idaho Potato Commission (IPC) challenges produce managers to dream up and construct dazzling showcases for Idaho Potato Lover's Month in a nationwide contest in three categories —1–5 cash registers, 6–9 and 10+. The results often bring more than acclaim to the winners; they bring their stores bottom-line boosts, as well.
The IPC, which partnered again with Hormel Bacon Toppings for its 2019 Retail Display Contest, recently crowned champions in several categories, praising those stores for going above and beyond to drive interest in Idaho Potatoes and Hormel products to customers.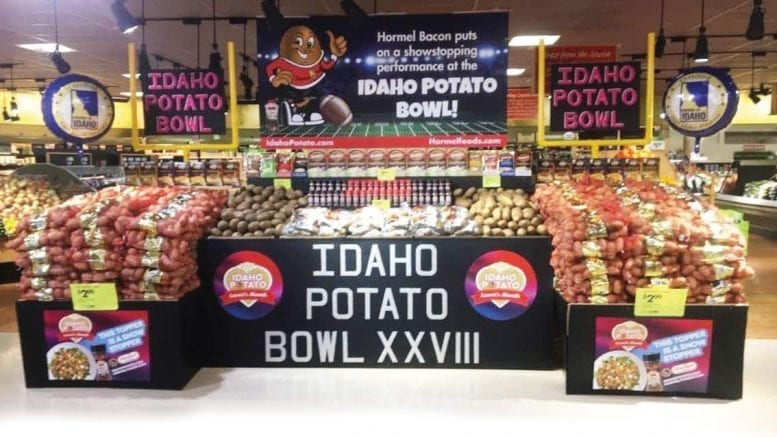 The football-themed Idaho Potato Bowl display at Buehler's River Styx in Medina, OH, captured first place for the 10+ registers category. Produce manager Tammy Raber, who received several previous honorable mentions in the contest, was delighted to capture the top prize this year.
"We've done some neat things with the displays over the years, and it's one of my favorite parts of the job," she says. "Potato sales always go up during [Idaho Potato Lover's Month], and we sell a lot of 10-pounders."
Each in-store display was required to incorporate fresh Idaho potatoes (bag, bulk or both) with a label showing the Idaho name and the Grown in Idaho seal, an Idaho dehydrated potato product and any variety of Hormel Bacon Toppings. The displays also needed to feature IPC special themed point-of-sale materials: double-sided Potato Lover's Month logo display signs, signs with appetizing photos and IPC-branded balloons. Retailers were required to showcase the display in their store's produce section for at least one week between Jan. 14 and March 15, 2019.
Marketing manager Jamie Bowen said the IPC was thrilled with the variety and quality of the displays.
"We had so many wonderful entries this year for both large and small displays," says Bowen. "It's always difficult to pick winners, but this year was especially challenging. We love that so many retailers are creating such imaginative Idaho potato displays, driving sales during what is traditionally a slower time of the year."
The winners were awarded more than $150,000 in cash and prizes.
One of them was Broulim's in Shelley, ID, which featured a Hormel Bacon Toppings character, surrounded by rows of enthusiastic Idaho spuds, hand-painted by the store's cake decorator. The artwork-filled display took first prize among stores with 6–9 registers.
"When I would be out on the floor, it wasn't uncommon to hear kids say 'Look, Mom, it's the theater,' or someone saying, 'Isn't that cute?' [about the display]," says Broulim's produce manager Jackie Hanson.
The local farming and Amish communities helped inspire the country-themed backdrop for the Versailles, IN, IGA's first-prize display in the 1–5 registers competition. The elaborate display was truly a team effort from the produce department at the store, says produce manager Bill McRoberts. "We really enjoy doing it, and we sold a lot of Idaho's when it was up," he adds.
The 2019 retail display contest also included a random sweepstakes drawing for an all-expenses-paid trip for two to the Royal Lahaina Resort in Maui. Robert Olin, produce manager of Tops Friendly Market in Camillus, NY, was the lucky winner, along with the store's category manager.