33rd Annual Marketing Excellence Awards
Originally printed in the August 2021 issue of Produce Business.
The COVID-19 pandemic challenged existing marketing strategies for everyone, but the winners of the Produce Business 33rd Annual Marketing Excellence Awards crafted campaigns that were personally relevant to their target markets — often aligning them to values, not just demographics. The winners showed they see their customers as people, not just dollars.
As the pandemic lingered and the calendar turned from 2020 to 2021, savvy produce marketers identified unique ways to personalize their brands, provide stronger customer experiences, illustrate the link between food and health, build a virtual or digital experience, or simply offer greater value. And they did it with customer-centric strategies that built relationships founded on trust — strategies that spotlighted not just great products, but great values.
The Produce Business 2021 Marketing Excellence Awards recognize the outstanding, results-driven work by many across the industry. Our thanks to all of the entrants for providing detailed submissions and materials for judging. As you read a recap of the winning 12 campaigns on the following pages, please consider entering next year's awards contest. We know there are many more innovative ideas in the works.
Aero Farms
Newark, NJ

Rebrand and Packaging Redesign
GOAL
AeroFarms unveiled a new brand identity, its first refresh since 2009. This rebrand came at a pivotal moment, as the company announced plans to become a publicly traded company. Historically, the AeroFarms corporate brand was focused on vertical farming and macro issues, while Dream Greens was its consumer retail brand. The goal was to unite activities under one brand — AeroFarms — the same brand name, but with a new logo, website, and new leafy greens concept and packaging design.
STRATEGY
AeroFarms consolidated activities under one brand with the three key brand pillars — visionary, courageous and responsible — and created new B2B and B2C taglines, respectively, "Agriculture, Elevated," and "Vertical Farming, Elevated Flavor." The all-capitals, contemporary typeface of the logo is symmetrical and balanced and the blue-green gradient speaks to environmental stewardship. The single bar over the letter "E" gives a literal nod to a brand motif of "elevation": raising the bar on responsible farming. The company also created the FlavorSpectrum concept and packaging design to represent the breadth of flavors and varieties grown, pairing each color with a tasting note to bring the FlavorSpectrum™ philosophy to life.
RESULTS
A dedicated news release received pickup from key media outlets, including Vertical Farm Daily and Yahoo. The company had a 1.1B potential reach from April 28 through June 11, 2021, following this rebrand.
---
Avocados From Mexico
Irving, TX

Guac The House
GOAL
Develop a national program that leveraged insight in response to COVID-19 — supporting family economics to drive demand and value among shoppers.
STRATEGY
Avocados From Mexico pivoted from its traditional football-themed in-store promotion to families. According to a study by the Cambridge Group, 81% of consumers were "very worried" about COVID-related financial concerns, with 51% of consumers saying they've been more diligent searching for deals on produce. The key to reaching consumers? Focusing on the home.
The Guac The House program offered the chance to a win $500,000 new house, four $25,000 first prizes and 200 $250 gift card second prizes. Campaign elements included:
In-store displays that featured farmers market-style bins with promotional headers, floor decals, in-store signage and consumer offers. Store personnel could earn a $10 digital gift card for setting up displays.
A QR code let consumers enter a sweepstakes for the chance to win a new home and other prizes.
A paid media program, along with targeted digital engagement, with a designated landing page and #GuacTheHouse hashtag for social media.
RESULTS
The Guac The House shopper program drove volume with the largest fall sell-in of displays, strong national and trade loyalty coupon activations to date. AFM achieved double-digit volume growth month over month, selling in a record 37K displays in more than 58 participating retail accounts.
The campaign boasted 10.5 million loyalty offers/coupons activated and 729 million impressions on social.
---
California Avocado Commission
Irvine, CA

CAC Advertising Campaign Year 2: The Best Avocados Have California In Them
GOAL
To have the targeted audience think of California and want California avocados when they think about avocados.
STRATEGY
The campaign reminds people that the best of California is inside every avocado — literally: avo-CA-dos. Media target were Californians of a specific demographic. Year 1 creative strategy ran May 2020 through February 2021; Year 2 strategy started in March 2021. Channels included: audio, outdoor, digital and social. Off-season awareness was maintained by social support and social advertising.
RESULTS
More than 253 million impressions from June 2020 through May 2021. A consumer advertising InstaPanel Creative Testing found 80% remembered ad was for California Avocados; ad campaign achieved a 14% lift in separation from the category after exposure. Nielsen study found exposure to campaign generated significant lifts in awareness (unaided and aided).
---
The Mushroom Council
Lee's Summit, MO

"Feed Your Immune System"
GOAL
The Mushroom Council sought to highlight the benefits not only of mushrooms, but all produce in supporting a healthy immune system.
STRATEGY
In early January, the Mushroom Council launched "Feed Your Immune System." The campaign informed consumers about the micronutrients found in mushrooms that support the immune system. And, through recipes, videos and other details, it shared how consumers could get their daily recommended allowance of these micronutrients.
All content was hosted on a central hub and was complemented with paid search ads; earned media outreach; paid media with banner ads and video on sites targeting audiences visited, and signage. Also, across social media, the Council featured "Immunity 101" information.
Influential dietitians and nutrition/healthy lifestyle influencers also conducted a social media 'takeover' and posted recipes and tips to the Mushroom Council's social media channels.
RESULTS
The program drove interest interest in mushrooms, inspired unique displays in stores, and managed an omni-channel presence that built significant awareness. Results included:
23K unique visitors to FeedYourImmuneSystem.com, with an average onsite time of nearly eight minutes on the site;
1.97M social media impressions (across Facebook, Twitter, and Instagram)
391.1M impressions from paid media (syndicated articles and recipe videos)
33 influencers generated 19.3M impressions with 72.1K engagements
---
National Mango Board
Orlando, FL

Mango, A Nutrition Powerhouse
GOAL
Develop a mango nutrition program by touting research-backed health benefits and by leveraging credible RD spokespeople.
STRATEGY
In 2020, the National Mango Board reached parents through a partnership with Plant-Based Juniors (two registered dietitians), tapping into their strong community through a variety of platforms where parents seek nutritional information, including Instagram, YouTube and blogs. Back-to-school looked different for families in 2020, so the board worked with Plant-Based Juniors to serve meals that could be enjoyed by the whole family, including incorporating mangos into baby-led weaning practices.
In addition, the board showcased a portfolio of health messaging through media interviews, partnering with registered dietitians to tell the mango nutrition story. Year-long partnerships with registered dietitians helped tell the story through pulses of media placements, across broadcast, print and online channels, throughout the year.
There was also a push to highlight mangos' vitamin C messaging by developing new vitamin C mango content, including two videos for consumers, a comprehensive, industry-focused mango nutrition video and a new immunity-boosting recipe developed by RD partner, Jackie Newgent.
RESULTS
Throughout the 2020-2021 period, in addition to partnerships with nutrition professionals, which garnered 118.6K total mango nutrition impressions from June 2020 to December 2020, the board's three videos were shared on social media and newsletters and had over 9,000 video views on YouTube. The board shared 26 mango nutrition posts, which had 3,558,766 impressions and 4,918 engagements during the promotion period of June 2020 to June 2021.
---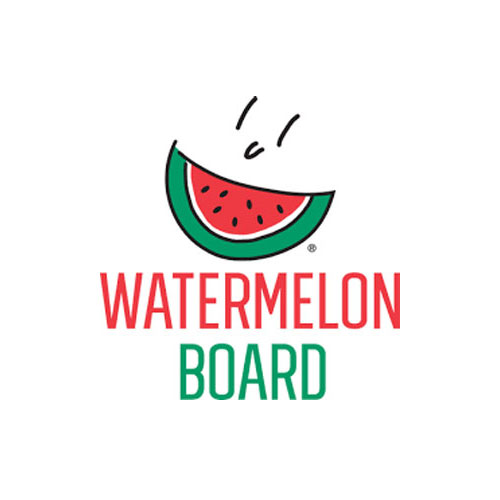 National Watermelon Promotion Board
Winter Springs, FL

Working with Watermelon
GOAL
Educate and inspire foodservice to use more watermelon on menus.
STRATEGY
Previously, the National Watermelon Promotion Board worked with a home economist to understand the yield from watermelon cubes, wedges and juice, as well as yield information on the rind. This new resource lives on the website, but the goal now was to create inspirational ways to use the product.
The board partnered with Chef's Roll for a video series on how to process watermelon and recipes highlighting the different formats. Chef's Roll is a specialized community with unique influence, access and credibility within the global professional chef and foodservice marketplace.
First, Chef's Roll's own, Chef Mikel Anthony, demonstrated different procurement techniques: cubed for yield; wedge cuts; puree and juice; rind cuts. Next, Chef's Roll worked with two chefs in their network to demonstrate innovative recipes highlighting watermelon formats: Chef Kerrie Hills, executive chef of The Red Door Restaurant & Wine Bar and The Wellington Steak & Martini Lounge in California; and Chef Joshua McFadden, James Beard Award-winning author of Six Seasons: A New Way with Vegetables.
All of the content was been marketed via chefsroll.com, and Chef's Roll social channels. The board uses the material as needed on the website, with media, in culinary schools, etc.
RESULTS
Thus far, the promotion through Chef's Roll totaled nearly 2.9 million impressions and more than 58,000 engagements. This content has been shared with the watermelon industry and foodservice media, Much of the content is evergreen and will continue to live on watermelon.org/foodservice.
---
PRO*ACT
Monterey, CA

Feeding Our Frontlines
GOAL
Provide boxes of fresh produce to healthcare workers operating on the frontlines of the COVID-19 crisis.
STRATEGY
'Feeding our Frontlines' was a promotional initiative in which PROACT worked with produce partners across the supply chain. It was designed to support healthcare workers by handing them a box of fresh produce after a day working in stressful conditions to serve and keep the people in their community healthy.
Between growers providing donated product, donations and promotional support, as well as our distributors working to accommodate logistical needs, organizers were able to show appreciation and gratitude to healthcare heroes. More than 35,000 boxes filled with fresh produce and vegetables were distributed to healthcare establishments so employees can take repacked boxes of produce home. The 15-pound box can feed a family of four for up to a week.
RESULTS
The program boasted successful metrics such as:
Over $1MM donated/provided for the program;
Over 24,000 boxes of fresh produce delivered to healthcare workers on the frontlines (equating to roughly 370,000 pounds of produce);
Over 79 hospitals served;
Over 65 cities served nationwide;
Press release pickups across industry media;
National recognition of distributors and supplier partners (and the value of the fresh produce supply chain) to a broader consumer network that otherwise might not have known;
Testimonials/quotes from recipients of the boxes.
As the program started and word spread, additional cities and hospitals reached out to organizers to ask how they can become a recipient. Hospitals continuously sent photos, thank you's, and appreciation letters for the efforts of the PRO*ACT network.
---
Produce for Kids
Orlando, FL

Healthy Family Project With Harps Foods: Produce for Kids' Fridays
GOAL
To build shopper awareness and offer customers incentives to make healthier choices and buy more fresh produce.
STRATEGY
In celebration of its fifth annual Produce for Kids in-store campaign, the Healthy Family Project and Harps Foods ran Produce for Kids' Fridays from May through August 2021.
Promotional elements included: in-store signage featuring healthy, easy meal inspiration for families (included a QR code taking customers to the recipe featured on the sign); Harps' produce team members serving as campaign ambassadors wearing Fruits & Veggies & Giving Back T-shirts; distribution of $1 Produce Bucks coupons to families to try fruits and vegetables; messaging with Harps' weekly circular; posts on Healthy Family Project and Harps' social media channels including Facebook Live Classes simulcasted on both pages; sustainability-focused landing page featuring ideas for families at home and highlighting sustainability efforts of partners.
RESULTS
The campaign news release was picked up by various trade media. Overall social media posts had the potential reach of 300K followers that average 5.2MM monthly impressions. Awareness also gained through 25K e-newsletter subscribers. Promotion ongoing at time of application, so final results still forthcoming.
---
Pure Flavor
Leamington, ON

Love For Fresh Campaign
GOAL
To grow the Pure Flavor® brand and foster deeper emotional connections with consumers.
STRATEGY
The #LoveForFresh Campaign grew out of an observation that the impacts of COVID had society working to balance how to go about their daily lives when so much of what was the norm had been turned upside down. The #LoveForFresh Campaign was a two-month omni-channel promotional campaign to inspire consumers to increase fresh produce consumption at every eating occasion.
RESULTS
Relevant daily social content, engaging sweepstakes and contests, demographic and consumer preference capture via 13,000 survey completions, and a significant increase in fans, followers and subscribers.
---
Stemilt Growers
Wenatchee, WA

The Man Behind The Moon Cherries
GOAL
During the pandemic, when the world was thrown upside down and nothing felt right, Stemilt wanted to share a grower's passion, and, ultimately, encourage consumers to trust their food.
STRATEGY
Stemilt knows it's important to include the consumer on the journey of growing fruit, so it decided to share the drive that fueled fourth-generation Stemilt cherry grower Kyle Mathison —AKA "The Man Behind The Moon Cherries" — and provide a glimpse of Stemilt Hill and home to A Half Mile Closer to the Moon® cherries.
In a short video, a passionate Mathison explains the story behind Stemilt's A Half Mile Closer to the Moon® cherries and how they are harvested. Moon Cherries are grown at elevations of 2,600 feet and higher, or literally a half-mile closer to the moon. Stemilt wanted to share the passion and joy that fuels Mathison, who has been farming for decades and is known today as one of the best cherry growers in the world. This video lived on Stemilt's social channels and was all digital.
RESULTS
Within three weeks, the campaign garnered over 16,500 link clicks to Stemilt's Moon Cherries product page. It reached nearly 400K people, had 568,787 impressions, and had a click-thru rate of 3.76%. The most popular ad (out of five) garnered over 4K link clicks, reached 135,629 people, and encouraged nearly 1,400 post reactions, including 31 ad saves.
---
T&G Global–North America
Torrance, CA

Envy Apples Partner with Hallmark Channel's Countdown to Christmas
GOAL
T&G Global – North America, owners of the Envy™ brand, set a goal for Envy to be recognized as the official apple of the 2020 holiday season.
STRATEGY
Envy aligned with Hallmark's Countdown to Christmas programming from October to December. The eight-week omni-channel campaign included recipe demonstrations on Hallmark Channel's daily morning show, Home & Family, as well as ads, recipe videos and editorial content on its website. Hallmark Channel also promoted Envy on its social media channels and in its enewsletter.
The partnership was amplified with in-store point-of-sale material and a digital ad campaign that included YouTube pre-roll ads and display advertising geotargeted to key sales regions. A coordinated PR push earned coverage in consumer media nationwide, including local television news segments featuring dietitians.
A campaign microsite introduced eight new recipes that were themed to the new holiday films being released weekly.
RESULTS
Nielsen data and internal T&G Global sales reports found:
44% Growth Among Q4 Envy Top 10 Retail Accounts
34% YOY Volume Growth of Holiday Themed 2LB Pouch
65% New Users Gained via Innovative Retail Media and Digital-Demo
75% Average Weekly Sales Uplift on Accounts Activating Double Bins
20% Dollar Sales Growth for Envy 10/25/20 – 1/2/21
21% Volume Sales Growth for Envy 10/25/20 – 1/2/21
---
Veritable Vegetable
San Francisco, CA

Rebranding Campaign
GOAL
Give the company a fresh, modern and relevant look.
STRATEGY
To set itself apart from other produce distributors, Veritable Vegetable created a new palette of brand colors, a new brand guide, overhauled existing brand elements, redesigned its website and updated marketing and sales materials.
The digital creative agency, Free Range Studios, helped with this campaign. Over the course of a year, the company established a new elegant look with fresh colors and a whimsical, artistic aesthetic. The redesigned website is both easy to navigate and mobile optimized. The new brand was promoted through email communication to the company's buying community.
RESULTS
Sales through the website have increased 40% year over year. Since the site launched in August 2020, web traffic has increased 50%. The company has also received overwhelmingly positive feedback about the new website.