Mushrooms are growing in popularity and can add sales if consumers are given the right prompting.
Originally printed in the August 2023 issue of Produce Business.
Mushrooms have gotten more consideration over the past few years, largely driven by foodservice. But retailers should recognize more consumers have made mushrooms part of their diets. So, to sell more mushrooms, present mushrooms in multiple ways, whether raw whole, as part of meal kits or other ready-to-cook items and even in prepared heat-and-serve meals.
Anne-Marie Roerink, retail analyst with the Mushroom Council, says core popular mushrooms continue to dominate sales, but that doesn't mean interest is confined to them.
"As with all categories, it's that 80/20 rule, where the vast majority of fresh mushroom sales are made up by regular white and cremini mushrooms," she says. "However, it is the specialty varieties that are most intriguing to the core mushroom users and, at the same time, provide added differentiation to retailers."
Chris Johansen, sales and account manager, Buona Foods, Landenberg, PA, agrees white mushrooms are still the dominant variety in terms of sales, but brown cremini and portobellos continue to grow in popularity. "Exotic mushrooms see the greatest rate of sales growth as people learn more about their uses," he says.
"Mushrooms have not only increased in popularity, they have become a trending topic in most conversations about food, nutrition and sustainability."

— Chris Johansen, sales and account manager, Buona Foods, Landenberg, PA
And Johansen believes stores that make an effort with mushrooms are likely to see benefits in the long run.
"Mushrooms have not only increased in popularity, they have become a trending topic in most conversations about food, nutrition and sustainability," he says. "People know more about mushrooms now than ever before, as the industry works to bring these hidden treasures into the light."
SHIFTING GEARS
The mushroom category is evolving, and those dynamics emerge at retail.
"In the past two years, we've seen the emergence of variety packs as well that contain several different types of mushrooms, such as oyster, shiitake and trumpet mushrooms," Roerink says, explaining it's a trend copied from restaurant foodservice where gourmet and foodie menus often feature a mix of mushrooms.
Exotic varieties are often sold in bulk or smaller packages to address the higher price per pound compared with regular white or cremini mushrooms, she adds.
"Longer term, we also see a slow, but steady, movement away from white mushrooms toward cremini, also often marketed as Baby 'Bellas," Roerink predicts. This trend, she says, could be positive for retailers and consumers alike, as creminis tend to have slightly longer shelf life.
"POS materials explaining the flavor profile and texture differences can help prompt consumers to give cremini or specialty mushrooms a try," Roerink suggests.
In terms of retail presentation, she says, basic mushroom merchandising doesn't need to change much "for the simple reason that mushrooms don't have seasonality like summer or winter produce."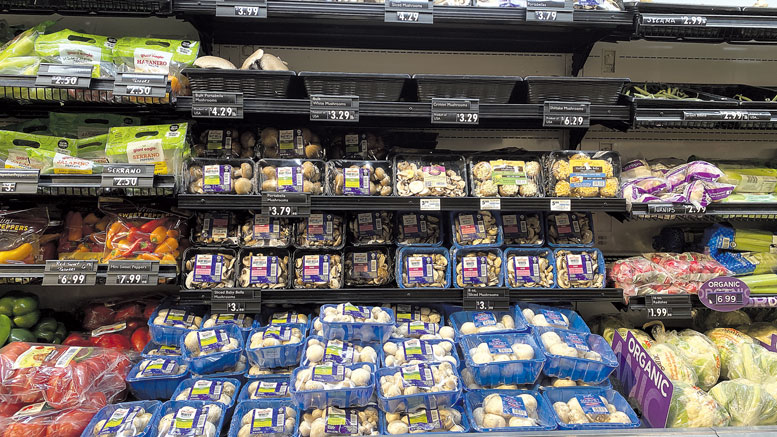 But Roerink is seeing developments in mushroom merchandising in secondary locations. "During the summer, we have always seen a strong focus on mushrooms featured on veggie kabobs or meat/vegetable kabobs. But mushrooms are now popping up in many more locations around the store due to two trends."
One, she says, is plant-based or plant-forward eating. "Plant-based meat alternatives are unable to keep up sales, as consumers have brought up concerns with taste, texture and actual healthfulness," Roerink explains. "As a result, we're seeing the set of plant-based meat alternatives in the meat department shrink and more actual produce-based choices to pair with proteins taking over that space."
Examples include protein-stuffed bell peppers, zucchinis and mushrooms, and there also are mushroom and meat blends. Roerink adds that many retailers are bringing seasoned or marinated mushrooms as sides into the meat department.
QUICK AND EASY
Second, there's grilling, which is its own trend and has been on the rise.
"Meat has long dominated all grilling occasions, but retailers are pointing out that seafood and produce can be great on the grill also," Roerink says. When she visited a Von's in late June, several veggie packages, including stuffed mushrooms, had stickers pointing out they are great on the grill.
"This is driving a lot more secondary displays for mushrooms in the produce, deli and meat departments," she says.
For all its grilling efforts, Von's sees more opportunity with mushrooms. For example, Von's offers prepared stuffed mushrooms in easy, heat-and-serve forms, such as its ReadyMeal program. Under that label, Von's offers products ranging from Gouda Stuffed Mushrooms to a Mushroom Taco Kit to Mushroom Toppers.
GRAB ATTENTION
A strong presentation can encourage consumers to purchase mushrooms, even if they aren't on the shopping list.
Market Basket stores, operating in Franklin Lakes and Wykoff, NJ, are havens for foodies, says Zachary Chernalis, Market Basket chief operating officer. So, Market Basket makes mushrooms conspicuous.
Take the Franklin Lakes store, for example. Although the store is relatively small in size, with about 14,000 square feet of selling space, a vertical display houses about 20 linear feet of whole, sliced and cap mushrooms. The eye-high presentation is hard to miss and can generate impulse buys. And the store also has a smaller selection of whole, sliced and caps within the organic produce presentation.
Chernalis says Market Basket has been able to maintain mushroom sales gains made over the past few years.
"We did see an increased demand in mushrooms since the pandemic, especially specialty mushrooms," he says. "We have also used recipe cards to help instruct customers on some of the best ways to use them."
To maximize mushroom sales, products have to be visible. Data derived from market researcher Circana demonstrates that mushrooms shouldn't be merchandised or marketed in a singular way, Roerink says.
"Secondary locations are a great way to drive extra sales and to provide ideation for retailers," she says. "We conducted a co- and cross-purchase study based on Circana data. It shows which items people naturally put together."
And that data gives retailers direction for cross-merchandising.
Roerink says the Mushroom Council is also sharing a lot of ideas from retailers in signage and labels for optimized merchandising. "One big push this year has been to share in-store merchandising of stuffed mushrooms in the meat and deli department, which are both fast-rising areas."
Sean Steller, director of business development at Phillips Mushroom Farms, Kennett Square, PA, says unity can serve mushroom presentations.
"Generally speaking, mushrooms should be displayed together, unless there is a promotion or cross-merchandising, such as a display near the meat department," he says. "Consumers are looking to examine all mushroom varieties at the same time, so keeping them together makes a lot of sense."
Steller is also a strong advocate for pairing mushrooms and meat.
"Cross-merchandising mushrooms with meat is becoming more popular, as consumers are looking for combo promotions for lower meal costs," he says. "Consumers are blending mushrooms with ground proteins, using mushrooms on top of many dishes, and replacing meat with mushrooms for vegan or vegetarian options."
Mark Kreiner, outside sales coordinator at Mother Earth, Landenberg, PA, suggests placement near packaged salads and cooking vegetables, and he supports inclusion of stuffed and otherwise prepared mushrooms in a convenience meal section, something that more supermarkets are placing adjacent to produce departments.
But, Kreiner emphasizes, proper handling is as important as visibility to mushroom sales.
"Cold chain maintenance is critical," to ensuring fresh mushrooms are at peak quality when consumers are shopping, Kreiner says.
Any deviation that puts them in temperatures of more than 38 degrees can start degrading fresh mushrooms, he explains.
Rotation is also important, Kreiner adds, and LED lighting, which isn't a significant heat generator, can help maintain the right atmosphere. Otherwise, he advises placement away from case misters or areas of high humidity.
EMPHASIZE NUTRITION
Promotions that focus on health considerations give consumers more reasons to pick up mushrooms.
"The Mushroom Council's 'Feed Your Immunity' campaign has been well-received by the public, and mushrooms' health benefits have always been emphasized," says Buona Foods' Johansen. "As consumers work to reduce their meat consumption in favor of more plant-forward diets, mushrooms are well-positioned. They provide protein, vitamins and minerals that are essential to a diet with fewer animal-based nutrients."
Clover Specialties, Gardena, CA, focuses on dried mushrooms, and owner Ruth Botengan says the kind of culinary mushrooms the company offers are doing well. However, she sees opportunity in nutrition.
"We have recently ventured into the functional mushroom arena," Botengan explains. "There is a growing interest in functional mushrooms as nutraceuticals, healthful teas, sports nutrition, cognitive health, etc. Nutraceuticals have been studying and increasingly using lion's mane, reishi, turkey tail, chaga, cordyceps, shiitake, especially the organic variety."
• • •
Give Dried Mushrooms a Try
Dried mushrooms can be an important accompaniment to fresh.
Mark Kreiner, outside sales coordinator with Mother Earth, Landenberg, PA, recommends produce sections merchandise dried mushrooms on J hooks, pegs or on racks above and alongside fresh to give consumers more options.
But watch your placement of dried mushrooms. Chris Johansen, sales and account manager, Buona Foods, Landenberg, PA, says dried mushrooms should be merchandised near, but never with, fresh mushrooms.
"Dried mushrooms have optimum shelf life in cool, dry areas. The moisture of a produce case can cause mold formation within the package," he explains.
He recommends placing dried mushrooms on a rack near the fresh mushroom set or using clip strips to hang them from display pieces throughout the produce department.
Sean Steller, Phillips Mushroom Farms, Kennett Square, PA, says dried mushrooms are more commonly displayed near fresh, which helps consumers locate all mushroom items in one place. "Generally, consumers are looking for fresh or dried mushrooms for a specific use, but ease of navigating the shelves is a huge factor for repeat sales."
Whatever the case, keep dried mushrooms away from the damp, says Ruth Botengan, owner of Clover Specialties, Gardena, CA.
"Dry mushrooms should be displayed away from humid areas," she says. "I see packages of dry mushrooms in the produce area where, at times, the produce is sprayed with water to keep them moist. Moisture is not good for dried mushrooms."