Originally printed in the December 2018 issue of Produce Business.
ANALOGUE
19 W. 8th St., New York, NY 10011
Tel: (212) 432-0200
www.analoguenyc.com
Hours: Sun-Wed: 5:00 p.m. – 12:30 a.m.
Thurs: 5 p.m. – 1:30 a.m.
Fri & Sat: 5 p.m. – 3:00 a.m.
Cuisine: Cocktail Bar & Small Plates
By Carol Bareuther
Get a head start on making half your plate fresh produce by sipping a pre-dinner drink spiked with fruits and vegetables. That is what's on the menu at Analogue, a softly lit, wood-paneled, leather-chaired cocktail bar on the west side of Greenwich Village. The classic scene matches the theme perfectly, as Analogue's name references the vinyl records played over a vintage hi-fi. It's a setup that owners Jared Gordon and Jesse Wilson specifically designed to offer guests an evening of digital disconnect, though with an on-trend cocktail in hand.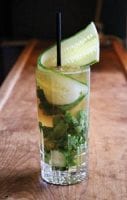 "Our philosophy is that we find the best ingredients, whether they be liquor, produce or spices, and combine them in interesting and creative ways," says Gordon. "The better the ingredients and produce are, the less one has to do with them to showcase a quality product," To do this, "we source from everywhere, from Woolco Foods [Jersey City, NJ] to the farmers' markets in Union Square, to Kalustyan's specialty market for spices and unique ingredients. Markets are great for one-offs, but we also need consistent sourcing and quality, which is the eternal struggle of a foodservice business."
Produce is brought in from California, South America and Africa. Spices are brought in from Asia and India. It's a wonderland for people who enjoy producing food and drink.

– Jared Gordon, Analogue
Gordon and Wilson met at New York University, where they, like most college students, enjoyed the local bar scene. After graduation, the two went in the same career direction but in different locations. Wilson moved to San Francisco to work in financial planning, while Gordon stayed in his native New York as an investment banker. Interestingly, it was the shared enjoyment of a good drink that brought the two back together. That, and a displeasure with the typical noisy crowded bar scene in which they wanted to create just the opposite: a place where you could actually hear a conversation and drink in a relaxed environment.
Analogue's cocktail and small plates menus change seasonally. Last spring, for example, ribbons of fresh-cut cucumber topped the rum-based Pimmly Lit and tequila-spiked Spice Trader for snackable aesthetics. There's also the popular shishito pepper, torched and served atop the bar's Mango Lean cocktail, a spicy and savory agave drink made with mango puree, mint and Tajin seasoning. Analogue's bartenders say seasonal plans for upcoming conjured drinks include apple cider, cinnamon sticks, fennel, cranberries and walnuts. As for food, shishito peppers star again in a small plate featuring a simple miso lime glaze. This selection has proven so popular that guests demanded its return when it was once, very briefly, taken off the menu.
"New York is a place where one can find anything, at any time," says Gordon. "Fish is brought in from Japan. Produce is brought in from California, South America and Africa. Spices are brought in from Asia and India. It's a wonderland for people who enjoy producing food and drink, as the best providers in the world are here, inspiring us, and we're able to source and utilize the best ingredients in the world in our response."
CAFE KATJA
79 Orchard St., New York, NY 10002
Tel: (212) 219-9545
www.cafekatja.com
Hours: Lunch: Tues-Fri: 11:30 a.m. – 3:30 p.m.
Dinner: Sun-Thurs: 5 p.m. – 11 p.m.
Fri-Sat: 5 p.m. – 12 a.m.
Weekend Brunch: Sat-Sun: 11 a.m. – 3:30 p.m.
Cuisine: Austrian Comfort Food
By Chris Auman
When Erwin Schrottner and his business partner, Andrew Chase, opened Café Katja on Manhattan's Lower East Side in 2007, the place was, as Schrottner says, "a hole in the wall." Since then, this cozy little restaurant has changed, along with the neighborhood.
"When I came here 11 years ago, it was a very quiet neighborhood, not a lot going on, almost no restaurants, and then a lot of art galleries left SoHo and moved to the Lower East Side." says Schrottner. This brought an influx of new residents who are, as Schrottner says, "a very mature clientele."
This new customer base liked the homemade Austrian dishes Café Katja served, so much so, they were willing to wait up to two hours for one of the 20 available seats in the 400-square-foot storefront. Over the years, the Café has expanded twice into adjoining spaces and now seats up to 75 guests, all looking for Austrian comfort food and a pint of German beer.
One might say Schrottner's entire life has been farm-to-table. As a boy growing up on the family farm in his native Austria, he was immersed in the agricultural life. He assisted in growing fruits and vegetables, helped raise the livestock and started working in a restaurant kitchen at 15. Those early experiences with food led to a lifetime of sourcing ingredients and preparing and serving meals.
"What we serve is really homey, basic food … what I grew up with," says Schrottner of Café Katja's lunch, dinner and brunch offerings. The menu includes his mother's meatball recipe, and on a regular basis, the lunch menu features what he calls a "basic goulash you can find in every joint in Austria." Diners likely don't believe there is anything on the menu that could be considered basic, or that restaurants such as Café Katja are commonplace throughout Austria. His customers may never know, and they probably don't care, when they are diving into the fresh tomato or roasted beet salad.
The Café's menu changes with the seasons, and Schrottner is very involved in serving customers and managing the kitchen. Both he and partner Chase worked in the kitchen at the Monkey Bar in the Hotel Elysée, and Schrottner was once the executive chef at the Mark Hotel. He is hands-on when overseeing the creation of new recipes and daily specials. His chef visits Union Square Greenmarket regularly to source fresh produce, such as baby beets, strawberries, radishes and whatever in-season commodities are available. Schrottner is also willing to go that extra mile to get specialty items. Many extra miles in fact. "When April comes around, I always want big, fat white asparagus from Europe," he says, "So we call a producer in Europe, and he will put it on an airplane and fly it over. Within 24 to 48 hours, I have it from the soil into my refrigerator." There's certainly nothing basic about that.
CLINTON STREET BAKING COMPANY
4 Clinton St., New York, NY 10002
Tel: (646) 602-6263
www.clintonstreetbaking.com
Hours: Mon-Fri
Breakfast: 8 a.m. – 11:30 a.m.
Lunch: 11:30 a.m. – 4 p.m.
Dinner: 5:30 p.m. – 11p.m.
(closed Sunday night)
Saturday Brunch: 9 a.m. – 4p.m.
Sunday Brunch: 9 a.m. – 5p.m.
Cuisine: Classic American
By Chris Auman
What started out as an unassuming 32-seat bakery nearly 20 years ago has expanded into a full-service restaurant and a global operation, with locations in the international cities of Tokyo, Dubai, Bangkok and Singapore. Not too bad for a cozy neighborhood brunch spot with a passion for pancakes, waffles, pastries and pies.
DeDe Lahman co-founded the Clinton Street Baking Company in 2001, along with husband and business partner Chef Neil Kleinberg. The two met as fellow patrons at a local restaurant. Kleinberg has enjoyed a long culinary career in the city, opening his first restaurant, Simon's, at the ripe old age of 22. He has appeared on numerous cooking shows and television programs and is the co-author, along with Lahman, of the Clinton St. Baking Co. Cookbook. His pancakes are just as famous, having been voted best in the city by New York Magazine.
Their co-creation has never been the Lower East Side's best kept secret. In the brunch-crazy metropolis of New York City, the Clinton Street Baking Company is legendary. Their daytime menu is heavy on breakfast items, and the nighttime menu offers breakfast for dinner, in addition to buttermilk fried chicken and burgers. It's this focus on comfort food and familiar American classics that gets folks lining up down the block.
Fresh, locally grown produce is a prominent part of the food served here, and local suppliers are used for everything. "We always go to the market and get as much as we can in season, particularly in the fall, summer and spring," says Lahman, "and then we have purveyors that we've used for many years — people we know and trust." These locally grown ingredients are sourced from farms (Blooming Hill Farm, Migliorelli Farm, Satur Farm) in New York and New Jersey and provide the eatery with organic asparagus, butternut squash, apples, pears, kale, green tomatoes and carrots, some of which are featured in the Market Soup of the Day.
The Kale Salad is another popular veggie-forward selection that features baby kale, hunks of avocado, cherry tomatoes, red onion and spiced green pumpkin seeds. The veggie sandwich goes all in with fresh produce, as well, with beefsteak tomato, avocado, romaine, alfalfa sprouts and a mix of farm greens that earn a spot on many dinner plates.
Locally sourced fruit also has a starring role in many menu offerings, apples in particular. "Apples are a big deal for us," says Lahman. "We do a lot of apple and pear waffles and apple cider drinks. We also do a hot buttered rum drink, with apples from Samascott Orchards. It's quite popular." With this focus on fresh, local and in season, and a footprint on two continents, it's not hard to imagine Clinton Street being the most sought-after location in Manhattan.
DOUBLE ZERO
65 2nd Ave., New York, NY 10003
Tel: (212) 777-1608
www.matthewkenneycuisine.com/double-zero
Hours: Mon-Wed: 5 p.m. – 11 p.m.
Thurs-Fri: 3 p.m. – 12 a.m.
Sat: 12 p.m. – 12 a.m.
Sun: 12 p.m. – 11 p.m.
Cuisine: Vegan Pizza
By Carol Bareuther
Great pizza is as synonymous with New York as are grand locations like the Empire State building. It's no wonder. The city is home to America's first pizzeria, which opened more than a century ago. Today, the Big Apple remains iconic for its Love Apple-sauced pie. What's more, leave it to a New York restaurateur and two-time James Beard Award nominee, Matthew Kenney, to take pizza to a whole new level. In fact, Kenney's vegan, plant-based pizza and more menu at Double Zero in the East Village has earned a Michelin star.
"Matthew and I share the same culinary philosophy," says Scott Winegard, a native New Yorker, and executive chef and director of culinary operations at Matthew Kenney Cuisine. "That is, source the best plant-based ingredients from the most responsible suppliers and create something that people really enjoy and feel good about eating."
Winegard nostalgically recalls spending summers on Long Island, where he gravitated to his grandfather's garden. The fact that he didn't grow up to be a farmer, after experiencing the joy of cultivating and consuming freshly picked tomatoes, cucumbers, squash and watermelon, to name a few, amazes him to this day. Instead, he took his love of fresh fruits and vegetables into the kitchen. It proved a no-brainer for Winegard to work for Kenney, who has pioneered and popularized upscale plant-based cuisine. In fact, the Matthew Kenney Cuisine group, of which Winegard helps to helm, now spans 15 vegan restaurants, including Double Zero, which since its New York opening in 2016 has expanded to pizzerias in Brooklyn, Boston, Philadelphia and Los Angeles.
That's the great thing about New York. You can find everything you need, and especially when it comes to pizza, New York and pizza go hand in hand.

– Scott Winegard, Double Zero
"The most popular pizza is the Farro-Fennel Sausage," explains Winegard. "It's not mock meat. Instead, we season the farro with the same seasonings as used in sausage such as sage, marjoram and paprika. It's topped with tomato, a cashew-milk mozzarella and shaved fennel bulb."
Other best-sellers are the Spicy Marinara Arrabbiata, made with shiitake bacon, cauliflower, macadamia ricotta and basil, and the Eggplant Bacon, which has tomato, garlic mozzarella, olives, oregano and arugula. Inventive creations include the Truffle Cashew Cream, topped with wild mushrooms, baby kale and a lemon vinaigrette; a White Pizza, layered with roasted corn, garlic macadamia ricotta, maitake mushroom and baby kale; and a Basil Sunflower Pesto, with slow-cooked onion, tomato confit, herb macadamia ricotta and crunchy sunflower seeds.
The weekend Brunch menu includes a Breakfast Pizza, which features a polenta scramble with onions, jalapeno, tomatoes, kale, cilantro, shiitake bacon and cashew cheese. Non-pizza selections on Double Zero's menus include a Winter Lettuces salad tossed with fennel, blood oranges, brazil nuts and a charred onion vinaigrette. For dessert, it features a Meyer Lemon Boudino or custard with acai and candied cashews.
"We have a great company that delivers daily, and we buy from the local markets," says Winegard. "Farm One and Baldor are other suppliers. I grew up here, so I've built up a network of purveyors over the years. That's the great thing about New York. You can find everything you need, and especially when it comes to pizza, New York and pizza go hand in hand."
ESSEX STREET MARKET
Public Market
120 Essex St., New York, NY 10002
Tel: (212) 312-3603
www.essexstreetmarket.com
Hours: Mon-Sat: 8 a.m. – 7 p.m.
Sunday: 10 a.m. – 6 p.m.
By Chris Auman
The Essex Street Market has a history in New York City that goes back nearly 80 years. It was in 1940 that then Mayor Fiorello H. LaGuardia established this large indoor market as a way to get the traditional pushcart vendors off the street and out of the public way. Essex Street Market today is one of only four public markets left in the city, and even as it has survived in its current location for eight decades, it will find itself in a new home in 2019 when it crosses the street to become a part of the new Essex Crossing development.
The new market will remain a public market, owned and operated by a city agency called the New York City Economic Development Corp. "All 25 vendors that are with us will be moving over to the new market, but we're also bringing on 14 new members and two full-service restaurants," says Lauren Margolis. Margolis is the community programs and engagement manager for the Essex Market Vendors Association. She works directly with vendors that include produce purveyors Viva Fruits and Vegetables, Luna Brothers Fruit Plaza and Essex Farm Fruits and Vegetables, along with booths occupied by bakers, cheesemakers and fishmongers.
The Lower East Side has a long tradition as an immigrant community. According to Margolis, the largest wave of Puerto Rican immigrants arrived in the area during the 1960s and '70s. The shopping needs of these residents are reflected in much the market offers. As with neighborhoods throughout the city, however, the Lower East Side is changing. An influx of younger, more affluent residents has arrived in an area that still maintains its large Caribbean population, but there are plenty of retail options for bread, meat and beverages for them, as well.
Sobeida DeLa Cruz is the manager of Viva Fruits and Vegetables, a produce wholesaler and retailer. It's a family owned-and-operated business that occupies four booth spaces at the market and has a nearly two-decade presence on Essex Street. Viva caters to the neighborhood's Puerto Rican community but also a mix of ethnic populations. "I have a lot of Africans, Jamaicans, Colombians, and Ecuadorans," says DeLa Cruz of the people who utilize her family's booths, "but most of our customers are Hispanic." This means DeLa Cruz and her family keep commodities such as plantains, yucca, cassava, dried beans and nuts in good supply.
Viva sources its wares from two terminal markets in New York City. "We usually get from Hunts Point and the Brooklyn Terminal," says DeLa Cruz, whose father gets up at 2 a.m. every day to be at the market at 3 a.m. As a public market, small operators such as Viva Fruits and Vegetables are paying less in rent than the market rate. This allows them to pass those savings on to their customers. "They're offering their produce items for less money than a lot of the surrounding grocery stores, which is really important to our neighborhood," says Margolis.
GREENE GRAPE PROVISIONS
767-769 Fulton St., Brooklyn, NY 11217
Tel: (718) 233-2700
www.greenegrape.com
Hours: Sun–Sat: 8 a.m. – 9 p.m.
Cuisine: Gourmet Market
By Julie Cook Ramirez
A New York City-designated historic district, Brooklyn's picturesque Fort Greene neighborhood is home to many examples of mid-19th century Italianate and Eastlake architecture, along with quaint tree-lined streets and elegant low-rise housing. It's also home to The Greene Grape, a set of unique businesses with one shared mission – to provide goods and services produced with integrity, skill and pride.
The Greene Grape began as a wine shop in 2004, where locals quickly embraced its large selection of affordable wines and helpful database capable of remembering their favorite bottle. In 2008, owner Amy Bennett branched out, opening Greene Grape Provisions, a small artisanal grocery store offering the likes of grass-fed beef and organic produce. Three years later, she expanded her Fulton Street empire, opening The Greene Grape Annex, a neighborhood bar and coffee house.
As other nearby businesses closed up shop, Bennett selected a larger storefront for Provisions, allowing room for an expanded butcher department, sustainably caught fish and seafood counter, coffee bar, cheese monger, wine store, and bakery, along with a substantially larger produce department. Greene Grape's commitment to produce is evident from the moment you walk in the door, according to Laura Rose Dailey, produce buyer and department manager.
"For us, it's 'let's push fresh produce as your first thought when you are planning your meals or planning your week,' " says Dailey. "There are so many colors in produce. It's an exciting, bright thing when you come into the store."
The Greene Grape prides itself on supporting local, small, sustainable farms. However, doing business in New York City can be difficult for local farmers because they frequently can't meet the minimums, says Dailey. Logistics also pose a challenge, as most don't have access to a suitable delivery truck. Fortunately, she says, there's been an upswing in the number of distribution companies stepping forward to represent local farmers. That's enabled the store to better meet its goal of selling primarily locally grown produce, filling in the gaps with organic product from other locations "as little as possible."
Dailey relies heavily on signage to educate Greene Grape's clientele about the farmers who produce their offerings and whether a given product is local, organic, or IPM. Of course, dealing primarily with smaller farms means products may vary in size, appearance or availability from one week to the next. It's incumbent on Dailey and her four-man produce crew to educate customers about the variability of locally grown offerings and the fact that produce carries the same nutritional value, even when it has some imperfections.
"We know our farmers' agricultural practices, so we feel comfortable saying, 'We put thought and intention into choosing this product, so you should feel good about purchasing it,'" says Dailey. "The level of trust our customers have about our purchasing decisions is really important and it shines through the products we sell."
LADYBIRD
111 E 7th St., New York, NY 10009
Tel: (917) 261-5524
www.ladybirdny.com
Hours: Sun-Thurs: 5 p.m. – 1 a.m.,
Fri & Sat: 5 p.m. – 2 a.m.
Cuisine: Vegan Tapas & Small Plates
By Carol Bareuther
The ornate chandeliers, white marble floors and green velvet-chairs give Ladybird, a 42-seat restaurant located in Manhattan's East Village, that bygone-era feel. However, one look at the menu and it's clear this vegan, tapas-and-small-plates wine bar and restaurant is certainly up to 21st century times. Beet ceviche, appetizingly and artistically served with sliced avocado, cilantro, chili and lime, and roasted sweet potatoes topped with miso butter and scallion tempura definitely don't resemble the way grandma cooked these root cellar staples.
"Ladybird acts as a response to pop culture and a growing interest in conscientious eating," explains owner Ravi DeRossi. "Our plant-based menu is a modern and glamorous alternative to mainstream consumerism. We enjoy showcasing bright and complex flavors alongside our wine-based cocktail program. We use fresh produce to capture the nuanced textures and complex flavors of the ingredients featured in our menu."
DeRossi grew up in Boulder, CO, as Ravi Lalchandani. He changed his last name to the easier-to-pronounce DeRossi in hopes of pursing an acting career. A few years later, DeRossi embarked on a different type of artistic endeavor as a globe-trotting painter. By the early 2000s, he was back in Boulder running a deli with his mother. When the family sold the deli, DeRossi took his newfound funds, moved to New York and opened a bar. Today, he heads DeRossi Global, which currently operates 15 bars and restaurants in New York and Brooklyn, including Ladybird. An avid animal lover and vegan himself, it's no surprise there's no meat on the menu at Ladybird, or DeRossi's sister plant-based restaurants: Mother of Pearl, Cienfuegos and Avant Garden. This makes Ladybird's dinner, late-night and even beverage menu produce-inspired.
The most-popular dish is listed simply on the menu as Avocado. The fruit is halved, peeled, sliced and served on a delicious puddle of black garlic ponzu sauce, with wakame and crunchy fried sesames on top. DeRossi calls the dish a "fun crowd-pleaser with Asian flavors".
The newest drink is the Reunion Ibis, which features the crisp, refreshing flavors of fresh strawberry and cucumber, alongside Riesling and smoky bitters. The most creative menu item is, hands down, the Buffalo Maitake Buns. This dish is a combination of crisp fried maitake mushrooms and a house-made buffalo sauce. It's full of flavor and oddly satisfying nostalgia.
DeRossi says the restaurant sources a portion of its fresh produce from wholesale distributors such as Baldor. Farmers markets located down the street from Ladybird supply the eatery with seasonal produce sourced from upstate New York.The restaurant also has established a relationship with many vendors who procure specific products for the chefs to utilize.
"New York's eclectic foundation leads us to draw inspiration from multiple cultures and flavor profiles," says DeRossi. "Ladybird's focus on vegan tapas acts a doorway to introduce New York's fast-paced East Village to bright and delicious meat alternatives."
OCEANA RESTAURANT
120 West 49th St., New York, NY 10020
Tel: (212) 759-5941
www.oceanarestaurant.com
Hours: Mon–Fri 7:30 a.m. – 10 a.m.,
11:30 a.m. – 3 pm;
Mon-Sat: 5 p.m. – 10 p.m.
Cuisine: Seafood, farm-to-table
By Doug Ohlemeier
Located in Midtown Manhattan, steps from Times Square and Rockefeller Center, Oceana Restaurant is a destination restaurant for tourists and locals, offering diners the fruits of the sea and the bounty of the land.
On 49th Street, between 6th and 7th Avenues, Oceana is one of the city's top seafood venues. The restaurant promotes itself as the quintessential New York restaurant, serving diners daring flavors originating from Chef Bill Telepan's distinctive creations.
One of New York's most accomplished chefs, Telepan is committed to using quality fresh ingredients. He's considered one of the city's pioneers in sourcing from small growers.
"Especially in New York, diners are more savvy now. They know things," says Telepan. Many purchase from the city's numerous neighborhood green markets. "They come to a restaurant for an experience," says Telepan. "They want something unique, something they wouldn't normally make at home. They don't want to have the everyday food on the table."
For dinner, appetizers include a wide selection of oysters, ceviche, house smoked brook trout and foie gras and lobster. For main courses, diners can choose from seared scallops, a selection of fish including grilled swordfish, seared halibut, Scottish salmon, and whole grilled porgy, a mild fish harvested locally from Long Island and New Jersey. The menu also features dover sole a la meuniere, live Maine lobster, Tuna Wellington for two, as well as roasted duck breast, roasted chicken, rib eye and steak 'frites.'
A prix fixe menu for theater-goers is offered. An assortment of vegetarian dishes includes squash pierogi and mushroom burger sliders. Sides include lobster fried rice, creamed spinach, fingerling sweet potatoes, house-made potato gnocchi and Brussels sprouts. For dessert, patrons can enjoy orange vacherin, a spiced mandarin elderflower fruit salad with orange sorbet, and "lemon meringue pie" parfait, a signature dish.
A three-course lunch featuring appetizers, fish and calamari and desserts is offered. Shrimp bisque is one of the first course offerings. Second course fare includes the dinner fish, as well as honeynut squash featuring sweet potato hash, mushroom puree and currents. Lunch classics include a wild Alaskan coho salmon burger, lobster rolls and smoked salmon salad. For breakfast, the menu mixes avocado toast, lobster hash, Italian fried eggs and biscuits and shrimp gravy with traditional favorites.
Oceana sources produce from Norwich Meadows Farms, LLC, in Norwich, NY. The Upstate New York community-supported agriculture operation delivers a variety of vegetables three times per week. Other suppliers include New York's Baldor Specialty Foods, which pulls from many regional farms, and Riviera Produce Corp., in Englewood, NJ.
"If we can get great product, that's half the battle," says Telepan. "It makes the seafood much better. Diners want to know you're sourcing well and sourcing thoroughly. Local enables you to buy unique things all the time or not readily available in the Northeast, which is a great growing area. There's a lot of great product out there. If it shows on the menu, and you work hard for it, the people generally recognize and appreciate it. They want to know you're doing all that work."
Oceana is the principal restaurant owned by the Livanos Restaurant Group. The third-generation family involvement began in 1957, when John Livanos immigrated to the U.S. from Greece. He began his career in Manhattan as a dishwasher and bought his first restaurant in 1960. The organization operates five other restaurants in the metropolitan New York area.
Telepan was owner and chef of the critically acclaimed Telepan Restaurant on Manhattan's Upper West Side, and was also at Le Cirque, Judson Grill and Le Bernardin in Ansonia, CT. He also worked under the legendary Chef Alain Chapel in France after graduating from the Culinary Institute of America.
"New York is special and a great place for eating," he says. "There are so many good restaurants and so many diverse types of cuisines, which is what makes it a special city. As a chef, that puts a lot of pressure on you to create your own style."
SANS
329 Smith St., Brooklyn, NY 11231
Tel: (929) 337-6292
www.sansbk.com
Hours: Wed–Sun 5:30 – 10:00 p.m.
Cuisine: Vegan
By Julie Cook Ramirez
Long before he packed his bags for culinary school, Champ Jones grew up in a family where the healthy aspects of eating were viewed as more important than the pleasure derived from a meal. That early experience fostered in Jones a deep interest in plant-based cooking, although he quickly developed the mindset that healthy eating didn't have to be sacrificial.
Years later, while working as a sous chef at upscale New York City restaurants Eleven Madison Park and NoMad, Jones took to experimenting with tofu, tempeh and other vegetarian mainstays. Privately, he dreamed of opening his own restaurant and developing a menu based around healthy, plant-based dishes. When a prime location in the Carroll Gardens neighborhood opened up, Jones jumped at the opportunity to embark on a grand experiment. Together with business partner and sommelier Daniel Beedle, Jones launched his first solo venture, Sans, a vegan restaurant aptly named after the French word for "without."
"It was a bit risky, but we wanted to see if enough people would respond to this form of plant-based dining," says Jones.
Although it's easy to assume Sans would become a mecca for vegans and vegetarians, Jones' target clientele is far broader. One of his primary goals is to dispel the notion that plant-based dining isn't satisfying. Thus, Jones set out to flex his creative culinary muscle, conducting dishes such as Plum Terrine, which replicates the fatty, satiating feel of a foie gras, but doesn't contain any animal products whatsoever. According to Jones, that particular dish, along with his Truffle Tempe, exemplifies everything he wants to accomplish with Sans.
"A lot of people's conception of vegan dining is that it's low-fat, low-salt and probably low-flavor," says Jones. "We want to challenge people's notions by bringing indulgence to plant-based dining."
Other dishes include TV Dinner, a "mushroom farce" served with peas and carrots and pomme puree; Tarte Flambe, with maitake and "parmesan" cream spiked with brewer's yeast; and a Sunchoke Salad, with roasted and pickled sunchokes, fried sunchoke skin and almond curds; as well as a five-course tasting menu. At the bar, Beedle serves up vegan cocktails, like My Usual, a complex shandy made with an amaro blend, mole bitters and Flanders Red Ale; A Couple Moments, an herbaceous sour with Old Tom gin, muddled sugar snap peas, lemon and hyssop; and The Drink I Had Last Time, with tequila, gentian and celery shrub. Beedle's concoctions often repurpose kitchen scraps from Jones' cutting board.
Seasonality is a key consideration for Jones, who prides himself on procuring fresh produce from various purveyors throughout the city, as well as a weekly farmer's market conveniently located across the street from the restaurant. Initially announced as a "one year experiment" in September 2018, Jones considers it too soon to make any long-term projections on Sans' long-term future. Right now, he is focused on fulfilling his goal of exposing a broader audience to plant-based food. He hopes those who come out to see what Sans has to offer will find themselves pleasantly surprised by the satisfying nature of his creations and subsequently will come to view vegan cuisine in a whole new light.
"If we're doing our job right, you shouldn't leave feeling like you missed out on something," he says.