Originally printed in the December 2018 issue of Produce Business.
The Des Moines, Iowa, store and restaurant locations put produce front and center.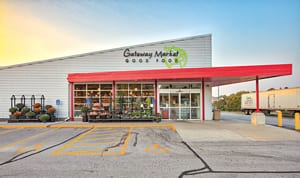 If there ever was a great example of foodservice trends at retail, especially where fresh produce is concerned, it's Gateway Market & Cafe in Des Moines, IA. This single retail supermarket and its four restaurant siblings are all part of Orchestrate Hospitality, headed by Chef George Formaro, a Des Moines native and six-time James Beard Award nominee.
Formaro has made sure fresh produce figures prominently at Gateway, from the large selection of local and organic fruits, vegetables and herbs sold in the produce department to produce-heavy selections on the Café menu. Items such as the Greek Salad with eight-plus types of veggies; the vegan Black Bean Burger with guacamole, lettuce, tomato and onion, and the kid's menu quesadilla served with fries, fresh fruit or two salad choices are all crowd favorites.
"Special attention went toward the store's produce department after a small group of Des Moines area residents, including Formaro, started the wheels turning on the Gateway Market concept back in 2005," explains store director David Clemens. "At the time, the city was experiencing rapid change; intense neighborhood and urban reinvestment led to a new focus on downtown culture, restaurants, events and more. Formaro was frustrated by poor selection and lackluster products in local grocery stores, often traveling out of state to get the ingredients he needed. He thought the time was right to create a new urban market that could house all his favorite foods under one roof."
Customers can find an average of 175 produce-specific SKUs at Gateway Market. All produce is either organic or locally grown and represents 15 percent of total sales. The store's produce arrives from multiple sources. This includes local and regional distributors as well as co-ops and local farmers (both large and small scale) to ensure the best and freshest selection. Some of these vendor relationships date back more than a decade. All deliveries are made directly to this small, single-location market. In terms of size, produce accounts for 15-20 percent of Gateway's overall market floor space.
"Our biggest differentiator is that Gateway Market is all local and organic, all the time. Our competitors include Hy-Vee, Whole Foods, Fairway and Price Chopper, all of which rely on conventionally grown produce," says Clemens.
Monthly in-store fliers, weekly e-newsletters, direct mail and social media posts across multiple platforms are ways Gateway promotes its produce department. Seasonal items, which are always changing and exciting for the store's food-focused customers, are a big focus. As far as cross merchandising, Formaro and the store's in-house culinary team has created a web-based recipe database. These recipes tie to all of Gateway's departments, including produce, and highlight specific products unique to the store.
In addition to produce, Gateway offers cut organic fruit and veggies, a salad-and-antipasto bar managed by the Prepared Foods/Deli Department, and made-to-order fruit trays and veggie trays by the catering department.
Aside from produce, the store is known for its wine and beer selection, in-house bakery and cut-to-order meats and cheeses. Gateway's popular floral department works with local growers and larger suppliers to source unique blooms, potted plants and more.
"Gateway Market customers are passionate about food and have never shied away from letting us know what they want. We're always listening to feedback across all channels, responding and working to address customer needs while maintaining the quality they've come to expect," says Clemens.