Originally printed in the January 2023 issue of Produce Business.
To kick off the New Year, I asked a group of industry colleagues to share their produce predictions for 2023. Their insights were a delightful mashup of the expected and outrageous. Here's what I learned from them.
Move Over Sad Salads
Chef and registered dietitian Garrett Berdan provided a pitch to culinary professionals rethinking their vegetable offerings. "I would love to see more vegetable options in what would otherwise be the salad section of the menu," says Berdan. "I'm talking about offerings like carrots and beets with vinaigrette, roasted broccoli and cauliflower with garlic chili olive oil, mushrooms and radishes sauteed with garlic and thyme, and shaved celery and apple salad with dried cherries and extra sharp cheddar." Berdan points out these don't have to be higher food costs offerings, but simply dishes with some new flavor profiles that entice a diner to try a familiar favorite with a new flavor twist. "Don't get me wrong, I enjoy leafy salads," he says. Berdan is eager to try new takes on familiar favorites. "How about a radicchio Caesar with toasted breadcrumbs?" he quipped. So, radicchio growers, are you ready for next big salad craze in this country?
Bring on More Bitter Produce
Speaking of radicchio, Sanna Delmonico, registered dietitian and associate professor of nutrition at The Culinary Institute of America at Greystone, is also hoping radicchio and other refreshing bitter winter greens like Belgian endive and escarole become more popular. "Chefs have shown diners that Brussels sprouts are delicious when the bitter is tempered by the sweetness they get when charred or fried, or when paired with salty sauces, bacon, zingy acidity, or all the above," she says.
Foodservice industry research expert Maeve Webster, president of Menu Matters, concurs with the prediction that more bitter flavors from produce will appear on menus in 2023. "I think we'll see greater use of fruit that have muskier, deeper, more bitter flavor profiles like black currants and aronia," she asserts.
If you're like me and not familiar with aronia, it's the term for a family of berries native to North America. Where I grew up in northeast North Dakota, they are known as chokecherries, the "choke" likely referring to the reflex after eating one without added sweetener to tame the intense bitterness.
Longer Lasting Vegetables May Get More Respect
Delmonico also believes longer lasting vegetables may get more menu opportunities. "Industry awareness and concern over food waste reduction may provide an opportunity for more long-keeping vegetables to become more popular," she says. "Cabbages are due for a comeback. There are so many crunchy slaws, soups, and savory variations on okonomiyaki to be made." Delmonico concluded by making a statement I couldn't love more. "Surely it's time for kale to move on and another dark green leafy vegetable to take its place!"
An Ongoing Shift from Mock Meats to Real Plants
Maeve Webster predicts more operators and diners will eschew hyper-processed plant-based meat alternatives and embrace more whole ingredient produce options. "Seeing the produce will be more important than trying to mask it by making it look like meat," says Webster. Sorry beets, but your 15-minutes of fame in the "meat" aisle may be over.
Increasing Interest in Indigenous Produce
"Awareness of and interest in indigenous American cuisine is increasing," says Webster. When Owamni, a Minneapolis-based restaurant co-owned by Sean Sherman, the Sioux Chef, won a James Beard Award for Best New Restaurant in 2022, interest in indigenous American cuisine exploded. When Webster predicts more chefs and diners will be seeking produce items like pawpaw, muscadine, heritage corn, and new squash varieties, I couldn't agree more. This trend also leans into interest in locally sourced produce. The greater the history or story of the produce item the greater the interest will be for chefs seeking to develop a distinct restaurant brand and menu personality.
High Quality Produce with High Consumer Appeal
Jan DeLyser, vice president of marketing for the California Avocado Commission, knows how much consumers love California avocadoes and predicts operators will continue to seek out produce with high consumer appeal. "Fresh avocados can deliver indulgence as well as a healthy halo," she says. DeLyser also recognizes the benefits for operators. "Fresh avocados are a versatile ingredient. They can be used across all dayparts, in both sweet and savory dishes, and they fit with many world cuisines, especially Korean and other Southeast Asian cuisines increasing in popularity."
Mood Food
Everyone is watching the use of cannabis-based products in foods and beverages in retail and restaurants. In addition to CBD and THC, mushrooms, particularly maitakes, are being recognized as a mood boosting food. While long hailed as a meat alternative, mushrooms may get greater play on menus as news of this new research finding makes its way into the minds of both chefs and consumers, eager to support their physical and mental health through their food choices.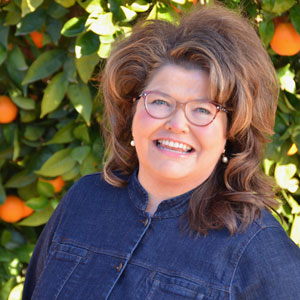 Amy Myrdal Miller, MS, RDN, FAND is a farmer's daughter from North Dakota, award-winning dietitian, culinary nutrition expert, and founder and president of Farmer's Daughter Consulting, Inc. She is the foodservice strategist for the Produce for Better Health Foundation, a member of the Texas A&M AgriLife External Advisory Board, a member of the Bayer Vegetable Seeds Horticultural Advisory Council, the registered dietitian for the Buy California Marketing Agreement / California Grown, and co-author of Cooking á la Heart, a 500-recipe cookbook based on plant-forward eating cultures from around the world that will be published by Workman Publishing in early 2023. Learn more at www.farmersdaughterconsulting.com, and follow her insights on social media @AmyMyrdalMiller.