Originally printed in the June 2022 issue of Produce Business.
I recently attended two events where speakers focused on the importance of variety-specific traits in produce that have an impact on consumer preference and liking. Some traits focus on visual aspects like size, shape or color, while others focus on the eating experience, including aroma, taste and texture. At each event, speakers asked the audience how they can apply lessons from a category that has done this well, namely apples, and use that to drive awareness and growth in other categories, such as tomatoes and potatoes.
I can tell you as someone who has worked for nearly 15 years with foodservice leaders from many sectors, few can name more than a couple varieties of tomatoes or potatoes. Asked what variety of tomatoes or potatoes they love best, many chefs will name a growing region, such as San Marzano for tomatoes or Idaho for potatoes instead of saying a variety name. Or they will talk about size, shape or color, exclaiming they love purple potatoes or "funky, flavorful" heirloom tomatoes. Do we, as an industry, need to help these leaders explore the traits that can make their lives easier and the customers' dining experience more enjoyable?
The tomato category has been exploding with new varieties of tomatoes in retail the past five years. Shoppers can approach a tomato display in a produce department and decide which ones or how many types they want, including newer Roma-shaped grape tomatoes or cherry tomatoes on the vine. Tomato breeders who have focused on sweeter tomatoes that deliver consistent flavors are rarely recognized for their efforts, but the brands that deliver these traits have been rewarded with loyal shoppers eager for more amazing tomatoes.
It remains to be seen how the fresh tomato category will change in foodservice, but there is definitely pressure for the processed tomato sector to compete with chefs' beloved San Marzano tomatoes from Italy. The savvy marketer growing processing tomatoes in the Sacramento Valley who can show chefs how their tomatoes match or exceed the flavor profiles of San Marzano tomatoes may be rewarded by increasing sales for operations that love domestic sourcing strategies and stories.
Helping chefs give their customers a phenomenal, repeatable food experience is a win for all of us in produce.
The potato category has the challenge of how potatoes have traditionally been marketed and sold in retail, by growing region (e.g., Idaho Potatoes and Red River Red potatoes from the Red River Valley Potatoes); skin color (e.g., russet, red, yellow, white, purple, medley); or size (e.g., fingerling, petite, creamers). Chefs tend to also think about potatoes based on their skin color and size, and when asked to name potato varieties they are likely to say "Idaho" or "Yukon Gold," which has become a generic term for any yellow skin potato.
While the average consumer at retail may struggle with selecting the perfect potato for mashed potatoes, a trained culinary professional may have no challenges with that preparation but may be perplexed why fresh-cut french fries aren't consistent in his or her operation. That operator may use the preferred double-fry method to get a perfectly "crispy on the outside, creamy on the inside" fry, but if the potato wasn't one bred for frying, the fries may have burnt ends — a good thing in the barbecue business, but a bad thing in the french fry business due to uneven sugar distribution in the potatoes.
Is there an opportunity to present chefs and other foodservice leaders with more information about potatoes that helps them make more informed decisions that lead to better outcomes for the dining public? The likely answer is yes. Diners who love a food experience will seek it out again, if given the opportunity. Helping chefs give their customers a phenomenal, repeatable food experience is a win for all of us in produce.
So, moving beyond potatoes, what other produce items could benefit from variety-specific education and inspiration? Hass avocado growers have already shown us why Hass is a superior variety that consistently delivers a phenomenal flavor experience if grown and handled thoughtfully. Is there an opportunity for a new onion variety in foodservice, one that provides a new food or flavor experience that inspires chefs as well as their customers? Is there a sweet, red onion just waiting to be discovered by variety name, and by chefs? What about melons, a category like tomatoes that culinary professionals love to hate due to inconsistent quality and flavor experiences?
I think the answer to all my questions in this article — including the question posed in the title — is, "Yes!" There are opportunities to use the genetic potential of specific varieties that give the culinary professional, as well as the consumer, a better experience. It's up to all of us in sales and marketing to help make this happen.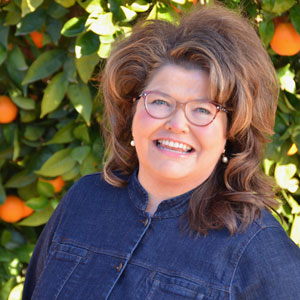 Amy Myrdal Miller, MS, RDN, FAND is a farmer's daughter from North Dakota, award-winning dietitian, culinary nutrition expert, and founder and president of Farmer's Daughter Consulting, Inc. She is the foodservice strategist for the Produce for Better Health Foundation, a member of the Texas A&M AgriLife External Advisory Board, a member of the Bayer Vegetable Seeds Horticultural Advisory Council, the registered dietitian for the Buy California Marketing Agreement/California Grown, and co-author of Cooking á la Heart, a 500-recipe cookbook based on plant-forward eating cultures from around the world that will be published by Workman Publishing in early 2023. You can learn more about her business at www.farmersdaughterconsulting.com, and you can follow her insights on food and flavor on social media @AmyMyrdalMiller.