Garlic is a profit-center all year long given its wide use in cooking. Check off these key merchandising areas to boost garlic sales.
PROVIDE VARIETY
A variety of quality garlic is available year-round with supplies coming from California, Argentina, Mexico, Chile, Spain and China. Stores can maximize garlic sales by promoting a diversity of items including red garlic, elephant garlic, peeled, packaged, braided and certified organic in addition to the
standard bulk.
DISPLAY BIG
Build visible displays with a mix of whole bulbs, 5-bulb packaged garlic and jar garlic, as well as one or two SKUs of organic. Secondary displays increase sales! Put garlic next to meat and poultry to promote as a rub and even next to baguettes in the bakery. Make sure garlic is always next to ripe tomatoes, basil and cilantro to promote salsa; create a make-your-own-pasta-sauce center with garlic, tomatoes and other ingredients.
COMMUNICATE & EDUCATE
Signage and POP material near garlic should always have a three-fold message:
(1) Highlight specialty items such as elephant garlic to attract attention and spark consumer interest.
(2) Promote health benefits of garlic: fat-free, saturated fat-free, sodium-free, cholesterol-free.
(3) Provide recipes and usage ideas. Garlic sales directly relate to consumer use of recipes requiring garlic, so always have a recipe next to the garlic display.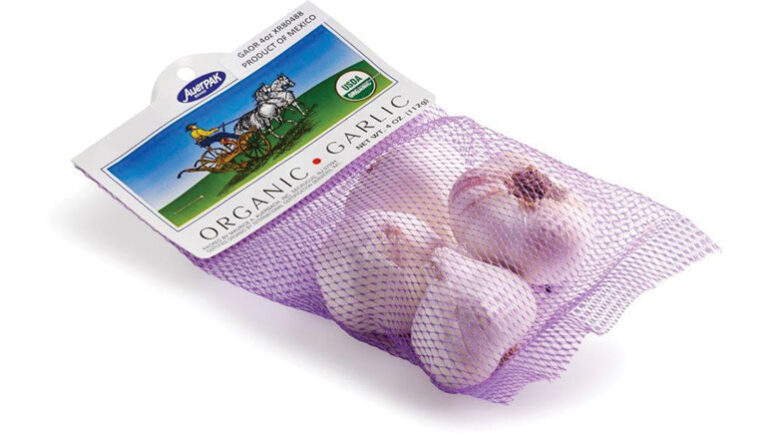 MAKE IT EASY
Convenience items include various processed and semi-processed forms, such as whole peeled garlic, chopped garlic, minced garlic and a multitude of jarred products. Offer a full range of garlic and complementary products. Every garlic sale means the sale of additional items from produce and other areas of the store.
HANDLE WELL
Rotation is crucial! Fresh garlic sitting out for long periods will tend to dry out. Pay frequent attention to the display to keep it clean and dry since skins of garlic tend to shed with handling. Store garlic in a cool, well-ventilated place and keep dry. Garlic should not be misted.

MAURICE A AUERBACH, INC.
117 Seaview Drive, Secaucus, NJ 07094
201-807-9292 • 888-AUERPAK
www.auerpak.com