Originally printed in the August 2018 issue of Produce Business.
Winning Strategies Take Flight
With today's emphasis on healthy eating and wellness, consumers are paying plenty of attention to clever, integrated and targeted go-to-market strategies from produce companies and organizations alike. Savvy professionals have fueled campaigns with humor, fun, data and persuasive messaging, all in an effort to increase trial and consumption.

And while the task at hand may not always be easy, when a well-executed, multi-pronged marketing program takes off, bottom-line results and heightened awareness are sure to follow.
By saluting 10 honorees for winning Produce Business' 30th Annual Marketing Excellence awards, we have dissected campaigns, both big and small, to bring readers compelling examples of well-received, consistent and creative branding initiatives that have taken flight and landed companies in 'greener' pastures.
By highlighting this impressive roster of winners, we salute the imagination, attention-to–detail, sound research and flawless execution from companies diverse in culture, resources and product.
Any marketing strategy that resonates in this era must include a myriad of tactics, including social media components. The posts, pins, tweets and retweets help balance the multi-pronged strategies that are resonating so well with America's consumers.
Through enlightenment of the industry by offering snapshots of cutting-edge marketing campaigns, we hope to inspire, raise awareness and bring to the forefront quantifiable programs to raise not only dialogue but overall fruit and vegetable consumption as well.
We'd like to express sincere thanks to all entrants for taking the time and effort to share their campaigns. We enjoy getting an annual reminder of what this industry means to retail, foodservice and the country at large. With sincere congratulations on a job well done, we celebrate our 10 winners on the pages that follow. They have clearly shown their work is 'air worthy' and ready for takeoff.
Irving, TX
EAT LIVELY TOUR OBJECTIVES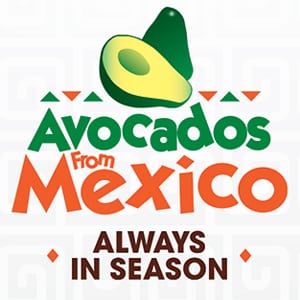 To build awareness and usage of avocados among Millennials and to reinforce that Avocados From Mexico (AFM) are ideal for on-the-go lifestyles. Also generate fun and memorable engagement with the Avocados From Mexico brand.
CAMPAIGN
As part of an overarching Millennial strategy, IMW Agency worked with AFM to develop a cross-country food truck tour targeting college students in fall of 2017 and spring of 2018. Knowing Millennials care about health and convenience, the AFM Eat Lively Tour featured a great-tasting, good-for-you menu that reinforced the versatility of avocados. We brought the Eat Lively experience directly to our target audience by visiting college campuses across the country and serving free avocado samples ideal for on-the-go lifestyles. AFM brought Tabasco on board as a tour partner and integrated the brand into the Eat Lively tour menu.
RESULTS
The Eat Lively Tour visited more than 25 campuses nationwide and served more than 23,000 food samples and 14,000 promotional items. It generated more than 200,000 on-site impressions. Students extended the tour's reach with more than 110,000 social media views. Students were genuinely engaged with the brand and excited to hear about the many ways to use avocados in great-tasting recipes. The program led to new or expanded avocado menu items on multiple college campuses.
Irvine, CA
Made of California/Close to Perfect
OBJECTIVES
Increase targets' perceived value, preference and loyalty of California Avocados versus avocados of other origins. Inform target consumers when California Avocados are in season, where they can be found and ensure they associate California Avocados with summer. Communicate "the essence of California" and reinforce that California Avocados are the premium choice. Make the campaign engaging and enjoyable and stay within budget. Convince targeted consumers to look for and pay a premium for California Avocados when available. Pitch this single creative thought: Perfectly fresh California Avocados come from nearby.l
CAMPAIGN
Unlike many other marketing strategies, CAC's campaign is not just about selling more product. It is about getting more value for the limited supply and developing brand loyalty. It is also about the efficient and effective investment of California Avocado growers' assessments.
The Made of California campaign uses media that can be tightly targeted to where California Avocados are merchandised and to those consumers with a preference who are most likely to pay a premium for the fruit. Digital and social media play key roles. Most importantly the campaign communicates to consumers when California Avocados are in season and where they are available. The Close to Perfect creative included components in print in eight major cities, outdoor advertising, audio, digital advertising, native content, social media and online video.
RESULTS
Media delivered more than 297 million impressions from June 2017 – April 2018, and social media posted significant improvement year over year, on top of prior growth (Instagram impressions up 182 percent; Twitter retweets up 432 percent; YouTube views up 95 percent). The campaign earned more than three million impressions and more than 500,000 video views with customized digital retail, as well as 1.3 million website visits. Twenty retailers participated with CAC custom media programs.
Irvine, CA
#PICKREAL FOOD TRUCK PROMOTION
OBJECTIVES

The Commission's #PickReal Food Truck promotion (Aug. 1–5, 2017) aimed to inspire the audience to pick real, whole snacks, such as strawberries, while at the grocery store. The goal of the promotion was to showcase the connection point where California strawberries and Latino families meet. Sixty-five percent of California strawberry farmers are of Latino descent. Through a five-day community outreach effort featuring a food truck with Latin fusion strawberry dishes as the center rallying point, the objective was to promote the shared values of California strawberry farmers and the Los Angeles Latino community to bridge the gap between these two groups. In addition, through a partnership with nonprofit No Kid Hungry, the CSC had the opportunity to position California strawberries as the berry that gives back to the L.A. community.
CAMPAIGN
Los Angeles is home to one of the largest National Night Out events in the country, so aligning the food truck promotion with the 2017 event was a natural fit. The food truck, wrapped with #PickReal campaign creative, kicked off on Tuesday, Aug. 1 (National Night Out), and ended on Saturday, Aug. 5, with stops in heavily populated L.A. Latino communities. All menu items were for sale on the first and final days, with all proceeds going to No Kid Hungry. Wednesday through Friday, food truck stops offered free strawberry dishes to help introduce participants to strawberries in new and interesting ways. Recipe cards were available in both English and Spanish. The Commission also activated a full social media, media relations and influencer campaign to support the food truck's journey throughout the L.A. area. For Facebook and Instagram, the CSC used both page posts and paid ads, as well as live coverage to communicate when and where the food truck would be stopping each day in the L.A. area.
RESULTS

Throughout the week of the food truck's promotion, 367,089 social impressions and 5,468,200 media impressions were earned. The event also earned coverage in several newspapers, including the Los Angeles Daily News. Enough money was raised to provide 13,200 meals to kids in need through the No Kid Hungry partnership. The #PickReal Food Truck promotion was part of the larger #PickReal campaign in 2017. Throughout the 2017 campaign, we saw an increase in national per capita consumption of strawberries to a record high of 8.34 pounds, or 4 percent higher than the previous record.
Wenatchee, WA
Apple Flavors of the World
OBJECTIVES

The Apple Flavors of the World promotion was created to help retailers highlight the origins of CMI's hottest brands in a fun and exciting format. Consumers had a chance to discover a new favorite apple.
CAMPAIGN
Many of CMI's exclusive apples originated in unique locations around the world. CMI promoted them by developing a theme centered around their unique origins. KIKU: discovered in Italy. Ambrosia: discovered in Canada. Pacific Rose: a heritage apple variety from New Zealand. Kanzi: originally developed in Belgium. Retailers were given support materials, including point-of-sale cards, dangling signage in apple boxes, high-graphic pouch bags, tote bags and freestanding displays to build a display based on the theme, Apple Flavors of the World.
RESULTS
The results of the Apple Flavors of the World were outstanding. Retailers built amazing displays using support materials fueled by their own imagination. Sales were reported as strong — directly related to the large colorful displays and in-store advertising. Grand prize winners from the contest won a trip to Washington State to see the orchards where these wonderful apples are grown.
Brockton, MA
Rebrand/Fresh Success
OBJECTIVES

Concord Foods was established in 1968, known for its variety of produce companion items such as seasoning and smoothie mixes. In 2017, Concord Foods rebranded and reformulated our line of seasoning and smoothie mixes to better connect and meet the needs of today's consumer.
CAMPAIGN
Concord Foods launched its rebranded product line, Concord Fresh Success, in December 2017. All products in the Fresh Success line were reformulated to contain no artificial flavors, colors or preservatives. Concord redesigned packaging for all 33 products in this line to reflect new positioning and appeal to consumers' needs. All packaging targeted busy families and focused on products' benefits, such as adding flavor to fresh produce. In addition to updating packaging, Concord also updated all point-of-sale displays and launched a new website, www.ConcordFreshSuccess.com. A beautiful new trade show booth was introduced at the 2017 PMA Fresh Summit. The rebranding effort also was supported by a public relations effort.
RESULTS
Concord Fresh Success received positive feedback from the trade and consumers. It has attracted new consumers to the brand, and those consumers are more engaged with Concord Foods products. Refreshing the brand allowed the company to maintain its position as the market leader in the category. Concord Foods is poised to continue growing the category by attracting new consumers and developing new products for this range.
Bethesda, MD
Airport Restaurant Month featuring Avocados From Mexico
OBJECTIVES
HMSHost partnered with Avocados from Mexico and developed special menus prominently featuring avocados that were available for the month of May for this exclusive foodie event. In addition to spotlighting some of the latest food trends, from avocados to plant-based options for travelers to enjoy inside the airport, HMSHost wanted to appeal to travelers with seasonal tastes and culinary creativity, raising awareness of the availability of thoughtful cuisine in airports. The promotion also was designed to drive an increase in purchasing volumes.
CAMPAIGN

Airport Restaurant Month was global restaurateur HMSHost's unique take on the popular street-side restaurant week concept. HMSHost customized it for travelers to bring an unmatched and uncommon culinary experience into the airport. In May, more than 80 restaurants across nearly 50 North American airports participated in the event. Airport Restaurant Month's May 2018 menus varied by restaurant, with select restaurants offering distinct customized items to spotlight their own brands' specific flavors and trends. However, every dish that was part of the promotion was designed to showcase the versatility of avocados. The core of the menu included: Avocado Banh Mi with cucumber, carrot, cilantro, mint, and lime; Roasted Salmon with avocado, sautéed mushroom, arugula, and a Sriracha aioli; Pulled Pork Tacos with avocado, radish, and lime Grilled Chicken Breast with smoky tomato sauce, caramelized onions and avocado. To expedite the dining experience for busy travelers, HMSHost's culinary team created the single-plated menus specifically with a traveler's need for speed of service in mind. This way, travelers who have limited time before their flight can still enjoy an elevated dining experience inside the terminal.
RESULTS
Airport Restaurant Month's fresh seasonal menus with avocados as a central theme for the month of May helped travelers get into the spirit of summer with bold and original dining options enhanced by spotlighting vegetable-based ingredients. Airport Restaurant Month drove a 52 percent year-over-year growth trend in avocado purchases for the company, totaling 6,865 cases. HMSHost restaurants participating in Airport Restaurant Month ordered 58 percent more avocados year-over-year, with a total of 3,982 cases used exclusively for this promotion. The Airport Restaurant Month promotion also performed strongly from an overall perspective, selling a total of 21,248 plates, an average of 685.4 plates per day.
Orlando, FL
Go Mango! The Super Fun Superfruit
OBJECTIVES
As the National Mango Board (NMB) moved into 2018, the new vision, "For mangos to move from being an exotic fruit to a daily necessity in every U.S. household," inspired a campaign full of fun and education. The reintroduction of mangos as the Super Fun Superfruit piques consumers' interests, while overcoming common barriers to ultimately drive them to purchase more mangos. This yearlong campaign also added dimension to the six varieties of mangos available in the United States to drive awareness that the fruit is always in season.
CAMPAIGN

Go Mango! The Super Fun Superfruit taps into the unique emotional and functional benefits of mangos. By positioning mango as a super fun superfruit, the NMB hoped to "create a bubble of happiness for consumers each time they bite into a mango." Through a new brand style guide, NMB painted the picture of fun with expressive, vibrant and delicious colors inspired by bright signage authentic to mango producing regions. Some of the clever promotion ideas included "A Mango for All Seasons," "Undress a Mango," the "Summer of Mango, a "Mango Rose" for Valentine's Day, and "Mangos: Farmed with Love" videos. The NMB also relaunched its website and splashed social media with March Madness mango brackets, a #Mangoselfie campaign and bold trade show booths and in-store displays.
RESULTS
The Mango for All Seasons promotion was included in 1,049 placements from January 1 to June 1, 2018, and received more than one billion impressions. Its Mango Roses, which were delivered to 18 media offices, including GQ and Cosmopolitan, got more than one million total impressions across local television and social media platforms. The Mangos: Farmed With Love videos have been viewed more than 100,000 times on YouTube, Facebook and LinkedIn. Across all social platforms, the NMB gained 4,279 followers in the first six months of the year.
Soquel, CA
Artisan of Entertaining
OBJECTIVES
Build Artisan and Tanimura & Antle brand awareness with consumers via its Artisan Romaine & Artisan Lettuce brands. The goal of the campaign was to generate social media impressions, increase website traffic and increase the consumer email database.
CAMPAIGN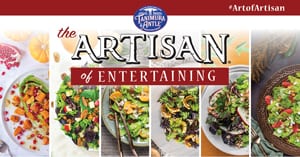 Tanimura and Antle's Artisan of Entertaining campaign focused on entertaining with Artisan Romaine & Artisan Lettuce for the fall season with a recipe eBook created by influencer-bloggers and Tanimura & Antle's in-house chef. Influencer-blogger partners promoted and shared the promotion and tagged participating and supporting retail partners. When consumers downloaded the recipe eBook, they were automatically being entered for a chance to win 1 of 25 prize packs. Each prize included: A five-piece salad bowl set, Tanimura & Antle cutting board, reusable grocery bag, $100 in product coupons and a $100 visa gift card for entertaining.
RESULTS
The Artisan of Entertaining earned more than 100,000 impressions and reached more than 100,000 via social media advertising. Each blogger-influencer page that included an original recipe featuring the Romaine and Artisan Lettuce, as well as links to T&A's website and partner retailers, generated more than 100,000 monthly page views and more than 100,000 unique page views, as well as more than 1,000 paid views. There were also nearly 4,000 page views on Tanimura and Antle's website.
Soquel, CA
New Year-Fresh Start
OBJECTIVES

To build consumers and trade awareness of the Tanimura & Antle and Artisan brands, as well as increase engagement with retail partners and consumers. To generate online impressions, increase website traffic and increase consumer email database.
CAMPAIGN
Tanimura & Antle's New Year–Fresh Start campaign encouraged consumers to focus on healthy eating in the new year. Four influential bloggers shared healthy eating tips and information highlighting Tanimura & Antle's Artisan Lettuce and Artisan Romaine to activate the promotion. An eye-catching promotional label on the Artisan Lettuce clamshell reminded consumers at the store level that Artisan Lettuce is an easy, natural choice for healthy lifestyles. Additionally, upon downloading a healthy eating tip sheet, consumers were entered for the chance to win 1 of 20 prize packs that included: A FitBit Blaze, reusable Tanimura & Antle grocery bag, sports bottle and salad bowl kit.
RESULTS
The campaign received more than 8,700 entries, while Tanimura's website got more than 11,000 unique page views during the promotion. Contest website referrals posted strong numbers, but nearly 45 percent of those views came from direct referrals. The influencer-bloggers who promoted New Year-Fresh Start on their Facebook Live blogs received a combined 43,000 video views.
Amherst, MA
Apple Week/ Fresh Apple Cider Pressing
OBJECTIVES

To promote farm fresh apples and focus on the awareness and versatility of local, homegrown produce throughout all times of the day at the university. The goal was to highlight dishes to include various types of apples during all meals and at snack intervals.
CAMPAIGN
The fall 2017 Apple Week promotion focused on awareness and education, while also targeting menu development and involvement for student taste testing. The goal: to generate the more common produce in a healthier, more sustainable fashion and utilize multidimensional marketing strategies to raise awareness and interest in apple consumption during multiple apple-inspired event opportunities. UMass Dining prepared fan favorites such as apple cider and apple crisp in addition to reinventing classic dishes, such as turning basic coleslaw into a fall delicacy with the added crunch from a crisp, farm fresh apple. Hosted in partnership with its Cold Spring Orchard, located just 13.8 miles from campus, UMass Dining also maintained an omni-channel presence to promote each apple-themed special.
RESULTS

Attracting online audiences through digital strategies, UMass Dining's efforts reached students across all social media platforms, including Facebook, Twitter and Instagram. Utilizing features that maximized instant communication with students, such as Facebook Live and Instagram Stories, proved to be successful in garnering attention and engagement from the campus community. Student foot traffic increased during Apple Week and the New England Apple Harvest Day, where educational information also was disseminated.