A trustworthy commodity, onions can generate better sales with some discerning effort.
Originally printed in the August 2023 issue of Produce Business.
Onions are among the most versatile of vegetables, acting as a base or flavor enhancer in many dishes, so driving sales higher requires some thought, even down to the store level.
Although onions are often treated as a commodity in bulk displays, supermarkets and other food retailers willing to make an effort can find a variety of ways to boost sales. Certainly, most sales at most stores will occur in yellow onions, but different consumers, and different communities, may show enthusiasm for any number of varieties. That is, if stores are willing to test some assortment and merchandising variations.
Zeke Kreitner, chief produce officer for Seasons, Flushing, NY, and manager of the local chain's Lawrence, NY, store, uses color striping in table displays to enliven merchandising and call attention to product quality.
"We always focus on colors and freshness," he says. "I am definitely selling more high-end onions than in the past; for example, shallots, cipollini and pearl onions."
Philip Penta, managing partner, 3 Guys from Brooklyn, in Brooklyn, NY, says he maintains a range of onions to satisfy a diverse customer base, both in terms of ethnicity and income. Yellow, white and Spanish onions sell best, but he has red, pearl and other variations as well. He offers both bulk and bagged, with 5- and 10-pound packages selling well.
"The 10-pound is a good flyer item," he says.
Although cooking styles, often ethnic in nature, tend to drive purchasing preferences, Penta only occasionally gets specific requests, except for Vidalias. When he doesn't have those Georgia sweets, he makes suggestions. "There are plenty of substitute sweet onions," he says.
HIDDEN ATTRIBUTES
Retailers do get support from the sector. One way the National Onion Association (NOA), Eaton, CO, pushes sales is through its Nature's Ninja program, notes Rene Hardwick, NOA director of public and industry relations. The program showcases the "ninja skills" onions have, including flavor and disease-fighting components.
"This year, we have focused on a downloadable coloring book and an activities book for preschoolers," she says. "Onions' health benefits remain a focal point for any of our marketing."
Educating children not only provides an opportunity for lifelong sales as they grow up, but it also can be a good way to increase a parent's understanding of the nutritional benefits onions convey.
ONION OUTLOOK
Colby Cantwell, who handles sales at Fagerberg Produce, Eaton, CO, a grower/shipper/packer, says the current onion crop looks solid. "Generally speaking, most onion growing regions are seeing pretty average growing conditions, and we are expecting a normal season in terms of start dates and yields."
"We start our harvest with transplants in early August and then move on to shipping our storage onions around Sept. 1. Quality and projected yields are looking good and we anticipate a normal start to our season."
In terms of demand, Cantwell says yellow onions have always led the category and does not expect that to change. "With onions being a staple crop, demand is pretty consistent."
Retail makes up that largest part of Fagerberg's business, he says, so quality is key. Cantwell says Fagerberg's business practices have remained consistent, but improvement is part of the equation.
"We are always exploring ways to be more efficient, and we are beginning to install new equipment to meet our efficiency goals," says Cantwell.
Not that the marketplace didn't have its challenges, including, in terms of costs, "the sharpest increases to agriculture that have ever been seen," he says.
Transportation costs have leveled off and availability of trucks is steady, Cantrell adds, but "fuel and fertilizer prices continue to be volatile and have been the source of some of the sharpest increases over the last couple years. Labor costs have certainly risen, but availability has been good."
Roderick Gumz, co-owner, Gumz Farms, Endeavor, WI, agrees transportation and labor "are definitely challenges," but prospects are looking good this year. "Like the rest of a lot of the country, we could use rain, but our fields with irrigation are looking favorable," says Gumz. The operation is expanding and increasing automation in its pack shed this summer to increase capacity and efficiency starting this fall.
Gumz says post-pandemic demand has remained steady. "Demand for smaller consumer packs, 2-pound bags instead of 3-pound, has increased," he observes.
Olivia Kelso, food safety coordination/sales and marketing coordinator, JJB Family Farms, Stockton, CA, says harvest started two weeks later than usual, but a summer with some gaps will lead into a more normal period with the later varieties.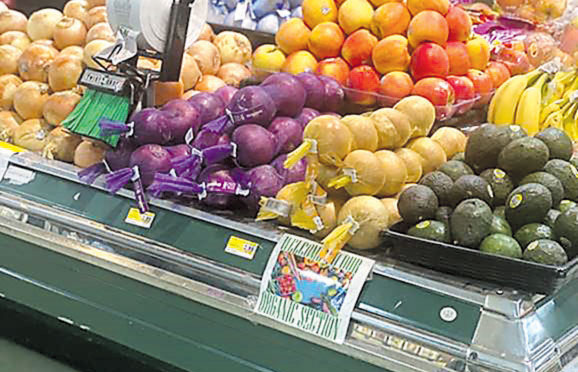 She notes JJB expects that, after recent summers influenced by the COVID-19 pandemic, people will be vacationing and traveling more. "Consequently, we see a lot of swings in business, hot and cold weeks," she says.
Regardless, she adds, "Business for us does not have 'disruptions.' Instead, we call it adaptation."
"When business gets lighter, the hustle doesn't stop. We are always looking for new customers and new opportunity. We love a challenge and are always on our toes ready for the next move."
Costs are a constant concern, but Kelso says JJB is accustomed to such struggles, and the operation works with some "amazing transportation companies that we use daily. They are constantly working on getting the best rate possible, and we love and appreciate them for all they do. We know at times it is tough, due to the rising costs in fuel."
Labor on the other hand, she notes, "is quite a wrestling match. It is tough to find people who want to work and work hard."
ORGANIC GAINS
Kelso sees organic onion sales continuing to increase, although "they cannibalize conventional sales," she says. "Our new organic offering is becoming very popular — makes for easy merchandising, sells very well."
Fagerberg's Cantwell also sees organics gaining. "Conventional onions dominate the marketplace, but consumers are driving organic demand steadily upward."
The organic sector faces cost challenges particular to a labor-intensive growing method, but David Bright, vice president of marketing at Grimmway Farms, Bakersfield, CA, remains optimistic "for the continued growth of organic vegetables, including onions, going forward into the future." Cal-Organic Farms is a division of Grimmway.
"While yellow varieties dominate both organic and conventional onion category sales, we have noted higher growth in the red and white varieties, particularly on the organic side of the market," says Bright. Onions are among more than 65 organic vegetables Cal-Organic Farms produce year-round in the U.S.
"As the costs to grow and transport our organic vegetables have increased significantly over the past several years, Cal-Organic Farms has continually invested in the operation to maximize efficiency and lower the impacts of these higher costs," adds Bright.
Special consideration should go into organic onion merchandising.
"Retail merchandising of organic onions requires special considerations to ensure shoppers can find the product on the shelf and that cashiers can accurately check out the product at the correct price," says Bright. "Consequently, most retailers require organic onions packed in fixed weight bags."
Many organic shoppers seek products with minimal packaging, he adds, so Cal-Organic Farms "strives to deliver all of its products in the most sustainable packaging solution that provides adequate protection of the product along its journey to market."
He says the company continually evaluates new options to provide more effective, sustainable, and less costly packaging. "We work closely with customers to supply organic onions the package size and material that best satisfies their requirements."
The company also designs and distributes retail point-of-sale material to highlight their Cal-Organic Farms vegetable, including onion, offerings.
ALL ABOUT THE PRESENTATION
JJB uses a variety of means to help retailers present its onions favorably, although it all depends on the retailer and strategy, Kelso says.
Some retailers build displays based on JJB's carry fresh bags, which Kelso says merchandise and stack well. Others rely on Vexar wind glass bags for a pile-'em-high approach. Then the grower has a Premium Pack program, which provides sleeve packs that make for organized displays to merchandise sweets, organics and premium white, red and yellow onions.
At the same time, the company is adapting to help food retailers, and that includes making sure they register the right sales even when the consumer is doing the scanning. A kwik lok on the top of the package has a barcode on it as opposed to a sticker that might fall off, leading to organic items being priced as conventional.
"JJB is introducing a 1-pound, 2-count organic onion sleeve pack, which will also ease self-checkout scanning problems.
In packaging, Fagerberg Produce has seen requirements come full circle.
"Consumer packaging saw an increase when COVID first started, but that has leveled off to normal demand," says Cantwell.
For Gumz Farms, packaging trends are being driven by changing considerations. "Smaller pack sizes have become more popular," he says. "Sustainability is also key and becoming a more popular requirement from retail customers."
Even if opportunities vary by market and even by store, Kelso says the larger perspective tells an important story — onions sell big and bigger when times are tough.
"On average, the United States eats 400 truckloads of onions a day, no matter what the calendar says," she says. "This means a consumer is always including onions in their diet no matter the calendar, ethnicity or geographic location. It should be one of the most profitable items in a store."
"Quality is first. Quality sells. Add big displays to that and now you have a chance," she says. "Cooking at home sells onions. Ask any retailer when his onion sales peak: Thanksgiving and Christmas. During COVID, onion sales immediately tripled. Why? Everyone stayed home and cooked. The worse the economy, the better onion sales."
• • •
Get Social to Sell More Onions
Social media is becoming a more important part of promoting onions to consumers, giving growers and customers a chance to detail benefits and encourage use across more meal occasions.
Fagerberg Produce, Eaton, CO, has been keeping pace with the evolution of consumer outreach, incorporating more social media into its business to better connect with customers, according to Colby Cantwell, sales at Fagerberg Produce.
"Social media has provided a great opportunity to show our customers how onions are grown and the great care that is involved in producing a high-quality onion."
As is true of conventional product, organics get a lift when consumers get the message, and Cal-Organic Farms assists its retail partners to promote organic onions through social media and retail point-of-sale material, says David Bright, vice president of marketing at parent company Grimmway Farms, Bakersfield, CA.
"We inform our growing follower base for Cal-Organic Farms about the arrival of the new onion harvest in late spring and frequently highlight delicious uses for our onions in posts throughout the year," says Bright.
The result? Numerator data revealed the Cal-Organic Farms brand "consistently has the highest household penetration of any organic vegetable brand in the United States," he says.
Roderick Gumz, co-owner, Gumz Farms, Endeavor, WI, says getting the word out digitally is part of the business today, although gauging the effect is tough.
"We use social media to tell our story as farmers and teach the general public about agriculture," he says. "However, as the grower/packer/shipper, it's hard to quantify how social media affects sales."
Olivia Kelso, food safety coordination/sales and marketing coordinator, JJB Family Farms, Stockton, CA, says it's one thing to get involved in social media, another to get the best return on the effort.
"We have been working on being more present on social media," she says. "It is a work in progress."