Georgia's branded marketing program offers an array of marketing and promotion opportunities for farmers, retailers and wholesalers.
Originally printed in the May 2023 issue of Produce Business.
For over a decade, Georgia has tapped into the buy local effort through its Georgia Grown program. The initiative, launched by the Georgia Department of Agriculture, promotes and supports locally grown agricultural products from Georgia.
"The program aims to increase consumer awareness and demand for locally grown products in the state," says Matthew Kulinski, director of marketing and director of the Georgia Grown program at the Georgia Department of Agriculture in Atlanta.
Buyers and growers both experience the benefits of this state-supported promotion. "The Georgia Grown signage on our front doors and along the produce aisles spotlights our local product and draws customers' attention, thereby increasing our sales while providing happy customers with the very freshest produce possible," says Mike Rogers, owner of Mike's Country Store, with four locations in Albany, Leesburg, Putney and Moultrie, GA.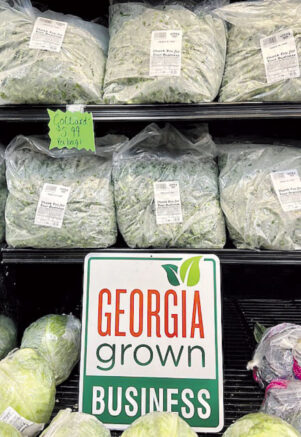 As a family-owned and operated business, Bland Farms in Glennville, GA, knows the importance of staying true to its roots, relates Troy Bland, chief executive. "Georgia Grown plays a big part in supporting local farms and fostering relationships between growers, producers, manufacturers and retailers," he says. "We wanted to become a member of Georgia Grown to support our state and also gain increased exposure for our company through all Georgia Grown has to offer."
John Williams, director of sales and marketing for L.G. Herndon Jr. Farms in Lyons, GA, says the program has done an effective job of promoting the brand and Georgia-grown crops. "Promotion across the retail sector has been fantastic, and that's a real benefit to us who grow the crops," he says.
Wholesaler Nickey Gregory Co. on the Atlanta State Farmers Market loves and promotes the Georgia Grown program. "We partner with our customers to bring them locally grown programs so they can promote to their customer or end user," says Andrew Scott, director of business development and marketing. "We are looking forward to the work our new agriculture commissioner, Tyler Harper, has planned for Georgia and its many farmers."
To promote fruits and vegetables specifically, the Georgia Grown program employs several approaches, which include partnering with farmers, educating consumers, creating events and campaigns, advertising and public relations, labeling and media programs, says Kulinski.
THE FARM CONNECTION
Georgia Grown begins on the farm, and the program works closely with local farmers who grow fruits and vegetables. "Georgia Grown provides marketing and promotional support to farmers, helping them to reach a wider audience," says Kulinski.
The program wants the growers to be front and center, asserts Williams. "Whether at trade shows or farmers markets, they really promote both the crops and the growers," he says.
Rogers notes the program focuses on the farmers who work hard to grow a variety of products sold in stores. "We can promote these items to sell with the Georgia Grown signage, and that pushes the consumer to these products," he says. "The program also gives us direct contact with a list of local farmers who grow and sell produce in Georgia."
Bland explains being a part of the Georgia Grown program is a great way for them to gain new business and adds an additional layer of marketing benefits for the company. "It's also a great way to connect with other members in the state, share what's working in the industry and stay up-to-date on relevant information specific to the state we're growing in," he says.
GA Grown helps Shuman Farms in Reidsville, GA, connect with other local growers and businesses. "This helps to strengthen the entire agricultural community in Georgia," says John Shuman, president and chief executive.
A major aspect of the program is helping retailers connect with growers. "Stores should be promoting the actual farmer who grows their seasonal crops," says Scott, "and let the consumer have a connection to who grows their fresh produce."
Georgia Grown assists retailers and wholesalers, providing them with access to a wide range of locally grown fruits and vegetables, states Georgia Grown's Kulinski. "They can differentiate their offerings from competitors and attract customers who are interested in buying local," he says.
PARTNERING WITH BUYERS
The Georgia Grown program partners with retailers, restaurants and other organizations, explains Kulinski.
"For example, we work with grocery stores to highlight Georgia Grown produce in-store and with restaurants to create menus that feature locally sourced ingredients," he says. "The program provides retailers and wholesalers with marketing support, including point-of-sale materials, advertising and public relations. The Georgia Grown team can even work with individual retailers to develop custom signage and point-of-sale campaigns."
By partnering with the Georgia Grown program, retailers and wholesalers can leverage the program's brand recognition to build their own brand and attract customers, adds Kulinski. "The Georgia Grown logo is a recognized symbol of quality and authenticity, and by using it on their products, retailers and wholesalers can communicate to customers that they are selling high-quality, locally grown produce."
The industry-wide marketing efforts come with a brand recognition that translates into high-volume sales for retail partners, according to Bland. "Being a part of a Georgia Grown is just one more way retailers can leverage the notoriety of displaying produce that is a part of the Georgia Department of Agriculture," he says.
Wholesalers, in particular, can take advantage of the program to provide resources for their smaller and independent retail customers.
"Wholesalers in our area really help the smaller customers promote the Georgia Grown," says L.G. Herndon's Williams. "For example, a wholesaler sent a photographer to one of our farms so they could help a smaller retailer showcase where the products were grown. Independent stores use these tools as a way to differentiate themselves."
REACHING CONSUMERS
Georgia Grown provides educational materials to consumers on the benefits of buying locally grown fruits and vegetables. This includes information on the health benefits of fresh produce, the environmental benefits of buying local and the economic benefits of supporting local farmers, says Kulinski.
The program also conducts advertising and public relations campaigns that promote the benefits of buying Georgia Grown fruits and vegetables.
For example, Georgia Grown works to educate consumers about proper storage, handling and cooking methods for Vidalia onions, relates Shuman. "The program maintains an active presence on social media platforms such as Facebook, Twitter and Instagram, where it regularly shares content related to Vidalia onions, including recipes, cooking tips and photos."
"Georgia Grown partners with Vidalia onion growers and distributors to feature their products on social media," he says, "highlighting the people and stories behind this iconic crop."
"It's always helpful to have more reach on social media," adds Bland. "Having partnerships and influencers helps us grow our followers and expand reach for great promotions we may not otherwise be able to tap into, such as our Billy Currington promotion."
The logo itself is a powerful connector for consumers, and L.G. Herndon Jr. Farms uses the brand wherever it can. "We promote the Georgia Grown brand on our packaging, boxes, bags of onions, packaged kale, wherever," says Williams.
EVENTS AND SPECIAL PROJECTS
The program gets creative in developing and supporting a variety of activities, and Georgia Grown hosts events and campaigns throughout the year, says Kulinski. For example, the program hosts the annual Georgia Food and Wine festival in March, which brings together farmers, industry professionals, chefs and consumers to celebrate locally grown produce.
Georgia Grown just launched the third season of A Fork in the Road — a TV show designed to promote Georgia's agricultural products by telling the story of the state's agriculture producers. "We have seen a great response from consumers in regards to the show," says Kulinski. "Many retailers featured on the show have seen a marked increase in sales."
The program also supports attending industry trade shows. "It helps us attend the biggest show, IFPA," says Williams. "We are grouped together in a pavilion with our competitors, but we don't really focus on that because we support each other."
Bland also relates having success as part of the Georgia Grown pavilion at IFPA. "It increases our exposure by driving traffic to our booth," he says. "Georgia Grown has been an invaluable resource for networking, getting questions answered, and boosting our exposure through its website and social media programs."
"It's great to have an organization that advocates for local business and the Georgia farmers."