Originally printed in the September 2020 issue of Produce Business.
Michigan apples offer a wide variety of profiles and can service customers year-round.
Michigan apples are the envy of many states, and they present an outstanding opportunity for retailers who want to make the most of their exceptional quality and variety.
Michigan is the third-largest producer of apples, behind Washington and New York. Its apples are sold in 32 states—from Michigan south to Florida and west as far as Texas, Colorado and Wyoming—and 18 countries. To the east, Michigan apples can be found in New York, Pennsylvania and south along the Atlantic coastline.
The Wolverine State offers an exceptional varietal mix, spectacular flavor profile and the ability to service customers year-round. Its apples have the benefit of the West Michigan growing region, specifically the Lake Michigan climate. This area creates the ideal conditions for growing flavor, full-color, great-storing apples. The summer days are warm to help with growing and color, and there are natural irrigation and cool late summer nights to sweeten the apples.
UNIQUE ADVANTAGE
"Here in Michigan we have such a unique advantage due to our geographical benefits and climate," explains Angela Sommers, marketing director for BelleHarvest Sales Inc. in Belding, MI. "Our Great Lakes provide a moisture-rich environment for apples, while our weather delivers the four seasons needed to grow an excellent crop. All of this equates to outstanding flavor in our apples."
On average, Michigan harvests around 25.2 million bushels of apples each year. "We typically see the majority of our crop marketed in the Midwest and down to the southern states," says Sommers. Michigan apples are typically shipped from mid-August all the way through June.
Michigan is the second-most agriculturally diverse state in the country, "and we're proud to be an ag state," says Trish Taylor, marketing manager for Riveridge Produce Marketing, Inc., in Sparta, MI. Retailers can provide a spotlight on the region and why it makes for such flavorful apples.
Michigan's unique geography, surrounded as it is by the Great Lakes, helps growers produce great tasting apples. With plenty of moisture from the lakes, warm, sunny summers and cool autumn weather, apples grow to a great size and color, with abundant sweetness and flavor. Often, Lake Michigan buffers harsher weather events coming from the west. Hilly areas along the lakeshore and nutrient-rich soils provide ideal land for growing apples. These factors, plus dedicated growers, help to produce a flavor that sets the state apart from the rest.
The coming of COVID-19 has changed the way retail businesses operate. Accordingly, supermarket retailers need to consider social distancing when marketing apples, says Diane Smith, executive director of the Michigan Apple Committee in Lansing, MI, a grower-funded nonprofit organization devoted to marketing, education and research activities to distinguish the Michigan apple and encourage its consumption in Michigan and around the world. "Small groupings of many varieties may keep a shopper in front of a display for an extended period of time, forcing other shoppers to bypass the display so they do not come into close contact with others." Satellite displays and endcaps can thus be more important than ever.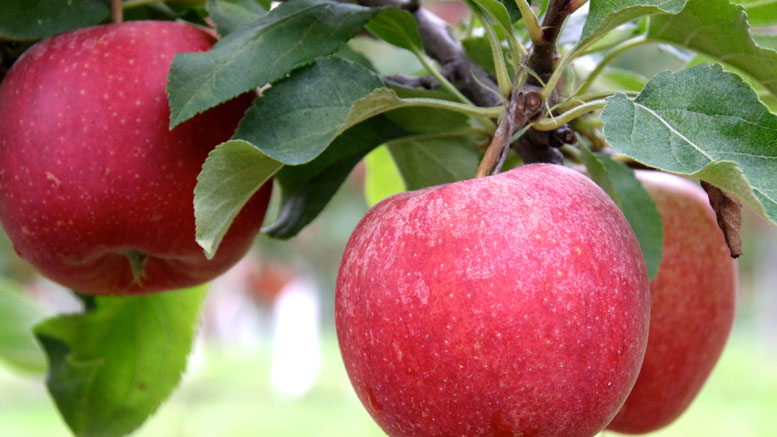 Smith believes it is "now more important than ever, with the COVID-19 pandemic, to encourage consumers to eat more fruits and vegetables and in general take better care of their health. It seems things are trending in that direction with the increase in produce movement we've seen over the last five months. I hope that people will continue to see eating apples as important to their health, and as an inexpensive, long-lasting produce option they can feel confident about providing to their families."
SELLING FACTORS
A host of factors come together to make Michigan apples the attraction that they are. They include:
Local Sells: Michigan is well-positioned geographically to be considered 'local' by a large portion of the population. For freshness as well as for environmental reasons, many consumers choose Michigan apples over others. "Here in our home state, consumers buy Michigan-grown to support their neighbors," Smith says.
Sommers calls the "buy local" movement "such an incredible way to support the community around you. I think it's important that we continue to show the value of bringing local apples to retailers surrounding us. Placing more Michigan apples on retailer shelves that surround our orchards is not only helping the local economy but also bringing consumers the freshest product possible."
Buying local, she adds, reduces environmental impact as well, as local purchases require less transportation. "Local is important," Taylor insists. "Retailers want to be able to share images and stories about those growing their produce, and consumers want to be able to support those in their community."
Since there is such rich history in Michigan, with many farms in their fifth and sixth generations, retailers "should market/show-off this amazing culture," Sommers suggests. "With over 800 growers and nearly 14.9 million trees in the ground, Michigan is able to now offer near year-round availability. Retailers should show the more locally-grown fruit and the history that goes with it."
Riveridge's Taylor and and her colleagues recommend strong ad support and shelf placement. "Tell the story of local—consumers want to know and engage."
Bounty: Sommers says she and her colleagues are "very pleased" with the crop in Michigan this year. After a challenging spring, they are optimistic about the quality and volume in the orchards. "After experiencing a critical frost in the early growth stage, we are surprisingly pleased to see less than a 10% reduction in volume compared to last year."
The state is once again offering many high-flavor, optimal varieties such as SweeTango, Evercrisp, Smitten and Topaz. There are also more early Gala, Fuji and Honeycrisp strains coming into production.
"On a national scale, we've watched Envy grown in popularity," Sommers recounts. "It's a great apple, and we are hoping to gain similar traction with the Smitten variety, as the parentage is very closely related." Both Envy and Smitten bring the Gala and Braeburn varieties together for a delicious blend. The SweeTango variety "continues to gain fans each season, and will build momentum this year with increased volume to meet consumer demand."
"We need to make sure they know about us before they even get to the front door of the store or open the app to make their purchases."

— Trish Taylor, Riveridge Produce Marketing
This year's crop "looks great, with sizing larger than last," Taylor says. "Many of our plantings of Gala, Honeycrisp and Fuji from a few years ago have come into maturity, which means some earlier strains of each." The volume for the state has been projected at 22 million bushels, which is on par with last year.
Gala, Fuji and Honeycrisp continue to gain in popularity among consumers, Taylor points out, but newer varieties like Pink Lady, Evercrisp and Ambrosia are gaining with "niche fans who love to tell others about them." Due to spring weather, however, there figures to be fewer Red Delicious.
Indeed, a couple of years ago, Gala outpaced Red Delicious as the most-produced variety in the U.S., "and Michigan certainly grows large volumes of that variety," Smith says. "Our growers work very hard to be responsive to consumer demand in terms of varieties, and to adjust their varietal mix accordingly." This year's Michigan Honeycrisp apples are looking "exceptionally good," she continues. "Michigan also grows great-tasting Gala and Fuji. Of course, many Michigan growers also grow managed varieties."
"Growers used many tools to prevent damage from frost in early May," Smith recently noted. "While some areas of the state were impacted more significantly than others, overall we are hearing reports of a quality crop with minimal frost damage. Growers report that Honeycrisp, in particular, are looking exceptionally good this year, which means we'll have great opportunities for retail programs for that consumer favorite variety."
Marketing: Marketing tactics historically have been similar from year to year. Now, with the COVID-19 pandemic, things "are rapidly changing," Smith notes. "Shoppers are making fewer trips and buying more at each trip. Customer counts are down due to on-line platforms, although sales are up. New ways of marketing are being tested each and every day to promote without compromising customers' exposure to possible health issues." Digital demos, social media interaction and advertising in the online shopping platforms are a few new ways that retailers can market Michigan apples.
With so many more shoppers making their purchases from home for delivery or pickup, "We can go to consumers direct to tell our story and (help them) get to know our product," Taylor says. "The consumers may not always be in the store and won't necessarily always have the time to browse the produce section." Instead, they may prefer to get their selections and keep moving. "We need to make sure they know about us before they even get to the front door of the store or open the app to make their purchases."
Taylor advises retailers, "Don't hesitate to reach out with asks of how we can help. We know retailers are busier than ever, like everyone else, and we can help tell the Michigan apple-growing narrative to drive purchases."
Sommers says she believes the best way to market and promote Michigan apples is by highlighting their exceptional flavor. Consumer research conducted by the Michigan Apple Committee has shown that shoppers believe Michigan apples are fresher and more flavorful than the same varieties grown elsewhere.
"Our advice is to make the category simplified," Sommers says. "Over the last 10 years, we have brought consumers new varieties with incredible flavors and attributes. We truly have innovated the industry, however we equally confused consumers." She calls it important for retailers to utilize scan data to understand trends happening in the category. "Once we know more about consumers' buying habits regarding packaging, size, color and flavor we can better curate the right merchandising and marketing."
Smith says that she and her colleagues work hard to provide resources to help retailers move Michigan apples. "We have a kit for retail dietitians, and we just refreshed our regular email communications with our retail contacts to provide them with the latest information on the Michigan apple crop, marketing programs, trends and social media content."
Merchandising: According to Smith, Michigan apples are best promoted in areas of the store that showcase the beauty and seasonality of the state's fruit. A large porch or lobby display can set the stage for the shoppers' experience. "Nothing says fall like a front and center produce department display with Michigan apples and ties in such things as Michigan apple cider, caramel apples and fall-related items."
The Michigan Apple Committee recommends that retailers keep satellite displays simple, with one or two varieties per display to keep the shoppers moving and engaging in impulse buying. Tote bags and poly bags are seen as a good way to ease the shoppers' fears of others touching their produce. "On bulk apple displays, offer tips on cleaning the fruit or tie in a fruit or vegetable wash," Smith suggests. "Assure your shoppers that the growers are held to stringent standards as it pertains to COVID-19 and that they are committed to protecting their customers in any way possible."
Smith urges retailers to try new marketing and merchandising techniques without compromising what they are known for. "Continue to wow the customers that are shopping in person with nice and inviting displays that may not have as much product as in the past to control shrink but still has the same effect. Do not let the fact that sales are up let you get complacent; you want to retain these shoppers after things return to a more normal state."