Originally printed in the August 2023 issue of Produce Business.
Starting at the beginning of the 2022-23 school year, California became the first state to mandate free school meals — breakfast and lunch — for all students, regardless of income status, on all school days. The incredible move to ensure students' food and nutrition security across the Golden State came with state funding that not only increased funds available for food, but also for infrastructure and training.
Training is an incredibly important part of this legislation because the California Universal Meals Program also mandates the use of minimally processed, locally sourced foods. That necessitates preparing and cooking more foods from scratch or "speed scratch," a term that refers to preparing foods by combining ready-made ingredients with fresh ingredients to save time and labor.
Labor is a challenge for school nutrition programs, including finding staff with culinary skills. Training is essential to ensure food served in schools is prepared and marketed in ways students will find appealing and acceptable.
The California Universal Meals Program follows the federal standards for reimbursable school breakfast and school lunch, which includes mandates for offering fruit at breakfast and fruits and vegetables at lunch. Schools are allowed flexibility in meeting daily standards, but they must meet weekly standards for minimum amounts to qualify for federal reimbursements.
Schools can serve fruit and vegetable juices, but they must be 100% full-strength juice, and no more than half of fruit and vegetable offerings can be juice. Schools can also substitute vegetables for fruits, but the first two cups per week of any substitution must be from the dark green, red/orange, legume sub-categories or other categories.
Without mandated sub-categories for fruits (e.g., berries, citrus, melons, etc.), students tend to be exposed to the same fruit offerings day after day, but the vegetable sub-categories give students opportunities for exposure to many types of vegetables.
The challenge for California schools is access to minimally processed, fresh-cut produce that can be integrated into scratch-cooked recipes that meet the budget, operational and storage limitations, as well as the culinary skills of staff, and cultural food norms of diverse student bodies.
If you're a bit overwhelmed at this point, you're not alone. Working in school nutrition is not for the faint of heart!
Can you be part of the solution to the challenges facing school nutrition programs across the country?
Local sourcing of produce in California is possible, but logistics and labor are a challenge. Let's say a local district decides to partner with a local sweet potato grower. If the grower has a contract for his entire California-grown sweet potato crop, that's a win. But what if the school district can't take all the sweet potatoes at one time, and they need storage? Can that grower offer storage and staggered deliveries during the school year? And what if the school requires minimal processing, such as peeling and cubing the sweet potatoes? Can the grower partner with a processor to do the processing as well as storage? As you can see, there are many challenges, as well as many opportunities.
The California Farm to School Program is part of the answer. As of July 1, 2023, the state had hired 12 of 16 planned regional coordinators to work with growers throughout California to help school nutrition leaders build relationships with local growers.
In the past few months, I have talked with several California school nutrition leaders who are eager to find local produce processors who can provide minimal processing, fair pricing, and on-demand delivery to accommodate small and medium, as well as large, districts.
Custom processing of fresh-cut vegetable kits that enable culinary professionals to create speed scratch recipes and allow minimally trained staff to put forth more freshly prepared foods that meet students' diverse food, flavor and cultural needs is important for the success of school nutrition programs, as well as the fruit and vegetable consumption habits of kids.
What can your operation do to be part of the solution to the many challenges facing school nutrition programs across the country?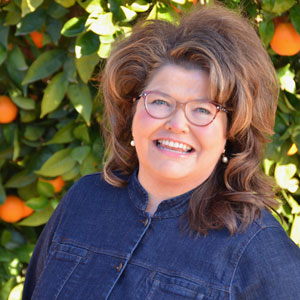 Amy Myrdal Miller, MS, RDN, FAND is a farmer's daughter from North Dakota, award-winning dietitian, culinary nutrition expert, and founder and president of Farmer's Daughter Consulting, Inc. She is the culinary and foodservice strategist for the Produce for Better Health Foundation, the retail nutrition marketing and foodservice specialist for the Buy California Marketing Agreement/CA GROWN, a member of the Texas A&M Institute for Advancing Health Through Agriculture AgriLife External Advisory Board, a member of the Bayer Vegetable Seeds Horticultural Advisory Council, and co-author of Cooking á la Heart, a 500-recipe cookbook based on plant-forward eating cultures from around the world. You can learn more about her business at www.farmersdaughterconsulting.com, and you can follow her insights on food and flavor on social media @AmyMyrdalMiller.