Originally printed in the May 2020 issue of Produce Business.
Flourishing Toronto retailer builds on a foundation of freshness while exhibiting an adventurous merchandising attitude.
Behind the success of two-store Concord Food Centre is a tradition dedicated to quality and freshness. The tradition began in the 1930's, when Joseph Greco, who had immigrated to Canada from Italy, opened a fruit stand. "His legacy for the highest quality produce became renowned and, to this day, remains the core of our philosophy," says Anthony Greco, current owner and grandson of Joseph. "We only sell the freshest fruits and vegetables available."
The family-owned stores, Concord Food Centre in Thornhill and Oak Ridges Food Market in Richmond Hill, are committed to purchasing, producing and presenting the finest, freshest foods possible. "Each of our departments offers a wide selection catering to the conventional and natural food shopper," says Greco.
The stores emphasize freshness, quality and customer service. "In this industry, you have to carve out your identity and differentiator," says Greco. "We aim to be great at fresh, with competitive prices, while serving with exceptional staff."
A FOUNDATION OF FRESH
For the 15,000-square-foot Concord store, the produce department accounts for about 33% of sales. "The importance of produce can't be overstated enough," says Greco. "It's our largest department in terms of sales percentage and a huge draw for our customers. Our reputation is built on freshness, and what bigger way to say 'we're great at fresh' than with the highest quality produce?"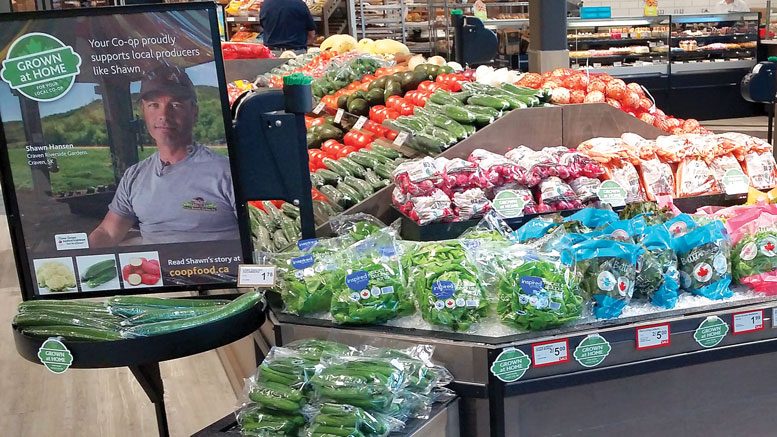 With such a focus on fresh, sourcing is crucial. "I visit the Ontario Food Terminal (OFT) four times a week to hand pick the produce," says Anthony Greco. "This ensures customers always have the freshest fruits and vegetables to choose from."
Greco emphasizes the OFT is integral to the way the store is able to conduct its business. "The relationships we have built with local farmers and OFT wholesale owners and salesman are unique to this business. They know exactly what we're looking for. We'll get product that's just arrived from California into our stores in hours. That's fresh. Whereas a lot of bigger guys have to work through distribution centers, we have the ability to stay fresh and turn product over quickly."
The main sourcing consideration at Concord is quality. "We want the best size, flavor and varieties available," says Greco. "After that, we aim to get as competitive a price as we can, but we will never substitute quality for price."
A REALLY BIG SHOW
The folks at Concord Food Centre pride themselves in putting on a show when it comes to produce. "We pile it high and let it fly!" says Greco. "When you walk through the aisles, the displays' colors and sizes really stand out. We take a lot of pride in selecting the best produce, and we want people to see it in a big way."
Produce is front-and-center at both stores. Vertical tables allow the customer a clear sight line all the way through the department. "We use side tables as accent features and a refrigerated wet case," says Greco. "We also have a large cut fruit and vegetable department. Employees are constantly producing fresh grab-and-go platters, veg spirals, omelet mix and many other convenient cooking essentials."
The store continuously changes displays and moves things around. "We use end caps and side tables to constantly promote ad items or seasonal produce as it becomes available—especially local," says Greco. "For example, in the winter, you might see big displays of Chilean stone fruit, with the drops being done in the actual fruit boxes, or the same with Orri Clementines. It's a nice touch for customers to see product origin and brand recognition."
The store does not shy away from zealous presentations. "We enjoy mixing colors with big waterfall pyramid displays and using drops to really make the product stand out," says Greco. "We may sacrifice some shrink in order to create this effect, but it's a big part of what people recognize us for."
Concord Food Centre
1438 Centre St., Thornill, Ontario
Tel: 905-886-2180
http://concordfoodcentre.com
Store Hours:
Monday to Friday: 8 a.m. – 9 p.m.
Saturday: 8 a.m. – 7 p.m.
Sunday: 8 a.m. – 7 p.m.