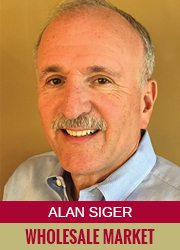 Last month I wrote about the strong headwinds wholesalers face as the way fresh fruits and vegetables are sold at retail in the United States changes dramatically‭. ‬No longer can a‭ ‬wholesale produce distributor rely on shorts of inventory in supermarket distribution systems to be a reliable source of business‭. ‬Club stores‭, ‬specialty retailers‭, ‬online shopping services and stores with closed distribution systems are shrinking that window of opportunity‭.‬
Today's produce wholesaler must be prepared to face this paradigm shift in the way the nation's fruits and vegetables get to the consumer‭. ‬Those who sit on their hands and don't react to these changes risk losing sales and possibly their businesses‭.‬
The future of the produce wholesaler has always been questioned‭. ‬My father‭, ‬who passed away in 1978‭, ‬often paraphrased Mark Twain when addressing those who thought wholesalers would follow the fate of the dinosaur‭: ‬"The rumors of our demise have been greatly exaggerated‭.‬"‭ ‬Forty some years later‭, ‬through changes large and small‭, ‬the wholesaler is still a vital part of the distribution system‭.‬
The role of the produce wholesaler in the marketplace is not coming to an end‭; ‬it is changing‭. ‬I grew up in this business in the‭ ‬mid-20th‭ ‬century‭. ‬The fact is‭, ‬the industry has always been changing‭, ‬just not at its current pace‭. ‬Apart from the handful of major metropolitan terminal markets‭, ‬where merchants continue to thrive‭, ‬today's progressive produce wholesalers barely resemble those from 40‭ ‬years ago‭.‬
So‭, ‬with these changes going on‭, ‬what can you do to avoid losing ground‭? ‬What steps can you take to ensure that your company is‭ ‬a part of this increasingly fragmented distribution system‭?
First‭, ‬make sure your food safety program meets the requirements of your prospective customers‭. ‬Many parts of the‭ ‬Food Safety Modernization Act‭ (‬FSMA‭) ‬are either now in effect or soon to be implemented‭. ‬The legal departments of large potential customers will not permit their buyers to purchase product from a supplier that is not in compliance with their food safety standards‭. ‬Your customers will‭ ‬probably require a third-party audit‭, ‬and quite possibly you'll wind up with multiple audits to satisfy each customer's requirements‭. ‬You can look to the USDA's Agricultural Marketing Service for guidance in becoming FSMA compliant‭.‬
---
Get out of the office and go visit retailers in your area with closed distribution
systems. Introduce yourself to produce managers and store managers, and tell them your story.
---
Next‭, ‬put together a small group of team members to plot a path for the future‭. ‬Too often we fly by the seat of our pants‭. ‬Long‭-‬range planning is thought of as giving a price out three weeks in advance‭. ‬You must set aside time away from the distractions of‭ ‬the day-to-day business to focus on what changes are to be made to succeed in this new world of distribution‭. ‬In choosing your‭ ‬team‭, ‬don't just look to longtime trusted associates‭. ‬Make sure you include those who have fresh ideas and different perspectives‭. ‬Also‭, ‬consider bringing in an outside facilitator to help in planning the future direction of your company‭. ‬Don't be afraid to invest in doing it the right way‭.‬
If you aren't doing so now‭, ‬get out of the office and go visit retailers in your area with closed distribution systems‭. ‬Introduce yourself to produce managers and store managers‭, ‬and tell them your story‭. ‬If you get a‭ ‬"no"‭ ‬at the store level‭, ‬go to corporate and let them know you're available for emergency fill-ins‭. ‬Find out what it takes to become an approved vendor and do what is necessary to get it done‭. ‬If you're successful‭, ‬make sure your team knows the importance of a quick response when that call for help comes in‭. ‬It may be late in‭ ‬the day or over a weekend‭, ‬but helping that store manager solve a problem will go a long way toward building a successful relationship‭.‬
Another opportunity is to find out where the new wave of food retailing is setting up shop‭. ‬Companies like Amazon Fresh and Blue‭ ‬Apron need quality produce suppliers‭. ‬Make sure you stay up with what's going on in your marketplace so that you'll be among the first to introduce yourself as a potential supplier‭. ‬Don't forget the local convenience store markets‭. ‬Is produce a part of their product offering‭? ‬Bananas are a logical place to start‭ ‬because they require no refrigeration and are easily displayed at the register‭. ‬Lemons and limes go great with beer sales‭; ‬and apples‭, ‬with a good shelf life‭, ‬can move quickly‭.
Finally‭, ‬look to value added‭. ‬Aldi‭, ‬Lidl and other retailers often use local suppliers for packaged product‭. ‬This will take some‭ ‬capital investment and will increase labor costs‭, ‬but it could result in substantial topline growth‭.‬
The time is now to begin planning your company's future direction‭. ‬To quote aviator and writer Antoine de Saint-Exupéry‭, ‬"A goal without a plan is just a wish‭.‬"
---
Alan Siger is chairman of Siger Group LLC, offering consulting services in
business strategy, logistics, and operations to the produce industry. Prior to selling Consumers Produce in 2014, Siger spent more than four decades growing Consumers into a major regional distributor. Active in issues affecting the produce industry throughout his career, Siger is a former president of the United Fresh Produce Association.