High labor costs drive need for affordable applications for produce packaging.
Whether you have a zeal for top seal, are betting on netting, vouch for the pouch or choose to go with the flow [wrapping], fresh produce packaging companies continue to upgrade the options available to try to improve appeal, value, environmental credentials and convenience.
This is no small task in light of labor costs and the added expense associated with in-vogue recyclable and compostable materials, but could there be ways to bring the final product down to a more affordable level?
"A package that is more expensive may be an option if the packing house can save on labor so that the price point remains about the same," says Aaron Fox, executive vice president at Fox Packaging in McAllen, TX. "Minimum wages are climbing in many of the states that are heavy in the production of fresh produce, so automation is something that our customers are looking for."
Fox says wicket bags have the easiest application for automation, with the technology being relatively inexpensive, fast operating and an easy modification to add below an existing weighing machine.
"With a wicket bag, the choices are an abundance of bags that will run on the same machine, including the Fox Fresh Mesh Combo bag, wicket mesh bag or straight poly bag," he says. "Each choice offers its own amount of ventilation depending on the mesh content, or in the case of the poly bag, vent holes."
Fox notes the latest trend is to take existing packages and make them recycle-friendly. This is a challenge, but thanks to scientific advancements, his company is able to offer eco-starch resins as an option to any customer who wants to shift to plant-based sustainable polymers.
But the priority given to environmentally friendly options largely depends on the retailer.
"Regional retailers have more distinct demands based on their clientele, while nationwide brands have to try to appeal to everyone," says Fox. "For example, most of our recyclability and disposal inquiries will come from a Trader Joe's shopper."
THE PACKAGING ECONOMY
Shannon Boase, director of new market development at CKF, Inc. in Vancouver, BC, Canada, says high-speed, top-seal machines are having a significant impact on the fresh produce industry, reducing the labor component of packing as they are highly automated.
She notes this development also reduces plastic by replacing lids and leads to reduced storage as nested PET punnets take up less space in inventory than clamshells.
Boase is the founder of Earthcycle, one of the products in CKF's line that uses a blend of virgin and post-industrial recycled corrugate, with all pulp coming from FSC (Forest Stewardship Council)-certified or controlled sources.
She says manufacturers of more sustainable packaging solutions have to give retailers more than just the "it's good for the planet" story, and their products will only stay on the shelves if "the complete package substantially contributes toward a circular economy.
"We have to provide a clear benefit in terms of shelf life, reduced waste, improved sales, and reduced carbon [footprint]," says Boase. "We have to show how our packaging impacts the entire supply chain."
Boase explains the advent of top-seal machines has been critical to the market expansion of Earthcycle in the fresh produce industry.
"Being able to seal our punnets immediately allowed for stackability in transit and on store shelves, which had always been our Achilles heel," she says.
She says Earthcycle packaging is currently seeing a lot of traction in fruit such as blueberries, raspberries and strawberries, as well as table grapes, tomatoes and greenhouse categories.
"All of our commercially available programs have a demonstrated improvement on the shelf life of the fresh produce that is being packed — right from point of packaging through to the retail shelf," she says.
Meanwhile, even though it has been around for longer than top sealing, flow wrapping is also having a beneficial impact on this kind of packaging.
"When flow wrapping and Earthcycle are used in conjunction for tender leaf and fresh herbs, the shelf life benefits are astounding," says Boase. "In shelf life studies done, an Earthcycle flow wrap solution extends shelf life by 20 percent as compared to PET clamshells."
Sara Lozano, marketing manager at Sambrailo Packaging in Watsonville, CA, says reducing plastic is a trend that will not be fading away.
"Consumers are educating themselves, and companies are becoming aware, of the crisis we are in when it comes to recycling in general and plastic's role in the problem," says Lozano, whose company has gone back to basics with paper in the development of its ReadyCycle packaging, with no wax, labels or plastic.
"It can be recycled in the existing paperboard and cardboard recycling stream," she says. "If it ends up in landfill or the natural environment it has a lifespan of approximately two to four months and can be composted under certain conditions and practices either at home or in an industrial facility.
She says there is a great opportunity with fresh produce to revolutionize this segment for consumers and claims the ReadyCycle packaging aesthetic lends a farmers' market atmosphere, which has been a popular vibe to adopt in-store.
GENERATIONS OF EXPERIENCE
A massive shift toward these types of sustainable materials may sound like a pipe dream to some and no doubt comes with practical challenges, but it is worth noting Sambrailo Packaging has been in existence for almost a century and has played a major role in various market introductions over the years.
"As our company is in our 96th year in the produce industry, we have been through the complete evolution of berry packaging from the pulp baskets with cling film and rubber band, to the poly green mesh basket, to introducing the first berry clamshell in 1987," says Lozano. "When we were first introducing the clamshell, there was reluctance, hesitation, price hurdles, material learning curves and much more that goes along with launching a new product and concept."
Now, the plastic PET clamshell is the industry standard and has been for more than two decades.
"The biggest threats to traditional clamshells are what consumers are asking for and what our environment needs — less plastic," she says. "With a demand to reduce plastic, material integrity can suffer, and with that design and ventilation attributes can be compromised.
"Thermoforming is no doubt an art form and science — the chemistry of virgin PET, post-industrial PET and post-consumer PET all are major factors in the outcome of the product," says Lozano.
Companies that manufacture traditional clamshells, however, say that safety is a concern, particularly with top-seal technology.
"Top-seal containers are generally only effective for single-use servings, where resealing of the package is not a consideration, such as in dips, dressings and sauces," says Cindy Blish, brand and communications director at Inline Plastics, Inc., Shelton, CT. "While top-seal packages can alert consumers to tampering, the innately flimsy nature of the film is prone to accidental breaks in the seal, which may result in the unnecessary waste and disposal of good products.
"All of Inline's clamshell packages include features like leak-resistance, our patented Safe-T-Fresh tamper-resistant tear strip and the ability to reseal containers."
However, Marco Boot, president of NNZ Inc. in Atlanta, is the third-generation representative of a packaging company with its roots in the Netherlands. He agrees top seals are making a big impact on the fresh produce industry, particularly when they're used on cups, and overall they lead to a "prettier pack.
"It's definitely growing fast. It's just a question of the kind of packaging and the way you're able to top-seal," he says. "There's a whole different way of closing, so you have to have the machinery for it, and it's a big thing to talk to the packer on how to handle it.
"It's suited to small tomatoes, mushrooms, and we're even doing now the fingerling small potatoes."
The executive says it is also important to note the changing size of packaging, with single-person households reducing their purchases down from 5 pounds to 3 pounds to even 1 pound.
"I think they're also thinking about not having to throw away food. Before, they would say it doesn't matter if I buy 5 pounds and throw 2 pounds away," he says. "Now, they do think about that and just buy the smaller-sized package."
Boot is a bit more skeptical about the level of traction in the market for sustainable packaging.
"It's being talked about more than it's being used," he says, even though his company is making progress in the field. "The thing is with biodegradable, sustainable and compostable, nobody understands what it is."
When asked about retailers' receptivity to new concepts, he says it not only depends on the chain but also the individual you talk to.
"It's often a personal thing; it's not that easy," he says.
He remembers NNZ's introduction of the Carry-Fresh netting with a label more than a decade ago, which was a big marketing play and ended up changing markets in Germany and the United States.
In January, NNZ introduced its Paper-Vento bag to North America, made from paper-coated material with a window in it so the product can breathe. Up until now the focus has been potatoes, but Boot says the packaging could be extended to onions and any other produce item that needs to breathe.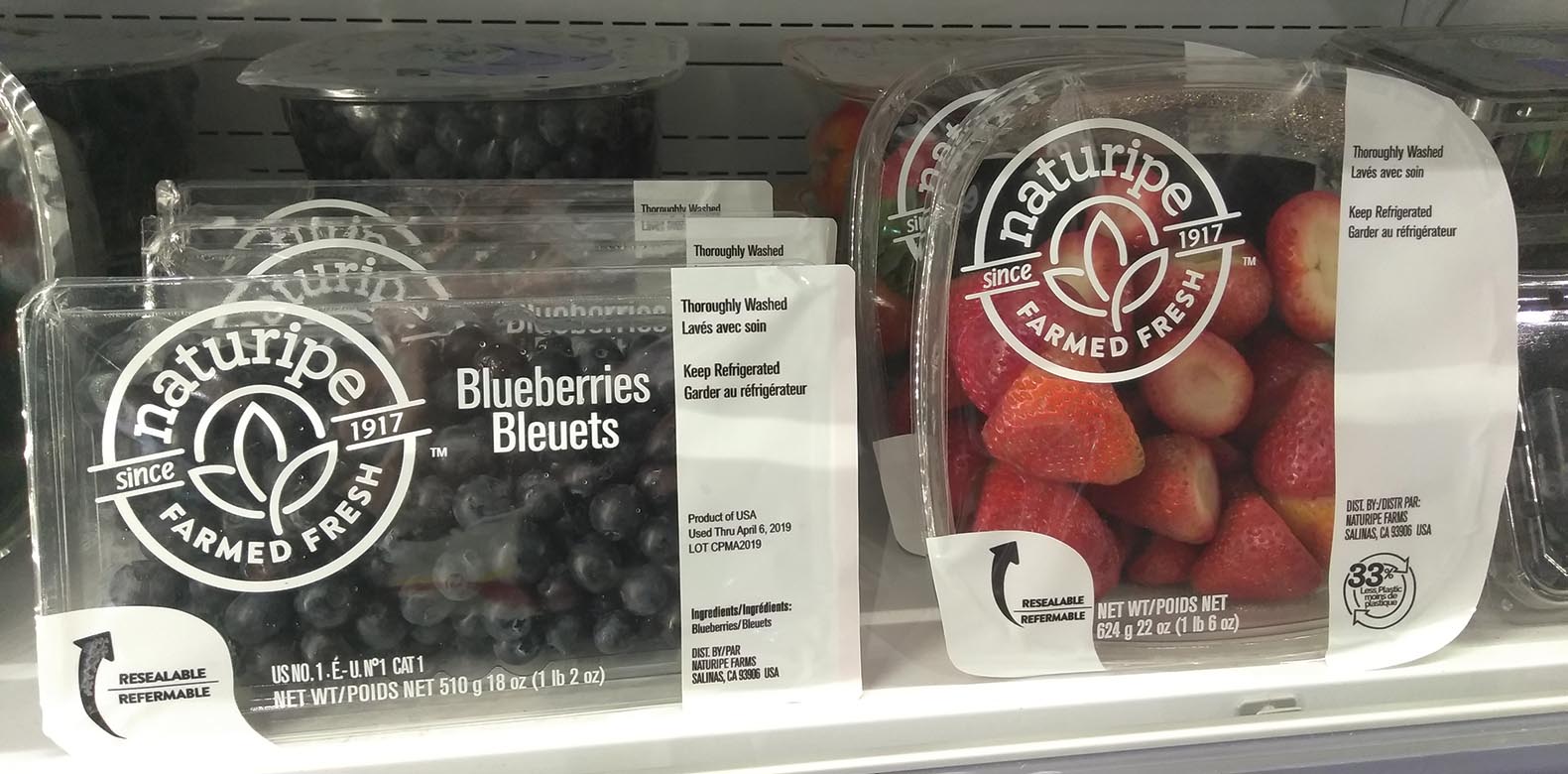 PRIME REAL ESTATE MATTERS
Lozano of Sambrailo Packaging says messaging is branding, so having the real estate and platform to communicate that message is key. In clamshells, that means the top lid for the placement of a label, but space is limited, as it needs to contain regulated information.
"As we developed ReadyCycle, we wanted to explore being able to utilize every surface as marketing real estate," she says. "We wanted retailers and growers to be able to communicate to the end consumer who they are, why they chose sustainable packaging and what makes their product special."
Lisa Cork, owner of Fresh Produce Marketing in Auckland, NZ, made her name as a produce marketer when she created the 'Eat Smart' brand for Apio Produce Sales in California, which this year changed its name to Curation Foods.
But almost 20 years later, the Eat Smart brand remains. During that time, Cork's company has created strategies for more than 50 new and innovative produce bands.
"When I created it, it was one of the first brands that truly spoke to consumers in the produce department in a meaningful way," says Cork. "So even though we had limited ways of bringing the brand to life way back then, the brand stood out because it was unique in the way it spoke to consumers.
"I use the same, consumer-centric philosophy today — your brand and your on-pack communications must speak to consumers, step into their world and appeal to their needs and wants."
Cork describes fresh produce branding and packaging as tactical elements that are brought to life as part of a great strategy.
"One of the common mistakes companies make on packaging — and this applies to all packaging types — is to not view packaging as a consumer sales tool," she says. "An overly dominant farm name or graphic, a lack of a clear taste or use cues, outdated graphics … ensure packaging is a costly expense because it is not working hard as a marketing tool."
She explains consumer-packaged goods (CPG) companies redesign their packaging every two to three years because consumer trends are changing so fast. The fresh produce sector can take heed of this, and background research is essential in order to create a "packaging message hierarchy.
"Produce is not immune from consumer trends, and the more you build trends into your product naming and on-pack communication strategy, the better your packaging will sell," she says.
Cork says the printing process used on plastics enables high quality graphics, so the end products have "every potential to wow consumers and motivate them to buy." But, what about the packaging that is moving away from plastic?
"As packaging changes and becomes more sustainable, the good news is the 'rules' of great packaging and on-pack communication don't change," she says. "What will change is the package. And the challenge here is there may need to be a trade-off if graphics clarity decreases.
The marketing expert has worked on produce brands all over the world, but one great benefit she sees in the United States where she hails from originally, is that there is still a lot of grower branding present compared to Europe and Australia, which have migrated to private-label brands.
"I love seeing grower branding on retail shelves," she says. "I think it is more in line with what today's Millennial and Gen Z consumers are seeking."
One lesson the North American market could learn from overseas, however, is China's huge use of QR codes in the produce aisle.
These codes were tried and dropped several years ago because no one was scanning them, but Cork highlights times have changed, and a QR Code 2.0 might be worth considering.
"People are more mobile-centric now versus five years ago, and smart phones are playing a more important role in shopping," says Cork. "Smart phone cameras have also gotten better — many can now scan a QR code directly without the need to download a special app.
"If you gave up on QR codes a few years ago, it is time to revisit the role they can play in your packaging communications," advises Cork.