Originally printed in the October 2018 issue of Produce Business.
Abundance of Sunshine State product helps keep shelves stocked.
Retailers in the United States and Canada rely on Fresh from Florida produce to supply their shelves. For nearly nine months, from October to May, the Sunshine State produces the bulk of U.S. fresh commodities during a time when most other U.S. growing regions are dormant, have recently ended production or are just beginning production. The state's tropical season runs through the summer, helping Florida provide product almost year-round.

Because of its proximity to major East Coast and Midwest population centers, Florida grower-shippers can efficiently supply retailers seeking fresh fruit and vegetables. Florida's location allows for shorter transit times to major markets, which brings fresher product to retail shelves.
T"You have the proximity and the freshness," says Chuck Weisinger, president and chief executive of Fort Myers, FL, tomato marketer Weis-Buy Farms, Inc. "Florida is closer, and your product is fresher. Also, our quality standards are set extremely high."
With Florida's geographic immediacy, the state's fresh products arrive on shelves in record time, explains Mindy Lee, Fresh from Florida bureau chief and media and communications manager for the Florida Department of Agriculture and Consumer Services (FDACS), which is headquartered in Tallahassee, FL.
"It is conceivable that a vegetable picked today could be on the grocery shelf tomorrow," she says. "Florida's season occurs when most other areas are experiencing cold winter temperatures and are unable to grow during late fall through spring. Also, Florida product is supported under the Fresh from Florida brand, which is recognized by consumers."
LOCAL PUSH
he state's physical advantages and the reputation of its produce are among its biggest selling points. "It's our proximity to the market and the quality of our produce," says Mark McDonald, manager and partner with Sweet Life Farms LLC, a Plant City, FL, grower-shipper of strawberries, blueberries, blackberries, watermelon and cantaloupe.
Florida banks on its reputation of favorable weather, which allows it to grow vegetables when other areas experience cold weather or freezing temperatures, says Angela Gamiotea, marketing manager of Loxahatchee, FL-based J&J Family of Farms, Inc. "The temperate winters, with generally dry weather and lots of sunshine, make for prime growing conditions," she says. "In addition, our proximity to the markets near you make it more practical to provide produce that is fresher on a more consistent basis."
As consumers are highly informed about where their produce is coming from, retailers should highlight the produce they merchandise originating from nearby areas. "That assures the consumer the produce is fresh and it didn't require a long travel time," says Gamiotea. "Retailers and consumers should have confidence in the consistency of product that comes from one area with Florida's prolonged continuity of a growing cycle."
The Sunshine State is also known for the taste of its produce. "The flavor and juice are what make our citrus special," says Russell Kiger, sales manager of DLF International, Inc., based in Fort Pierce, FL. "It's the taste and aroma. Florida still has a strong reputation. People still want our oranges for fresh-squeezing into juice."
An advantage of Florida is that crops grow nearly throughout the year, particularly in the more southerly parts. "Southern Florida grows almost year-round, the crops vary with the time of the year," says Mary Ostlund, director of marketing for Brooks Tropicals LLC, in Homestead, FL. "For consumers wanting to buy local, during the fall and the winter they'll expand their definition of local to buy domestic. Florida fits the bill."
The state's seven- to nine-month growing season also helps it as a reliable supplier. "The long season makes Florida a contender in almost every aisle in the produce section," says Ostlund.
According to the U.S. Department of Agriculture, Florida is the largest overall producer of oranges. It is the second leading producer of fresh market fruit and vegetables. The state is the largest fresh market supplier of watermelons, green beans, sweet corn and cucumbers. It is second in strawberries, tomatoes, bell peppers, third in cantaloupes, and fourth in cabbage and squash.
LONG SEASON OF AVAILABILITY
The long season helps buyers. "We probably have one of the longest growing seasons where we can offer a fall, winter and spring crop," says Brian Arrigo, president of the Immokalee, FL-based Southern Corporate Packers, Inc. "We can have a late crop and be the last ones out or be the first ones in every year. Weather-permitting, we can go through all the winter in most years."
Florida's reputation is strong. "The Sunshine State ranks high for producing quality fruits andx veggies," says Ostlund. "Showing the state's map says it all. Buy domestic, buy a bit of sunshine from the Sunshine State. The state's own logo, Fresh from Florida, says it all."
With Florida's shorter hauls, transportation headaches make sourcing from the state more attractive. "With freight rates rising at least 35 percent, this state becomes even more important because we are closer to the markets," observes McDonald. "The trucking deal has really changed since all this e-log."
The state's variety of products also helps with transportation, which allows trucks to load multiple items in single stops vs. making multiple stops, says Kiger. "We have a variety of items here, which helps us," he says. "We have something good down here. We have some of the best-eating quality produce."
LARGE PRODUCT DIVERSITY
Diversity helps Florida's reputation. "The length of the growing season is unique," says Adam Lytch, operations manager of L&M, Raleigh, NC, which grows and ships from North and South Florida. "Florida is such an important state for fruit and vegetable production because for many items, it is the longest growing region in the annual cycle of production and also, for several months, it is the only East Coast and domestic supply for many items."
Most everything a buyer can think of, and then some, can be produced in Florida. For example, at L&M's Palatka, FL, farm, it grows cabbage for almost six months of the year. Between its South, Central and North Florida farms, it can ship Florida bell pepper for almost eight months.
Florida's nearness to the eastern U.S. population centers has long given grower-shippers an advantage, notes Weis-Buy's Weisinger. "It's always been easier out of this state because we're closer to the terminals," he says. "People talk about the freshness of the product they had when they grew up in the Midwest. We have that same quality and freshness of products here in Florida. It's the same taste and quality as what they remember growing up."
As Florida is now the third most-populated state, the winter attracts many more people as well, which also correlates to the growing season. That large local push spills into the rest of the Southeast and up the East Coast where regional or domestic supply remains important to many customers, says Lytch. Also, the diversity of items that can be offered or featured is favorable because it allows retailers to create larger Fresh from Florida areas or local space in the stores, he says.
"It (the long growing season) makes it easier for buyers because they don't have to worry about transitions as often and know where the product is coming from," says Lytch. Other states in which L&M and other grower-shippers operate also produce and are just as critical during those specific supply windows, but their seasons are much shorter than Florida's, he says.
STRONG REPUTATION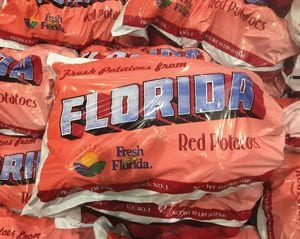 Whether it be fresh cabbage for St. Patrick's Day, green beans for Easter, new crop potatoes for Memorial Day or yellow squash in February, Florida maintains a strong marketplace reputation, says Lytch. "There is such a long production window, and Florida has peak production of many items during important holiday promotion periods, which makes it very important to retail sales," he says. "People understand how important it is to source from Florida."
The character of the state's grower-shippers is also important, says McDonald. "There's a better reputation of the people involved," he says. Buyers have worked with Florida grower-shippers for years, so they know what they're getting involved with, says McDonald of Sweet Life Farms.
Some Florida commodities, such as avocados and tropicals, ship throughout North America. Because of competition from other growing regions, other items, including strawberries and tomatoes, generally ship to buyers east of the Mississippi River, say growers.
Vegetable grower-shippers distribute regionally into the Southeast and into the Northeast as well as the Midwest. Depending on the items and season, growers, including L&M, also ship some items further, all the way to the West Coast, says Lytch.
Although Florida growers ship product all over the United States, most of FDACS' U.S. retail marketing campaigns focus on areas east of the Mississippi River, says Lee. Those campaigns are presented to 64 participating retailers in 28 states, representing 8,400 individual stores, she says.
MARKETING TO SHOPPERS
The state- and grower-funded promotions help market Florida's produce. This year, FDACS introduced a digital marketing campaign promoting coupons of blueberries and sweet corn to Florida shoppers. The promotion was successful and witnessed a 50 percent average coupon usage, higher than typical redemption rates, says Lee.
Florida produce is marketed in a variety of ways, including displays highlighting Fresh from Florida fruit and vegetables, sampling events, point-of-purchase signage, ad circulars, grocery cart signage, special events, direct mail and social media.
Fresh from Florida promotions are sometimes paired with other products during sampling events such as instances when Florida strawberries were dunked in Hershey's chocolate or Florida grapefruit was paired with Dasani sparking water. Such promotions help increase sales of both products and show the customer creative methods of preparing Florida commodities, says Lee.
The Fresh from Florida branding maintains a strong influence in Florida. Because of the high-quality products associated with the labeling, shoppers outside the state recognize the Fresh from Florida label and feel confident when purchasing, observes Jeffrey Goodale, director of domestic sales for Duda Farm Fresh Foods, Inc., based in Oviedo, FL. As farming techniques are advancing, the quality of Florida vegetables is also improving, he notes.
"Products such as oranges and sweet corn are considered premium products since Florida consistently produces these products to high-quality standards," says Goodale. "In-store displays are available for retailers and wholesalers to promote the Florida product line. By having these available at the retail level, it educates and encourages shoppers to try the Fresh from Florida products."
Harps' stores source many Florida berries and vegetables. "It's hugely important to try to source produce more locally as much as you can," says Roberts. "The closer it is to you, it shows in shelf life. The farther away it is, it takes away shelf life, and you end up losing shelf life. If you can get it a day or two days sooner, it is huge for us. When the same quality if not even better is coming out of the Southeast, it is very important to us in terms of profits and freshness."
---
CLOSER TO MARKET
During times of escalating freight costs, the geographic advantage Florida grower-shippers provide retailers and wholesaler buyers helps reduce costs and provides other benefits.
"Decreased time in transit means fresher products, allowing for enhanced shelf life and less shrinkage for the retailer," says Mindy Lee, Fresh from Florida bureau chief and media and communications manager for the Florida Department of Agriculture and Consumer Services (FDACS), Tallahassee. "Having the ability to ship fresh products across the United States and into Canada in a timely manner, while maintaining the highest quality, is a significant benefit."
Those freight savings help keep supermarkets competitive, says Mike Roberts, director of produce operations for Harps Food Stores, a Springdale, AR, retailer that operates 87 stores in Arkansas, Missouri, Kansas and Oklahoma. "It's very important to source from Florida," he says. "We are very lucky we can pull from the Southeast and Texas."
That footprint helps shipments. "The geographic location of Florida makes the state one of the best sources of fruits and vegetables," says Jeffrey Goodale, director of domestic sales for Duda Farm Fresh Foods, Inc., based in Oviedo, FL. "The time in transit is reduced, so this adds shelf life and freshness at the marketplace."
Being adjacent to major markets helps smaller shipments. "Having smaller quantities going into major markets results in quicker delivery times, which ultimately distributes the freshest available product at a lower price for customers," says Goodale. The state's extended growing season is beneficial to buyers. "It protects against weather challenges and allows buyers to have expanded options," he explains. "The different soil types and warmer weather during the winter months lend a hand to growing excellent produce in Florida."
High freight rates — not temporary spikes — are the new norm, observes Adam Lytch, operations manager of L&M, Raleigh, NC, which grows and ships from North and South Florida. "There is no question reduced freight costs from being closer are an advantage, not only regionally into the Southeast, but up the Atlantic Seaboard, as well," he says.
Grower-shippers tout the state's closeness to East Coast retail buyers. "It's the freshness," says Brian Arrigo, president of the Immokalee, FL-based Southern Corporate Packers, Inc., which grows and ships watermelons, bell peppers, cucumbers, squash, eggplant, green beans and other vegetables. "Being able to get the product picked and packed and to the consumer within one to three days compared to sometimes a week before the products get to store shelves is important."
---
DIVERSITY OF PRODUCTS SUPPORTS FLORIDA SALES
"Florida offers an advantage of offering many different commodities at the same time," says Mark McDonald, manager and partner with Sweet Life Farms LLC, Plant City, FL. "The buyers won't have to look elsewhere, like with two to three locations in the United States, California or Mexico."
Another thing that makes Florida unique is that South Florida is one of only two sub-tropical growing regions in the continental U.S., says Mary Ostlund, director of marketing with Brooks Tropicals LLC, based in Homestead, FL. The state's produce can be mainstream items such as avocados, strawberries and tomatoes or tropicals that are less familiar to the general shopper. Fresh from Florida takes on a meaning beyond the normal connotation," she says. "Fresh, in Florida's case, also means new types of produce for the general public to try."
Florida offers other benefits. "Florida connects two trends in consumer buying — the consumer push for domestic product, and the consumer drive to eat more fruits and vegetables," says Ostlund. "Eating healthier has equated to eating more produce. Eating more produce equates to eating different produce. Florida tropicals fit the bill."
The large catalog of products is provided by grower-funded research at the University of Florida for varieties specifically developed to be grown in Florida. Research is being conducted on new crops including vanilla beans, artichokes and sweet potatoes, which may be available for commercial production, says Mindy Lee, Fresh from Florida bureau chief and media and communications manager with the Florida Department of Agriculture and Consumer Services, based in Tallahassee, FL.
Asian vegetables such as bok choy, Napa and bitter melon, are still gaining in popularity. Brussels sprouts have become popular and, for broccoli, production and length of season are expanding, she says.
Cold-hardy citrus, specifically Satsuma Mandarins, is another crop that continues to expand. Other cole crops, including broccoli and Brussels sprouts, are being developed in North Florida, which extends the season into the warmer months. In South Florida, dragon fruit or pitaya production appears to have matured to the point of providing strong volume for retail, notes Lee.
Raleigh, NC-based L&M has long grown broccoli at its Palatka, FL-based, North Florida operation. However, production of newer crops, such as cauliflower, is possible through grower cooperation with seed breeding companies, says Adam Lytch, operations manager.
Seedless oranges, Mandarins and Tangerines are among new items being grown, says Jeffrey Goodale, director of domestic sales for Duda Farm Fresh Foods, Inc., based in Oviedo, FL. "Water management, including managing the inputs and utilization so that it's environmentally friendly, is an area Florida growers are dedicated to improving," he says.