Originally printed in the April 2023 issue of Produce Business.
As our April cover story points out, Mike Roberts is a maestro of merchandising, taking produce consumption to a crescendo level at the Springfield, AR-based Harps Food Stores, scattered throughout Arkansas, Kansas, Missouri and Oklahoma.
Our mission at Produce Business since its inception nearly four decades ago has been to initiate industry improvement in the quest to boost consumption, with a focus on the marketing, merchandising, management and procurement aspects of the buying sector.
Renewing this commitment, through the printed pages and online delivery of Produce Business, and through the in-person engagement of The New York Produce Show and Conference, we launched a new campaign in 2022 designed to further explore ways the overall industry can increase produce consumption. Dubbed "Consumption — Let's Work Together," this campaign dives deeper into developing a forum of communication with academicians, government entities, NGOs and industry thought leaders on ways to increase consumption.
Also, within that campaign is a new annual awards program, with four inspirational cover stories showcasing the winning companies and individuals at Independent Stores (February), Chain Stores (through our Merchandiser of the Year award in April), Most Innovative Dining Outlets (July) and through Global Marketing Initiatives (December).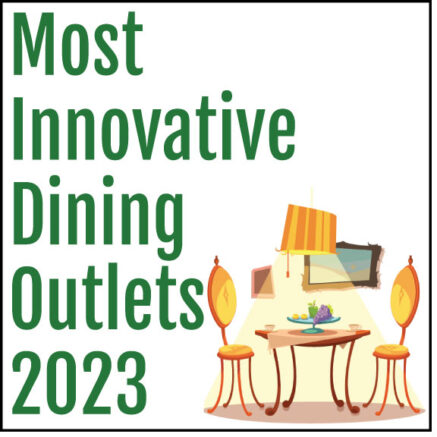 Each of these competitions is based on industry nominations that single out those companies and executives exemplary in selling and marketing fruits and vegetables to consumers. You can fill out any of these nomination forms on our website, ProduceBusiness.com, by looking for any of the icons seen below.
"We pause to learn from Mike Roberts, the conductor in a symphony of produce professionals at Harps…"
This issue honors the Produce Business 2023 Merchandiser of the Year. Here is what the industry can learn from Mike Roberts:
1: Orchestrate produce department footprints
Go big, bold and upfront — stop consumers in their tracks right when they walk in the door, enticing their senses with all the aromas of different fresh fruits and vegetables, and eye-catching sights.
Though some of the stores Harps acquired over the years have a different footprint, "because it's hard to move the whole department," the same sense of theater applies.
"Some of my best produce departments (and best produce managers) may not be in the front of the stores," says Roberts. "For us, it just exudes freshness and what we're about."
2: Play the four seasons, with accents
Highlight and promote the freshest, in-season fruits and vegetables with huge displays, and do lots of cross-merchandising. "The one thing I preach, and we stress, is we still want to push the produce that the display is there for, and the cross-merchandising items are supposed to be an accent."
3: Know your audience
Roberts understands his customers. For example, "We do a deer camp special, where we highlight items that guys can take to their camp," says Roberts. That's a tried-and-true formula for Roberts, with shoppers carting 15 pounds of potatoes, 5 pounds of carrots, 5 pounds of onions. "I know because I've been to Deer Camp 100 times, but no guy is showing up with a 1-pound bag of carrots, just like he's not bringing a six pack of beer — he's bringing a 30 pack, that's an easy one!"
4: Brand your department
Whether you're into private label, supplier-branded products, bulk or packaged, be intentional with your ultimate goal. Says Roberts, "I don't like label pollution, so that's why we are very brand loyal with the partners we have. We try to keep our label consistency with our departments and to build that consumer trust."
5: Secure exclusives
Draw consumers and differentiate yourself by offering exclusives or items you'd be hard-pressed to find at other retailers in your market area. "Amaize corn is really the best corn in the world, and I'm a corn connoisseur," says Roberts, noting his exclusive rights to sell it in his markets, as well as his exclusive arrangement with Lori Anne peaches from Titan Farms.
6: Source locally grown through regional field specialists
"As spread out as we are, it's hard to manage local farms from the head office, so we put it in the hands of the regional field specialists," says Roberts. Those regional specialists ensure the farm is up to standard, GAP-certified, producing high-quality fruits and vegetables, and they negotiate pricing with the vendor. "It's a good program and allows us to sell very locally grown produce," which is delivered direct from the farm to the stores.
7: Right Product/Right Price/Right Partner
After you pull in the consumer with the display, the product needs to be priced correctly, "which doesn't mean you have to give it away," Roberts says.
That involves educating produce managers on the best way to maintain a product's quality and integrity, who can then educate shoppers. "Take mangos, for instance. When you bring mangos in off the truck, you can't put them in the cooler; you've got to put them out just like bananas, and not ruin the taste, so we have a good piece of fruit consumers can take home."
Roberts also capitalizes on commodity boards and industry organizations. "I let my partners be the experts in their field," he explains. "What I like to do is form really, really, good partnerships with good people who are smart and have great products to offer. And then I rely on them to show me the way to promote their products."
8: Social Media Swag
Roberts launched Harps' first Facebook page for the produce department 12 years ago as a colorful interactive platform to connect with consumers, and now the retailer is a hit on Instagram, Twitter, YouTube and TikTok. He credits teaming up with an "awesome" creative social media coordinator, keeping it fresh with quirky produce contests and sponsored giveaways.
9: Merchandising Innovations to Reduce Food Waste
Roberts is always looking at ways to extend the shelf life of produce and its eating quality, seeking new technologies that are natural and don't alter the fruit. The strategy is a win on several fronts, from a business standpoint, as well as a merchandising/promotional opportunity to increase produce consumption, while tackling food waste as part of its sustainability platform.
10: Embrace Produce For Kids
Never underestimate the value of participating in industry initiatives. Roberts became a diehard proponent of the Produce for Kids/Healthy Family Project by happenstance. When attending a No-Kid-Hungry Campaign meeting in Little Rock, AR, he bonded with a teacher, who shared her revelation and dismay when realizing why, on Monday morning, the breakfast line was five times as long as any other day of the week. It was because these kids weren't eating all weekend.
Then, in 2016, Roberts attended a Southeast Produce Council event, and by chance sat down next to Amanda Keefer, who runs the Healthy Family Project. The rest is history. Roberts is proud of all the chain's partnerships and involvement in produce organizations, particularly the SEPC, which he will chair next year.
---
In our busy lifestyles, we sometimes miss the subtleties that pass us by, so for those who haven't caught our association of the Harps name and the stringed musical instrument that creates such a unique and beautiful sound, let me point out a musical allegory:
In musical notation, there is a symbol that is often misinterpreted simply as a "pause." The FERMATA has the appearance of an eyelid over an eye, and it's true purpose is for the performers to look up at the conductor. Yes, the musicians "pause" while they look up at the conductor until the maestro gives the symbol to continue.
So in the same vein, we pause to learn from Mike Roberts, the conductor in a symphony of produce professionals at Harps, striving to resonate in the chain's markets.
Let's pause and look at the conductor as we, as an industry, make wonderful sounds that draw consumers to purchase more fresh fruits and vegetables.
Let's continue to work together to increase produce consumption.
Ken Whitacre, Publisher