Originally printed in the November 2019 issue of Produce Business.
When a team or business suffers a major setback, does its recovery hinge on leaders seizing control? Or does it make more sense to let the entire team itself take the wheel?
For South Africa's Rugby World Cup winners, the pivotal moment turned out to be the immediate aftermath of their match in Yokohama against New Zealand on September 21, 2019. The scoreboard spoke volumes: All Blacks 23, Springboks 13. It seemed the final whistle had called time on their hopes of winning the tournament.
Yet, just 42 days later in the same stadium, those same players stood tall on the winners' podium, as victorious captain Siya Kolisi held the coveted William Webb Ellis trophy high in the air. Written off by commentators and rivals alike after the defeat to the All Blacks, the Springboks had defied expectations.
But was this dramatic turnaround the result of a squad obediently carrying out orders? Or was it, in fact, an example of brilliant leadership allowing a talented cohort to achieve its goal?
In the 1999 Oliver Stone film, Any Given Sunday, Al Pacino plays Tony D'Amato, head coach of beleaguered American football team, the Miami Sharks. Addressing them at their lowest ebb, his words are all the more powerful for their honesty and vulnerability: "In either game – life or football – the margin for error is so small. The inches we need [to win] are everywhere around us. They are in every break of the game, every minute, every second. On this team, we fight for that inch. You've got to look at the guy next to you, look into his eyes. Now I think you're gonna see a guy who will go that inch with you. You're gonna see a guy who will sacrifice himself for this team because he knows, when it comes down to it, you're gonna do the same for him."
D'Amato accepts his own shortcomings. "I'm too old. I look around and I see these young faces, and I think I made every wrong choice a middle age man could make." Then he concludes: "Either we heal now as a team, or we will die as individuals."
If you're running a business, this kind of honesty is not weakness; it can bind a team together.
Too many managers who focus on being 'the boss' end up failing to understand what makes each individual team member tick. The team stagnates as a result. The atmosphere around it quickly becomes what people call 'toxic'. Everybody loses.
In her recent article, Toxic Work Cultures Make Best People Quit, author Brigette Hyacinth warned against autocracy in the workplace: "Whenever a boss acts like a dictator — shutting down, embarrassing, or firing anyone who dares to challenge the status quo — you've got a toxic workplace problem."
Instead, she said, leaders must show "respect, integrity, authenticity, appreciation, empathy and trust."
Back in September, Springboks' coach Rassie Erasmus showed he understood there was no room for dictatorship. He knew only a respectful environment would enable the team to embrace its loss, then understand and commit to its common purpose. Individual players had to be willing to sacrifice themselves for that team. They had to be ready to fight for those inches. In the six weeks that followed, the six essential leadership qualities Hyacinth mentions helped Erasmus forge a team of champions, one filled with players prepared to throw themselves under a British bus (their final opponent was England).
In a sense, the Springboks went through a classic process of strategic planning. What is the dream we want to achieve? Where are we right now? What are the external factors that affect us? How do we get to where we want to be? The coach encouraged them to be completely open, to talk in clear language with honesty and integrity about who they were as a team. No borrowed jargon. No clichés. Just purpose and focus.
As time ticked by, Rassie and his team talked about pressure. They came to realize that failure to beat the All Blacks was partly the result of playing with pressure in their heads, and without fire in their hearts. At first, the discussion centered on the pressure they felt during the game: pressure to win the lineout; pressure to regain possession; pressure to get points on the board. All understandable concerns, but these did not define them as a team.
It was only when they began talking about what pressure means to people in South Africa that the team's common purpose emerged. For those living in the kind of poor rural areas where Kolisi himself grew up, pressure meant ensuring the next family meal was on the table. In other parts of the country, pressure could mean worrying about the family of a relative who had been murdered. Back home, pressure often meant hardship and survival. But instead of focusing on daily struggles, during the tournament, millions of South Africans from all walks of life were wearing green and gold jerseys and rooting for the Boks.
Slowly but surely, Rassie guided his boys' thinking away from pressure to purpose and privilege. They spoke about hope, about what their participation in the World Cup meant to the people of South Africa. The moment they set aside the 'head pressure' and realized their purpose as a team, they laid the foundation for that ultimate, astounding victory over England in the final. As champions of hope for 54 million South Africans, a fire had been ignited inside them.
Sport is always a fertile hunting ground for those seeking out life lessons and commercially sound principles. To all business owners who are truly passionate about their enterprises, I say this: bring back respect, integrity, authenticity, appreciation, empathy and trust, then work with your people to define and embrace your company's purpose. That way, everybody wins.
---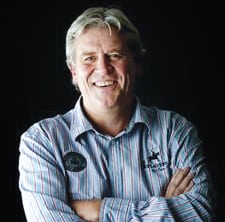 Nic Jooste is a fresh produce marketing and CSR specialist based in Rotterdam, The Netherlands.