Originally printed in the November 2019 issue of Produce Business.
Bowls are a perfect platform for foodservice operations that want to offer more plant-forward menu items. Like burgers, sandwiches and wraps, bowls are convenient, hand-held carriers for a wide variety of plant-based ingredients.
Recently, members of The Culinary Institute of America Healthy Menus R&D Collaborative (HMC) began a multi-faceted research project to determine what their customers want in plant-forward bowls.
The exercise began with teams of operator and corporate members developing bowl concepts in June 2018. The 23 concepts, developed during a 45-minute ideation session were tested overnight by a 300-member consumer panel. The following 12 concepts ranked highest based on combined scores for purchase intent (e.g., Will I buy it?) and uniqueness (e.g., Do I think it's a new menu concept?).
Steakhouse Breakfast Bowl: Flame grilled sirloin and a fried egg atop herb roasted potatoes with bacon, roasted corn and spinach drizzled with sour cream.

Steak & Potato Bowl: Crispy, olive oil fried hash browns topped with marinated steak, garlic seasoned sautéed spinach, mushrooms and onions topped with a fried egg.

Roasted Potato Bowl with Lime Grilled Chicken: Tender grilled chicken on roasted red potatoes tossed with garlic herb sauce, sautéed onions and peppers with Cheddar Jack cheese, and garnished with crispy tortilla strips and lime.

Fresh-Mex Skillet Chicken Bowl: Garlic and lime skillet chicken breast, fire-roasted corn, tomatoes, pinto beans and rice topped with avocado crema and chipotle-bacon crumble.

Loaded Mac & Cheese Bowl: Cheddar mac & cheese topped with roasted mushrooms, crispy smoky bacon, green onions and toasted sourdough breadcrumbs.

Fried Rice Bowl: Pan seared rice topped with scrambled eggs, mixed vegetables and crispy wonton strips.

Warm Asian Barbecue Chicken Bowl: Sweet mango and sriracha barbecued chicken over garlic stir-fried rice with scallions, carrots and broccoli topped with crispy wontons.

Smoky Chipotle Grilled Chicken Burrito Bowl: Sliced grilled chicken breast on a bed of lentils and black beans topped with avocado, Cheddar cheese and pico de gallo with a chipotle mayo drizzle.

BLTA Breakfast Hash Bowl: Crispy hash browns, roasted tomatoes, caramelized onions, applewood smoked bacon and fresh California avocado topped with an egg your way and drizzled with creamy herb-avocado sauce.

Baja Steak Salad Bowl: A mix of tender grilled sirloin steak, seasonal super food greens, black beans, sweet corn, tortilla strips and pineapple pico de gallo tossed with a tangy citrus vinaigrette.

Garden Veggie Potato Bowl with Avocado Ranch: Roasted garden-fresh veggies like asparagus, corn, mushrooms and tomatoes tossed with crispy baby potatoes drizzled with creamy avocado ranch.

Southwest Avocado Breakfast Bowl: Seasoned scrambled eggs topped with guacamole, black beans, sautéed bell peppers and onions and Cheddar cheese, finished with a zesty chipotle salsa.
The initial results showed: consumers like familiar concepts with a twist; steak trumps chicken; and "put an egg on it" is a winning strategy. While all the bowls contained abundant produce, use of the ever-popular potato produced top scores.
The next step in this project was for teams to produce the bowls in a CIA kitchen in January 2019. Teams had the opportunity to refine names and descriptors to make their assigned concepts more competitive. Photos along with the names and descriptors were shared with another 300-member consumer panel in an overnight test. The top six concepts, again based on combined scores for purchase intent and uniqueness, were as follows:
The Baja Steak Salad bowl became the Carne Asada Steak Salad Bowl: Carne asada steak with hand-rubbed house seasoning, super food greens, black beans, sweet corn, crunchy tortilla strips and grilled pineapple pico de gallo tossed with a tangy citrus vinaigrette.

Roasted Potato Bowl with Lime Grilled Chicken – same description as original version.

Steakhouse Breakfast Bowl – same description as original version.

Fresh-Mex Skillet Chicken Bowl – same description as original version.

The Fried Rice Bowl became the Bacon Fried Rice Bowl: Pan seared whole grain rice blend topped with an over-easy egg, mixed sautéed vegetables and crispy wontons, and garnished with toasted sesame seeds.

The BLTA Breakfast Hash Bowl became the Breakfast Potato Bowl: Crispy potatoes, roasted tomatoes, applewood bacon, and fresh avocado, topped with white Cheddar cheese and an egg your way.
Results from this test showed the power of great food photography. Most bowl photos showed the animal protein most prominently, but the winning bowl showed the steak plus abundant produce in the photo, possibly signaling a "better-for-me" message to the consumer.
The final step in this project was a "real world" test in campus dining operations across the country. While the customer base was not reflective of the general population, there were significant learnings for operators, including the fact plant-forward bowl concepts that were vegan or vegetarian were highly rated even among college students who aren't strictly vegan or vegetarian. Clearly, the next generation is excited about eating more plants, including more produce.
---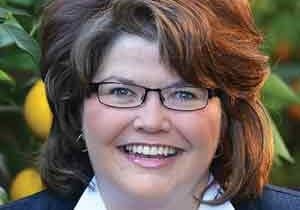 Amy Myrdal Miller, MS, RDN, FAND is a farmer's daughter from North Dakota, award-winning dietitian, culinary nutrition expert, and founder and president of Farmer's Daughter Consulting, Inc. She is the director of The Culinary Institute of America Healthy Menus R&D Collaborative and a consultant for the Produce for Better Health Foundation. You can learn more about her business at www.farmersdaughterconsulting.com, and you can follow her insights on food and flavor on social media @AmyMyrdalMiller