Online supermarket sales are rising, and a number of options can provide growth opportunities for produce.
In retail, timing is everything. The same rings true for online retailing. There have been many starts and stops over the years as online retailers have come and gone, but many industry experts concur online food shopping is coming into its prime. One-quarter of global respondents are already ordering grocery products online for home delivery, according to a recent survey by New York City-based research firm Nielsen, and more than half (or 55 percent) are willing to use these services in the future.
Yet the report showed a smaller number of consumers are ordering groceries online for pickup at a store or other location, with just one in 10. Even fewer (less than 10 percent) order online for curbside pick-up. Still, Nielsen reports more than half of global respondents are willing to use these online options for pick-up as opposed to delivery in the future, which demonstrates the potential of these services.
It's mainly younger generations shopping online for supermarket goods. Nielsen reports, of those surveyed, 30 percent of Millennials (ages 21 to 34) and 28 percent of Generation Z (ages 15 to 20) say they're ordering groceries online for home delivery; compared to 22 percent of Generation X (ages 35 to 49), 17 percent of Baby Boomers (ages 50 to 64) and 9 percent of what Time magazine coined the Silent Generation (ages 65-plus).
There has been an obvious shift in the climate not seen in years past. In a recent Wall Street Journal report, it was announced that 27-year-old Peapod Inc. is using technology to shore up customer loyalty and improve fulfillment. The company's customers span 12 states and Washington D.C., but reports Boston, Chicago and Washington D.C. are its only profitable markets. With the pending merger of Peapod parent Ahold NV with Delhaize Group, markets may expand in the southern U.S. — although New York is Peapod's next target market, according to the report.
Instacart
Los Angeles-based Super King Markets, which has six locations in the state, was one of the first retailers to join online retailer Instacart two years ago, along with Whole Foods Market and Ralphs Grocery Company.
"We were not looking to invest heavily in online services and found Instacart to be a great third-party partner," says Jake Fermanian, Super King Markets' director of purchasing and marketing. "In addition to being easy to use, the thing we appreciate most is the Instacart catalog file for implementation, which includes product information and images."
To create the retailer's online profile, Instacart draws from its catalog of photos. If a product is not listed, a company representative will visit the store to shoot a photo. When orders come in, Instacart sends a personal shopper to the store to buy product. The only difference is the transaction is flagged as originating from Instacart. Retailers pay a fee for each transaction. In Super King Markets' case, a fixed percentage is charged per transaction.
The chain can decide on its pricing and whether to mark up for online items to offset Instacart fees. Customers also pay Instacart a delivery charge. The online service provides transaction reports to its retailers each week.
With this service, customers can order groceries either online or through Instacart's smartphone app. After inputting their zip code, customers are informed which retailers are available based on location, and then they choose the stores to shop. Products are chosen and placed in a virtual cart, paid for online, and a delivery time is chosen.
The benefit of this type of service is customers can choose the exact brands or products they prefer as if they were shopping in the store versus using an online grocer service that may have a more limited offering or varying availability. "Right now, we are in 18 metropolitan areas, and we're just hitting the surface, since grocery is a huge industry," says Sophie Kleinert, Instacart's corporate communications associate. "Our business model sets us up well, since we're not dependent on warehouses or a fleet of drivers." If there are produce availability or quality issues, the store contacts Instacart to make substitutions when needed. "This service is definitely an added value to our customers, and we expanded our customer base since joining Instacart," says Fermanian. "Convenience goes a long way, and one-hour delivery is guaranteed."
The premium for Super King Markets' products is about 10 percent per order. "If someone is building a basket with $50 worth of items, the premium is only $5," says Fermanian. "Many find paying $5 to save a couple hours and avoid the inconvenience of going out is worth it." Yet, there is still a large demographic that prefers to see and touch products, particularly produce, and who don't trust others to shop for these items. Super King Markets doesn't currently have statistics on the sales growth due to its Instacart collaboration, but it's obvious the momentum is growing.
"Our store is more of an experience than the average supermarket, since we offer more international goods and increased interaction with staff," says Fermanian. "But we are satisfied with the extra business we're getting." Instacart's customer base includes a wide demographic, but skews heavily toward busy moms, the elderly and young professionals.
"Online shopping fills different needs, and it's our partnerships that make us unique and are the backbone of our business," says Kleinert of Instacart. "What separates us is we can mimic the shopping experience and truly offer delivery on demand." In terms of produce, Instacart shoppers are trained to learn how to pick ripe products and identify bruised fruit. "To help with a seamless experience, customers can live chat with shoppers on our app to provide recommendations or substitutes," says Kleinert. "For example, if someone prefers green bananas to ripen at home, they can relay this to our shoppers."
MyWebGrocer
MyWebGrocer, based in Winooski, VT, which currently works with 100-plus U.S. retailers, integrates a back-end commercial system using its database of production information from major manufacturers. It can host a retailer's website and will design it, if needed. The technology also integrates with supermarket point-of-sale systems.
"We're a standard software partner like a POS or logistics system," says Barry Clogan, senior vice president of MyWebGrocer's business consulting services. "We charge retailers a flat fee based on the number of stores, we set up the program, and they run it and expand it to more stores as needed."
With this program, store managers receive a list of MyWebGrocer orders and arrange for pickers to select products using the company's picking software. Ambient products are selected first, then chilled items, and frozen foods are last. When customers place orders from the retailer's site, they can include requests detailing what they want — such as hard avocados instead of soft. The platform allows customers to place and amend orders online as well as pick a time slot for delivery or choose a time to collect groceries from the store."With these programs, what's important is understanding the reasons and motivations for shopping online," says Clogan. "These shoppers want convenience, range and quality." MyWebGrocer's target demographic is young families who don't want to drag young kids around the store. These consumers also tend to have bigger baskets.
"Within that young family, there is a lot of school lunches as well as produce and dairy, which outperform in these demographic categories," says Clogan. "Online grocery basket spends are four times higher than in the store, and this is due to the higher participation of families that spend more on food." Clogan knows the online retail business from both ends of the spectrum. For 17 years, he worked with Tesco's $4.5 billion online grocery business, which he says averages 31 million orders annually.
Clogan says the online grocery business is slow-moving in the U.S. compared to Europe, but it picked up in the past 12 to 24 months. This increase is mainly due to increased and enhanced digital experience platforms allowing retailers to better engage with customers. "People use smartphones and tablets more, so retailers need to be present where customers are," says Clogan.
Experts say online grocery experiences should involve a multi-channel initiative where customers can pick up groceries — either at the store or at another location — or have them delivered. This is best combined with a digital marketing service, which targets customers with personal offers and promotions to help drive revenue through digital traffic for retailers. "This monetizes the website by working with CPGs (consumer packaged goods) to provide relevant marketing and products for customers," says Clogan. A data element can then be used to better engage customers and find out what they want and need for more targeted future promotions, he says.
Although supermarkets are traditional brick-and-mortar businesses, an increasing number of retailers are experiencing greater success when adapting to industry changes and customer behavior — especially where convenience and value are factors. "With more customers online, when retailers want to engage with shoppers, it's a strategic move to invest in an online presence," says Clogan. "Stores can reflect brand values through online shopping experiences — just as in the store — and make sure service permeates."
Quality, too, is a factor, especially when it comes to produce. MyWebGrocer shoppers switched from using hard totes to softer trays for produce during picking, and the company altered the packing method to better protect more delicate items. "It's important to pay attention to quality, freshness and how products are presented to customers," says Clogan. "Managing substitutes is an important element in produce, and because these products are a significantly large driver of online shopping, this is a big focus."
Other online retailers enhanced operations to emphasize freshness and quality. For example, to compete with AmazonFresh, FreshDirect and other online grocery businesses, Peapod built a 400,000-square-foot fulfillment center, according to a recent Wall Street Journal report in April. In the produce Kool Room, trained employees choose individual tomatoes and onions — rejecting specimens they would not pick for themselves.
FreshDirect
Unlike Instacart and MyWebGrocer, New York City-based FreshDirect is a 15-year-old online fresh food grocer sourcing products from suppliers that are stored in its warehouses. It is currently doing business in the Northeast corridor, including New York, New Jersey, Connecticut, Delaware and Philadelphia. FreshDirect takes orders up until 11 p.m. for next-day delivery.
The company's facilities include a full-scale kitchen with a production facility and bakery. Cooks develop recipes from scratch for its semi-prepared and fully prepared meals.
"We focus on fresh foods, like produce, meat and seafood," says Eric Stone, FreshDirect's district merchandising manager for perishables. "Freshness and quality are paramount, because we're to blame if the experience is not what the customer expects."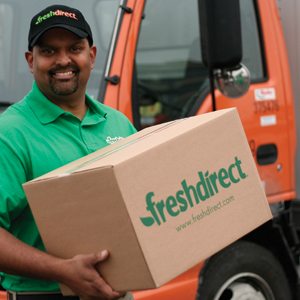 The company developed relationships and works directly with farmers, ranchers and fishermen internationally, including hundreds of growers. For example, Stone's team was recently looking at bananas at a fair-trade farm in Ecuador. FreshDirect created a produce rating system using stars, with five stars being the highest quality. The company's quality assurance team conducts taste tests daily to assess flavor profiles.
"We've seen extreme success in that it shifts consumer buying behavior into products that are rated the best," says Stone. "We're in tune with customers, we study data from them and how they interact with certain products." In terms of produce, FreshDirect focuses on unique as well as seasonal items, concentrating on regional and local fruits and vegetables when possible.
A specialized team monitors the company's in-house and inbound produce daily. FreshDirect's trucks are dispatched directly to local farms for deliveries, and produce is stored in five different temperature-controlled rooms catering to product requirements. "The way we work with our partners and our direct sourcing model enables us to keep the cold chain from farm to customer," says Stone. "We also work with growers, seed companies and genetic companies to find new produce varieties with taste profiles that are unique."
Blue Apron
Technomic Inc., a Chicago-based food industry analyst, predicts at the current rate of adoption, the U.S. meal kit market could grow by as much as $5 billion during the next decade.
One meal kit provider that is on a growth trajectory is Blue Apron, located in New York City. In business since 2012, this fresh ingredient and recipe delivery service provides customers with items that may or may not be available in their local supermarket. "We handle all of the sourcing ourselves and have three fulfillment centers," says Beth Forster, Blue Apron's national farm sourcing manager.
Like FreshDirect, Blue Apron has relationships with farms and focuses on direct sourcing. It also utilizes a developed crop-planning program in conjunction with farmers. "We're particularly excited about interesting and specialty vegetables and have these items specially grown for us, such as rutabagas and sour derkins," says Forster.
Blue Apron developed an internal communication system with the approximately 150 partnering farms, and it also has a team of staff members that works directly with growers.
"We can include items farmers want to grow on our menus," says Forster. "Plus, we're always looking to expand our farmer network and find new ingredients that we can include in our meal kits." The company works with its partners at medium and large farms by first learning what they're interested in growing and then matching up with the seasonality and volume requirements.
"We consider ourselves a supermarket for customers that provides high-quality artisan ingredients," says Forster. In terms of sourcing produce, "this is a relatively new model, and we're excited about the response we recieve from farmers."
---
The Steps to Successful Online Retailing
Although the online sales landscape can be challenging, especially with increased competition in recent years, there are certain steps retailers can take to help ensure success.
Nielsen, a New York City-based research firm, provides insight into capitalizing on online sales opportunities.
• Establish credibility and exceed expectations: Since customer service is just as important online as it is in person, retailers should utilize strengths to exceed consumers' expectations during every interaction, especially the first impression. This includes implementing quality assurance programs for items that may be damaged during delivery as well as addressing fulfillment issues and adhering to delivery and pickup windows.
• Make it easy: Websites and apps should be both functional and easy to use as well as readily accessible. Slow loading and complicated ordering processes will deter potential customers.
• Know the market: Be well-versed in demographics, operating costs, the competitive landscape and consumer preferences to ensure the needs of the market are met.
• Understand shopping occasions and consider specializing: To test the waters, retailers can begin offering a limited menu of products and then expand over time — rather than going for an all or nothing approach. This strategy is ideal because some categories and shopping occasions are better suited to e-commerce.
• Consider alternative ordering and distribution tactics: While experimenting with formats and features that build basket size, retailers should also consider working with third-party specialists to better leverage services, labor and investment.