Sustainability certifications and quality drive loyalty to East Coast grocer.
Originally printed in the May 2021 issue of Produce Business.
Today's consumers are focused on produce purchases that fit their lifestyle and improve their health, but environmental sustainability is becoming an important buying factor too. And that's something Retail Sustainability Award winner Lidl US is embracing in a big way. At a time when COVID-19, a related recession and a major lifestyle realignment have made consumers rethink how they approach just about everything, Lidl US, a recent arrival in the United States (its parent company operates more than 11,000 stores in 29 countries), has configured its operation to match consumer expectations.
Lidl US, LLC, with its U.S. headquarters in Arlington, VA, intertwines produce freshness and quality with low prices and social responsibility in sourcing and operations. As such, sustainability is a primary element in Lidl's basic proposition to the consumer and ongoing operational development.
Of course, the last year has challenged the entire food sector and forced many companies to prioritize immediate responses to COVID-19, almost to the exclusion of other considerations. Although that has led to innovation in food delivery and pickup systems, the response also diverted resources, leaving questions about what new operations will remain viable and at what cost in dollars and environmental impacts.
Keeping employees, shoppers safe
Amid the COVID-19 crisis, Lidl created a safer environment for workers and shoppers in its stores, which recently topped 140 across nine states on the U.S. East Coast, from Atlanta to northern New Jersey and Long Island in New York. The company is installing new air filtration systems rated MERV 13 or higher in all of its U.S. stores by the end of this year. Air filters so rated, which are typically found in hospitals, help filter out the COVID-19 virus, Lidl sources noted, citing public health and industry leaders.
In January 2020, Lidl began providing comprehensive medical coverage to all full- and part-time employees, regardless of the number of hours they work per week, and in March of last year, Lidl developed a program with CareFirst BlueCross BlueShield that gave all employees access to comprehensive COVID-19 medical coverage at no cost. Then, the company offered employees $200 for getting a COVID-19 vaccination.
Lidl's response to the coronavirus crisis mirrors the same considerations and strategies that fuel its sustainability initiatives — everything centers on the consumer.
Lidl engages consumers not just by responding to their purchasing behaviors but also by addressing the life considerations that generate them, Stefan Schwarz, Lidl U.S. executive vice president of purchasing, tells Produce Business.
From the launch of its U.S. business in 2015, and even before, Lidl linked sustainability and social concerns with how it should best serve customers.
Too Good to Waste
Amid everything else during the pandemic, Lidl pursued programs to address environmental and other social concerns, including launching Too Good to Waste, a venture with a particular produce emphasis.
Through Too Good To Waste, Lidl employees have the discretion to act when items don't meet specifications in perishable food. If employees detect bruised apples or damaged squash, for example, they can move product from the main produce display to a nearby Too Good to Waste fixture.
"Discretion is based on our standards," Schwarz says. "We set clear standards for the store. For every item, we have a specification about how the product should look."
If short of the standard, the product gets moved to the Too Good to Waste display and sold at a significant discount.
Too Good to Waste, which was launched last year, tackles several considerations at once. First, it removes substandard items from a relatively small, focused produce department where Lidl wants to give consumers the ability to shop quickly and efficiently. It improves efficiency in a department that incorporates daily delivery and includes dedicated employees who continually restock the displays. The program also reduces crowding in a section that typically receives shoppers entering the store, and facilitates volume buying.
Too Good to Waste also addresses other concerns Lidl customers have expressed, including providing access to lower cost food.
At the same time, Too Good to Waste applies to a major sustainability concern. The U.S. Department of Agriculture (USDA) estimates that 30% to 40% of the food supply winds up as waste. As a result, all the food inputs that have an environmental impact — from fertilizer to transportation — are frittered away, adding to atmospheric carbon load, stuffing landfills and otherwise pressuring the environment. Although it's impossible to completely eliminate food waste in a complex distribution chain, limiting it has an immediate environmental effect.
So, Schwarz says the occasional bad apple that appears at a Lidl store is treated differently. "Other retailers would probably throw it away," he says. "We don't do that. We instruct our people in the stores, if you see that, don't give it to the customers, but put it into Too Good to Waste."
The Too Good to Waste display is the most conspicuous manifestation of the company's sustainability programs, given that Lidl stores consistently place produce and bakery departments at the entrance, treating arriving shoppers to the spectacle of fresh fruits and vegetables and the aroma of baked goods.
Too Good to Waste encompasses other perishables, including meat, so, it also has a presentation in the chiller cases, but the display placed adjacent to produce remains the key way Lidl is introducing the program to consumers.
Core commitment
Schwarz emphasizes that Too Good to Waste illustrates the integration of sustainability and social responsibility at the core of Lidl's business. When its initiatives made in the pandemic are considered in full, he says, it becomes clear how seriously Lidl takes sustainability and social responsibility.
"We took COVID extremely seriously," he says. "We closed stores when needed, we have MERV 13 filters in stores, we implemented the highest standards possible, but we still pushed for sustainability. This has an impact. This helps. It's also feeding America. We had a very big impact for the people around us."
Although produce is an area of focus, sustainability and related programs exist across the store. For example, Lidl already diverts what would be wasted food in its distribution system to Feeding America, which takes overstocked items or those with damaged packaging. The company has also partnered with How2Recycle to provide clear recycling information on its product packaging and includes a Save Water label feature on select items to encourage consumers to think about how they can limit use of the resource.
Among the suggestions Lidl makes to consumers as part of the program: Put fruits and vegetables in a bowl with water for a few minutes to wash them, let them drain in a strainer and then use the water to refresh houseplants.
Sustainability certifications
Certifications are another means for Lidl to pursue its sustainability goals. To emphasize its commitment to sustainability and social responsibility, Lidl highlights — in store signage, on product packaging and through online media — its involvement with certifying bodies, including USDA Organic, Non-GMO Project Verified, Fairtrade International and UTZ International, which covers cultivation of coffee, tea, cocoa and hazelnuts.
Lidl also expanded its certification program with the Rainforest Alliance, Schwarz says, with the seal conspicuous on signage for a banana endcap at the opening of the new Lidl store in Manassas, VA. Roses also are among the products that are Rainforest Alliance certified, and Lidl's private label chocolate bars, produced in the company's own chocolate factory, have won Fairtrade International certification.
Even during the pandemic, Lidl expanded the range of products it has certified. For example, Lidl now has three different certifications that cover various seafood products.
And not only that, but the refrigeration that keeps relevant produce, seafood and other perishable products cold also takes sustainability into consideration, as do other store functions that use energy.
"We [are certified as] EPA GreenChill Platinum for the system that we use," Schwarz says. "It reduces carbon. It's a huge reduction. Same is true with the lighting."
Continual improvement
In handling certification, and constantly expanding the range of products that it has certified, Lidl employs a dynamic that matches the constant improvement process it has in place for its larger merchandising program. For example, the company had a five-day guarantee on roses, but now it's seven days. If the flowers don't last a full week, customers can return them.
Produce and floral items typically go through one of Lidl's three distribution centers. However, in its Long Island market region, local grower Gabrielsen's Country Farms, in Jamesport, NY, delivers flowers direct to Lidl stores, increasing freshness and local sustainability.
Lidl consistently looks for ways to make its produce and other products more appealing to customers. The produce department, as it operates across the chain, has recently been updated. Although once table- and bin-oriented, Lidl has revisited main dry fixtures so that produce is presented in tiers, with bulk items below and packaged items above.
In many cases, shoppers can choose from bulk and bagged items, but not just in the context of what's loose and what's in netted sacks, as might be typical of potatoes and avocados, for instance. As the COVID-19 pandemic gained steam, Lidl worked to minimize exposure of produce being touched by having its vendors shift a variety of fresh produce items into open bags that it often merchandises at eye height to grab consumer attention. Bagged products make it easy for consumers to snatch a few items, quickly inspect them through the transparent bag and tuck them in their shopping carts, spending less time sorting and bagging produce themselves.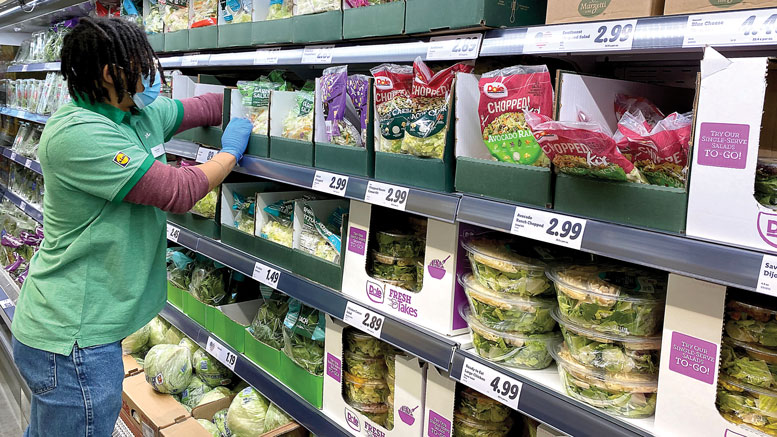 The addition of more bagged products has had several benefits, Schwarz says, among them moving consumers through the produce section more quickly while still tempting them with items that aren't on their shopping lists. It also makes replenishment easier for Lidl workers and keeps produce moving through stores.
Above the fixtures, signage identifying some of the local growers that supply Lidl stores stands as testimony to its emphasis on regional sourcing and freshness, not to mention cutting the carbon footprint involved in getting produce to its stores.
Lidl also is expanding its organic selection, displaying product prominently in produce sets.
"You see organic items in the middle," Schwarz says. "We're trying to push those as well, as part of sustainability but also as part of the highest quality we want to sell the customer."
'Extreme freshness'
The combination of factors is critical because Lidl thrives on efficient distribution not only to control costs but to provide what Schwarz calls "extreme freshness."
As noted, almost all Lidl produce goes through distribution centers where it's inspected and immediately shipped to stores. The emphasis on freshness is such that, on a store tour the night before the new Manassas Lidl opened, the cold case slot for fresh-cut produce remained empty although other items such as packaged salads were newly stocked. The fresh cut produce, Schwarz explains, was waiting for a morning delivery to assure it would be in its best condition for customers when they arrived at the store.
Yet, even as distribution efficiency ensures products are fresh, strong logistics also mean that Lidl can move the limited, though growing, selection of produce in its stores with an efficiency that cuts overall costs and allows for considerably lower prices, the other part of the proposition Lidl offers customers.
"Every item gets checked, every pallet gets checked, to high quality standards, then is immediately turned out to stores," Schwarz says. "We also take a certain pride because we deliver fresh daily to the stores. We want to provide this freshness to the customer. That's how we get the maximum freshness at the end of the day to the customer's table. Certainly, that is what we push the most, then still take the lowest possible price.
"We bring extreme freshness to the stores, and we also bring the lowest possible price for the customer."
In produce and elsewhere in the store, including chocolate and wine, Lidl is opting for displays that emphasize specific product offerings rather than with related items in broader departmental arrangements. It's not so much a matter of making a statement, Schwarz says, even if it looks that way. Rather, Lidl has shifted merchandising in response to feedback from consumers, adjusting to U.S. shoppers and their preferences as to how they want to see and shop products.
"We learned with the customer and for the customer," he says. "We understand where the customer needs more space, and we adapt our planograms. That is something we learned from them directly. We also ask the customers 'how do you perceive the store; how did you like navigating through it; could you find everything?'
"One thing that should not be forgotten: We are still new in this country, and we can't always go with something because we do it in Italy like this or in Spain or in Germany. It is still a different customer, and we learn."
Environmental awareness, low price and quality expressed particularly as freshness in produce has convinced a significant number of consumers in the United States to shop at Lidl. So, along with sustainability in the environment, Lidl is concerned about the sustainability of what its customers carry with them in their wallets.