Anyone who sells produce directly into large foodservice operations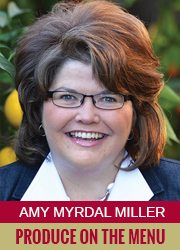 appreciates how challenging it is to get a chef or menu developer to agree to add your item to his or her menu‭. ‬Even if the culinary team loves the concept‭, ‬they have to get‭ ‬"buy in"‭ ‬from supply chain‭, ‬marketing‭, ‬and operations as well as their guests‭. ‬The Mushroom Council appreciated the complexity of this process and took a very different approach to moving more mushrooms onto menus‭.‬
The Mushroom Council is the founding corporate member of The Culinary Institute of America Healthy Menus R&D Collaborative‭ (‬HMC‭)‬‭, ‬an initiative started in 2010‭ ‬to address sodium in foodservice‭. ‬When the original group of volume foodservice leaders were asked‭: (‬A‭) ‬If they were willing to collaborate with major competitors‭ ‬‮—‬‭ ‬McDonalds‭, ‬Subway‭, ‬and Dunkin'‭ ‬Donuts were all at the table‭ ‬‮—‬‭ ‬and‭ (‬B‭) ‬Did they want to focus on sodium reduction‭; ‬the overwhelming response was yes‭. ‬But these‭ ‬leaders said they also wanted to focus on increasing use of produce on menus‭. ‬Why‭? ‬Chefs love produce‭. ‬Working on sodium reduction was necessary‭, ‬especially with the potential for regulatory action at that time‭. ‬Working on increasing use of produce was inspiring‭, ‬something these leaders wanted to do‭.‬
In 2011‭, ‬members of the HMC were struggling with increasing food costs‭. ‬Commodity prices were soaring and operators were seeking‭ ‬ways to reduce food costs‭. ‬They had made it through the recession and sales were starting to improve‭, ‬but food costs for ingredients such as beef and poultry were killing bottomlines across the industry‭.‬
This presented an opportunity for the Mushroom Council as well as the operator members‭. ‬Could mushrooms be used as a partial replacement for beef‭? ‬Everyone at the table agreed this strategy might work‭, ‬but the most pressing issue was how would consumers react‭?‬
---
If you want to sell more produce into foodservice, you must have more than a high quality, safe product.
---
The Mushroom Council provided funding for a sensory study‭, ‬which was designed and conducted by researchers from the CIA and the‭ ‬University of California‭, ‬Davis‭. (‬The original paper from this study was published in September 2014‭ ‬in the‭ ‬Journal of Food Science ‬by the co-principal investigators‭, ‬Amy Myrdal Miller and Jean-Xavier Guinard‭.)‬
The research began with assessing how mushroom sensory properties‭ (‬i.e‭., ‬aroma‭, ‬flavor‭, ‬mouthfeel‭, ‬texture‭, ‬appearance‭) ‬were impacted by various cooking methods‭ (‬e.g‭., ‬steaming‭, sautéing‭, ‬searing‭, ‬and oven roasting‭). ‬While searing and oven roasting produced the most appealing sensory properties‭, ‬a decision was made to use sautéed mushroom‭. ‬Why‭? ‬Because searing and oven roasting also had the greatest impact on moisture loss‭, ‬which‭ ‬has a direct impact on food cost‭.‬
In April 2012‭, ‬147‭ ‬adult consumers ages 18‭ ‬to 65‭ ‬participated in a sensory study in which various combinations of beef and white‭ ‬button mushrooms were assessed in what was called‭ ‬"The Taco Blend‭.‬"‭ ‬Participants were asked to rate appearance‭, ‬flavor‭, ‬and liking of six samples‭: ‬100%‭ ‬beef‭; ‬50%‭ ‬beef/50%‭ ‬mushroom‭; ‬and 20%‭ ‬beef/80%‭ ‬mushroom‭; ‬and all three of these options with 25%‭ ‬less sodium‭.‬
Results were exceedingly positive‭. ‬Overall‭, ‬consumers liked the meat/mushroom samples better than the 100%‭ ‬beef samples‭, ‬because‭ ‬they had better flavor and texture‭. ‬And while results from the consumer sensory study were positive‭, ‬reactions from volume foodservice leaders involved in the HMC were even more positive‭. ‬Consumers liked the concept‭, ‬and the meat/mushroom blend improved the nutrition profile and decreased food costs‭. ‬This was a win/win/win for the mushroom industry‭, ‬the foodservice industry‭, ‬and the consumer‭.‬
Today‭, ‬HMC members are moving forward with various meat/mushroom blend menu items‭. ‬Compass Group North America‭, ‬the largest contract feeding company in North America‭ ‬‮—‬‭ ‬they serve more than 8‭ ‬million meals per day in the U.S‭. ‬‮—‬‭ ‬is testing a meat/mushroom blend patty for its burgers‭. ‬Sodexo rolled out meat/mushroom blend patties in its school foodservice operations this school year‭. ‬Pizza Hut is featuring a new meatball with mushrooms on its pizzas‭.‬
So what's the lesson here‭? ‬If you want to sell more produce into foodservice‭, ‬you must have more than a high quality‭, ‬safe product‭. ‬The‭ ‬Mushroom Council has a great story‭. ‬How can you develop the next great story the retail and foodservice industry will want to hear‭?‬
The Retail Opportunity
How can retailers use this information to move more mushrooms‭? ‬Take a cue from Suvir's work with Allen Brothers‭, ‬one of the nation's most sought-after and high-end meat catalogs‭, ‬which is using his Tamarind Glazed Meatloaf recipe‭ (‬available in Chef Suvir's‭ American Masala‭ ‬cookbook‭) ‬in their catalog‭. ‬While their target market is a rather conservative meat-centric audience‭, ‬the recipe uses abundant‭ ‬produce‭ (‬including mushrooms‭) ‬to create a delicious‭, ‬craveable meat loaf for meat lovers as well as flexitarians‭. ‬Consider having your prepared foods department feature this type of produce-enhanced meat loaf‭, ‬and then provide recipes that bring consumers‭ ‬back to your produce department for essential ingredients like mushrooms‭.‬
---
Amy Myrdal Miller, MS, RDN, FAND, is a farmer's daughter from North Dakota, award-winning dietitian, culinary nutrition expert, and founder and president of Farmer's Daughter Consulting LLC. Suvir Saran is an award-winning chef and restaurateur. Born in Delhi, India, today Suvir lives on a farm in upstate New York. His next restaurant is scheduled to open in San Francisco in 2016.