Originally printed in the July 2018 issue of Produce Business.
Apples, grapes and strawberries alone accounted for nearly $800 million in 2016.
There's no doubt about it. Organics are hot. In particular, sales of organic food in the United States reached a new record high of $45.2 billion in sales in 2017, up 6.4 percent from the previous year, according to the 2018 Organic Industry Survey, released May 18, by the Washington, DC-headquartered Organic Trade Association. More specifically, fruits and vegetables, especially in fresh form, continue to be the largest organic food category, representing just more than one-third ($16.5 billion) in organic food sales in 2017.

Drilling down one step further, vegetables dominate organic produce sales, based on FreshFacts on Retail, 2017 Year In Review, published by the Washington, DC-headquartered United Fresh Produce Association. Yet this same report shows double-digit increases in dollars (12.7 percent) and volume (17.3) for organic fruits compared with single digits for vegetables. Fruits are where an opportunity lies for supermarket retailers to grow their overall organic produce sales.
"Every year, over the past six to seven years, we've seen organics grow in sales at double digits," says Richard Stiles, director of produce and floral for Redner's Markets, a Reading, PA-chain with 44 markets and 13 Quick Shoppes in Pennsylvania, Maryland and Delaware. "For fruits, strawberry sales keep growing. We pretty much sell organic strawberries year-round, and they are of excellent quality. The same with grapes. Organic grapes are an everyday item on the stand without a lot of gaps in supply. Apples and pears, more so with apples, are growing too because of the many varietals now available."
IMPACTS OF THE DIRTY DOZEN
Strawberries rank No. 1 on the 2018 edition of the Environmental Working Group's Dirty Dozen list. This list is part of the Washington, DC-based group's publication, The Shopper's Guide to Pesticides in Produce, which lists fruits and vegetables with allegedly the most pesticide residues, along with the Clean Fifteen, with purportedly few, if any, residues. Other fruits on this year's Dirty Dozen list, and their ranking, are nectarines (3), apples (4), grapes (5), peaches (6), cherries (7) and pears (8).
Is the publication of this list, which the EWG has done for more than 20 years, the reason behind the increase in sales of organic fruits?
Maybe.
Apples, grapes and strawberries are major U.S. organic crops, collectively worth nearly $800 million in 2016. The value of U.S. production has expanded for all three of these crops since 2014, with apples increasing 30 percent, to $327 million, strawberries increasing 171 percent to $242 million, and grapes increasing 12 percent to $218 million, according to data supplied by Catherine Greene, senior agricultural economist at the USDA's Economic Research Service, in Washington, DC.
Maybe not.
In contrast, U.S. crop value for organic peaches, cherries and pears ranged between $21 million and $28 million in 2016, and the value of these crops declined or was relatively flat between 2014 and 2016, based on USDA ERS statistics. Of note is that peaches have appeared on the Dirty Dozen list since 2009, conceivably long enough for the list's publication to have an impact on the production and sales of the organically grown form of this fruit.
"It (the Dirty Dozen list) does make an impact," says Jeff Fairchild, produce buyer at New Seasons Market, a 20-store chain headquartered in Portland, OR. "But in my opinion, it's a limited, albeit vocal, segment of the public. We do, however, see stronger dedication from this segment for organic."
Just how much of the increase in organic produce in general and fruit sales in particular are attributed to the Dirty Dozen list is hard to measure, says Addie Pobst, who handles organic integrity and logistics for Viva Tierra Organic, Mount Vernon, WA-based importers of fruit such as apples, pears and stone fruit. "It's not something new. It comes out every year. It's something that's just become part of the landscape."
Indeed, a 2015-published analysis of media coverage spurred by the EWG's annual list showed efforts to counter this information by the non-profit, Watsonville, CA-headquartered Alliance for Food and Farming resulted in a blunting of the EWG's one-sided message by more than half (99.8 percent to 48 percent). The EWG first published its Dirty Dozen list in 1995.
BEYOND THE DIRTY DOZEN: FOUR WAYS TO SELL MORE
"There is no one reason why organic produce sales in general are increasing," says Greg Holzman, the San Francisco-based founder of Pacific Organic Produce and Purity Organics brand juices, who now works as a consultant. "It's a number of things."
Consumer demographics, organic availability and quality, and merchandising and promotional strategies are emerging as much more important than a list.
1. TARGET THE MILLENNIAL SHOPPER
One factor driving the growth in U.S. organic food sales is the interest shown by Millennials, according to the USDA ERS's Greene. "In 2014, Gallup included questions on organics in its annual food consumption survey for the first time and found that 45 percent of Americans actively tried to include organic foods in their diets. More than half of survey respondents age 18 to 29 reported they actively try to include organic products, compared with one-third of those age 65 and older."
This younger generation is reshaping the food industry and embracing key food movements from organic to locally grown, to small-batch artisanal cuisine and more, says Andy Tudor, vice president of business development for the Rainier Fruit Co., in Selah, WA, an organic and conventional grower of apples, pears, cherries and blueberries. "Retailers can target Millennials where they are most active, such as on social media. Promoting organic fruits across social media channels with the use of graphics and photography is key. Digital and/or mobile coupons are also an effective tool to increase sales. So are lifestyle events."
This summer, and as part of the company's Wholesome to the Core messaging, Rainier Fruit is sponsoring the Wanderlust 108 events taking place across the United States. These day-long festivals focus on mindful living with a variety of fitness and yoga activities, as well as a healthy lunch. Rainier is sponsoring the lunch, providing samples of its organic apples in its branded tent, and reminding consumers where they can purchase these apples at local retailers.
2. BUILD VOLUME AND VARIETY
"Availability and selection are the two biggest reasons why we see shoppers crossing over to organic," says New Seasons Market's Fairchild. "Most major commodities are now represented in organic in a pretty significant way year-round. Greater availability lends itself to greater sales."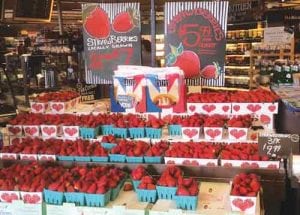 Rainier Fruit's Tudor agrees. "Increased volume has dramatically helped grow consumption by making organic product available more consistently. Additionally, expanding organic programs that include both traditional and new rising-star varieties such as Honeycrisp and our proprietary Lady Alice apples also provide organic consumers with choice which is critical to growing consumption."
The availability of organic fruit from international markets is also steadily increasing. For example, U.S. imports of organic apples have increased more than 1,000 percent between 2011 (when the United States first started tracking trade for a small set of organic products) and 2016, according to USDA ERS data.
"Mainstream retailers have invested in the infrastructure for their organic sets and need to keep these filled year-round, or we as an industry risk losing that space to other products," says Heather Wood, marketing manager for Awe Sum Organics, a Santa Cruz, CA-based importer of tree fruit such as apples, pears and grapes from Southern Hemisphere countries. "Our goal as a company is to grow retail shelf space for organics by filling in these gaps."
Accessibility also extends to where consumers can buy organic fruits.
"Today, large national chains such as the Walmart's and especially Costco's of the world carry organic. It's not just Whole Foods or smaller natural food groceries," says Holzman.
Agricultural and technological advancements such as better varieties and newer practices in post-harvest handling, have boosted sales of organic fruit almost as much as availability, says Viva Tierra's Pobst. "It used to be if organic fruit looked too nice, consumers thought it wasn't organic. Today, organics have eye appeal. That means faster sales and fresher product."
3. MAKE ORGANIC FRUIT EASY TO FIND
Organic fruits were once relegated to a small, dusty display at the back of the department. Today, retailers are moving these items out to high-traffic areas and reaping the benefit of greater impulse sales.
"We used to integrate conventional and organic," says Redner's Stiles. "However, in the last year — and I've seen our competitors do this too — we have grouped all our organics, both fruits and vegetables, together in one destination. This way, it makes a bigger impact. Customers can see how much and all the variety in organic that we carry. When it's integrated, there is the feeling customers can walk right by and not notice that an organic option is there."
Conversely, organic and conventional fruits are integrated at New Seasons Market, where 70 percent of produce in the department is organic. "This lets customers see a whole category and all of their choices at one time," says Fairchild.
Either way, the key is adequate signage or packaging that makes it clear the product is organic product, says Rainier Fruit's Tudor. "Special promotions can include small secondary displays or merchandising displays to call attention to organics on promotion or premium apple varieties."
4. PROMOTE OR REPLACE
Greater availability of organic fruit has led to a narrowing in the once sticker-shocking price gap between conventional and organic.
"Lower prices can incent trial purchase and provide accessibility to new demographics," says Rainier Fruit's Tudor.
Price promotion is also more attractive.
"We promote four to six organic items every week in both our website and circular," says Stiles, noting that organic Gala apples were on ad the first week in June.
Near price parity between conventional and organic offers a good opportunity to grow sales of organic fruits by carrying one SKU instead of two, says Ben Johnson, president of Bridges Organic Produce, a Portland, OR-based supplier of produce such as domestic and imported apples, pears and stone fruit. "I would love to see retailers swap out conventional for organic. We're at a point in the industry where that could be a real benefit – for everyone."
---
PROMOTE ALL FRUITS, NOT JUST ORGANICS
Half or more of U.S. adults believe organically produced foods are healthier (57 percent), more nutritious (52 percent) and tastier (50 percent) than their conventional counterparts, according to the January 2018-published report, Organic and Clean Label Food Consumer in the U.S., by Rockville, MD-based market research firm Packaged Facts. Those are great reasons to promote organic fruits at retail. However, and in reality, retailers want to sell all the fruits in their departments. This leads to the question: What's the best way to promote organics without detracting from the sales of conventional?
"It's a tricky balance for retailers," says Addie Pobst, who heads up organic integrity and logistics at Viva Tierra Organic, in Mount Vernon, WA. "That is, educating consumers about the benefits of organic without discouraging the sale of any product in the department. To do this, it's important to find a balance. Tout benefits of one without bashing another. Always stick to the positive."
Ben Johnson, president of Bridges Organic Produce, in Portland, OR, agrees. "Fear-mongering is never a good long-term sales approach. For example, it might turn the shopper off that particular fruit in general, no matter how it's grown. Instead, promoting optimal health and wellness is key."
The best position for retailers is to offer shoppers a choice, according to Amber Maloney, director of marketing for Wish Farms, a conventional and organic berry grower in Plant City, FL. "We get one to two calls and one to two emails each year when the Dirty Dozen list comes out. Our response isn't to sway consumers one way or the other because what they buy is a personal preference. Instead, we find they want information and transparency. That's why we provide a third-party source such as the website for the Alliance for Food and Farming."
In the end, says Andy Tudor, vice president of business development for the Rainier Fruit Co., in Selah, WA, "Our goal is to help retailers select the best assortment and merchandising plan to best meet the needs of their consumers. We are strong proponents of the idea of healthy eating, and whether it is conventional or organic, consumers should incorporate more fruits and vegetables into their diets."