Originally printed in the January 2019 issue of Produce Business.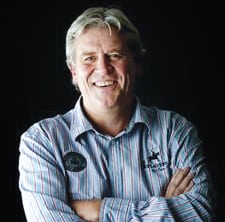 In his book The Future of Shopping, the Belgian author Jorg Snoeck (also known as the 'Captain of Retail') writes:
'Anonymous uniformity is a thing of the past … today's world is a world of niches.'
In this regard, my recent visit to the New York Produce Show and Conference brought with it a rollercoaster of observations and 'WOW' moments. The most significant experience for me was at the trade show, where I was again able to observe the amazing passion with which the USA fresh produce industry (growers and traders) is creating niches by using clever branding. From the minute I set foot inside the Jacob K. Javits Convention Center, I was blown away by a multitude of amazing brands and innovations. The bold combinations of color and text to produce powerful communication concepts made me very happy. The future of fresh produce was staring me right in the face, and this led me to ask the question: 'Why is there such a big difference between Europe and the USA in terms of fresh produce branding and communication?'
In 2015, I did my first presentation at the Global Trade Symposium (a co-located conference of the New York Produce Show), during which I highlighted the trend among European retailers to enforce the use of generic packaging for fresh produce. I said: 'In Europe, the passion has largely gone out of fresh produce marketing. Through this, consumers are not being engaged at all in the real stories of fresh produce. We are killing our very own added value, in regards of which the communication should be all about goodness, flavor and taste but is now predominantly based on price.'
Today, in The Netherlands, virtually 80 percent of all fresh produce items are sold in an unbranded format at retail level. Anonymous uniformity has become the norm, and efficiency rules the roost. I believe that this 'neutral' approach to fresh produce branding has pushed the door wide open for the processed food industry to cannibalize the real fresh produce industry's market position.
If the exhibitors at the New York Produce Show are anything to go by, American fresh produce companies have caught on to this phenomenon and are embracing branding and innovation to promote fresh produce (and its benefits) in the broadest sense. This was apparent in every aisle of the Javits Center. Powerful fresh produce communication was everywhere. From the clever wording of Village Farms' Cabernet Estate Reserve snack tomatoes (rich smooth flavor), to Booth Ranches' visually stunning carton for its California citrus, to the inspirational 'Fresh Food Made Easy' display by East Coast Fresh, the entire convention center oozed passionate fresh produce inspiration.
The iconic Dutch football coach Louis van Gaal once asked of journalists: 'Are you so stupid, or am I so clever?' I should ask the same of the European fresh produce industry: 'Are we so stupid, or are the Americans so clever?'
My experience and observations at the New York Produce Show led me to dig deeper, and I eventually came to see that the signs have been there for some time. In a report released in September 2017, the renowned retail research company Nielsen stated that: 'Walking through the grocery store, consumers have more choices than ever to meet their needs. These choices go beyond product type, package size and flavor. As consumer interest in fresh food heightens, so does the focus on product offerings. While not historically prominent in the produce department, brands now play an increasingly important role in the department's success.'
The report then shows some interesting figures over an extended period of time. In the USA, the overall produce category grew $13.2 billion between 2012 and 2016. More significant though is that branded products' dollar share gained 7.7 percentage points in that time period. On the other hand, unbranded produce lost 8.6 percentage points. But the most interesting statistic for me was the fact that branded produce represented 72 percent of the produce snacking category. It is clear that all over the world, consumers are moving into a more erratic eating modus (see Does Size Matter, Produce Business, December 2018). Healthy fresh produce snacks are becoming a mainstream culinary item, and the New York Produce Show showcased many of the innovations that are addressing this massive marketing opportunity.
It seems while retailers in Europe have been driving costs down by standardising fresh produce branding and packaging to the level of a commodity, in the United States the fresh produce players have instead opted for cross-pollination, cross-fertilization, and co-creating new products and brand stories in partnership with their retail partners. This out-of-the-box approach also is buoyant at store level. I walked into a number of randomly selected stores in New York and saw the evidence. I saw how branded tomatoes were driving sales of Mozzarella cheese. I saw pure coconut water being pulled along in sales of exotic fruits. I saw yogurt merchandised next to fresh berries. I saw the most amazing ranges of freshly squeezed juices focusing on vitality, health, immunity and digestion merchandised together with traditional fresh produce items. With all that in mind, what I did NOT encounter in the USA fresh produce scene was a fear of stepping into the unknown and doing 'new things.'
It does not require a master's degree from Harvard to understand that the new generations of foodies have constantly evolving needs, especially in the areas of health, nutrition, convenience and innovation. The answer for fresh produce companies lies in adopting one's business model to meet these evolving needs. This requires some business acumen, but most importantly it requires guts and stubborn determination, such as I observed at the New York Produce Show and Conference.
But that has always been the American way, has it not? JUST DO IT.
---
Nic Jooste is the director of marketing and CSR at Cool Fresh International, a Rotterdam-based global marketing organization for fresh produce.