In Philly and surrounding areas, retailers, restaurants, wholesalers stay on course.
Originally printed in the September 2021 issue of Produce Business.
As the Philadelphia Produce Market begins it second decade in its modern facility, its wholesalers look at what has transpired.
Ten years ago, the wholesale merchants of the Philadelphia Wholesale Produce Market (PWPM) took a final leap of faith and moved into an unprecedented wholesale produce facility.
The old market facility on Galloway Street was built in the 1950s using technology from the 1930s and couldn't support the use of modern warehouse equipment, says John Vena, president of John Vena Inc. (JVI).
"It was definitely planned without a single utterance of the phrase 'cold chain management'," he adds. "However, our current building was a blank slate, and our merchants were given the opportunity to have huge input in the design of the structure."
"Our state-of-the-art market is more than we could have hoped for," says Tracie Levin, controller for M. Levin and Company.
It means not breaking the cold chain and keeping up with the latest in food safety regulations to keep produce "in the best of condition for our customers," she adds.
The facility is at full capacity with 19 merchants, according to Mark Smith, PWPM general manager. "We are grateful to have these fantastic produce businesses working together to serve the people in our region with the freshest produce, made possible in large part by our facility."
PWPM wholesalers have witnessed countless changes in the past decade, both positive and negative, says Fadi Abi-Khattar, president of Klinghoffer Brothers. "But we are still here and operating. We are still doing business."
Tom Kovacevich, president of TMK Produce, reports business has steadily grown over the past decade, driven by an expansion of product lines and the development of new business.
"We talk to our customers, our team members, and logistics people to always try to anticipate what is next," Kovacevich says. "This is our competitive advantage, this is also our customers' edge in their markets. Lucky for us and our customers, the business evolves and the ability to adapt is where the little guy wins."
The market has always been a "speculation reduction tool" for buyers, says Kovacevich.
The wholesalers say the new PWPM facility has met expectations. "When everybody moved in 10 years ago, it was cautious optimism," says Filindo Colace, vice president operations for Ryeco. "Everybody was hoping the new building would provide a catalyst for people who weren't customers to become customers, and to draw business. I think that happened early. A lot of people came to see the market and a lot stayed as customers."
Merchants report the market facility has held up well over the years. "Ten years later, the market is still well intact," says George Binck, chief operations officer of Procacci Holdings and PWPM chairman of the board. "Mark Smith does a great job with his crew of making sure everything is well taken care of. We have good, positive feedback from customers."
So what have the PWPM merchants accomplished in 10 years? They…
…SURVIVED CONSOLIDATION
Consolidation both on the customer and merchant side made for some stormy seasons. "There was a lot of consolidation of wholesalers," says John DiFeliciantonio, co-owner of North American Produce Company (NAPCO). "But, companies took over the empty space from those who left. The companies here now are strong and doing well."
In the old facility, there were upward of 40 merchants, recalls Dan Vena, JVI director of sales. "When we moved into this new facility, only 26 chose to make the jump," he says. "Now we are 19. As customers consolidate and demand more from wholesalers, the cost of doing business increases. While it's been difficult to watch so many exit the business, it has had an upside for us: allowing us to expand within the limited available space in this incredible facility."
PWPM was able to carve a distribution and logistics niche for many customer needs. "Our ability to be third base to home is a reason for why all the units are currently occupied," says Binck. "Market wholesalers and customers are diversifying and growing and working together to meet each other's needs."
The new facility offers a competitive advantage to an educated customer, according to Colace. "An educated customer will understand how the cold chain protection helps the shelf life," he says. "We are a better value because the product lasts longer for the customer."
… IMPROVED PRODUCE QUALITY AND SAFETY
One of the biggest benefits of the PWPM is the uniform temperature throughout the facility. "It's something we almost take for granted now because it's been 10 years since we've had to deal with the extremes of being in an outside market," says Rick Feighery, vice president of sales for Procacci Brothers Sales Corporation.
The facility's refrigeration and logistics yielded huge results over the past decade. "It's a lot easier to get product unloaded and in the coolers and it holds up better," says Rick Milavsky, president of B.R.S. Produce. "This is a big benefit for shippers and customers."
Food safety and other handling requirements were also facilitated in the new building. "The business was already trending toward food safety and traceability certifications as well as security and sustainability considerations when we moved in," says DiFeliciantonio. "This facility has made it easier for us to achieve that level for our customers."
The facility lets merchants offer not just produce, but partnership, states Dan Vena. "JVI is SQF (Safe Quality Food) Level II and CCOF (California Certified Organic Farmers) organic certified," he says. "We are set up to efficiently receive, ship, consolidate, repack, and ripen. Our product line has grown from a hundred to a thousand-plus items. We are able to service business that my grandfather never would have imagined possible."
… BECAME A HUB FOR INDEPENDENTS
As the retail landscape became more diverse and competitive, PWPM became an integral part of many customers' distribution systems. "We've seen a shift at the market from a focus on a few, large customers to serving a variety of customers of all different sizes," says Todd Penza, salesman with Pinto Brothers. "Our independent and ethnic-oriented customers continue to grow both in number and in size of their business. There are so many examples over the past decade of a guy who started with one small corner store and now has three or four or five."
There seem to be more independents opening now, adds Levin. "There has been a lot of growth with the population diversity in our area," she says. "We see more Indian, Asian and Middle Eastern customers than we have ever seen before. We have adjusted our product line to accommodate this."
Barb McCoy, president of JJ Produce Box, a produce delivery service, shops the market a few times a week to purchase all of the produce for customers. "The market has been a fantastic place for us, with the freshest produce around and exceptional vendors," she says.
Mount Airy Groceries in Philadelphia, PA, derives numerous benefits from PWPM. "We are awed by the variety and quality of produce available," says Jessica Rights, project director. "The merchants have bent over backwards to educate us on how to shop by teaching us how to pick out the freshest produce and how to avoid soon-to-be spoiled or compromised products.
"They know we run a food program so they often go out of their way to give us the best pricing. They usually donate produce as well. They check up on us and even call us early in the morning if they have an unusual item or a good deal," adds Rights.
DiFeliciantonio notes many buyers shop every day to better serve their customers. "I look at all the businesses who've come here in the past 10 years, and there are folks who are looking at their demographics and serving communities in retail, prepared foods, wholesale."
The market has always been a "speculation reduction tool" for buyers, explains Kovacevich. "The most extreme example we have are small stores such as Alex and Danny Dvor's House of Quality," he says. "They have always tried to buy as daily as possible so they won't be stuck."
… EXPANDED THEIR FACILITIES
Market merchants have also expanded their physical space both on and off the market. For example, M. Levin has expanded its presence by purchasing additional units and expanded its banana program by building more ripening rooms, says Levin. "We have also increased our delivery capabilities and are growing each day. We have expanded our tropical division to keep up with the diversity of the population in our area."
During the past 10 years, JVI has grown more than it did in the 90 years prior. "We originally planned to take on four units, but before the move we had the opportunity to add a fifth," says John Vena. "We ended up converting that fifth unit into ripening rooms for avocados, plantains and mangos.
"When we moved in, we occupied about 21,000 square feet and had 39 employees. Since then, we've taken on four additional units and converted one into a full-service repacking facility. Now we have nine units totaling about 37,800 square feet and almost 90 full-time team members — and we continue to grow."
In addition to expansion on the market, Ryeco has invested in off-market storage, a 30,000 square foot facility for storage and re-packing. "We use it for repacking and to support our main warehouse to help manage our inventory better," says Colace.
Growth has also come in the form of more companies offering delivery. Pinto Bros. has expanded delivery capabilities via its sister company A. Penza Inc., which operates a fleet of trucks and refrigerated tractor trailers for delivery within the tri-state area" says Penza.
Ryeco presently has 20 trucks on the road — 16 tractor trailers and four straight trucks — delivering product from Connecticut to southern Virginia, says Colace. "The future of our business is that people want to spend the time in their store, not in the market."
Procacci also offers delivery services out of the market. "This is gaining momentum," says Binck. "Customers want the value of things at the market, but they want delivery. A lot of customers just don't have the labor, so they're looking for the delivery service. We added a transportation person pretty much full time at the market."
… HARNESSED TECHNOLOGY
Another movement at PWPM in the past decade has been a shift toward technology implementation. "The technology aspect of our business is key," says Nardella's Durante. "We're moving toward things such as all bar coding, more requirements for heightened food safety — we're seeing companies who have adapted and turned around."
Colace explains technology investment, such as Ryeco's software system, helps them better understand customers and be more efficient. "This year, our objective is to have computer scanners for all employees and go completely paperless. After that, we'll be putting together an online ordering system," he says.
Systems today are a huge shift from writing paper tickets, states Durante. "Years ago, businesses would have been resistant to this technology, but now there is a hard-nosed philosophy of 'this has to be done and we have to do it now'," he says. "A lot of the merchants have reimagined aspects of the business, from computer systems to receiving to inventory to food safety."
The market itself has also taken strides in the sustainability area by completely restructuring its waste stream. "What used to go to the landfill is diverted to people first, animals second, and thirdly, anaerobic digestion," says Smith. "We are targeting to be a zero-waste facility over the next few years."
Smith explains one of the biggest challenges is reducing food waste while addressing food insecurity.
"We are thrilled to partner with a pioneering nonprofit called Sharing Excess, which rescues surplus food and redirects it to hungry people" he says. "They are now a presence at the PWPM every day. On any given day, they collect about 20,000 pounds of perfectly good, nutritious food."
… MOVED FROM SPECIALTY TO FULL LINES
Another swing in the last 10 years has been the product line. "Everyone used to have a niche, but now pretty much all the merchants carry a full line," says Procacci's Feighery. "Some still have a particular strength, but you can almost do one-stop shopping in just about any house on the market now."
Over the years, B.R.S. has added tropicals, limes, avocados and mangos. "I have a salesman specifically dedicated to that line," says Milavsky. "I also have a salesman just for mushrooms and we've seen increased volume in what he's moving. We've also seen increased demand for value-added items such as salad mixes and we've been handling those items more over the years."
TMK has expanded its vegetable reach, and the expansion of its vegetable business "has been a significant contributor to our growth from the product line perspective," says Kovacevich.
Yet some changes at PWPM reinforce the specialty focus of a particular house. This past year, G&G joined the Ryeco family, representing an "excellent tomato operation," says Colace. "Although Ryeco carries tomatoes, it's an item we wanted more of a presence with in the market and that's why our two companies are joining forces."
… GOT YOUNGER
While the new market has gotten older, faces at the market are getting younger. Many houses witness the growing involvement of the next generation.
"There is a change on the market to the younger generations and it's for the better," says Nardella's Durante. "The generations with experience have imparted their experience to us, and we can take that experience into the next decade."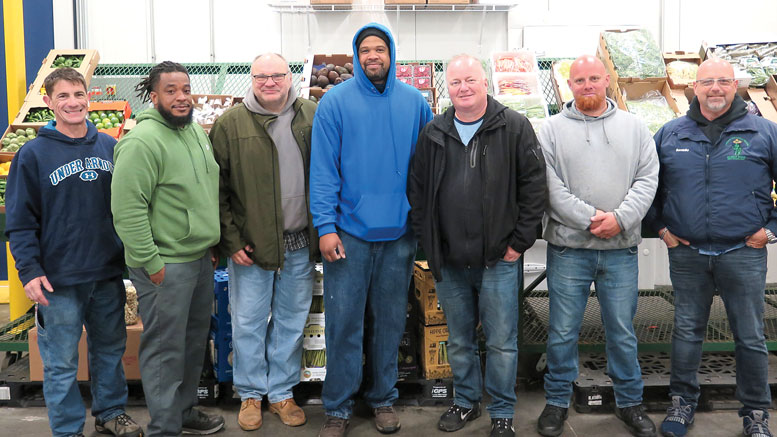 Levin credits the work of the previous generation as providing a base for the ones to come and the path forward. "If it were not for them instilling the hard work ethic of their generation to ours, who knows where we would be," she says.
In addition to youth, the new generation has another unique characteristic. "The fourth generation in place [at M. Levin] is something that years ago would have been unheard of in this industry — it is all women," says Levin. "We work hard and hopefully smart, and appreciate the opportunity to advance our family business into a fifth generation."
Durante agrees there is less gender bias now when it comes to who can be up front and who can sell. "Some of our biggest shippers are run by women and some of our customers have women buying, so why wouldn't we wholesalers want the same?" he asks.
---
ADAPTING DURING COVID
The PWPM merchants pivoted and stayed relevant during the pandemic. "The market itself stayed busy and operated all during COVID," states Rick Milavsky, president of B.R.S. Produce.
The Philly Market did everything in its power to keep doors open to all customers during the height of the pandemic shutdown. "It's a testament to this market that we operated continuously throughout the pandemic without an issue," says R.J. Durante, sales and director of food safety at Nardella. "Our management and the infrastructure and cooperation of all the merchants were all a credit."
Todd Penza, salesman with Pinto Brothers, notes market wholesalers are used to the fluctuations and crazy antics of the marketplace, but this past year emphasized the importance of flexibility. "We've been working on reacting even more quickly to customer needs and to provide superior service in a shorter amount of time," he says.
Customers, such as JJ Produce Box, a produce delivery service serving Philadelphia and its suburbs express gratitude for the efforts of the PWPM during the pandemic.
"During the last year, each employee working there adjusted to provide a safe environment while still carrying the best produce around," says Barb McCoy, president of JJ. "We shop at several PWPM vendors but conduct most of our business with Ryeco, Procacci Brothers and Giordano & Sons. We thank these guys for going above and beyond during such a turbulent year. It made our job that much easier."
Durante mentions how merchants supported small customers during the pandemic. "A local bakery was fearful about coming into the market," he says. "We told them, 'call in your order and we'll deliver it out to your van or car.' Our back-dock guys really stepped up; the orders were right and went out on time. The physical aspects of the facility really helped this. We could easily work the logistics to manage the product and to help deliver even out to cars or vans."
M. Levin, which celebrates 115 years in business this year, took measures to rework business models during the pandemic. "We adapted to new ways of both packaging and delivering fresh produce to meet the needs during these trying times," says Tracie Levin, controller for M. Levin and Company.