Originally printed in the August 2018 issue of Produce Business.
Flowers are needed in a time of crisis. Is your store ready to provide the floral department items needed when community members are grieving and seeking comfort?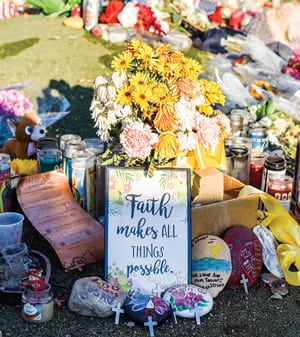 Makeshift shrines consisting of flowers, candles, stuffed animals, balloons and handwritten notes are becoming too familiar in today's world. We see these scenes at sites of horrendous accidents, major shootings and natural disasters. It seems now, more than ever, people are turning to flowers as displays of affection and signs of grief and as a way of taking action when no one knows what actions to take.

For both joyous occasions and sad events, flowers are visual communication elements. When devastation is abundant and words are scarce, flowers provide comfort and pay tribute. Community-minded retailers have a plan of action in place to accommodate consumer needs during, and after, a crisis. In the past, a response plan typically involved ordering flowers for a large funeral service in the community, but today's crisis-response plan includes more strategy and more tactics to address different kinds of community emergencies. Does your floral department have a plan?
Where To Turn For Product
Communication is always a vital part of a solid working relationship. Retailers need to be able to turn to regular suppliers and local wholesalers when sourcing flowers in a pinch. "I know many stores have an 'open' policy with local suppliers if an emergency arises. This arrangement enables them to buy flowers outside of their normal orders when necessary," says flower expert J Schwanke, president of J Schwanke Productions and chief operating officer of uBloom/LLC, Comstock, MI.
Resourceful buyers know which suppliers to turn to when timing is tight. The vendor/retailer relationship is possibly strained during this time but a good buyer knows to ask for help even though the regular supplier might not sell a particular flower. That supplier often can assist with sourcing. And the logistics of quick delivery is another unexpected challenge. But everyone usually understands when favors have to be called in for unexpected events.
"As growers based in California, we are very nimble and can quickly respond to time-sensitive needs," explains Bill Prescott, marketing communications associate with the Sun Valley Group. "For emergencies, most likely a retailer will call a DSD wholesaler. Since we are growers and bouquet makers we are able to pivot and adjust," explains Prescott. Sun Valley, with production locations in Oxnard and Arcata, has a fleet of trucks serving its wholesale floral distributor customers. When necessary, the grower can usually tap inventory or adjust a harvesting schedule in order to accommodate a pallet add-on request. Or in some situations, such as sending flowers to Las Vegas after the October 2017 mass shooting, a truck of flowers can be expedited.
As a fourth generation florist, Schwanke says it's important for vendors to monitor the local news in their customer areas as a way to check in to see if anything special is needed in the affected area. "Being proactive is helpful and much appreciated," notes Schwanke.
Know The Traditions And Colors
Before her 2017 retirement, Floral Business interviewed Rita Peters, assistant vice president of floral operations for Hy-Vee of West Des Moines, IA. She shared these comments about preparing for a so-called, typical work week: "Things can change so quickly no matter how involved you are into your planning. An example of this is when two police officers were killed in the line of duty. We quickly prepared for orders related to two deaths. We had 3,000 white carnations with red centers."
Being prepared for the unexpected also means knowing the funeral and memorial traditions adhered to by community members and groups. Though this practice may be considered regional, for fallen officers, law enforcement memorial protocol typically includes the wearing of a white carnation marked with a red dot in the middle. The white carnation represents a good life and career. The red dot indicates the blood shed by the fallen officer.
During an unexpected event, communicate clearly when working with floral vendors but be prepared to be flexible. Related to military and law enforcement services, red roses combined with white carnations and blue delphinium might be your first choice, but being open to a vendor's immediate inventory might be necessary.
Labor is often an issue for supermarket floral departments processing and designing flowers for unexpected large events. In some cities, volunteer groups have stepped in to help with the red dotting of the white carnations worn by law enforcement officers honoring fallen comrades.
Schwanke reminds retailers to consider labor-saving options for large events where multiple Sympathy arrangements are required. He says Fern Trust Inc. of Seville, FL, creates wreaths that arrive ready for adornment. "Pre-made items can help reduce labor, and make creating as easy as taking something out of the box and adding flowers," says Schwanke. Retailers can consider ordering pre-made wreaths of Magnolia, Carolina Sapphire or mixed Florida Foliage. "In times of need when there is little notice and staff is not plentiful, floral designers can fulfill Sympathy orders by embellishing the pre-mades with flowers."
Does your store have a community liaison or a connection with the local police department? If so, communication and advance planning for annual memorial events will help secure the products in the requested colors. For law enforcement, blue and white are the traditional flower colors, but of course retailers will also want to be prepared with ribbons, balloons, candles, and plush for children of law enforcement families who often receive the comforting stuffed animals after the services.
Beyond the immediate grab-and-go bouquets needed for makeshift shrines, and flowers for funerals and memorial services, remember to plan for after-events. Some significant accidents and natural disasters are followed by recognition ceremonies honoring first responders. Does your response strategy plan include the step for securing inventory needed for after-events including anniversary memorial services?
---
Sweltering August Means…
It's a hot and steamy August so thoughts certainly must be focused on securing Val Day merchandise, right? In 2019, the February 14 holiday falls on the Thursday before President's Day weekend – which some retailers say is ideal for stretching the one-day holiday into a weekend sales event.
Does your store serve a community with a lot of families? Make sure to order for recipients of all ages. Creating an engaging Valentine's Day floral display will be more important in 2019 than in past years. Consumers want to participate in the love fest, but it's up to captivating in-store displays to wow them. Enjoy your hot and steamy August, and don't hold back when ordering early and planning for a profitable Valentine's Day.