Four Ways Imports Can Keep Apple Category Sales Healthy
Originally printed in the February 2022 issue of Produce Business.
There's the old saying 'an apple a day keeps the doctor away.' It certainly rings true, especially with modern research pointing to the health benefits of this super fruit, as well as on all the other offerings in the produce department.
Usually, strong apple production in states such as Washington, Michigan and New York, combined with state-of-the-art storage technologies, make domestically grown apples available to Americans 365 days a year. However, weather issues, increased demand for organic and the eating pleasures of new crop make imported Southern Hemisphere apples a key way to keep sales of this category, and its consumers, healthy all year long.
"We usually get into the imported apples in the spring and summer. These primarily come from Chile and New Zealand. Like many other categories of produce, sourcing regions change to follow the new crop," says Marc Goldman, produce director at Morton Williams Supermarkets, a 16-store chain based in Bronx, NY.
1. GO SOUTH FOR SUPPLY
The U.S. apple crop harvests once annually from August through November. Fruit is sold fresh as well as packed away in controlled atmosphere storage rooms for repacking and future sales. Mainstream varieties such as Gala and Fuji are plentiful enough that, in many years, the storage crop finishes in mid to late summer as the new crop harvests. However, not all varieties store well nor is there enough production of some of the newer varieties to supply retailers year-round. Plus, there are also weather issues that can throw a monkey wrench in the domestic apple supply.
"Excessive heat last year affected the Washington apple crop, while a spring frost limited the bloom in Michigan. At the same time, the apple category is a heavy lifter and retailers want a healthy apple category. It's high volume, low shrink and strong margins. That's why it's advantageous for retailers to have a dual hemisphere strategy," says Don Roper, vice president of Honeybear Marketing LLC, a subsidiary of Westcott Agri Products based in Elgin, MN.
Last August, the Falls Church, VA-headquartered US Apple Association estimated the nation's 2021-2022 apple crop down in volume 5.7% from the season prior and down 9.4% from the five-year average. This figures into opportunities for imports to fill the gap, especially this year.
According to USApple, some 5% of apples consumed in the U.S. are imported. Based on U.S. Department of Agriculture data updated January 19, 2022, the dollar value of apple imports to the U.S. in 2020-2021 was $165.7 million. Of this, Chile supplied nearly half (48.2%) of imported apples, New Zealand just over one-quarter (27.1%), Canada at less than one-fifth (18.5%), and Argentina (3.5%).
"When we need to import apples, we look to Chile and New Zealand to fill our demand," says Chuck Sinks, president, sales and marketing for Sage Fruit, based in Yakima, WA.
Chile, Argentina, New Zealand, and South Africa are the countries from which The Oppenheimer Group or Oppy, headquartered in Vancouver, BC, imports apples to North America, says Roger Aguirre, director of apples and pears. "Our drive is to discover what is unavailable domestically, whether it's varieties, sizing, etc. There is a growing demand worldwide for apples, alongside the challenge of the current shipping crisis, so we have to be competitive in bringing high-demand apples to our market."
2. WINDOWS OF SUPPLY & VARIETIES
The import apple window is from May through October.
"Apples grown in the Southern Hemisphere are typically harvested in February/March, packed, and then loaded onto a shipping container for a late spring, early summer arrival here in the U.S.," says Sage Fruit's Sinks.
Non-proprietary varieties such as Gala, Fuji, Braeburn, Granny Smith, Ambrosia, Smitten and Pink Lady are picked first, while club varieties such as Envy, JAZZ and Pacific Rose arrive about a month after the import season begins, adds Oppy's Aguirre. "While we always see consistent demand for traditional varieties like Gala, Fuji, Braeburn, and so on, it's the strong proprietary varieties that consumers and retailers can bank on for year-round coverage and programs that get a lot of excitement."
New York Apple Sales started importing apples from New Zealand to provide its retail customers continuity in the availability of the Koru variety.
"Other varieties we import include SweeTango and Honeycrisp," says Kaari Stannard, owner of the Glenmont, NY-based grower and importer, which markets its fruit under the Yes! Apples brand. "By developing an import program on the popular Honeycrisp, it allows us to segue from our domestic crop into imports and remain a viable year-round supplier for this important variety."
Honeycrisp, a notoriously difficult variety to grow and store, has nonetheless grown into one of the top 10, if not top five, sellers nationwide. What's more, Honeycrisp stands as the poster child for the apple that broke the 99-cent per pound barrier, often retailing for two to three times that amount. Thus, it is indeed a variety retailers want to carry throughout of the year.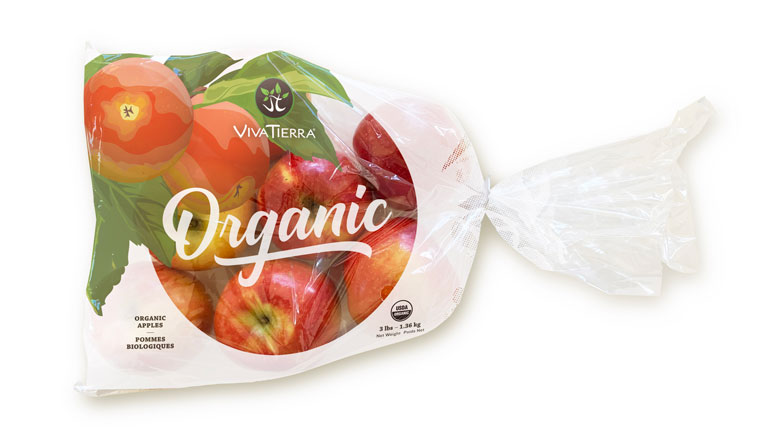 "We are the largest importers of apples and pears, bringing in close to 1.5 million pounds of fruit annually. Some 1.25 million of that is apples and 70% of those apples are Honeycrisp, bulk and bag, and both conventional and organic. This is a wonderful way to assure retailers have strong sales of Honeycrisp in the summer," says Honeybear Marketing's Roper.
This is the first season that Honeybear Marketing will import Pazazz apples, with its growing and export partner, Frusan, in Chile. The sweet-tart fruit has Honeycrisp as a parent. Pazazz is a late-season variety and imports are projected to begin in June.
"One of the newer imports that is gaining traction for us is Smitten. The Smitten originated in New Zealand, but we also have a domestic crop available from September to February," says Sage Fruit's Sinks.
3. ORGANIC OPPORTUNITY
There's a major opportunity for imported organic apples this season for two reasons. First, the smaller crop out of Washington. Second, freight rates to supply the East Coast, as neither Michigan nor New York grow sizable commercial quantities of organic apples.
"Some 70% of our organic apples shipped out of Argentina and Chile are to the East Coast, namely Philadelphia, with 30% to the West Coast. We typically start in April out of Argentina, but with demand this year, we'll start slightly earlier. From Chile, which starts coming in during April and May, we primarily focus on organic Gala, Fuji, Granny and Pink Lady, with some Red Delicious," says Chris Ford, business development and marketing manager for Viva Tierra Organic, Inc., based in Mount Vernon, WA.
Currently, a big challenge is the logistics of importing fruit, which is not unique to the apple industry, says Sage Fruit's Sinks. "Whether it's finding containers to load fruit onto, offloading product once it arrives on our shores, or sourcing trucking to get to storage and distribution centers, it's all proven to be difficult."
4. FALL INTO SPRING & SUMMER PROMOTIONS
"Apples are a staple. While they take a back seat in the summer to domestic fruit like stone fruit, grapes and melon, they continue to contribute to overall department sales," says Mike Roberts, vice president of produce operations for Harps Food Stores, a 114-store chain headquartered in Springdale, AR.
Apples were second only to berries as the top fruit and vegetable sellers of 2021, according to the December 2021-released report, 2021 Surpasses 2020 in Dollars but Volume Was Not Able to Hold the Line, by the Newark, DE-headquartered International Fresh Produce Association.
Demand from retailers is not for imported varieties specifically, but because they want to have year-round availability of apple varieties their customers have become accustomed to seeing them on their retail shelf. As such, one of the best ways to keep a light under the apple category in the spring and summer is to use holiday themes to hang promotions much as the way domestic apples are promoted in the fall and winter.
Oppy and T&G, a New Zealand-based global fresh produce company that, with Oppy, markets Jazz, Envy and other apple varieties, have created several promotions, and marketing initiatives for these two varieties around seasonal themes.
A big promotion for Envy is during Valentine's Day. It's Love at First Bite contest asks couples to make a video describing why they deserve an Envy-able wedding day, in the hopes of winning the $50,000 grand prize. The promotion links with the release of the new romantic comedy Marry Me from Universal Pictures, which debuted in theaters on Valentine's Day.
Envy apples and Cabot Cheese will star as a co-branded merchandising and promotional partnership through March in the Northeast. The intent is to drive consumption and cross-category sales of two premium products.
Envy will have a sustainability push around Earth Day, April 22, led by a virtual cooking event from Joel Gamoran, chef and author of Cooking Scrappy. Based in Seattle, Gamoran is known for sustainable cooking practices, particularly in conserving food waste.
There will be a Mother's Day push for Envy, too, with tips on how to celebrate Mom with Envy and collaboration with floral departments.
"We'll push Jazz promotions around Easter, and apples are a hero of Passover, with the classic charoset dishes. As charoset is a mixture of raw ingredients, both Jazz and Envy flavor profiles will pair well with honey, walnuts and beyond," says Aguirre.
Finally, while apple imports aren't 'local,' they do have a great story.
"Retailers can capture the nuances of growing regions with cross-promotion themes, such as pairing New Zealand apples with the country's wine. It's a terrific way to capture attention and have some fun," says Aguirre.