Use these tips to increase sales and store profits during the short season.
Like little red and yellow beacons, cherries draw consumers to the produce department like few other items. Although they're only available for a few months, no retailer should ignore the opportunity cherries present.
"Cherries are the No. 1 dollar-per-square-foot item in July," says B.J. Thurlby, president of Northwest Cherry Growers, a marketing organization based in Yakima, WA. "As a result, sweet cherries must be merchandised as an item of importance." "It's critically important retailers jump on the opportunity and maximize it while they have the window," says Steven Lutz, vice president of marketing for CMI, the Wenatchee, WA-based marketing entity for four family-owned grower/packer operations. "It closes relatively quickly and then you have to wait another year."
There are several things produce executives can do to increase cherry sales during peak season, including procuring cherries that are high in quality and large in size; increasing the size and number of displays; and selling cherries in various package sizes. But one of the most important things retailers must do is get their staff motivated to move a high volume of cherries during the short time they're available. "What we're trying to do is make our people realize how important it is to get consumers buying often," says Jeff Fairchild, produce director for New Seasons Market, which is based in Portland, OR with 19 locations.
"It's a real short season so you just try to move as many as you can," says Tom Brendel, category manager for produce at Schnucks, which is headquartered in St. Louis and has nearly 100 stores in Missouri, Illinois, Indiana, Wisconsin and Iowa.
Basic Cherry Information
Data from the United States Department of Agriculture shows Washington significantly leads all other states in sweet cherry production. Washington growers produced 252,000 tons of cherries in 2014. Its closest competitor was Oregon at 53,700 tons, followed by California with 40,000 tons. (Michigan dominates the tart cherry market, with 203 million pounds produced in 2014.)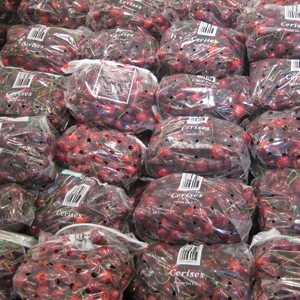 The summer of 2015 was unusually hot and dry in the Northwest, which led to record cherry shipments in June and July. In 2016 the season should be much more normal. "The Northwest has seen an extremely cold winter resulting in a much-needed replenishment of snow and water in the various mountain ranges surrounding the Northwest cherry growing regions," says Thurlby. "Based on the heavy snow pack and much cooler winter of 2015-16, growers are reporting there has been an abundant amount of chilling hours in the orchards. Likewise, the cooler winter and spring has many growers thinking that the earliest cherries in 2016 will be harvested close to June 1."
Sweet cherries are typically available in June, July and August. There are two types: yellow and red. The vast majority of yellow cherries are Rainiers. They ripen near the middle of cherry season, although some growers are trying to get a jump on their competitors by offering earlier varieties. Chelan Fresh in Chelan, WA, which handles sales and marketing duties for Gebbers Farms and Chelan Fruit Cooperative, offers two options: Early Robin and a proprietary variety called Orondo Ruby. "It's like eating a Rainier cherry and Bing cherry at the same time," says Mac Riggan, the company's director of marketing. "It's a very sweet cherry that also has a very high acid content."
---
"Industry suppliers have invested heavily in optical sizing equipment that can sort cherries by size, color and firmness in a quick and efficient manner."
— B.J. Thurlby, Northwest Cherry Growers
---
There are several red cherry varieties that come on at different points throughout the season. Andy Tudor is the director of business development for Rainier Fruit, based in Selah, WA, which works with eight family-owned grower-packers in Oregon and Washington. "The season starts in the warmest part of the state, the southeast corner, and goes up through the Yakima Valley," he says. "All the cherries mature at different times, so it extends your season."
Chelan are the first ones to ripen, followed by varieties that include Tieton, Bing, Lambert, Skeena and Sweetheart. A few early red cherries are coming to the market as well. For example, The Flavor Tree Fruit Company sells the Sequoia cherry, an early variety from the state that sends the first cherries to market.
Quality Control, Packaging Innovations
The quality of cherries making their way to market is higher than they've ever been. "Over the past 24 months the Northwest cherry industry has been
transformed by major technological advances at the packing and shipping level," says Thurlby. "Industry suppliers have invested heavily in optical sizing equipment that can sort cherries by size, color and firmness in a quick and efficient manner. This allows retail and import customers to request packs by specific size of cherry and specific color of cherry. Likewise, the new technology does an amazing job of reducing fruit with blemishes from the final pack that reaches the consumer."
Retailers have probably noticed that cherry packaging has changed in recent years. "It's gradually shifted away from the old catch weight poly bag to a catch weight pouch bag," says Lutz with CMI. "You can print better graphics on them." These graphics can be beneficial, but Rainier's Tudor says there's an advantage to keeping them to a minimum. "We try to put very few graphics on the lower part of the bag because people want to see the fruit," he says. "That way it sells itself." "Now that they've gone to the pouch bag, you look at the ring per bag and it's the best ring you can get in produce," says Edward Osowski, director of produce for Martin's Supermarkets, a family-owned chain based in South Bend, IN, with stores in northern Indiana and southern Michigan.
---
"We try to put very few graphics on the lower part of the bag because people want to see the fruit."
— Andy Tudor, Rainier Fruit
---
For organic cherries, he tends to favor clamshells, another popular choice for packaging cherries. "The price per unit is a little lower because it's not a great big bag," he says.
"The catch weight bags are where the volume is, but we try to do some bulk cherries to get people's attention," says Fairchild with New Seasons Market.
Understanding Cherry Consumers
"There are more than 77 million sweet cherry buyers in the U.S.," says Thurlby. "More than 13 million are late-season (after the 4th of July holiday) cherry shoppers. As a result, there is great opportunity to expand cherry sales in July and August."
Size matters to cherry consumers. "The bigger the size of the cherries, the more we seem to sell," says Brendel with Schnucks. Quality is also important to people who buy cherries. "Consumers who buy cherries throughout the summer tend to search the market for the highest quality cherries," says Thurlby. "Cherry consumers seek fruit that is fresh and healthy and tend to spend more dollars across the store than shoppers seeking only value."
Osowski of Martin's agrees. "What we've found is the premium cherries are the ones consumers want," he says. "My theory on cherries is you start out with the best and largest cherries you can buy and you run your entire program based on that." Cherry consumers span all household sizes, and it's important to sell cherries in volumes that appeal to all of them. "We often miss cherry customers because we force them to buy 2 or 2 1/4 pounds and they're just not going to buy that," says Riggan with Chelan Fresh. "We're excited to hit that new customer with a smaller package. That's a great way to entice a new customer to the category, or sell to a customer who likes cherries but doesn't want to buy a full bag."
"One out of every two cherries sold is purchased on impulse," says Thurlby. During the short time they're available, it's vital to let consumers know they're in the store by making them highly visible.
Display: Large, Upfront
"Big, bold and out front." That's how Fairchild of New Seasons Market sums up his advice for selling cherries. "They should be standing alone, front and center. Try not to have cherries get lost in mixed displays, and have them standing right up front." "Cherries are large enough to command a full table during peak season," says Lutz with CMI. "The mistakes we see are often related to retailers not allocating sufficient space. Displays should be full and in a premium position to take advantage of impulse buys. Consumers have to know the product is back."
If you're going to display cherries with anything, Brendel recommends putting them next to other stone fruits such as peaches, nectarines and apricots.
"When cherries are priced fairly high, like above $2.99 a pound, sales will be lower, so you'll want to display them in a refrigerated section," says Riggan. If you're turning the cherries over two or three times a day, it's okay to keep them out of the refrigerator case. They'll stay fresh for four to five hours on an uncooled display. (Stores in very hot climates may want to refrigerate them more quickly.)
---
"We're excited to hit that new customer with a smaller package. That's a great way to entice a new customer to the category, or sell to a customer who likes cherries but doesn't want to buy a full bag."
— Mac Riggan, Chelan Fresh
---
Because the cherry season is so short, and cherries are such an impulse product, it's wise to look for secondary display opportunities. "[Research shows] secondary displays of sweet cherries can increase category sales by 14 percent and dollar volume sales by more than 22 percent," says Thurlby.
Northwest Cherry Growers and Rainier Fruit are among the companies that offer freestanding cardboard display boxes. Thurlby says he was impressed by one creative retailer that set up secondary banana rack displays near the checkout aisles of their stores.
"Cherries sell better when we carry both kinds," says Brendel, even though "the reds definitely outsell the Rainiers."
Cross-Merchandising and Other Tips
Retailers looking to boost cherry sales even more can try several tricks for increasing sales. Karen Brux, managing director, North America, at the Chilean Fresh Fruit Association (CFFA), recommends cross merchandising them with gourmet cheeses, chocolate ("Who doesn't like chocolate-dipped cherries?") and champagne.
Riggan recommends cross merchandising with cherry pitters, yogurt, whipped topping and pie crust. "We make cherry pies out here with the sweet cherries and they're delicious," he says. "The old standard is you use pie cherries and put a bunch of sugar in. If you make them with sweet cherries you don't put nearly as much sugar in."
Organizations such as Northwest Cherry Growers and the Chilean Fresh Fruit Association make recipes and other resources available to retailers. "The Northwest Cherry Growers continues to work with key retailers across the U.S. and Canada to develop unique campaigns that focus on the health benefits and seasonality of Northwest cherries," says Thurlby. "Overall, domestic retailers continue to believe sampling promotions are a viable tactic for increasing demand for cherries," he continues. "Depending on the region and market, some retailers prefer multi-variety fruit fairs, POS support and display contests. We continue to work with the retail trade to design campaigns that match with the various retailers' specific vision." "We work very closely with retail social media staff and retail dietitians, providing nutrition information, holiday-specific usage ideas and photography," says Brux. "We have POS that we make available to retailers, but we are also very happy to work with retailers on custom materials. We support retailers with in-store demos and sales contests." Brendel believes advertising cherries at the beginning of the season can have an impact. "If they're in the ad that really launches them well," he says.
Lutz with CMI notes many stores try to increase sales by offering price discounts. However, "Cherries are such a powerful stand-alone item, I don't know that it's really necessary," he says.
Osowski has a slightly different perspective. "Cherries drive the produce customer, so we use cherries more as a draw than trying to make a lot of money on them," he says. "We can move tremendous volumes of cherries that way. And the consumer keeps coming back, so we get repeat business."
One new thing Martin's Osowski is trying this year is placing dried cherries in the same displays as fresh cherries. Tapping into consumers' growing interest in preserving food can be a good way to increase sales. "Remind customers cherries can be consumed throughout the year if they are willing to rinse, pack and freeze cherries," says Thurlby. "Spur late season sales with store-level canning, drying and freezing information."
In addition, he says, "Full season cherry shoppers respond to the store-level message of 'Last chance to buy Northwest Cherries this season.' In July, provide store-level messaging that conveys a sense of urgency — letting shoppers know the countdown on availability."