Originally printed in the November 2018 issue of Produce Business.
Ten items in gear for marketing success.
HOW THEY WERE CHOSEN:
In early October, our editors evaluated new products submitted to us. A 10-point-scale criteria grid was followed with a concentration on three Ps for innovation: PRODUCT (intrinsic properties of the fruit or vegetable itself), PACKAGING (unique attributes that not only improve shelf-life but add to the marketability of the item) and PROCESSING (added value by making the product more convenient or augmenting with more components to complete a flavor profile or meal). Will the item make customers switch from one product to another, or would consumers be willing to pay a premium for the item? Does the packaging keep the integrity of produce intact and enhance shelf-life? Does it provide a better marketing vehicle or make it easier to handle? Does the product take the prep time out of consumers' hands and/or does it incorporate protein and other add-ons to provide more of a meal solution? Produce Business celebrates these disrupters as they inspire and empower innovative thinking and creativity. We look forward to what the industry ultimately decides will be the winner of this year's Joe Nucci Award at The New York Produce Show and Conference (see instructions below). With our own input and input from companies who submitted entries, we give you this year's winners:
BONDUELLE FRESH AMERICAS
READY PAC ROASTED CORN SALAD WITH PULLED PORK & BBQ DRIZZLE
Irwindale, CA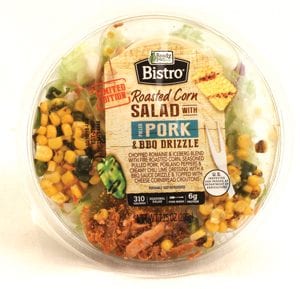 Bonduelle Fresh Americas is a wholly owned subsidiary of Bonduelle, and home of the Ready Pac Food brand. A global-market leader in ready-to-use vegetables, Bonduelle Fresh Americas is focused on getting more plant-based food to the center of the plate. This is accomplished through the creative product and flavor innovations, as well as by providing fresh meal solutions that are convenient, satisfying and delicious.
One such example is Ready Pac's Limited Time Offering (LTO) Bistro Salad Collection, which inlcudes one of this year's most innovative offerings — its Roasted Corn Salad With Pulled Pork, that Ready Pac says is "inspired by a backyard summer BBQ." This sweet and smoky salad includes fire-roasted corn, spicy poblano peppers and pulled pork on a bed of crisp chopped lettuce and is topped with a creamy chili lime dressing, cheese cornbread croutons and a BBQ sauce drizzle.
EMPACADORA GAB
MR. LUCKY PEELED GARLIC BLISTER PACK
Guanajuato, Mexico

For more than 40 years, Empacadora GAB, which owns the Mr. Lucky label, has been on the cutting edge of technology and food safety in the Mexican produce industry. Consumers are always looking for convenience, and the latest innovative time-saver from Empacadora GAB comes in the form of garlic. Picking out the best garlic can be a challenge for customers. Getting it home and peeling and pounding clove after clove can be time-consuming and messy. Jarred, minced garlic carries a punch, but you don't get that same fresh feel.
This year, the Guanajuato, Mexico-based company breaks barriers by introducing its new Peeled Garlic Blister Pack to the U.S. market. This unique pack offers eight individual cloves (equal to one head of garlic) of the finest Mexican Purple Garlic. Each clove is hand-selected and packed. The blister cavity is then infused with a small amount of nitrogen to keep the clove fresh. The shelf life of the garlic packs is 30 days, with 40 packs coming per case. One of the best features is the attractive packaging, which affords retailers the chance to display the boxes neatly either on a shelf or stacked, with a bunch taking up very little space. A recipe is included on the back.
GIORGIO
SAVORY WILD PORTABELLA MUSHROOM JERKY
Blandon, PA

Giorgio's commitment to lead the category with innovative products led the company to actively invest in R&D and consumer insights to bring new ways for consumers to enjoy the nutritious benefits of umami-packed mushrooms. One of the latest trends to hit the market in recent years has focused on plant-based meat alternatives, a trend that mushroom-based innovation is well-poised to satisfy with its meaty texture. Savory Wild Portabella Jerky is a plant-based, healthy snacking solution in the on-trend jerky category. Savory Wild is vegan-friendly and comes in three flavors: Roasted Garlic & Black Pepper, Sweet Balsamic & Golden Fig, and Sesame, Ginger & Korean Chili. "The product is the result of pairing one of the planet's most sustainable foods with one of the most bold and authentic flavor combinations from around the world."
This jerky snack is packed with nutrients and bursting with savory umami flavor (the fifth taste) that consumers crave. With more than half a pound of Portobella mushrooms in every bag (pre-dehydration), Savory Wild is hand-picked, marinated and then gently dried to jerky perfection. This 12-month shelf-stable item is Giorgio's response for a ready-to-eat mushroom snacking solution. Made with whole food ingredients — nothing artificial, no hydrogenated oils and no preservatives, Savory Wild is naturally gluten-free, low in calories and fat and packed with antioxidant-rich selenium.
Traverse City, MI

These unique snacks feature a "whole lot of nutrition" packed into striking 8 oz. upright bags that come in a variety of deep colors, including the primaries: red, yellow and blue. The real punch is inside: cubed bites that come in the resealable and sharable packages. The bites are 97-99 percent fruit and nuts. They contain no fillers, no GMOs, no gluten and are full of antioxidants, fiber and vitamins. Not a trail mix, Good & Ugly snacks have only a little rice flour to make sure the fruit does not stick together. "The cubes aren't pretty, but they sure do taste good, living up to Great Lakes' brand … Good & Ugly." And they're good for you, too, while perfect for snacking and sharing.
It's tough to share a fruit bar (who wants to bite from another person's healthy snack?) so these fruit-and-nut cubes are ideal for sharing by moms on the go or Millennials on the move. The shelf life of Good & Ugly's is 18 months. They come in a variety of flavors, including: Almond Berry (dates, almonds, raisins, mulberries, cranberries, cherries, vanilla); Very Berry Blast (cranberries, blueberries, raisins, almonds, goji berries, mulberries, dates, pumpkin seeds, golden barriers, chia seeds); Chili Nutty Date (dates, almonds, cashews, chili powder, lemon juice); Strawberry Pistachio (dates, strawberries, mangos, pistachios, chia seeds, ginger powder); Nutty Cocoa (dates, cashews, almonds, cocoa); and Apple Almond (almonds, apples, dates, raisins, cinnamon, vanilla).
Etobicoke, Ontario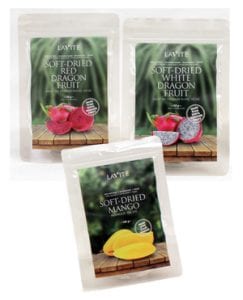 Highwide, a leading supplier of dried super fruits and herbs from Vietnam, has something truly unique in its two recently released Lavite brand packaged products: soft-dried dragonfruit chips and soft-dried mango pieces. Dragonfruit contains an abundance of vitamins and much higher levels of vitamins C and iron than average fruits. Through low-temperature dehydration process, the natural flavors and the nutrients of the fruit are well preserved in these thin, soft fruit chips.
They are 100 percent natural, with no added sugar, pigments or preservatives, so consumers can enjoy the natural flavor. Every 50g of dragonfruits is made with 1.5 pieces of fresh dragonfruits. The one true caveat is that the process preserves the strikingly bright pink and white colors perfectly. Lavite's premium soft-dried mango was made with fresh mangos dehydrated under low temperature. Its sweet and sour taste plus chewy texture exude a thick mango aroma. The dehydration process is very time-consuming, and every 100g of dry mangos was made with 1.4kg of fresh mangos. The resealable packages are extremely attractive. And Lavite promises more of its unique soft-dried products soon, with jackfruit, pineapple, papaya and banana on the horizon.
LITTLE POTATO COMPANY
MICROWAVE-READY AND OVEN/GRILLED-READY POTATO KITS
Edmonton, Alberta

When they first launched seven years ago, The Little Potato Company kits boasted convenience and innovation. Seeking to be a produce department pioneer, Little Potato's new kits have been redesigned to provide a packaging solution that delivers what both consumers and retailers are seeking, while emphasizing the company's commitment to taste, freshness and convenience. The newly designed kits have received overwhelmingly positive reviews — in a survey of 1,600 consumers, 98 percent indicated purchase intent. The update features functional packaging and two new flavors — Tomato Basil and Roasted Red Pepper & Onion. With a bold new look, the packaging also boasts greater functionality in line with the insight in the June 2018 Produce Business article, Consumers Must See The Produce And The Message. The new packaging features a freshness window that showcases the Creamer potatoes and enclosed seasoning pack. There is also clearer nutritional messaging, cooking instructions and easily peelable film. Additionally, the updated design offers a vertical orientation for better merchandising and a smaller case size for faster turns. The packs contain three cups of vegetables and are fat-, gluten- and cholesterol-free. The trays themselves are brilliantly designed: one, a plastic tray for the microwave, the other, a tin-style tray perfect for the oven or the grill.
MANN PACKING CO.
NOURISH BOWLS WITH KOHLRABI NOODLES WITH PLANT-BASED PROTEINS
Salinas, CA

Mann Packing Company has found a winner in two additions to its award-winning line of Nourish Bowls: Fresh Veggie Pastas with plant-based protein. Following the launch last year of its Spicy Thai Nourish Bowls featuring fresh Kohlrabi noodles — which won an innovation award last year — the company added to the line with Basil Pesto and Tomato Bolognese. They are the first-ever warm veggie meals to feature plant-based protein, with vegan Chick'n in the pesto sauce and vegan sausage in the Bolognese. Leveraging huge growth in plant-based products (8.1 percent) and consumers' desire for healthy, plant-based eating, each of the new Fresh Veggie Pastas is low in calories and features kohlrabi noodles that cook, taste and twirl like real pasta.
In addition to kohlrabi and vegan Chick'n, the Basil Pesto Nourish Bowls include shredded kale, zesty sauce and grated parmesan. At only 340 calories, the Basil Pesto bowls are packed with 15 grams of plant-based protein. The Tomato Bolognese Nourish Bowls include vegan sausage, marinara sauce, shredded carrots and grated parmesan, and at only 260 calories, the bowls offer 14 grams of plant-based protein. Both bowls can be prepared in four minutes in the microwave. The new additions join Spicy Thai, Monterey Risotto, Sesame Sriracha, Southwest Chipotle, Bacon Maple Brussels, and Cauli Rice Curry in the Nourish Bowl lineup of single-serve, warm meals.
Kingsville, Ontario

According to Mastronardi, hot peppers account for 20 percent of the total growth within the pepper category and 65 percent of that growth can be attributed to Shishito Peppers. Diners love that 9 out of every 10 of these slim, green peppers are mild and savory, while 1 out of 10 carries a burst of heat. "This phenomenon has earned shishito peppers a spot on appetizer menus at restaurants throughout the United States and Canada, where diners 'draw peppers' to see who gets the spicy one and has made them one of the top 5 fastest-growing categories of produce across restaurants." Mastronardi Produce saw a significant opportunity to capitalize on the trend by offering it to home chefs. "Part of its chef-Inspired collection, Sunset's Shazam! Peppers deliver a unique and exciting flavor experience to supermarket consumers that previously was only available at restaurants." The Shishito Peppers have an enticing shape, vibrant green color and aromatic flavor, which appeals to the produce shoppers' more adventurous side. The bright yellow package is extremely eye-catching, and the back of the bag provides consumers an easy-to-follow recipe developed by Celebrity Chef Roger Mooking that details how to recreate one of the top appetizers at home. The decision to launch Shazam! by Mastronardi was based on consumer trends, along with quickly bringing to markets a product with currency and relevance.
Watsonville, CA

Let's Blend is the brand name of Monterey Mushrooms' retail product, which is a pouch of finely diced white and brown mushrooms with an extended shelf life. Its ingredient panel is very "clean" with just finely diced mushrooms, seasonings and citric acid (as a preservative). The product was one of the first to market finely diced mushrooms with an extended shelf life. Let's Blend compares to finely diced cauliflower, which was created to substitute starchy foods, such as potatoes and rice, with something more nutritious. Intended to be used as a partial meat replacement, the mushroom mix can be blended with ground meat and cooked to create a delicious, nutritious and sustainable burger, meatball, taco or similar item. The white and blown (Agaricus bisporus) mushrooms are blanched, finey dicey and mixed with seasonings and pouched in a sealed bag. The pouch is pasteurized and placed into a recyclable outer carton for upright merchandising. The multi-step proprietary process, combined with refrigeration, enables extended shelf life. For the past several years, chefs have faced increasing pressure and scrutiny to serve healthier meals that promote sustainability while keeping flavor. The demand for meat alternatives is growing, and Monterey's product addresses this by reducing calories, sodium and fat content while adding an extra serving of vegetables to the plat
VILLAGE FARMS
STACKABLE, SNACKABLE TOP-SEAL TOMATOES
Fort Worth, TX

"Stack 'Em High, Watch 'Em Fly." Village Farms' launch of its new top-seal program for its exclusive specialty snacking tomatoes is not only a win for sustainability and consumer convenience but also incredibly eye-catching and clever. Available in 10 oz.-sized containers are Heavenly Villagio Marzano, Cabernet Estate Reserve, Cherry No. 9, Lip Smackn' Grape, Maverick Mix and Lorabella Blossom. The clear top-seal film is rimmed with fun and lively designs depicting the spirit of each variety. All original illustrations are part of the 'Stackable Snackables' line created exclusively by Village Farms. Village Farms is challenging consumers to 'Snack with Impact' to encourage healthy snacking through its new 'Stackable Snackables' program. Retailers are embracing the program for its three-fold benefits; more items per square inch of merchandising space allowing five-high container stacking, increased shelf life compared to bags or clamshells and reduced plastic waste compared to clamshells making top seal better for the environment. Village Farms Stackable Snackable program is designed to make healthy snacking fun and easy for consumers with its high-impact graphics.