Argus Farm Stop makes it easier to purchase local produce and support local farmers.
Originally printed in the January 2023 issue of Produce Business.
Argus Farm Stop, Ann Arbor, MI, began with a mission, and that was to support local farmers, a mission that's ongoing.
Kathy Sample and her husband Bill Brinkerhoff opened the first Argus Food Stop in 2014 with a specific business model that took a consignment approach to produce, one designed to provide a higher proportion of sales to the farmers. Farmers keep 70% of the retail price of their products while Argus takes 30%.
Today, Argus consists of three stores, the original on Ann Arbor's Liberty Street, refurbished from an abandoned gas station. The store includes a cafe, which, Sample says, provides significant additional cash flow for the business and helps it maintain the 70/30 split. The original store proved popular enough that ownership got ideas.
"We had one store that had succeeded as an experiment, and a building opened up a mile and a half away," Sample says.
The second location generated a third that now operates as a dedicated cafe that stands adjacent to the market in a building just across the street. In addition to growing by adding locations, Argus has added services including store delivery and pickup, and produce box subscriptions.
Cafes notwithstanding, Argus stores include more than produce but everything possible comes from Michigan, right down to the locally butchered meat. Yet fresh fruit and vegetables are the main event, says Dani Cavagnaro, Argus produce manager.
So dedicated is the store to its local principles that it carries no tropical produce at all. Yet, says Cavagnaro, staff is ready to suggest and explain substitutes such as locally grown Pawpaw, which has a tropical flavor. Indeed, she said Argus considered consumers coming in for product beyond the range of Michigan agriculture, even if that is a broad range, to be a prime opportunity. So, recommending substitutes for what Argus doesn't have is part of the job.
Argus works with growers to ensure the key preferences of its customers are satisfied, but it still will balance the needs of farmers. Argus tries to offer an organic option for every item it carries, but it considers the difficulty farmers face in getting and maintaining certification.
"We try to explain to customers that we have farms that were certified organic, couldn't afford to stay certified, but they are using the same practices. That's a big sticking point: Money used to maintain the little green seal could be put back into farming operations," Cavagnaro says.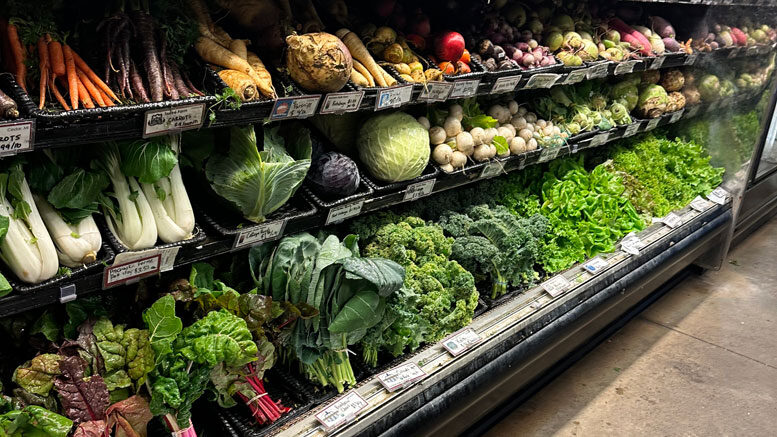 Argus faces other challenges when it comes to the assortment that it offers. The store essentially rolls along with the seasonality of what grows nearby. The produce operation has to be flexible and prepared for just about any circumstances weather can force on farmers.
"That's the challenge and the interesting part of the job," she says.
Although it does occasionally fill in from a distributor, Argus for the most part works the seasons and surroundings as best it can. Sometimes it gets a break and in late autumn 2022 still had plenty of newly picked apples and even fresh squash in store. Naturally, storage crops have to tide it over winter, including an abundance of root vegetables. Argus also has some local greenhouse growers it can tap, Cavagnaro points out. Yet, winter also can prompt the operation to purchase beyond the 60-mile radius Argus prefers as the extent of its purchasing. At the same time, Argus will continue to support growers closer to home as much as it can.
Argus promotes healthy eating, but still keeps farmers at the center of attention. That being the case, Cavagnaro says that the COVID-19 pandemic prompted a lot of people to consider the relationship between personal health and the health of the community extending beyond the immediate neighborhood and including the farmers who have been integral providers. Argus continues efforts to keep that connection in mind. In the pandemic, the town decided to close the local farmers market, so, Sample said, Argus brought in coolers and offered growers an alternative location as a way to support them in an uncertain time.
Although a co-op market in Wooster, OH, helped inspire Sample and Brinkerhoff, Argus doesn't operate on the cooperative model. Rather, it operates as an L3C mission-oriented for-profit operation. The structure affords more control and flexibility, Sample says, which gives Argus the freedom to best accomplish its mission to help farmers.
"The local farms had so many challenges," she says.
Today, Sample says she sees local farmers stuck not only with increasing operational costs but also suburban encroachment and increasing land costs. Argus, she says, provides another service to the community in educating Ann Arbor residents about the importance of having fresh, nearby sources of wholesome food, and standing up for the people who provide it. The ability to eat what grows locally provides a transparency beyond anything offered in the larger food business, she says, as anybody can go and actually see how the food they consume is cultivated.
FACT FILE
Argus Farm Stop
325 W. Liberty St.
Ann Arbor, MI 48103
Phone: (734) 213-2200
Open for in-store shopping and café service.
Hours: 8 a.m. to 8 p.m. Daily
www.argusfarmstop.com