With potential infusion of funds from the city and state, the Hunts Point Market and its merchants are primed for a future of renewal.
Originally printed in the July 2022 issue of Produce Business.
The Hunts Point Produce Market continues to face new challenges in 2022 — inflation, labor issues, fuel costs and freight rates — but the consensus among members of the wholesale cooperative is they'll take the hurdles in stride.
Challenges are nothing new for the co-op, which has been operating since 1967 in the Bronx. And, despite the economic gloom hanging over the country, a break in the clouds emerged with a promise made by New York City Mayor Eric Adams for $100 million in future market funding. And that's not all. Phillip Grant, Hunts Point Market chief executive, says the market has also applied for a federal grant for funds that could propel enormous change.
How the money will eventually change the market is a question of how much actually reaches its coffers. Even a little can help the market address infrastructure issues, but if enough actually emerges, the potential for what would essentially be a new market isn't out of the question, Grant says, although it would require more than a $600 million investment.
Whatever emerges, the prospects for some significant funding seem more than fair.
"For the mayor to be here in his first couple of months and to put out that commitment is important. For us, on the operation side, that's a positive indication that the city is thinking about the market," Grant says. "We need new infrastructure to feed this region."
The city, with the support of the market, submitted a federal grant proposal May 23, which, if approved, could provide an extra $450 million.
In the meantime, Grant says, as do a lot of wholesalers, the market is working on those efficiencies it can and staffing appropriately to keep operations moving. He says business lost to the pandemic is coming back to the market, and, in conjunction with co-op members, the administration is working to improve community outreach and help people in New York understand the role Hunts Point operators play in keeping the city and region fed and healthy.
According to Joel Fierman, president at Fierman Produce Exchange and co-president of the Hunts Point Terminal Produce Co-Operative Association Inc., while the funding from the city is much appreciated, the market still faces an uphill battle to secure adequate funding for a full renovation.
"We need a new market to keep these businesses here. If we don't figure out something, we're going to lose these businesses to elsewhere."

— Joel Fierman, Fierman Produce Exchange, and co-president of the Hunts Point Terminal Produce Co-Operative Association Inc.
"While we appreciate the generosity of the City of New York, we still need a significant amount more," he says. "The estimated cost of building a new market is between $600 to $900 million, so we're a little short. It's the market's intent to try to raise the balance of the capital, whether through state or federal funding. But all these programs take time and years."
Fierman notes the ongoing conundrum of securing funding, yet continuing to support a crucial business.
"I've been in this market for 45 years, and 20 of those years we've been talking about a new market," he says. "It's difficult at this point to see how we turn the corner from talk to action. This market is still a viable economic machine, working tirelessly to make prices affordable. Why would anyone want to jeopardize it by not giving us the resources we need? During the pandemic, we were one of the few businesses that stayed open continually to provide essential food. We need a new market to keep these businesses here. If we don't figure out something, we're going to lose these businesses to elsewhere."
DNA MADE FOR OVERCOMING CHALLENGES
After dealing with the depths of the coronavirus in 2020, its resurgence in 2021 and a labor strike, the market has faced a fresh crop of challenges. But Gabriela D'Arrigo, vice president, at D'Arrigo New York, says it is part of the market's history to address headwinds, and market merchants are used to getting through rough times.
"Shoppers look for brands that have been continually produced and that provide quality product. And the branded item is not always the most expensive one. Thats another advantage of buying from the market."

— Gabriela D'Arrigo, D'Arrigo New York
"We're not making drastic, huge changes that affect the day-to-day business," she says. "There have been changes in labor that have been difficult, particularly with drivers. That was one challenge, and even having vehicles come available."
As a wholesaler, D'Arrigo New York sells products from its sister grower operation, D'Arrigo Bros. Co., in Salinas, CA, such as its popular Andy Boy brand. D'Arrigo doesn't expect significant changes in the approach to crops this year, and says the mindset is one of getting things done most efficiently.
"We're keeping things as simple as possible," D'Arrigo says. "We've already made adjustments with our safety protocols, and we're moving forward and doing what we do to maintain things. We'll lean into our relationships we've had for generations. If something comes up, we'll have more discussions and find a solution. Customers tell us what they need and what challenges they face, and we'll go to shippers and ask what they can do to help us with our challenges. We'll get together and share the burden."
Fierman credits his supply base as important cooperators in overcoming challenges. "The Fierman supply base has been fantastic," he says. "They have worked and absorbed some of the costs that normally would be passed on. Like most people in the ag business, they really are selfless. They give more than any industry I've ever seen. They modify pricing and offset truck expenses; they've gone above and beyond the call of duty. There should be a lot of accolades out there for the U.S. grower. They should be rewarded instead of saddled with more regulations."
Cary Rubin, vice president of Rubin Brothers, agrees that, even with the pandemic and macroeconomic turmoil, the business hasn't fundamentally changed and always comes with its challenges.
"I've always felt that there are constant challenges, from a supply chain point of view," Rubin says.
Clearly, things have stepped up in the past year or so as it relates to expenses. The cost of fuel directly impacts the freight market. Basically, every non-produce vendor we have has put in multiple price increases. Because we sell a lot of value-added product, we've seen price increases from produce companies that sell us on a firm price basis. We've done our best to pass those along without killing the customer, but also allowing us to make a reasonable profit. Then it's like anything else in America — it's an inflationary pressure. Obviously, people are feeling it."
The fundamental business hasn't changed at A&J Produce, even as a new generation takes a more prominent position within the company. That isn't to say, however, the pandemic didn't cause certain factors as it overwhelmed the New York region.
"Reaching out to get customers has gotten more difficult," says John Paul Tramutola, salesman. "Nobody wants to open their door. You keep plugging away and making sure that you're there for them to answer the phone or face to face. You've got to make sure you have what they want."
The pandemic also discouraged some customers from physically going to the market.
"Some of the customers stopped coming, and they want to see pictures instead of actually coming to look at the product," says John Robert Tramutola III, salesman. "But you still have a good amount of customers who come to the store every day and look, and then they'll call and make a purchase."
Fierman points out the importance of supporting the local supply chain, especially in the current economic environment. "Some chains put priority on supporting national brands and won't readily support the local supply chain because it doesn't encompass the big national brand," he says.
"However, in the middle of such high inflation, how can retailers not support the local industry? Chains should be supporting the local and regional suppliers and distributors who pulled the industry through the crazy years we just all experienced. National brands have a place but there needs to be some vision of how retail can support the local and regional supply chain as well."
TIMES HAVE CHANGED
As much as circumstances outside the business structure have affected the market, so has the way interactions and operations have developed. The give-and-take that once occurred is less a factor in the market than once was the case, and more business is being done on the basis of electronic communications and specs.
For example, John Thomas Bonomolo, A&J's office manager, says the way orders are placed has changed. "We use [bluetooth-enabled] air printers now because we get so many text messages," he says. "They just print the text off the phone, and they take the order like that."
As such, the wholesalers are essentially required to do quality control that was once part of the buying process when customers came to the docks. In many cases, customers today stay home and have purchases delivered. At the same time, the evolution of business is prompting Hunts Point wholesalers to look at other distributors as a source of more business for retailers and foodservice operators who need their services.
At C&J Brothers, mitigation of risk is critical, says Matthew Park, chief executive. Although it may be necessary, a conservative approach to operations has ramifications that ripple through the supply chain.
"I think we're going to see that even from our suppliers," Park says. "As these guys are starting to plan for the next season, what I worry about is whether they going to plant that additional acreage."
If not, higher prices will result. Already, he says suppliers and service providers express concerns about the viability of future operations.
Joshua Gatcke, general manager at Nathel & Nathel, says the company was able to come through the COVID-19 pandemic and the market strike in fair shape and maintained good relations with workers despite the difficulties. However, he says, confronting the ensuing turbulence was problematic.
"We know the challenges our suppliers are facing, and our customers are facing the mirror image of their issues. Everyone is feeling the pressure."

— Joshua Gatcke, Nathel & Nathel
"The cost of freight, fuel, produce and the logistical challenges — it all became a major issue last year and forced us to rethink our pricing structure," Gatcke says. "We know the challenges our suppliers are facing, and our customers are facing the mirror image of their issues. Everyone is feeling the pressure."
Gatcke says transparency and communication are more important than ever, so everyone along the supply chain understands the position of the others.
"Everyone understands these are relationships — relationships we've had for 10, 20, 30 years — and they're more important," he says.
At E. Armata Inc., easing supply chain issues and letting customers know what their options are at any given time has been a way to help the company deal with the ever-changing market conditions.
"We've had to navigate very tactically, think outside the box, find new and creative ways to service the customer," says Michael Armata, berry sales manager. "Our goal is to make the customers' lives easier, whether it's by offering different levels of quality, delivering them in a timely manner and even tracking our trucks to give them the best estimate of their orders' arrival."
"The industry as a whole had to make significant changes," adds Armata. "All levels of customers can feel the difference in how and what they are purchasing. Some have shifted to being more commodity-driven. So, if stem tomatoes are cheap and everything else is through the roof, people can shift. With our information, we try to guide them on what item is cheaper, but can still be used for what they need it for. Whether they are foodservice, a wholesaler or a retail store, they have all changed their buying habits."
Fuel costs are suppressing margins and making life more difficult, but Armata says his company continues to address a tough market period through cooperation. Consumers may not consider — or may not have considered in the past — how much fuel costs impact the price they pay for the fruits and vegetables they eat, but he says they have begun to understand.
Now is a period when mutual understanding and support have to prop up the produce supply chain. At the end of the supply chain, it may be tough to sell strawberries for $9.99 a clamshell, Armata observes, so everyone has to step up to the plate and push product through at margins that leave each participant with a bit of profit, but make for a final price consumers can stomach.
Peter Faraci, sales manager, Coosemans New York, put it in perspective: "The past two years have been very, very different, where we're changing up the business, changing to target supermarkets. The restaurants are coming back, but the inflation is insane. As a company, you try to take on the expenses, the extra expenses, as best as is possible, but it just gets to the point when it becomes overbearing, and you have to increase your prices. Our shippers, too, are starting to change fuel charges."
The company retains a major foodservice customer base, and had to adjust during the height of the COVID-19 pandemic when restaurants were shuttered. Now, many of its customers are foodservice operators who themselves are trying to maintain business in the face of troubles the pandemic ignited.
"Business has just been like a roller coaster," says Ray Hernandez, a buyer for Coosemans. "Specifically for us, the restaurant side hasn't fully recovered."
Not only did thousands of restaurants close permanently, he says, but also much of the workforce has not returned to the workplace where they once visited foodservice operators for breakfast, lunch and dinner. Still, Hernandez says, people are getting out more, and that's what the business has to embrace.
"You have to take a positive out of something," he says. "So, you have to say, at least it's better than 2021. There is improvement, but there are different challenges."
Daniel Barabino, vice president at Top Banana, emphasizes inflation, as it applies to the consumer, complicates everything else that pressures the market, particularly since consumers, who have been incrementally dealing with higher grocery bills, aren't necessarily enjoying larger paychecks. In his case, a direct result of inflation is fewer sales of 3-pound banded bananas.
"The only way for us to mitigate costs is to try to do more volume. We're always happy to do a delivery. But what that demands is for us to put in more complementary product."

— Daniel Barabino, Top Banana
"People are taking exactly what they need for the week," he says.
Barabino says it's the core of the business — relationships — that count when challenges abound.
Barabino says the cost of fuel, as it has risen and now stands, is "almost staggering." To deal with the circumstances, Top Banana has been trying to bring inventory in on more of a just-in-time basis and not hold items in trailers.
"Sometimes, it's unavoidable," he says. "The only way for us to mitigate costs is to try to do more volume. We're always happy to do a delivery. But what that demands is for us to put in more complementary product. If a customer wants just bananas delivered, we will ask them to take some plantains, too. We are trying different things, mixing in different items, and developing relationships. Our game is always volume. That's how the equation works. Some people have flexibility on pricing. We don't have that. We simply have to put more on a truck."
BENEFITS OF RISING CONSUMPTION
The positive side of the past couple of years has been a renewed interest in nutrition, cooking at home and healthier snacking that will have long-term benefits for consumers, and particularly children who have been growing up with more fruits and vegetables in their diets.
According to Stefanie Katzman, executive vice president at S. Katzman Produce, "that increase across the board for fresh fruit and vegetable consumption is tremendous for our industry and therefore for us in the supply chain."
"We're in charge of distributing all that product to all of the stores. You have big retail and you have small mom-and-pops. We have all those independent retailers in those far-to-reach areas of the city and the whole tri-state area that we get the fresh fruit and vegetables out to. So, we've seen an overall increase in business because consumption has gone up."
Even so, she notes, costs have gone up too, so challenges include moving product to where it needs to be while dealing with a shortage of equipment and labor, longer timelines, and inflation.
"People have become conscious of what they spend their money on," Katzman says. "So, while they've increased the amount of money they spend on fresh fruits and vegetables over the past few years, now what they're focusing on is high quality and high-flavor, because they want to make sure they're getting their money's worth."
"You don't mind paying for something if it is good, so they're not as price-conscious when they shop for produce in the stores — as long as what they get, they can use," she adds. "While we might not maintain those same margins, I think we're still going to maintain the business, because I think consumers still want good product. What we need to do is get better at giving them what they want — good quality and good flavor."
Though Fierman started out mainly as a potato and onion house when the Hunts Point Market was founded in 1967, the company has diversified and has acquired other specialty operations. Now the company offers a wide range of products to meet the demands for higher consumption. Fierman views the market as a broader distribution center that retailers can use to take advantage of opportunities in pricing, quality and other options.
"There's always an opportunity," Fierman says. "It really comes down to if retailers want to take advantage of these opportunities. I can change my price in 24 hours; I can change my price in a matter of minutes. But the guys who contract out can't change their prices. At the market, retailers can take advantage of the abundance of available healthy product that can be distributed at an economical price level, as well as the flexibility we have."
ERA OF TECHNOLOGY
At C&J Brothers, Park says technology is a way to cope with market challenges.
"We definitely see an increased need for the right type of technology. That's been a big focus for us," he says. "Everything has its kinks, but we're trying to have the right technology and software in place to keep up with customer demands and the changing needs of buying FOB, bringing things here and delivering them."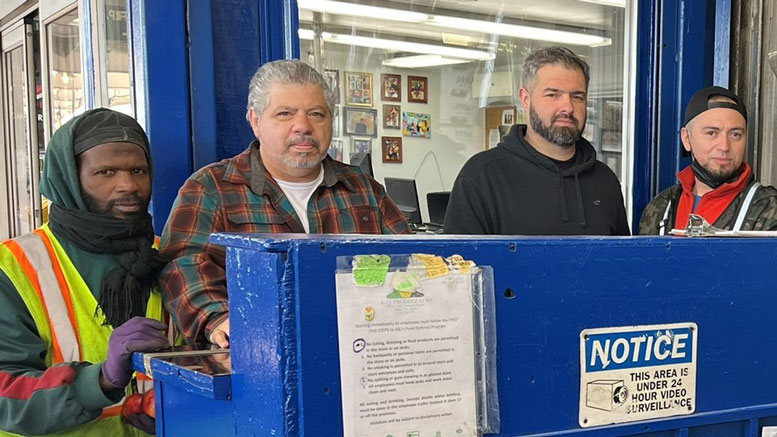 D'Arrigo New York is using technology to drive efficiency, including in trucking. With a limited number of available drivers and a limited number of working hours, the company is keeping a better eye on drivers, improving operations and working to make loading more efficient so a driver can get back to base and, potentially, make a second delivery.
"If you do all the little things right, everything will be OK," D'Arrigo says.
D'Arrigo says technological investments had been made incrementally across the market. Now, it's more a matter of enhancing efficiency and aligning technology with customer needs, such as improving communications and methods. By monitoring delivery trucks, for example, D'Arrigo can ensure efficiency and boost communication to customers who want to have a better sense of when deliveries arrive.
Top Banana's Barabino says technology is developing, with more customization, to better track inventory, as well as trucks. Technology also helps improve communication so customers know when their deliveries will arrive and wholesalers know more about what's going on with suppliers, so both parties can accommodate each other under changing conditions.
Gatcke says technology is a challenge because much of what is out there doesn't exactly suit how the market in general and Nathel & Nathel does business, or necessarily contribute to real-time realities. However, the company moved to Microsoft Teams so everyone in the organization is communicating through a centralized platform rather than through random text message chats.
"That's been an incredible tool," Gatcke says.
E. Armata Inc. is among the market players that adopted warehouse technology. "Everything in our store is tracked with the RF guns," Armata says. "Finding things is faster, picking for customers is quicker and easier."
Technology helps the company right down to the delivery, because it helps them maximize truckloads and tracks vehicles in a way that allows communication about when customers will receive product, he adds.
The tech evolution of A&J Produce operations is primarily internal, but also extends the company's presence via social media.
"Everything is scanned," says Stephanie Tramutola, A&J accounts payable and social media coordinator. "We used to be just pen and paper. That's no longer a thing anymore."
She also said the company has stepped up its use of social media — Instagram, Facebook and LinkedIn — "to keep up with our competitors, but also fit into this new digital age where we can have a footprint of our own."
To an extent, social media can even encourage some of the dialogue with customers that's been lost on the market platforms. "That's a huge thing we encourage," Stephanie Tramutola says. "We want the open feedback. We want the comments. We want the likes. We want people to reach out to us."
TACKLING LABOR
Labor is an ongoing issue that affects the Hunts Point Produce Market on multiple levels.
At Top Banana, Barabino says the labor issue carries downward to the company's service providers, as some companies involved with the market aren't even taking on more work because they can't find drivers or have a hard time finding the parts they need to keep trucks on the road.
"We're trying to mix in other carriers to keep business going, but it takes a long-term mindset," he says. "We are building a broader network of trucks. For pineapples, we hired a young man who has his own truck. He's hungry, and he does five loads a week alongside our original guy, who does five."
Barabino says getting productive labor is tough, but the company relies on its experienced employees to bring along younger workers.
"We have to lean on their expertise," he says. "We have three guys who have 150 years' experience. When they get new guys, they have to teach them how to handle the product, learn about the logistics. It's trial by fire, but by having someone there to guide you, there's no better way to learn. That's how we bring people along."
Nick Pacia, president and chief executive of A.J. Trucco and Trucco Inc., says employee retention is critical. "The past few months have been difficult for sure," he says. "We at Trucco do our best to keep our employees for a long time."
CUSTOMER RELATIONS
Customer service has always been critical in doing business on the Hunts Point market, particularly with the choices grocery and foodservice operations have when it comes to supply.
"We deliver more product if a customer needs that," says Rubin Bros.' Cary Rubin. "We're there to help them on the retail side of things. We have customers where we'll assist in their retail setup. At the end of the day, it's just being on top of things, not taking anything for granted."
"We have customers where we'll assist in their retail setup. At the end of the day, it's just being on top of things, not taking anything for granted."

— Cary Rubin, Rubin Bros.
In the pandemic, he says, a lot of customers struggled and needed help even to remain in business and so, to retain customers, delivery became more common and even smaller drops throughout the week became necessary. That's one reason why so many wholesalers have emphasized logistics technology to help them keep related costs as low as possible.
As Fierman strives to meet customer expectations, the company confronts the same constraints as everyone else in the marketplace.
"Just because I'm local doesn't mean I still don't incur significant expenses to deliver service," says Fierman. "It costs me $120 just in tolls to put a truck across the bridge, and I'm paying $7 per gallon for diesel fuel. There is an added expense to make that delivery a possibility."
When he started in the business 45 years ago, people wanted to take advantage of walking the market, but today Fierman sees a shift to delivery. "You have to look at things from a practical standpoint, as well as what customers want. Over the last few years, customers have moved more toward delivery, but delivery doesn't come cheap."
Armata says that he's focused on such factors as flexibility and cooperation so the company can continue to serve the full range of its customers and keep everyone involved in or with the business viable.
"Big customers, small customers, we value them no matter what," he says. "We have appreciation for our employees and our shippers and our customers for sticking with us."
At A&J, John Paul Tramutolo says relationships are based on communication and connections. "I check my email 400 times on the way home, because you can't be late to respond or you don't get the order. You just have to check it constantly."
PRODUCT AND PROVENANCE
Park of C&J, says, given the risks associated with shipping and final returns, growers are going to find local distribution more attractive and look in that direction when making decisions about where to ship.
Likewise, local produce is linked to what consumers perceive as something better.
In a larger sense, quality is important and can provide produce purveyors an edge, Katzman says. Consumers, and younger consumers in particular, care about sustainability, how farms take care of the land, and food safety, and they want access to information about those factors.
"They care about everything that's going into producing this food; they care about good quality food, then they care about good flavor," she says. "If you give them all of those things, they're not going to have a problem paying for it."
Katzman says the change in consumer awareness of healthier, more flavorful food is going to be a big driver in produce, citing the demand now in the retail sector for her company's organic turmeric, something that only previously generated demand in foodservice.
The pandemic has made most businesses more conservative, still Hunts Point market suppliers continue trying new things to develop the next hot product or build a lucrative niche.
"The hothouse side of things seems to be an industry trying to come out with the next best item, because they control their growing environment a little bit differently," Rubin says. "The salad guys are always trying to create something new. I have noticed they have been quicker to discontinue items that don't work, which I think is a good thing."
To some extent, new products don't necessarily mean new varieties of fruits and vegetables, but items that are reconfigured to meet new dynamics.
Katzman says some customers are asking for more value-added packaging because they don't want the labor to do it themselves, where they used to pack it up themselves in the back of the store.
Home delivery businesses are also on the rise, she adds. "For us, they're just another retail business, but they're virtual, so, because they're short on labor, they need a way to package product when they repack it into boxes. They're asking for a lot of single-item packages: 'I need to have my one head of lettuce in a bag. I need to have three tomatoes in a bag.'"
Brands continue to play a role as a way for wholesalers to create and meet expectations, and D'Arrigo, with its Andy Boy brand, has experienced the advantages of providing a consistent label with effective market pricing.
"It depends on the item, but for the most part, brand and label is very important in the New York area market," D'Arrigo says. "Shoppers look for brands that have been continually produced and that provide quality product. And the branded item is not always the most expensive one. Thats another advantage of buying from the market."
THE YEAR AHEAD
Top Banana's Barabino says since the beginning of the pandemic, planning has been incredibly difficult and he looks forward to "a little bit more consistency in the market."
"I want to see things to swerve toward getting back to a relative normal," he says, "when I know at the beginning of month what will happen in three weeks. Last year, I couldn't. I want to be in a better position to serve customers."
Katzman says she's excited for the produce business, based on how people are delving into healthy eating, and points to changes in government regulations, in programs like SNAP and WIC, and the White House-sponsored Conference on Hunger, Nutrition and Health in September, where coordinators are focusing on how to improve nutrition for the population.
"There is so much focus on our industry in a positive way. It is primed and ready to take off, and that's what I'm most excited for, being there to continue to be a part of it and help propel it forward."
As he prepares for the year ahead, Park wants to focus on building the best staff he can, to put himself in an advantageous position to respond to anything.
"We continue to really focus on our people," he says. "We want to make sure we have the right talent, the best talent out there, to weather any type of storm that might come our way. At the end of the day, it sounds cliche, but it always really boils down to the people you have with you.
"How can we make sure we have the best talent and retain the best talent?"
Nathel & Nathel is working to maintain an equilibrium that will allow it to work with customers and suppliers effectively and successfully — and strengthen relationships.
"We want to get through a difficult period, and then have our customers and suppliers think we're a great partner, and we were there when they needed us, and that's how we'll go forward," Gatcke says.
For Coosemans, the year ahead means working with customers as the foodservice industry in the New York area gets back on track.
"We just continue to do what we do and, hopefully, people get back to work," Hernandez says. "That's the main thing, that the economy gets a little settled. We're restaurant-oriented. We cater to foodservice and purveyors who service restaurants. We're dependent on people being back to work and out and about."
Fierman believes Hunts Point needs to do a better job in showing customers how to use the market. "This market still has a very major role in the tri-state area and for the growers across the country," he says. "This market can absorb a lot of product and get it out on a very economical basis. Even if our costs are higher than most, it's still more economical than a big box store. And we can react faster. We can change prices and react to what is happening in the market."
MARKET FUTURE
The ability of Hunts Point Market wholesalers to work with diverse sources and get product to customers who want quality products, but who need support in getting it to their stores and restaurants, is something co-op members have emphasized for a long time, Katzman says.
"Because of how things exist and how things are going to continue to exist, I think the market is still important and will always be important," she says. "With the increase in costs, having a market in the middle to help with distribution saves costs for both the grower and the retailer. We can do it more efficiently than the growers could themselves, and the retailers can't buy enough to do it themselves, so adding that extra layer of us in the middle helps both of them both be more efficient. It doesn't add cost. It actually cuts it."
Katzman says a new market is needed, and she's gratified the city has looked to invest in that, with the hope that the state and federal government will follow. The limitations the older infrastructure has created hasn't stopped Katzman from investing in areas such as technology, but, at the same time, the facility limits efficiency.
"Whether we get a new one or not, I know we are going to continue to do well and grow and be there for our customers and our growers because we've been doing it for this long."
Park says, although there has been a wait for market reinvestment, it is necessary to keep the market competitive and to bring it up to date with developing business practices.
Improvements that ensure a consistent cold chain have to be part of any market project, says Bonomolo of A&J Produce.
"Enclose the whole place," he says. "Close this all in, so when a truck backs in, the cold chain is not broken. You've got the same temperature all around. Yesterday, it was 97 degrees, and, if we've got strawberries on the platform, even for five minutes, they start melting."
Over at Nathel & Nathel, Gatcke says that seeing attention come to the Hunts Point Market has to be regarded as a positive, even if a sensible caution is warranted. He leans on the side of retrofitting the market, as much of the physical plant is working well, he says, and individual co-op members have made significant investments in their own properties.
Fierman urges cautious progress as well. "The market's been in my blood for 45 years and it's been in my family for more than 100 years," he says. "I want only to see the market prosper. However, I don't need a shiny new bicycle to know I do a good job to get to work. So, let's not build a shiny new bicycle if we can't afford to keep it going."
A plan to use available surrounding space, much of it housing containers now used for ancillary storage, could bring the market up to modern standards of efficiency. Likewise, introducing solar and other means of powering the facility, while shutting down diesel container storage, would be another benefit a retrofit could introduce, one that could improve the market's sustainability position and help promote better health in the community.
Grant says market management continues to make any ongoing improvements it can, for example, replacing conventional lighting with LED, and starting a cool roof initiative as a way of cutting energy costs. The market also is looking forward to the opening of the connector from the Sheraton Expressway, which will help trucks get from the local highway system more directly to the market.
However, just what the next phase of market development entails is largely a matter of what funds become available, Grant says.
"We're in this facility since 1967," he points out. "Until there is some other facility, we have to keep this one going to sustain what we do here and feed New York."
Whatever occurs, Grant says, an influx of cash can start a process of substantial improvement in the facility.
"A new facility depends on the level of funding," he says. "The $100 million is a great anchoring point, but we do need other sources of funding. This will determine whether we get a new market or some other form of revitalization. That's going to be the real key."
Rubin says the pledge of $100 million was somewhat vague in terms of use, and is only a starting point.
"Clearly, the market is old, but it's still functioning, and it's functioning well," he says. "We have businesses that have consolidated. Owners take care of their own facilities. The market takes care of the property itself. At the end of the day, it just costs more money to maintain it."
He notes the city has gone to lengths to create a food center with the money spent on the fish and meat market, which, with Hunts Point, has attracted other distribution businesses to the South Bronx.
"There's no reason why this place shouldn't be the food distribution source for the tri-state area or one of them," Rubin says. "It makes sense to invest here."
Wholesalers in the market generally want to see, at the very least, some basic facility maintenance issues addressed, more and better refrigerated space, local logistical infrastructure improve, and proper accommodation for 53-foot trailers in the facility itself.
"When this market was built, they didn't have 53-foot trailers backing in," Barabino says. "The infrastructure around the market needs improvement. With the volume of trucks, the roads are increasingly maxed out. It can take 40 minutes to go three miles, and some people won't send product to the market. Where the market thrives is as a network for growers to get product on store shelves in a beautiful manner. Improving the area around the market is a top consideration."
Barabino expects the new Sheraton Expressway connector to be a significant boost to local road efficiency and help ease area traffic build-up.
With luck, it also is a sign that government is prepared to invest in the future of a vital resource.
"I'm looking at this as optimistically as possible," D'Arrigo says. "It's cautious optimism. You learn from history. But the timing is right. It looks like the stars are aligning."