Jami Espinosa, category manager, produce, for Wakefern Food Corp., Keasbey, NJ, with three of her colleagues, received the 2022 Tribute to Women and Industry, or TWIN, Awards from the Union County (NJ) YWCA this spring. The awards recognize the achievements and significant contributions made by women within their industries in managerial, executive, supervisory and/or professional roles, as well as businesses with policies and practices that encourage high achievement by women and promote equal advancement opportunities for women of diverse backgrounds.
Wakefern and ShopRite recipients of the honor included Espinosa; Maxine Nigro, pharmacy systems and support supervisor; ShopRite's Jessica Valentino, controller for Ravitz Family Markets; and Amanda Fischer, marketing, business development and outreach manager for Village Super Market. Wakefern, the logistics, merchandising and distribution arm for ShopRite stores and other grocery operations such as Gourmet Garage in Manhattan, is a major force in the New York region and beyond, and was a critical food supplier to communities from Hartford, CT, to Baltimore, MD, during the COVID-19 pandemic.
At Wakefern, which bills itself as the largest retailer-owned cooperative in the United States, Espinosa sources produce and other specialty vegetable items. Her major responsibility is to regularly work with growers, shippers and vendor partners to procure top quality produce at the best price. She recently shared some thoughts with Produce Business contributor Mike Duff.
PRODUCE BUSINESS: How did you arrive at your present position and how long have you been in it?
Espinosa: I started in Wakefern's Florida field office in 2011, and prior to that I worked in sales and as a commodity manager for a produce company in South Florida.
In 2016, I became a category manager in Wakefern's Florida field office in Pompano Beach. One of my biggest tasks is to regularly work with growers, shippers and vendor partners, with the goal of procuring top quality produce at the best price. I am continuously on-site in packinghouses and farm fields, as much as possible. In the summer, I travel up and down the East Coast, as the crops transition from Florida through every state along the Eastern Seaboard and into New Jersey, physically buying the best available crops for Wakefern member stores. Many days are spent in the fields, designating which crops meet the highest standards and will ultimately make their way to customer's baskets.
I arrived at this present position via a winding path. I started taking agriculture courses in high school and I've always had a love for the outdoors. Growing up, I would spend as much time as possible at the barn with my horse. I was offered a scholarship to study at an agriculture college in Georgia, and with a barn on campus, it was a perfect fit for me. I still try to spend as much time in the fields as possible, even though now it means I always have a laptop and cellphone within arm's reach.
PB: What categories in the produce department do you manage?
Espinosa: Currently, I oversee corn, cabbage, carrots, celery, cantaloupe, honeydew, variety melons and baby vegetables.
PB: How has your job evolved? How has COVID-19 affected it and what do you look forward to in the post-COVID world?
Espinosa: COVID resulted in many changes. My job before the pandemic involved quite a bit of travel mostly within Florida, and in the summer months, up the Eastern Seaboard. Before, we would be out of the office and in the field multiple times per week. With COVID, however, that came to a halt, and our days were filled with video meetings instead. In the post-COVID world, I look forward to seeing people in person again and getting back to the farms and working directly with growers.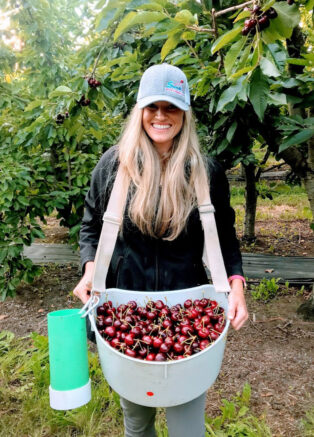 PB: How have the product segments you covered evolved and how do you see produce changing with the times? Is it more about health? New products? More shoppers doing more cooking and learning how to prepare new dishes?
Espinosa: I think it's a combination of all of those things. Shoppers are multi-faceted, and the beauty of working with Wakefern is the opportunity to serve consumers under different banners in multiple markets, each with different and evolving needs. Initially with COVID, we saw a return to the kitchen and a boom in home cooking. As we return to more normalcy, I definitely think there's a demand for convenience in fresh foods and produce. I am the mom of two, and I know what it's like to rush to get dinner on the table after work/after school and before a game or practice. I often have a very small window to pull together something healthy that everyone will eat.
PB: How does Wakefern support your efforts in the produce department in terms of supply and other support?
Espinosa: As a retailer-owned cooperative, Wakefern is an incredibly collaborative working environment. We work very hard to communicate any industry challenges — labor, crop issues, supply chain impacts, etc. — in an effort to be solution-driven, and minimize the potential impacts at store level. And we always work as a team to get the best produce to our customers.
PB: Are you confronting labor shortages that affect your produce department operations?
Espinosa: Labor is an issue that is impacting the entire industry and all retailers. We are seeing it from the grower level, all the way to store level. It is a challenge the industry faces daily.
PB: What kind of shopper feedback do you get today? What are shoppers interested in?
Espinosa: Our customer care division does a wonderful job of keeping a finger on the pulse of our shoppers. We are given verbatim feedback from shoppers and can track trends in order to react swiftly to customer needs. Needing to stretch a dollar is vitally important today to customers, and that's why we work to provide produce that is fresh, affordable and provides the maximum shelf life.
PB: What does earning the YWCA award mean to you?
Espinosa: Being a YWCA Twin Honoree this year has been such an honor, and an incredibly humbling experience. An introvert by nature, I was certainly out of my element to be acknowledged in this way. However, seeing the look of pride on my daughter's face, was incredible and rewarding, even though I'm still working through a case of imposter syndrome. So many incredible women in the produce and food industry, including Marianne Santo, category manager and first woman president of the Eastern Produce Council, have accomplished remarkable things in their careers. I truly enjoy the work that I do, so to be acknowledged for just doing my job is so rewarding.