Originally printed in the November 2022 issue of Produce Business.
Cooler temperatures bring many familiar foods and flavors to American menus. Yes, pumpkin spice is everywhere at this time of year, but so are produce items like Brussels sprouts, squash, apples and pears. Here's a rundown of what we're seeing on chain restaurant and independent restaurant menus across the country.
Brussels Sprouts
Seasons 52 is a midsize fine dining chain with 45 locations in 21 states. As the name suggests, their menus change with the season. Their fall menu features Caramelized Brussels Sprouts with Applewood Smoked Bacon and a drizzle of 15-year aged balsamic.
If you've ever been part of the group of foodies discussing vegetables they love to eat in restaurants, but rarely make at home, you know Brussels sprouts are at the top of many people's list. Restaurants use equipment and techniques that few home cooks take advantage of frequently.
Like other cruciferous vegetables, Brussels sprouts have bitter flavors some diners find offensive. Caramelizing them through roasting or deep fat frying is one way to reduce the bitterness. Adding salt or ingredients that provide ample salt as well as fat, like bacon, also helps tame the bitterness. The final addition of a sweet ingredient like an aged balsamic vinegar or maple syrup will balance the flavors and add to the irresistible aromas, flavors and textures.
Restaurants that top their Brussels sprouts with gorgeous pomegranate arils add to the sensory experience with a gorgeous burst of color as well as sweet-tart flavor.
Flemings Prime Steakhouse & Wine Bar, one of five chains in the Bloomin' Brands family, offers Crispy Brussels Sprouts & Bacon. The Brussels sprouts are cut in half, flash-fried in a deep-fat fryer, and then tossed with crispy bacon and a slightly sweet bacon vinaigrette.
Squash
Squash most frequently appears in menus in soup each fall. Butternut squash soup is seen on menus across the country, but there are some distinct differences in how the soup is prepared, presented and garnished. Nationwide fast casual chain Panera Bread offers an Autumn Squash Soup that includes butternut squash as well as pumpkin in the vegetarian recipe. Each bowl is garnished with roasted pumpkin seeds, offering a crunchy textural contrast to the creaminess of the soup.
Seasons 52 tops its Butternut Squash Soup with crispy shiitake mushrooms and chives, which not only offers a textural contrast, but also a color contrast, increasing the eye appeal of the soup as its placed in front of the diner.
The Lexington Restaurant, a small independent operation in Cambridge, MA, offers a fun appetizer of sliced, roasted delicata squash rings, sprinkled with sage and porcini mushroom powder and drizzled with a miso aioli, which showcases how umami-rich ingredients like miso and porcini powder turn a vegetable into a savory meat-alternative.
The technique of pairing vegetables with umami-rich ingredients is also used by Flemings Steakhouse. Its Roasted Portobello & Cauliflower Steak is served with crispy potato marrow with chimichurri and farro, asparagus and pickled onions with mushroom demi-glace, all for $49. Not bad for a humble cauliflower steak, eh? Their chefs pay attention to ingredients and techniques that drive craveability.
Apples & Pears
These fall fruits are no longer limited to the dessert course. Seasons Kitchen & Bar, a favorite upscale dining option in Davis, CA, offers an Apple & Pear Salad with Burrata, showing how creamy, rich burrata pairs as well with fresh fall fruits as it does with peak-of-the-season summer tomatoes. The chefs at Seasons also roast slices of fresh pears for their Roasted Pear & Bacon Pizza with pistachio pesto, roasted onion, and Toma cheese.
Apples appear again on the Seasons menu as a fresh apple relish and a mustard-bacon gremolata to garnish a fall Parsnip Soup, another example of how contrasting textures add to the appeal of a comforting bowl of vegetable soup.
The Roasted Pear Restaurant in Brooklyn Park, MN, may be the ultimate example of how roasting fresh pears makes them an ingredient with broad applications across the menu. They use roasted pears to top a baked brie appetizer, as an ingredient in a spinach salad that also includes candied pecans and Gorgonzola, as a compote for a Cajun-spiced porterhouse pork chop, as a topping for a Roasted Pear & Gorgonzola Pizza, and in their Roasted Pear & Cranberry Crisp.
Many of our favorite fall flavors start with produce farmers across the country. When high quality produce gets into the hands of talented corporate chefs in R&D centers or the kitchens of independent operations, ingredients plus techniques combine to create menu items that exceed expectations and drive desire for repeat visits.
And this is what we all want — people having exceptional experiences with produce that keep them coming back for more!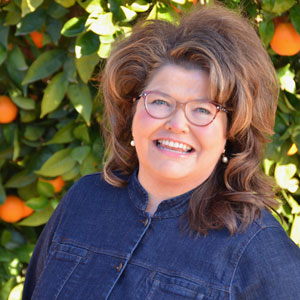 Amy Myrdal Miller, MS, RDN, FAND is a farmer's daughter from North Dakota, award-winning dietitian, culinary nutrition expert, and founder and president of Farmer's Daughter Consulting, Inc. She is the foodservice strategist for the Produce for Better Health Foundation, a member of the Texas A&M AgriLife External Advisory Board, a member of the Bayer Vegetable Seeds Horticultural Advisory Council, the registered dietitian for the Buy California Marketing Agreement / California Grown, and co-author of Cooking á la Heart, a 500-recipe cookbook based on plant-forward eating cultures from around the world that will be published by Workman Publishing in early 2023. Learn more at www.farmersdaughterconsulting.com, and follow her insights on social media @AmyMyrdalMiller.