These mixes check the boxes for nutritious, easy and interesting meals.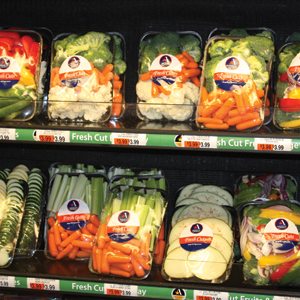 There is a growing group of consumers who want to cook at home, but don't want the hassle or having to spend a significant amount of time doing it. They also want their dishes to be delicious, nutritious and interesting.
This is where the produce department can come to the rescue with vegetable blends that can be added to stir fries, used in salads, or heated and served as side dishes.
The blends that move well are those that include at least a few vegetables that are a step or two off the beaten path, because Millennials are leading the way — and they are not in hot pursuit of broccoli and carrots after watching the Food Network. "Baby bok choy, Napa cabbage, snap peas, cilantro, parsley and other herbs have become popular home-cooking trends," says Mike O'Leary, vice president of sales and marketing of the fresh-cut division of Boskovich Farms, Oxnard, CA. "Foodservice groups and consumers are looking for variety. Home-meal placement and cooking shows are stretching their imaginations."
In 1915, Stephen Boskovich of Boskovich Farms began growing produce in the San Fernando Valley for sale at the Los Angeles Wholesale Market. Today, the fourth generation of Boskovich farmers produces 30 different vegetable crops year-round from fields in California, Arizona and Mexico.
Cooking Is Cool Again
Even with time constraints, consumers want to cook and have the convenience of ready-to-eat ingredients.  "The demand for convenient, ready-to-eat vegetables has been on the rise for some time," says Jacob Shafer, marketing and communications specialist for Mann Packing Co. Inc. in Salinas, CA. "Our Power Blend packs a superfood-punch of veggies, including Brussels sprouts, napa cabbage, kohlrabi, broccoli, carrots and kale. This delicious mix can be enjoyed year-round as a salad, in a smoothie or sautéed for a quick side dish with any meal — versatility and convenience at its best."
Companies like women-owned Mann Packing, Salinas, CA, a leading producer of pre-washed vegetables and a renowned innovator of vegetable products that appeal to home cooks, help bridge the gap between wanting to cook at home and feeling there is never enough time. "Vegetable blends appeal to everyone who cooks at home," says Lindsay Barthold, marketing manager at Harvest Sensations in Los Angeles. "The latest trend in vegetable blends is mixed, cut, sliced and diced, like squash blends, baby vegetables, sweet potatoes and roots, that make it quick and easy to use."
Harvest Sensations sources a wide variety of conventional, organic and specialty produce from fields on both coasts, as well as abroad. As in so many things pertaining to food, Millenials are forging the way with their unique blend of adventure and laziness. "Millennials are influencing purchase trends like never before; they are savvy shoppers when it comes to comparison shopping and using mobile phones to their advantage," says Shafer. "Millennials are looking for quick meal and snack options that are priced right and convenient."
One place to find blends that will catch on is television food programming, because this generation developed their eating and cooking habits as they grew up watching cable TV. "Millennials have habits formed by 10 years of the food networks and other programming suggesting cooking is hip. Families are also finding time to create dishes," says O'Leary.
Another good place to look at trends is the home meal delivery model — Blue Apron, Home Chef, Purple Carrot — because they are constantly on the prowl for interesting mixes they can get from producers. "Online delivery of home meal replacement is new," says O'Leary. "There are many companies in competition in the home-meal delivery business. They are looking for unique product mixes and seasonal variety."
Some products even add a touch of spice and grain to turn their blends into a convenient mini meal. "We have developed a new product, Nourish Bowls, to appeal to Millennials and create an innovative product that fits the demand for convenience," says Shafer. "Nourish Bowls were developed with a desire to create a healthy, warm, single-serve meal with fresh veggies, grains and sauces that are ready in 3 or 4 minutes. We partnered with a panel of three San Francisco Bay-area chefs to help us develop the flavor profiles that include Cauli-Rice Curry, Monterey Risotto, Sesame Sriracha, Smokehouse Brussels and Southwest Chipotle."
One way to merchandise vegetable blends in produce is to build a display of various healthy, highly convenient products that serve as snacks or ingredients. "Retailers can create healthy destination categories in their stores; a place where consumers can conveniently find fresh vegetables, snacking trays and specialty vegetables," says Shafer. "Destination categories help consumers find new and innovative products, and the addition of a healthy snacking section in produce makes it easy for consumers to try healthy snack alternatives."
'Tis The Season
Prime time for cooking is the holiday season, making it a perfect opportunity to use blends. "Sales tend to spike during the holiday season, as there is much less prep involved when using these vegetable blends," says Harvest Sensations' Barthold. "Consumers utilize the blends for lunch and dinner in soups, salads, roasting, sautéing and various seasonal dishes."
There are blends for both side dishes and salads that fit particularly well for the holidays. "Roasting Brussells sprouts in the fall and adding fresh beets to salads in the spring and summer are two examples of trending seasonal favorites," says O'Leary, who advises to focus on seasonal recipes for consumers.
Vegetable blends also fit nicely with New Year's resolutions to live and eat healthier. "Resolutions around the holidays are often repetitive year-to-year," says Shafer. "Surely, many people will make commitments to lose weight, break bad habits, take up a new hobby and, of course, eat healthier. With this in mind, we are now offering fresh, unique value-added vegetables like our Culinary Cuts, a revolutionary line of fresh vegetables cut into distinctive shapes."
Products like Culinary Cuts are a great substitute for pasta. "The convenient vegetables are perfect for a pasta swap, are trending, and are free from preservatives and gluten," says Mann Packing's Shafer. "The veggies are washed and ready-to-eat and are versatile enough for multiple uses, such as side dishes, stir-fries, appetizers, desserts and casseroles. Culinary Cuts is the first veggie pasta swap product available nationwide and is backed with promotional and merchandising support to educate consumers and spur sales."