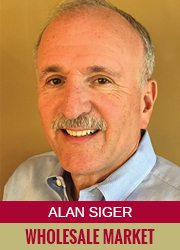 Even in the most northern parts of the United States, spring is finally here. It's my favorite time of the year — Mother Nature triggers a rebirth of everything that's been dormant, and grays and browns turn into a bright palate of spring colors. The days are longer and the temperatures are warmer; folks who have been trapped inside all winter are able to get out and enjoy what those in warmer climates often take for granted.
For years, produce wholesalers looked forward to spring for another reason: the five-month period from mid-March through mid-August was traditionally the most crucial period for a successful year. Prior to the advent of the Chilean deal in the 1970s , which provided a "second summer," there was little or no soft fruit or table grapes available to market in the late winter months. Cherries were finished by August, and peaches, plums, and nectarines by October. California's grape growers would store hearty varieties, such as Emperors or Calmerias, into January and February. By March, fresh grapes, too, would disappear from the marketplace until the Coachella Valley Perlette harvest began in mid- to late-May.
Forty years ago, a Terminal Market wholesaler's fruit department looked bare in February. Auctions ruled the roost in citrus, apples, and pears on most markets — leaving the other wholesalers to play second fiddle on these commodities. At risk of sounding like the person who reminisces about his youth with tales of walking to school in a blizzard, uphill both ways, it really was tough back then. For years, our business plan was to not dig too big of a hole in January and February, and to be ready to rock and roll when strawberries started to increase in volume signaling the beginning of fruit season.
Although the first 10 weeks of the calendar year are still a quieter time for today's wholesaler, our global produce economy offers plenty of opportunities for a full product line. Cherries and other soft fruit are available at least parts of eight months of the year, and table grapes are on the market year-round. Customers expect to get what they want no matter what the calendar says. In most cases, when given enough time, a wholesaler can fulfill the customer's request regardless of season.
---
Herbs don't have to be the co-star; they can be the headliner for an excellent salad.
---
Global availability enables the wholesaler to offer most products on a year-round basis. Though this helps to drive sales and profits, it doesn't mean it's time to sit back and relax. Expenses continue to rise and competing in today's market place is tougher than ever; it may be time for wholesale distributors to think outside the box and consider expanding into non-produce commodities. You have a multimillion-dollar facility, and you have a customer base; what can you offer them that can help grow both of your bottomlines?
How about fresh-cut flowers? Floral is a $36 billion industry in the U.S. that grew by 20 percent between 2010 and 2015. Flowers are somewhat of a sibling commodity to produce, as they travel parallel paths through the supply chain to the consumer. While larger chain stores already have their own floral distribution networks, your other customers might consider adding flowers to their product line if they had a reliable supplier to source from and who could teach them the business. I'm not just referring to retailers. Think of all of the white tablecloth restaurants that are serviced by foodservice distributors. Restaurants hate to open their back doors more than necessary, and the ability to buy fresh-cut flowers from their produce wholesaler could eliminate a vendor for them.
Distribution of fresh-cut flowers requires a refrigerated warehouse and truck fleet, but that already exists in a wholesale produce operation, so infrastructure costs should be minimal. The largest expense, and the key to a successful venture, would be hiring specialists from the floral industry to launch and manage the program. Experts are necessary to introduce floral to independent retailers or foodservice distributors.
These floral professionals can also train your warehouse staff on proper handling and your sales team on marketing as well as sales strategies. In the supermarket-chain-store world, floral and produce are generally managed by different teams. Produce and floral may be next to each other on the supermarket floor plan, but the supply chains are different and require separate dedicated personnel. No need for that in your operation. Once up and running, your floral department can operate the same as your fruit, vegetable, or potato and onion departments.
Imagine a world where the busiest holiday for one of your product lines falls in February. Introduce floral to your business, and you'll really have a happy Valentine's Day.
---
Alan Siger is chairman of Siger Group LLC, offering consulting services in business strategy, logistics, and operations to the produce industry. Prior to selling Consumers Produce in 2014, Siger spent more than four decades growing Consumers into a major regional distributor. Active in issues affecting the produce industry throughout his career, Siger is a former president of the United Fresh Produce Association.