Originally printed in the June 2021 issue of Produce Business.
While the retail grocery business has been booming during the pandemic, the restaurant industry has suffered. The National Restaurant Association estimates foodservice establishments lost $240 billion in sales and more than 2.5 million jobs in 2020. Many restaurants went through short-term closures in 2020, but more than 17% of all restaurants have closed permanently. This is the bad news. The good news is the restaurant industry is recovering. Slowly.
I wanted to learn more about the restaurant recovery process, so I went to a long-time friend, Chef Paul Bartolotta, owner and co-founder of The Bartolotta Restaurants, which owns and operates 17 restaurants and a catering business in the Milwaukee area. Paul is a two-time James Beard Award winner whose early culinary experiences included working in Italy, France, New York City, and Las Vegas. Paul describes himself as detail-oriented, demanding, and driven by faith, family and food. He and his late brother Joe started The Bartolotta Restaurants in 1993 with the opening of their flagship restaurant, Ristorante Bartolotta dal 1993. The empire grew through 2019, shrunk temporarily in 2020, and is poised to grow again.
During my conversation with Chef Paul in early May, I asked what his biggest challenge was in 2020. He said the human toll had the biggest impact on him. "The pandemic forced us to make many hard decisions about who—or what—to save first. I had a responsibility to my family, my restaurant family, our guests, my vendors, and landlords who needed to pay mortgages. I had to balance tough short-term decisions that would have the most benefit in the long term."
All Bartolotta restaurants closed in March 2020, and only 12 of 903 employees kept their jobs during the early days of the pandemic. Paul said he and his small team evaluated every aspect of their business to determine how to build a more efficient organization by better using technology and eliminating waste while also upgrading food, redesigning menus, and following the science to develop strict COVID health and safety plans for team members and guests.
I asked how menus have changed during the pandemic, and he focused on what they have done at Ristorante Bartolotta, moving from an al a carte menu to a pre fixe four-course menu with five options per course. "People couldn't travel so we decided to give our guests the opportunity to travel via our menus, menus that feature a lot of produce," Paul said excitedly. They offer a new menu every three weeks focused on a different region of Italy.
A recent menu featured an antipasti duo of "Jewish-style" fried artichokes and "Roman-style" artichokes poached in olive oil with parsley, mint, and garlic. For the primi course, a guest could choose spinach and traditional house-made fettucine pasta with artichokes, fava beans, spring onions, pancetta, and Pecorino Romano. One dolce or dessert option was Roman lemon-lime granita with sage syrup and strawberry-rhubarb compote.
Are there any produce items you wish you could source, I inquired? "Yes! We love using celery leaves in salads, but we have to trim them off the stalks and then figure out what to do with all the celery. We'd love to be able to buy bags of tender, sweet celery leaves," he mused. "And smaller dandelion greens and smaller lacinato kale." I cringed at the mention of kale as Chef Paul continued. "We want to introduce our guests to new foods and flavors. My chefs and I would love to be able to get more unique produce items that I typically only see in Italy like fava bianca or white fava beans."
I asked many pointed questions during our conversation, but I got the most enthusiastic response to my final question, "Looking to the future, what are you most excited about?" He thought for a moment, and then provided the following list. "Growth. Developing new concepts and opening new restaurants. Having time to stop dealing with necessary changes and being able to instead focus on ideation and creation. I look forward to having time to feed my soul as a chef. I want to keep learning and paying it forward by sharing what I learn with others. I love teaching!" he proclaimed.
I have done a lot of interviews during my career; this one was one of the most inspiring. Paul Bartolotta is one of most thoughtful, sincere, humble people I've met in the restaurant industry. He's not driven by ego; he's driven by a single question, a mission: How do we get better at getting better?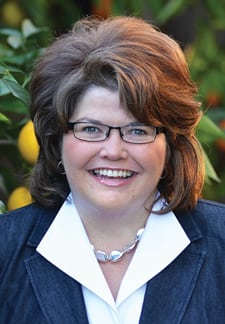 Amy Myrdal Miller, MS, RDN, FAND is a farmer's daughter from North Dakota, award-winning dietitian, culinary nutrition expert, and founder and president of Farmer's Daughter Consulting, Inc. She is consultant for the Produce for Better Health Foundation, a member of the Texas A&M AgriLife External Advisory Board and a member of the Bayer Vegetable Seeds Horticultural Advisory Council. You can learn more about her business at www.farmersdaughterconsulting.com, and you can follow her insights on food and flavor on social media @AmyMyrdalMiller