Originally printed in the October 2021 issue of Produce Business.
Any of us who enjoy eating in restaurants recognize it's a brave new world out there right now. Owner-operators are stressed due to labor shortages. Servers are often overworked, undertrained, or both, leaving many restaurant diners wanting more.
I recently "celebrated" the fact that my husband and I got into a very popular restaurant in our neighborhood. After years of being told, "We won't be able to seat you for an hour," or not being able to get an online reservation, we finally decided we'd go for brunch, arriving shortly after they opened. We were completely exasperated when the hostess told us she couldn't seat us for 20 minutes, even though most of the tables were empty because, "We don't have enough servers today, and we don't want the ones working feeling overwhelmed." This restaurant doesn't have bar seating, so there was nowhere for us to wait and have a drink to soothe our nerves. We just had to sit. And wait.
When we were finally seated, a harried server dropped off menus and disappeared for another 10 minutes. When we tried to order, we were asked to pick other menu items because, "We ran out of ingredients for both of those items last night." We finally settled on two sandwiches to share and two cocktails to consume while waiting for our food. I was eager for a second cocktail, but our original server didn't reappear until he dropped off our check. A different server had delivered our food, and when we asked her if we could get another round of cocktails, she said she'd find our server.
Before giving our server a credit card, I asked him how long he'd been a server. He replied, "Seven years, but I'm quitting next week." To do what, I inquired. "I'm going to EMT school. I can't take restaurant work anymore." We wished him luck, paid our bill, and left, wondering if spending money or time in restaurants is worth our while at this point. The food wasn't great. My side salad consisted of nothing but mixed greens, indicating no one cared about that salad.
Am I wrong to snort derisively at the pale pink tomato slice on a sandwich I'd ordered recently at another restaurant?
There was no consideration given the presentation, to other flavors and colors to accompany the mixed greens. They just plopped some greens in a bowl and moved on. The service was lackluster at best. My overall impression of that restaurant is that it's currently coasting on its pre-pandemic reputation, but fond memories of days gone by will fade as resentment from diners soars.
Perhaps my expectations are too high. Am I wrong to snort derisively at the pale pink tomato slice on a sandwich I'd ordered recently at another restaurant? Surely, a Sacramento-area restaurant can source a better tomato during the peak of tomato season here in the Valley.
But wait! I did have a rather impressive produce experience lately from a Grubhub order from a locally based Southwest chain called Dos Coyotes. Their chicken taquitos come on a bed of very thinly sliced red cabbage dressed in a sweet honey-based vinaigrette and tossed with roasted pepitas. If you order the taquitos in the restaurant, they aren't served over the cabbage. I believe the restaurant does this with delivery orders to secure the taquitos on a base so that the tortillas don't shatter during transport. This restaurant cares about the food experience, and even goes so far as to make a functional component in a delivery meal a delicious accompaniment. I wish more restaurants gave produce as well as their customers this much respect!
Dos Coyotes also offers a wide variety of fresh produce-based sauces and salsas, designed to pair well with various menu items. It's not a mish-mosh of 'put anything on anything,' but a carefully curated collection thoughtfully paired to perfection.
Here's the bottom line for me: Produce has often been the ugly stepchild in restaurant kitchens, relegated to the lowest paid kitchen employees while the highest paid team members work with meat and seafood. If we want more people eating more produce, it must taste good. Really good, not just "good enough." And all of us on the produce side of the business must respect produce enough so that an unripe melon or pale pink tomato doesn't get distributed or served. Restaurants can do better.
We can all do better. Fruits and vegetables deserve our respect, our hard work, our focused individual and collective efforts.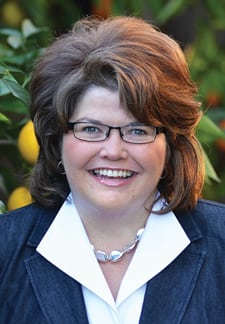 Amy Myrdal Miller, MS, RDN, FAND is a farmer's daughter from North Dakota, award-winning dietitian, culinary nutrition expert, and founder and president of Farmer's Daughter Consulting, Inc. She is consultant for the Produce for Better Health Foundation, a member of the Texas A&M AgriLife External Advisory Board, and a member of the Bayer Vegetable Seeds Horticultural Advisory Council. You can learn more about her business at www.farmersdaughterconsulting.com, and you can follow her insights on food and flavor on social media @AmyMyrdalMiller