Retailers get consumers excited by creating a sales-driven product display with custom point-of-sale materials and recipes.
Celebrating its 25th anniversary this year, Idaho Potato Commission (IPC) evaluates display-contest submissions from across the nation for its annual Potato Lover's Month.
The criteria this year focused on building an attractive and memorable Idaho Potato display along with Hormel Real Bacon Bits and Country Crock. The websites of the three brands must be incorporated into the displays. The creative masterpieces needed to be displayed in the produce department for at least one week during the contest period (January 11 – March 11).
"We enjoy participating in display contests," says Alfonso Cano, produce director of Los Angeles-based Northgate González Markets. "This one seemed a natural since potatoes are a shopping list item for our customers. Plus, potatoes are practical and a lot less perishable then most other items. We used the 10-pound bale sacks as the base of the display, which allowed us to accumulate a large tonnage in a small amount of space. It took us eight hours to build. The theme of the display was 'Couch Potato.' We built 10 couches around the outside of the display using 10-pound Idaho potato bags. It was a lot of fun."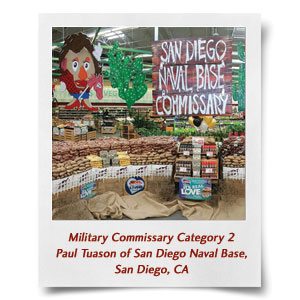 The attention-grabbing 103,000-pound display featured nearly a dozen varieties of Idaho-grown potatoes supplied by shipper members of the Eagle, ID-headquartered IPC and Los Angeles, CA-based specialty supplier, Melissa's/World Variety Produce. The entry received recognition in the 10-plus-register category.
Produce Business congratulates all the winners with this pictorial of the retailers that received top honors in each category. We applaud the IPC's ongoing initiative to celebrate the Idaho potato in such an engaging and entertaining way.