Originally printed in the September 2019 issue of Produce Business.
Viewpoints vary and experimentation abounds in a market filled with entrepreneurs, start-up companies and big-money backers.
From something as simple as a hoop house, or polytunnel, to indoor vertical farms using machine learning to optimize production, controlled environment agriculture (CEA) is a broad term with disruptive connotations.
As with electric vehicles, automation or the uberization of countless industries, contemplating CEA in the urban context requires upending ideas about the way we live and how society works.
Perspectives vary from the utopian visions of University of Virginia professor Tim Beatley's lush 'biophilic cities' to skepticism around profitability, accessibility and the limited range of crops grown in urban CEA.
The reality is that CEA is already deeply embedded into North America's fresh produce supply chain through greenhouse-grown tomatoes, cucumbers and peppers. However, the model's urban and peri-urban (city outskirt) versions have tended to focus on leafy greens and herbs because that's where the greatest opportunities are to be found right now.
Irving Fain, chief executive and co-founder at New York-based Bowery Farming, says his team is constantly testing and iterating production and has grown more than 100 types of crops across its two large-scale commercial farms in the NYC metropolitan area.
"While we're currently focused on providing the highest quality leafy greens and herbs to our customers and restaurant partners, we are excited about using research and development to push the boundaries and grow new crops," he says. "Beyond leafy greens, we are in the early stages of experimenting with new crops and have had recent success with root vegetables, including radishes, turnips and kohlrabi."
With financial backing from the likes of holding company Alphabet, Uber Chief Executive Dara Khosrowshahi and Amazon's worldwide consumer chief executive, Jeff Wilke, Bowery aims to "revolutionize" agriculture with plans to have farms in "every major city throughout the world."
"While indoor farming is not the sole solution to food production, amid changing climate conditions and a dwindling set of resources, we think our technology and indoor grow process can work in tandem with improvements made to traditional agriculture to drastically improve fresh food access for a growing population," notes Fain.
AeroFarms runs the world's largest vertical indoor greenhouse in Newark, NJ, which opened in 2016 with the help of a $30 million capital injection from investors, including Goldman Sachs.
The company's chief executive, Marc Oshima, says 700 different crops and varieties have been grown so far, and he is confident AeroFarms can "grow anything."
"We envision a future for AeroFarms that includes growing much more than just leafy greens," he says. "With that said, if all we grew was arugula, we would be addressing a major market."
Dick Spezzano of Spezzano Consulting Services in Monrovia, CA, says leafy greens and herbs lend themselves to CEA as you can get a crop from seed to cutting in 10 to 34 days in most cases.
"Much of this growing is done vertically which saves on space," says Spezzano. "The marketplace can only move so much of this type of produce, and that causes limitations to the segment's growth.
"For indoor urban agriculture to truly be successful and profitable, they will have to figure out how to grow other items like strawberries," Spezzano says, pointing to DelFrescoPure of Kingsville, ON, as an example of an indoor strawberry program that attracts a large premium.
One Step At A Time
For now, most of the sector's leading players remain focused on leafy greens. This includes Gotham Greens of Brooklyn, NY, which was founded a decade ago at a time when the technology was extremely novel.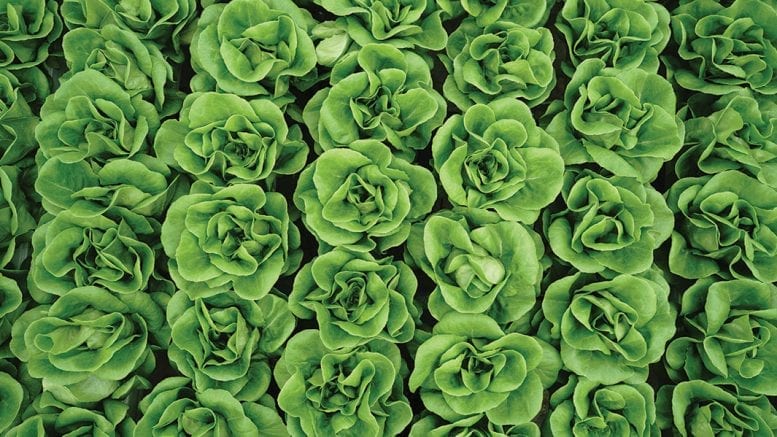 "Since its pioneering greenhouse launch in 2011, Gotham Greens has grown from a single urban rooftop greenhouse in Brooklyn, NY, to a multi-state indoor farming leader and one of the largest hydroponic greenhouse salad producers in North America," says chief executive and co-founder Viraj Puri. "There were few, if any, in the space doing what we were doing, and people were skeptical of our vision to build urban, rooftop greenhouses in New York City to grow fresh produce year-round."
Gotham Greens now operates more than 180,000 square feet of greenhouses in New York and Chicago, and has another 500,000 square feet of greenhouses that will be operational over the next few months across five U.S. states, including Maryland and Rhode Island.
"A plethora of start-ups exist in the controlled environment agriculture sector, and we're proud of the mark we've made on this, literally, growing industry," says Puri. "We are bullish in the segment but are also restrained in the outlook of high-tech, urban agriculture becoming the 'future of farming'."
While optimistic about the part urban farming can play in a more diverse and sustainable food system, he cautions the sector is still in its infancy and has a long way to go to become commercially viable on a wide scale.
"Gotham Greens is a successful example, but the industry needs to mature before we proclaim that it is a panacea, or even a partial answer, to the significant ecological, public health and economic concerns facing our current food system," he says, adding the sector for the time being will remain focused on highly perishable, high-value vegetables, fruit and herbs.
The value proposition of urban farming is well known, particularly when it comes to protecting the environment. According to Fain of Bowery Farming, food trucking transportation accounts for 12.5% of total carbon emissions in the United States, so being close to market can drastically minimize a grower's carbon footprint.
Improving Water, Energy Efficiency
The benefits go much further than carbon footprints, according to CEA industry proponents. On his blog, Kimbal Musk, co-founder and chairman of Square Roots in Brooklyn, NY, says his company's modular climate containers use 90% less water than outdoor farms.
Meanwhile, Fain notes Bowery Farming uses 95% less water than traditional agriculture by recirculating it continuously through its grow system and only replenishing the amount used by plants or lost during daily operations.
Oshima of AeroFarms and Puri of Gotham Greens cite the same percentage reduction for water usage compared to traditional farms.
"We grow our produce using hydroponic systems in 100% renewable electricity-powered greenhouses that are able to grow 35 times more lettuce per acre than conventional farming while using 95% less water," says Puri. "This will free up valuable fertile land that can be put to alternative uses in agriculture or otherwise."
Paul Lightfoot, chief executive at Irvington, NY-based BrightFarms, says the majority of energy used for his company's crops comes from the sun through its glass houses, rather than artificial lighting. It only uses supplemental lighting when there is not enough sunlight.
"Our growing methods are more sustainable than field-grown produce and materially more sustainable than the vertical farms that rely entirely on artificial lighting," he says. "Growing with the sun's energy does not consume fossil fields and does not emit greenhouse gases."
Musk of Square Roots notes, "We can also be clever about energy usage. For example, we make it "daytime" in the farm by turning on our grow lights overnight when there is excess energy in the grid, and the cost per kilowatt hour is lower."
Fain says the efficiency of LED lighting has more than doubled in the past five years, making the model increasingly scalable.
Paul Sellew, founder of Little Leaf Farms in Devens, MA, works very closely with energy suppliers to improve the production process and its impact.
"We're located next to a solar field, so a major source of our electricity is photovoltaic electricity generated, and it's a way to manage the carbon footprint," says Sellew, who is now growing on five acres and supplying 1,500 supermarkets and hundreds more restaurants and institutions.
Wylie Goodman is an urban planner and graduate of the Master of City and Regional Planning program at Cornell University, who with Jennifer Minner published a paper in the journal Land Use Policy on CEA in New York City. She applauds Gotham Greens' sustainable greenhouse model on top of a Whole Foods.
"Capturing waste heat from that building, that's terrific," she says. "It's a field that's still evolving, and I think that the innovation happening in the field to lower the carbon footprint is research that needs to continue."
Goodman is optimistic about the potential for improved technologies from the organization Greenhouse Lighting & Systems Engineering (GLASE), supported by Cornell, the Rensselaer Polytechnic Institute (RPI), the New York State Energy Research and Development Authority (NYSERDA) and most leading urban CEA companies.
Another example of industry collaboration is the CEA Food Safety Coalition, which created its board in early August comprising executives from BrightFarms, AeroFarms, Bowery, Little Leaf and San Francisco-based Plenty.
The Quest For Cost Competitiveness
Little Leaf Farms, whose operation like BrightFarms is more peri-urban than urban, is likely to increase its production to 10 acres in early 2020.
"I'm a big believer in using controlled environment agriculture to grow fresh food on the doorstep of large urban markets," says Sellew, who also emphasizes the reduced food waste associated with growing closer to the market. "But I am not really a proponent of urban agriculture."
He says the high cost of real estate, energy and taxes makes growing food in cities less preferable to growing in areas a bit further out but still much closer than leafy greens grown in California.
"I am a proponent of peri-urban, where there are all kinds of land available," he says. "And if you look at the cost of the land here in North America as compared to the Westland area of Holland, it's way cheaper in these peri-urban markets."
This is a view that's also held by Goodman.
"Everything I've read would say that their startup costs are higher in cities," she says. "They're not sharing their profitability but from what I've heard, a lot of these [urban] farms are not profitable yet."
From her study in New York, the higher startup costs translated to higher prices for urban CEA produce as well.
"It takes a lot to recoup their startup costs. In the store I can tell you they're marked up considerably, even from organic and locally grown," she says. "Are cities really the ideal place to be doing CEA? Are these farms as profitable as they claim, and for me is enough nutrient-dense produce getting into the hands of low-income people? I don't think it is."
Lightfoot of BrightFarms says his produce is already cost competitive with field-grown organic salads.
"But not all CEA produce is the same. Vertical farms have significantly higher costs of labor and utilities, and sometimes capital equipment," he says. "So, their starting points are materially higher. Production costs, particularly labor, water and transportation, will rise for field-grown produce, while the production costs will decrease for BrightFarms."
"We definitely think cost parity is achievable," says Little Leaf Farms' Sellew. "Right now I would say the field guys have an advantage. But from a quality standpoint, there's no comparison."
Dickson Despommier, an emeritus professor at Columbia University who published his book The Vertical Farm: Feeding the World in the 21 Century in 2010, says changes in the climate will make traditional agriculture increasingly challenging, thus paving the way for CEA.
"If you just wait another 10 or 15, but perhaps 20 years from now, outdoor farming will begin to fail at a catastrophic rate," says Despommier. "That has not happened yet, but it will given the rate of change that's already in place.
"I would say the initial criticisms for vertical farming with regards to the amount of energy consumed were absolutely correct, but there are some places in the world which have unlimited amounts of energy that don't have to worry about this," he adds, emphasizing the benefits of solar energy as well as geothermal energy in particular parts of the world like Iceland and New Zealand.
According to the CEA companies, productivity is on the rise as well, thus driving down the cost per pound.
"We are fundamentally changing farming by being able to grow baby leafy greens with more than 390 times greater productivity per square foot on an annualized basis versus field farming and more than 10 times greater than hydroponic greenhouse growing," says Oshima.
Bowery's Fain claims his company is 100 times more productive on the same footprint of land compared to traditional agriculture, and new technologies are constantly improving output.
"Machine learning and AI are incredibly powerful tools to increase yields and optimize freshness, quality, and flavor of our produce," he says. "At the core of our farms is our proprietary software BoweryOS, which uses automation, machine learning, cameras and sensors to monitor plants and all the variables that drive their growth 24/7.
BrightFarms' Lightfoot says initial technology and production advances were in growing systems such as irrigation, lighting and ventilation, but now improvement is coming from new sources.
"While we continue to innovate on those fronts, we are now also seeing huge advances in more digital technology, such as machine learning, camera scanning and other tools for improved predictive analytics that help us improve yields and reduce costs," he says.
SO WHERE TO FROM HERE?
It is likely more urban and peri-urban CEA companies will pop up, not just with new farms but new growing methods and business models as well? And as more players enter the market, it may be that prices are pushed down, and the sector loses some of its premium.
Spezzano of Spezzano Consulting draws a parallel in this sense to what has happened in the organic sector, and he also predicts many of the larger field-grown companies will either partner with CEA companies or get into urban growing themselves.
"One of the motivating reasons is to be a complete stop for their customer to pick up or for them to deliver to the customers' DCs (distribution centers)," he says. "I envision these joint or individual ventures will allow the California, Florida, Texas, and Mexico growers to build or take over larger facilities so they can cross-dock the items they grow near their metro customers. This will create tremendous efficiencies."